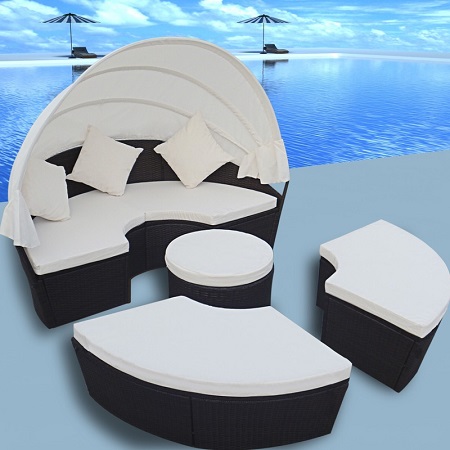 Garden dining set buying guide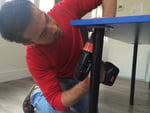 Guide written by:
Sebastian, self-taught DIY-er, Exeter
198 guides
If you love to dine al fresco over the summer months, a good garden dining set is a must-have. Perfect for relaxation and general well-being, these outdoor sets come in a range of materials from teak and pine to resin or aluminium. Whatever your budget, read on to find the best dining set for your garden!
Important features
Wrought iron
Powder-coated steel and aluminium
Wood and rattan
Textilene and glass
Shape and size
Main criteria for selecting your garden dining set
---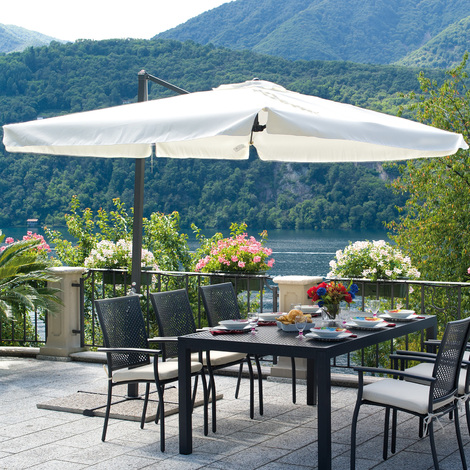 In order to select the right garden dining set, you will have to think about:
Which material(s) to go for: this will determine the lifespan, care needs and price of your set, so choose wisely!
How many people you need to accommodate. It's up to you to decide whether you want a table for two or a six-seater for the whole family.
The setup and style of the set. Depending on your tastes and the amount of space you have to fill, you may end up with anything from a lounge set to an outdoor bar table!
Garden dining set materials: 5 essential points
No matter its type or where it comes from, wood will require regular maintenance. This material is often chosen for its warm appearance, clean lines and heavy weight – the latter of which lends it stability. Price will vary according to the wood species you choose.
Metal is a strong and heavy material. A simple and stylish option, aluminium is generally regarded as the most practical type of metal as it is naturally weather-resistant and does not require any maintenance. Powder-coated steel offers increased protection against corrosion (especially when hot-dip galvanised) and is available in a range of shapes from classic to modern. Wrought iron is a heavier metal option whereas galvanised steel is lightweight and rust-resistant. All types of metal can be restored but price will differ according to variety.
Resin is lightweight but may differ in terms of comfort. Cast resin is considered a low-end variety while woven resin will offer higher quality. Resin comes in a range of modern shapes and these tables are often topped with clear or tinted glass. This material cannot be restored but is easy to maintain.
Plastic and plastic resin are lightweight materials that create classic and comfortable furniture. Plastic is often chosen for its simple shapes, low price range and practicality – particularly when it comes to winter storage. It is easy to care for but cannot be restored.
Often used in combination with metal, textilene is usually the material of choice for backrests and seats. Soft and hardwearing, it can be cleaned easily using soapy water. 
---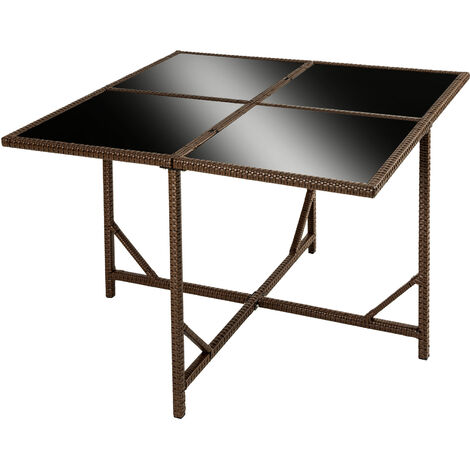 A living space in its own right, your garden should be decorated and furnished with a common theme in mind. Combining a teak wood dining set with a metal shed, pink parasol and a grey tiled patio is a good example of precisely how not to furnish your garden! If your garden already resembles a cosy bar terrace with coloured fairy lights, why not go all out with high tables, checked tablecloths and vintage-style parasols? After all, your outdoor space is an extension of your home so it's entirely up to you to choose the décor you want!
Selecting a material for your garden dining set
Garden dining sets usually come in wood, resin or metal. Your choice of material will influence a multitude of factors include your set's durability, weather-resistance, weight, care requirements, colour and style. Basically, this is one decision you don't want to get wrong.
Have visions of dining among your flowerbeds with a cool shade sail poised overhead? Our material guidelines will help make this a reality!
Wooden garden dining sets
---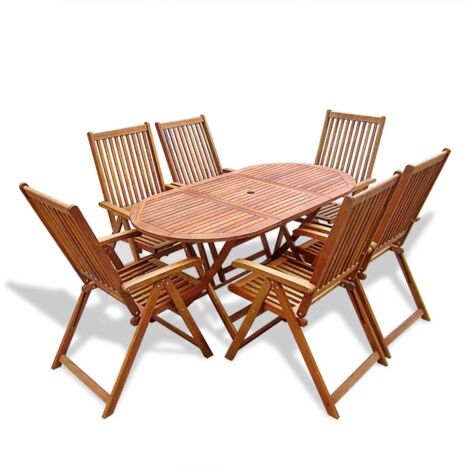 Wooden dining sets are heavy, hardwearing, warm and restoration-friendly. Choose your wood species based on the type of properties it offers. The most commonly used types of wood for outdoor dining sets are:
Itauba: fungi- and insect-resistant, this wood is rotproof and recommended for use in coastal areas (meaning it is highly resistant);
Teak is also a rotproof wood that is termite- and fungi-resistant, making it a safe choice;
Acacia is fungi-, insect- and moisture-resistant. It is rotproof and less expensive than exotic woods;
Pine can be treated for added protection and is the least expensive species of wood;
Eucalyptus offers only moderate resistance to fungi and insects but is more cost-effective than woods like teak;
Rattan is a rotproof, hardwearing and lightweight vine belonging to the palm family. Used in basket-weaving, this material will give your garden an exotic feel.
In order to ensure sustainable forestry management, FSC- (Forest Stewardship Council) or PEFC- (Pan European Forest Certification) certified woods are recommended.
Caring for wooden garden furniture
Exotic wood should be coated with oil (most commonly teak oil) to avoid it becoming discoloured over time.
Other species, such as pine, should be treated with a specialised wood stain.
Resin garden dining sets
---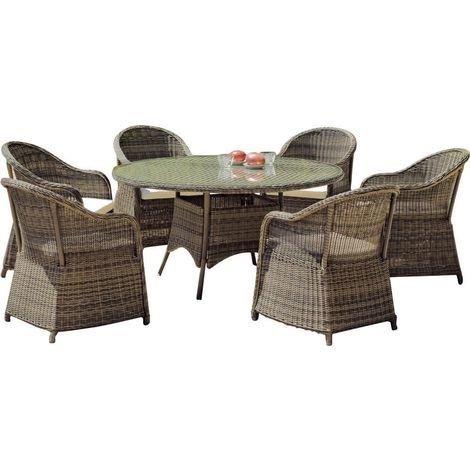 Garden dining sets made from resin may be lightweight or heavy, timeless or modern and, while they cannot be restored, are generally hardwearing.
The resin used to make outdoor furniture can be woven, cast or injection moulded:
Woven resin refers to resin that has been woven into a shape and made to resemble rattan. This production process provides a more attractive finish but entails a higher cost;
Cast resin can be used to imitate the look of woven resin and is used for seats and backrests. This material is often used to make budget garden dining sets;
Injection-mouldedplastic furniture is commonly used to furnish bars with outdoor terraces. Lightweight and hardwearing, this matt or glossy material is often paired with aluminium structures or glass table tops. Different colours, shapes and finishes are available.
Caring for resin garden furniture
Dining sets made of resin are weather-resistant but, as they cannot be restored, have a limited lifespan of just five to ten years. Soapy water should suffice for day-to-day cleaning while specialist cleaning products can help preserve appearance. Cast and woven resin should be brushed regularly to release any trapped dust.
Metal garden dining sets
---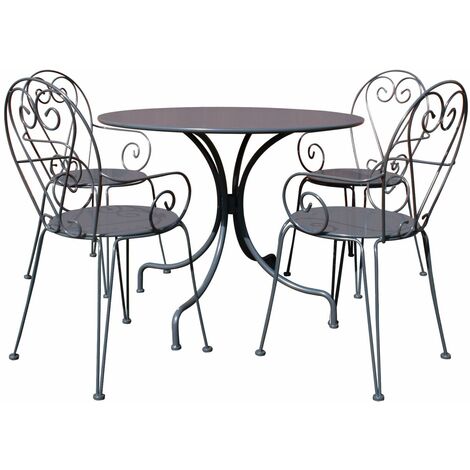 Metal dining sets are heavy, resistant and suitable for restoration. They also offer a wide range of shapes – from rustic to modern – as well as different colours. Several metals are commonly used:
Aluminium is lightweight and uses clean lines to create modern and contemporary styles. This material stands up well to the elements and does not require any protective treatment. Textilene is usually used to make up the seats and backrests of aluminium dining sets;
Wrought iron is heavy, hardwearing, elegant and sturdy. This material creates furniture with a romantic, country garden-style feel and is available a range of colours, from matt black with an aged effect to glossy white. For added comfort, cover it with cushions chosen to match any surrounding fabric (for example, gazebos, parasols, hammocks, shade sails, etc.);
Powder-coated steel is a type of steel coated with a layer of protective resin. Less expensive than wrought iron or aluminium, this material is not very scratch-resistant and any damage to the superficial layer may lead to rust. However, structures can be given an initial hot-dip galvanising treatment for better protection and improved corrosion resistance. The backrests and seats of these sets are also usually made from textilene with numerous colours and modern design options available;
Galvanised steel dining sets are hardwearing, rust-resistant and glossy in appearance. Galvanisation refers to the application of a zinc-plating to steel. This material is usually used to create contemporary designs.
Caring for metal garden furniture
Garden sets made of aluminium or galvanised steel do not require any maintenance thanks to the natural resistance of the materials. Wrought iron and epoxy-coated steel can be coated with an anti-rust treatment or special iron primer, which should be applied using a spray gun. All steel-based furniture should be handled with care to avoid damage from impacts.
Explore the ManoMano catalogue
Anti-rust
Backrests, seats, cushions and table tops
Textilene backrests and seats
---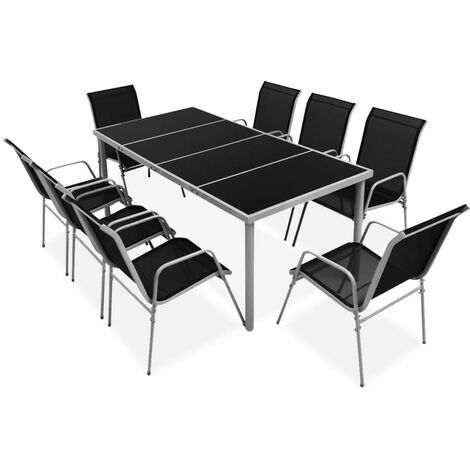 Textilene is a synthetic woven material with a PVC coating. It comes in different colours and is moisture- and UV-resistant (though cheaper textilene does tend to become slack and fade over time).
Cushions
---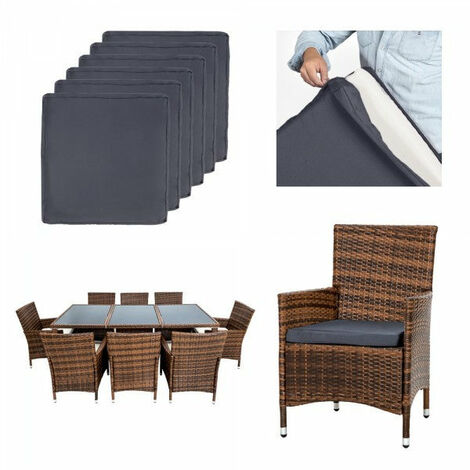 Cushions usually come as part of wrought iron garden sets for added comfort. Made of polyester, cotton or a mix of both materials, the quality of the fabric depends on its weight. This is given in grams per square metre (g/m²); the higher the number, the more resistant the material. Go for fibre-filledcushions with padding.
Glass table tops
---
Glass table tops may vary in thickness and can be clear or opaque. They may be screwed into place, held by suction pads or brackets, or integrated into the structure, and can feature rounded or shaped edges.
Explore the ManoMano catalogue
Cushions
Choosing a garden dining set to fit your space
Large gardens
---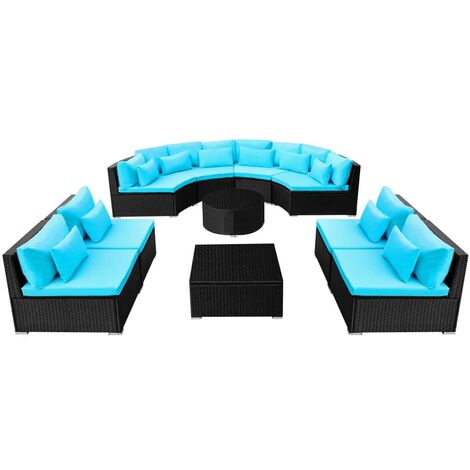 For convenient and hassle-free entertaining, go for a rectangular or oval garden table with extension leaves in case a few extra guests turn up. Super-sized dining sets are ideal for gatherings with friends, barbecues and seating particularly large families!
Balconies and small patios
---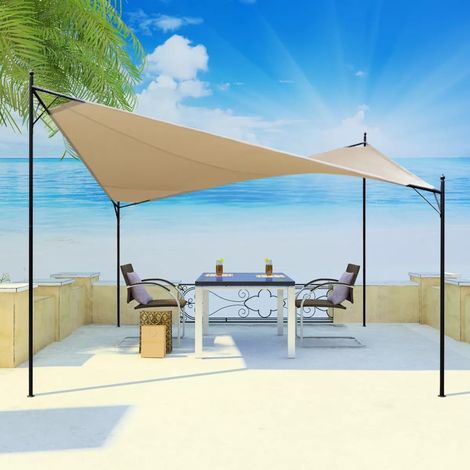 If you have a small patio, or even just a balcony, go for a smallergarden dining set with a roundtable. An outdoor awning or shade sail will keep you sheltered from the sun or wind.
Comfortable lounge sets
---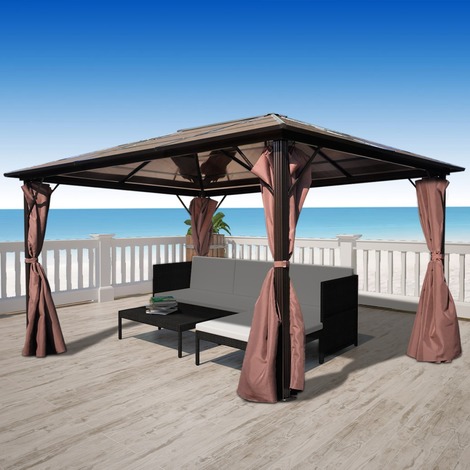 Do you have a large, shaded deck and want to combine your garden furniture with an outdoor sofa or even a swing or hammock? Forget the traditional dining set altogether and opt for an adaptable garden lounge set with a recliner and side table!
Folding dining sets
---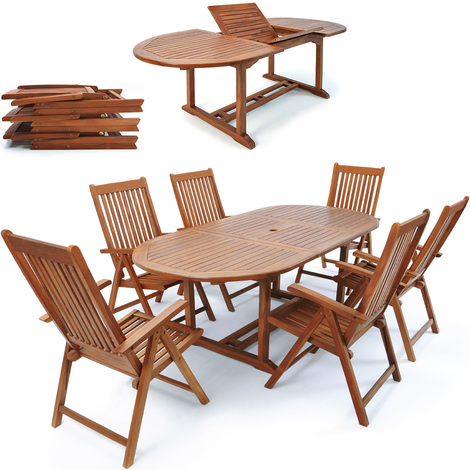 If you're looking to make the most of the natural shade provided by your trees and want to move your furniture around, you should go for a lightweight dining set with enough seats to accommodate your guests. Choose foldable tables and chairs to make life easier!
Bar table dining sets
---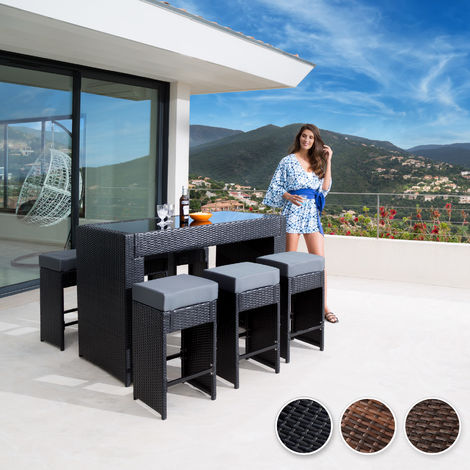 Are you more into informal gatherings? Want to feel as though you're perched on a stool at your local beer garden? A bar table could be the perfect option. These sets can help you make the most of your barbecues or parties without making you feel like you have to stay seated!
Two-person dining sets
---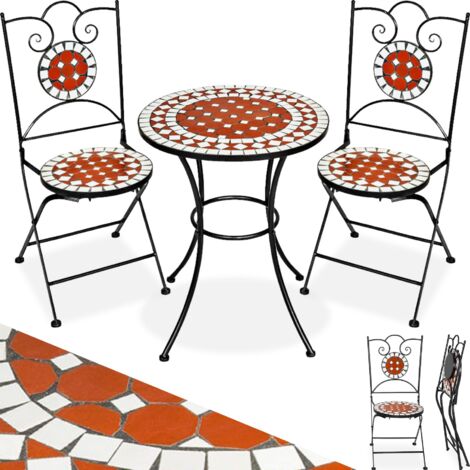 For couples and smaller spaces, compact dining sets are ideal, and these are usually round or square in shape. After all, you don't need a crowd to enjoy a summer evening outdoors!
Explore the ManoMano catalogue
Bar table
Choosing a garden dining set size
On top of material and style, you'll also have to consider the size of your set. Of course, the number of seats you go for will depend on the number of people you typically entertain.
Four-seater dining sets
---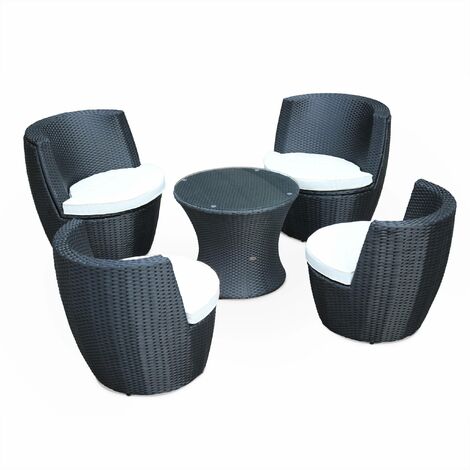 If you live with just one other person, go for a round table with a diameter of around one metre and a couple of extra folding chairs – you never know when someone might drop by!
Six-seater dining sets
---
Six-seater tables with optional extension leaves work perfectly for a family of four. If you have friends round, you can always set the kids up at a folding picnic table next door!
Eight to ten-seater dining sets
---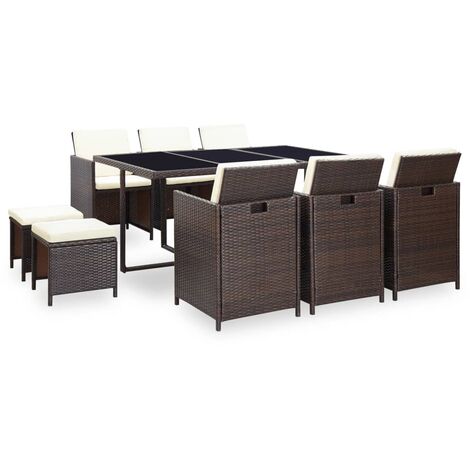 For big families or larger gatherings, go for a garden table designed for ten and have a few extra chairs on hand.
You can choose between an extendable table or simply an extra-large model.
Explore the ManoMano catalogue
Extra<u> chairs</u>
Choosing a garden dining set
| | | | | |
| --- | --- | --- | --- | --- |
| | | | | |
| | Teak; spruce; acacia; eucalyptus; rattan | Teak oil for exotic wood; specific stains for other species | Pleasant to the touch; solid; durable; can be painted; folding | Maintenance required; dries less quickly; breakable |
| | Aluminium combined with textilene | | Lightweight; rust-resistant; stackable | |
| Elegant; country garden; rustic | | | | Heavy; gets hot in the sun |
| | Powder-coated or painted steel combined with textilene | Clean with water or cloth | Cheap; lightweight; choice of shapes; comfortable (with textilene); stackable; folding | Will rust if scratched; must be weather-protected |
| | | Clean with water or cloth | Choice of shapes; range of qualities; comfortable; stackable | Lower quality resin may sag and fade; must be weather-protected |
Garden dining set accessories and winter storage
Must-have accessories for relaxation
---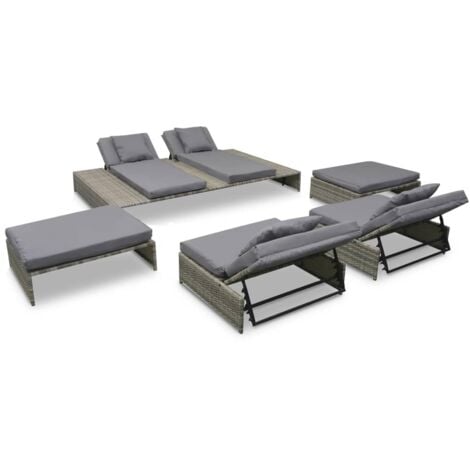 Your garden dining set can be completed with extras, such as:
Storing your garden dining set for winter
---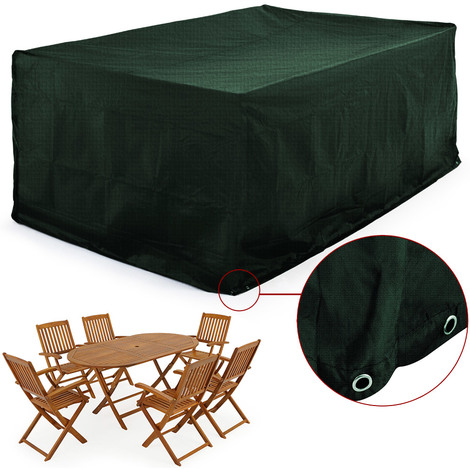 When buying a garden dining set, you should also think about where you plan to keep it over the wintertime. If your furniture has to stay outside in all weathers, be sure to purchase some protective covers and try to keep it under your awning. If you don't have space for the set in your garage, consider investing in a shed.
Before storing, you should clean your dining set and keep wooden or powder-coated steel furniture lifted off the ground.
Wooden furniture can be treated with oil. If you spot any rust stains on steel, apply an anti-rust coating as soon as possible.
A garden chest can also be a great option for storing your cushions or other ornaments.
Explore the ManoMano catalogue
Garden chest
Learn more about garden decoration and design
To find out more about garden design and decoration, follow our editors' advice and check out their other guides:
Guide written by:
Sebastian, self-taught DIY-er, Exeter, 198 guides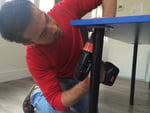 Redo a roof with wooden beams? Check.Advise Mister everybody in the DIY shop? Check.Redo the bathroom plumbing? Check.Fit together, build the walls, paint a partition, throw my hammer in a rage thinking that it will fix the problem? Check. The DIY motto ? Learning is better than delegating… well, it's also a question about your wallet! The satisfaction? The beer at the end of the job! What do the best have in common? The influence of Gyro Gearloose, Mac Gyver and Carol Smiley depending on your generation, a good dose of curiosity, a average hand-eye coordination and a taste for risks… and if it doesn't work, try again! Advise you? I'll do my best!
The products related to this guide