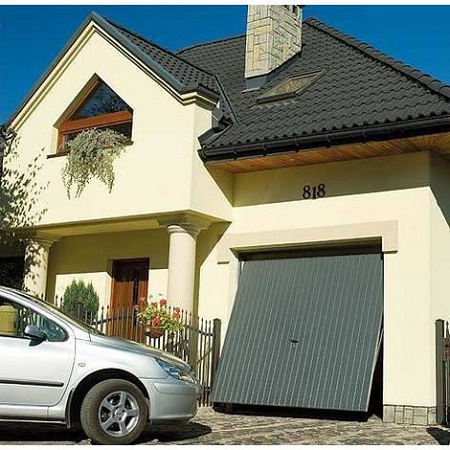 Garage door buying guide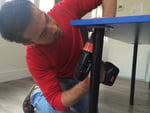 Guide written by:
Sebastian, self-taught DIY-er, Exeter
198 guides
From sectional to round-the-corner designs, PVC to aluminium… When it comes to picking a garage door there are plenty of choices to make. You'll have to select a material and opening type, as well as weigh up factors like planning permission, space requirements and budget. Read on for our top tips to help you decide!
Five steps to choosing a garage door
---
In order to select the right garage door you'll have to consider a number of factors.
Clearance type. Your choice of door type will depend on the layout of your garage and the amount of available space you have. For example, doors that open horizontally require the use of either an inside wall or space outside of the garage; doors that open vertically take up a portion of your garage ceiling space. While they may not be the most attractive option, roller doors do offer the most efficient use of space.
Material. Garage doors may be made of wood, PVC or metal. This decision usually comes down to the type of door you choose. The weight, security and care requirements of the door will vary according to the material selected.
Appearance. Garage doors form part of the exterior of your home. With this in mind, the style and finish of your doors should be chosen with care. Remember that your options may be restricted by planning permission. We strongly recommend that you contact the relevant authorities before making any decisions.
Automation. All garage doors can be automated. This option won't set you back much and will offer user comfort in the long term.
Size. An important final step when choosing a garage door. Our tips for taking measurements can be found at the end of this guide.
Types of garage door
Your garage door may open horizontally or vertically depending on the layout of your garage and the amount of available space. Choose from roller, round-the-corner, side hinged, up-and-over and sectional doors. 
Round-the-corner doors
---
Hung from a top track and guided by another track on the ground , these doors are made up of a number of narrow panels that work together to open the door.
This type of door requires a length of wall that measures at least the same as the opening width of the entrance.
The first panel opens up to offer access for one person.
These doors feature either manual or electric operation and require at least 200 mm of headroom.
Side hinged doors
---
Made up of two leaves, side hinged doors require constant clearance around each door. 
The doors open individually. 
This type of opening helps to optimise the amount of space inside the garage. Side hinged doors are also easy to automate.
Roller doors 
---
Featuring the same design principle as roller shutters, these doors are space-efficient as they only require headroom. 
Their slats are guided along a track and either roll up inside a box or around a drum.
Roller doors can be automated. Around 200 to 400 mm of headroom is required for the box.
Sectional doors
---
Like round-the-corner doors, sectional doors are made of a number of moving panels that are guided along side tracks.
These doors do not require clearance to the sides as their tracks are mounted on the ceiling. However, you will have to make sure there is enough space for the door to slide along the ceiling.
Sectional doors can be automated.
Up-and-over doors (canopy)
---
Comprising a single panel, canopy up-and-over doors do protrude from the entrance meaning they require some outward clearance.
Typically, this amounts to around 500 mm.
These doors can be automated
Up-and-over doors (retractable)
---
Retractable doors do not generally protrude beyond the garage doorway when open. 
These doors do not always require side tracks and can be automated. 
Choosing a garage door material: wood, PVC or metal
The type of material used to form garage doors will often depend on their design features. The thickness of the material will differ according to opening type. Performance varies from material to material.
Wooden garage doors
---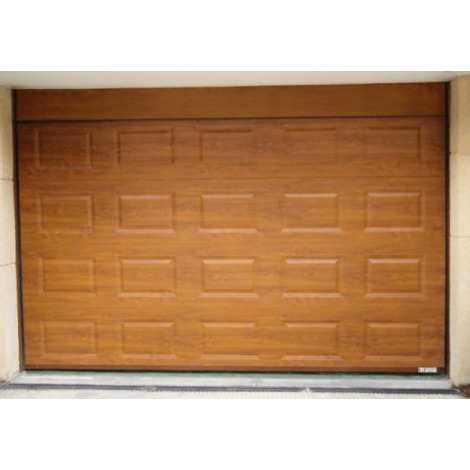 Wood is best suited to doors that open horizontally due to its weight and care requirements (i.e. paint and varnish). 
Wood is an attractive option that acts as a good thermal barrier for your garage as it is a better insulator than steel, aluminium or PVC.
Steel garage doors
---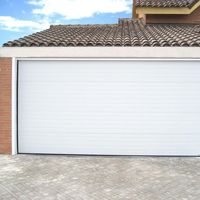 While it offers less thermal and sound insulation than wood, steel is a lightweight material and is best suited to doors that open vertically.
Whether they are treated with an anti-rust coating, painted, lacquered or galvanised, steel garage doors are fairly resilient and require little maintenance.
Aluminium garage doors
---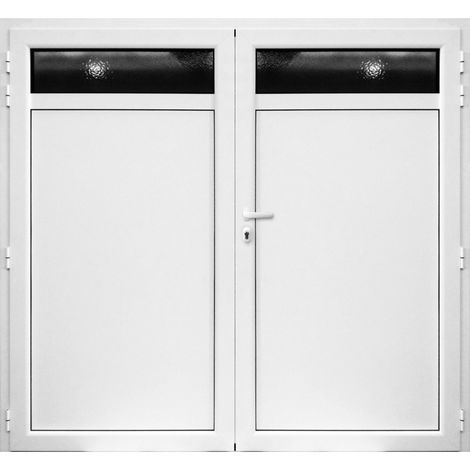 Lightweight and vapour impermeable, aluminium is a durable material but it is a conductor of heat.
Hard-wearing, nonetheless, it is well suited to doors that open vertically.
PVC garage doors
---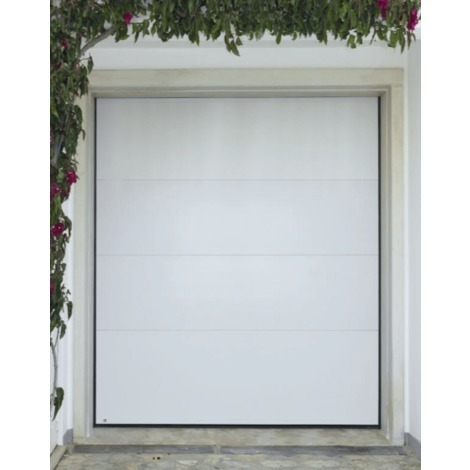 PVC offers a low-cost option.
This lightweight material can be used to construct all types of garage doors. PVC garage doors can also be easily automated.
PVC offers better insulation than steel or aluminium but, as it is not particularly strong, does not offer a lot of protection against break-ins.
Choosing a style and finish for your garage doors
---
Once you have settled on an opening type and material for your garage door, you just have to decide how you want it to look! You can choose from a range of styles with options such as windows offering a touch of style to your door.
When it comes to appearance, the main form of decoration for garage doors is ribs . Choose from:
horizontal ribs;
vertical ribs;
diagonal ribs;
slanted ribs;
widevertical or horizontal ribs.
More elaborate design options include cassette panels, diamond panels, and so on. Of course, you can also choose from a range of colours. However, you should check with your local authority for any planning restrictions.
Choosing an automation system for your garage door
Some garage doors are supplied ready automated meaning you won't have to decide on a system yourself. You simply have to allocate a space for the electric motor and work out how to connect it to your power supply. If this isn't the case, you will have to select an electric opening system based on how your door opens and the maximum weight allowed by the system. The motor type and opening system will depend on the type of garage door you choose.
Built-in motors for roller doors
---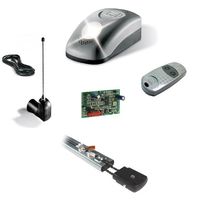 The electric components of roller doors are contained in the control box. Follow the same guidelines as you would when selecting a roller shutter.
Swing arm kits for side hinged doors
---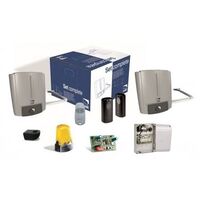 Swing arm kits work in a similar way to electric gate openers and will only work for side hinged doors.
Remote electric motors for up-and-over and sectional ceiling doors
---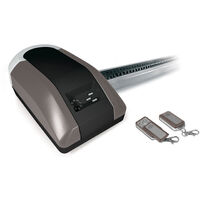 Remote motors are designed for up-and-over and sectional doors. You will have to provide a space for the installation, bearing in mind that this type of motor is installed on the ceiling.
Automated systems can be controlled using a key pad or via remote control.
Explore the ManoMano catalogue
Remote control
How to measure your garage doors
Garage doors should be chosen according to the layout of your garage, the amount of available space you have and the type of opening you're after. Some building restrictions may dictate how the door opens.
Taking the right measurements in four steps
---
In order to make sure you are making the right choice, you will need to:
Measure the door frame ;
Determine the space between lintel and ceiling (the headroom );
Measuretheside room (the distance between the side of the doorway and the parallel wall).
Measure the amount of ceiling space available for vertical opening and/or the amount of side space for horizontal opening. 
Please note: it's important to take note of any potential obstacles.
Guide written by:
Sebastian, self-taught DIY-er, Exeter, 198 guides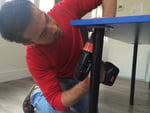 Redo a roof with wooden beams? Check.Advise Mister everybody in the DIY shop? Check.Redo the bathroom plumbing? Check.Fit together, build the walls, paint a partition, throw my hammer in a rage thinking that it will fix the problem? Check. The DIY motto ? Learning is better than delegating… well, it's also a question about your wallet! The satisfaction? The beer at the end of the job! What do the best have in common? The influence of Gyro Gearloose, Mac Gyver and Carol Smiley depending on your generation, a good dose of curiosity, a average hand-eye coordination and a taste for risks… and if it doesn't work, try again! Advise you? I'll do my best!
The products related to this guide