Frame cutter buying guide
Guide written by: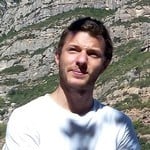 Lucas, Antique wood-worker, Gloucester
27 guides
Passionate about cabinetmaking and joinery?... Enter the mysterious world of the frame cutter! Its mission: to cut into doors and door frames so you can fix your hinges in style. Its secret weapon: a sharp cutting head coupled with high speed rotation!
Important features
Tracing
Template
Cutting depth
Cutting diameter
Power
Weight
What's a frame cutter?
---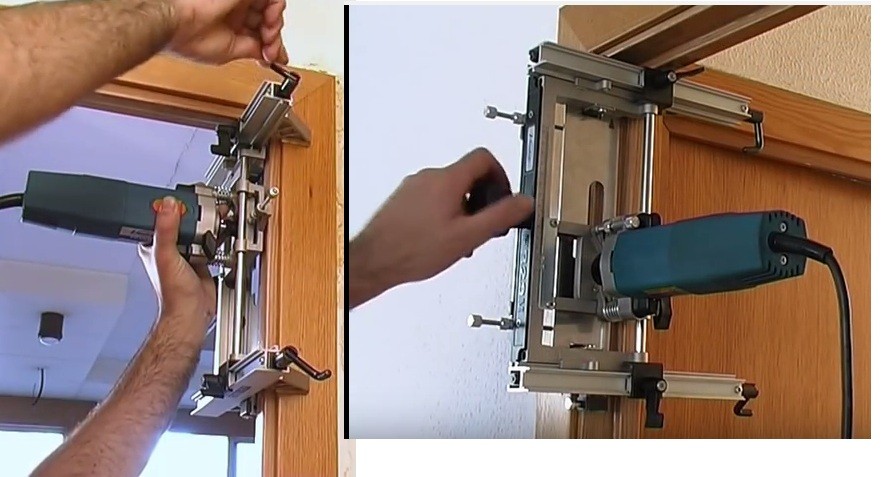 The key function of this woodworking tool is to make notches in a piece of wood to receive hinges or fittings - visible on the edge of doors, door frames and even some furniture. It is capable of carrying out this task repeatedly at phenomenal speed.
In no time at all, your pieces will be ready to receive their fittings and finally to be put in place! If your doorframe is already fixed, no problem - the frame cutter will do its job just as well!
Frame cutters have a very specific function and are quite expensive to buy. Moreover, relatively few manufacturers actually produce them, and those that do are generally high-end professional brands such as Virutex.
Although other machines can do the job of a frame cutter (such as
routers
or
edge-planers
), there's no competition in terms of quality and efficiency. Let's take a look at just what it can do, and what you need to know!
Tracing or template?
---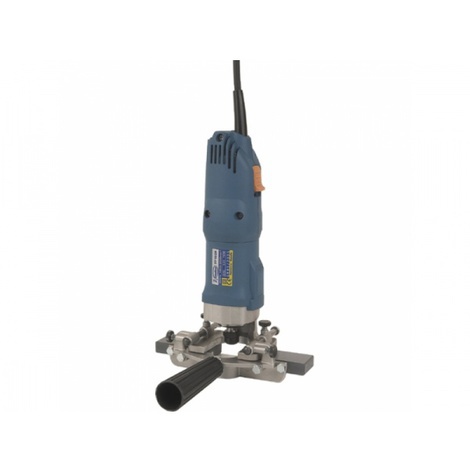 There are two alternative ways of using a frame cutter - tracing or template:
Tracing
This is the simpler method, where you just mark up and trace your hinge cutout in the desired location. You then select cutting depth and cut your notch, taking care not to exceed the tracing or you'll make a pig's ear of it!
Template
This method is a little more involved but far more efficient and precise. The cutter comes with an adjustable aluminium frame, which can be used to restrict its action so that it can only cut into the area where you want to make a notch for your hinge. Nothing could be more practical once you've got the hang of it!
The guide frame can be used on horizontal as well as vertical pieces - including existing door frames, for instance - and clamps on with eccentric presses. Finally, it can also come with guide rules: you mark the first point and the guide automatically indicates where to put the next one! Either way, the template can be positioned in both directions, for leftward- and rightward-opening doors.
If you're not sure which machining method to opt for, note that the
template can easily be removed
. Furthermore, it's made to be compatible with
edgers
and
routers
as well - as long as they're the same brand, that is!
Explore the ManoMano catalogue
Routers
Frame cutters: clamp, cutter and copying ring
Clamp
---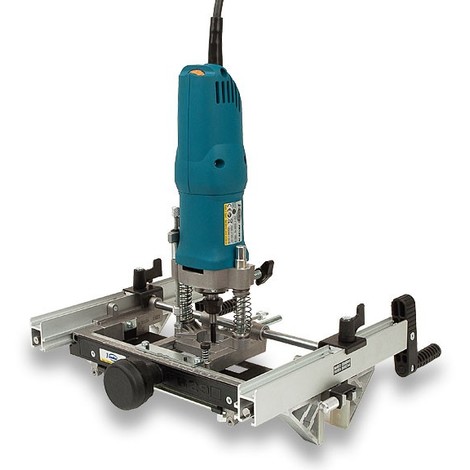 The clamp forms an
interface between the machine's shaft and cutter
. The three most common diameters are
6mm, 6.35mm (1/4 inch)
and
8mm
. So if you've got your sights on a particular
frame cutter
, make sure it accepts all three, so you can use any type of cutting head! The same clamps are also compatible with routers.
Milling or cutting head
This is the component that actually cuts into the wood. The most effective type are HM - 'hard metal' carbide cutters. Maximum diameter can be up to 32mm on the most sophisticated models, and the more trusted manufacturers make them in increments of 1mm. Be careful to avoid coupling a very large cutting diameter with an extreme cutting height, so as to avoid overloading the machine and getting nowhere!
Of course it's possible to use other types of milling head to embed hinges, but again, pay attention to the machine's intended use - don't expect a router to do the same job as effectively...
Copying ring
This highly practical accessory is fixed under the baseplate of the machine. It lets you follow a template, guiding the machine along with it.
Explore the ManoMano catalogue
Frame cutter
What are the important properties of a frame cutter?
---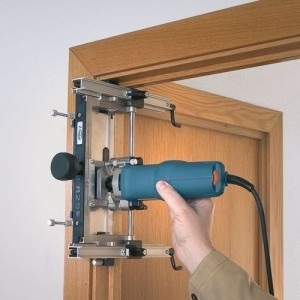 Note that a frame cutter can move in both a longitudinal and a transverse direction - goodbye to those nasty splinters when you finish a cut!

Cutting depth
Depth of cut can be up to 50mm. The motor block is either mounted on a rack-and-pinion system or on two spring-loaded pins (just like a router), with cutting depth adjustable by means of stops. In either case, micrometric adjustment is preferable!

Cutting diameter
The cutting diameter, either template or tracing, also needs to be ultra-precise and the clamping elements robust and reliable.
When you've selected your settings, a good machine will allow you to make a long series of cuts, one after the other, without disruption or misalignment.
Power
Power, between 500 and 750W, is only important for sustained, high-volume work. The number of revolutions per minute (rpm) goes up to 30,000; this has an effect on the finish quality produced, but the difference is fairly minimal wth this type of machine.
Weight
As regards weight, you're looking at anywhere between 1.8kg for the lightest and 4.3kg for a heavy model complete with a template. The priority is for your machine to be easy to handle and control - and don't forget you might end up needing to do high-up or difficult-to-access work.
Final advice before choosing?
---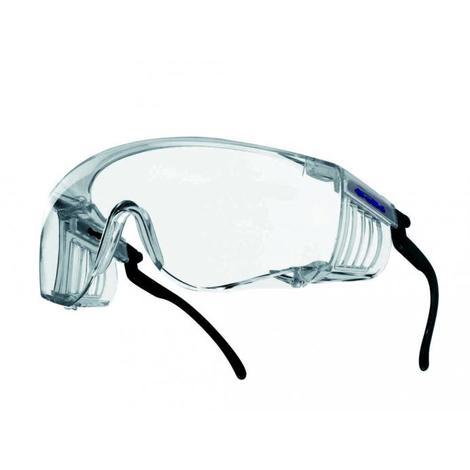 Choosing a frame cutter is made easier by the fact that you can count the models on offer on the fingers of one hand.
Remember that although it's an expensive tool to buy, it is particularly useful for a professional carpenter or if you want to make your own door frames.
If you go about it carefully, a frame cutter can be used in place a router for some limited jobs.
Finally, as always,
watch your fingers!
Wear gloves,
hearing protection
and protective goggles.
Learn more about woodworking tools...
To find out more about woodworking tools, follow our editors' advice and check out their other guides:
Guide written by:
Lucas, Antique wood-worker, Gloucester 27 guides écrits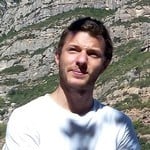 After some time busting my hump at construction, specifically at renovation, painting, carpentry, laying kitchen and bathroom tile, I decided to get my degree as a Carpenter. And I did well because nothing is more pleasant than working on a timber frame or designing a wooden house.

Everything about woodworking fascinates me, and building my own home in this material is one of my goals.

I'm also a follower of construction tools: I love to learn about innovations, the way they're used, the tips and tricks, or the performances of each new tool on the market, whether it's for woodworking or not. I would be happy to advise you and help you with your choices.

Happy Tinkering.
The products related to this guide