Football table buying guide
Guide written by: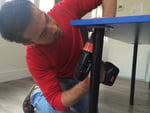 Sebastian, self-taught DIY-er, Exeter
177 guides
Popular in bars, cafés and in homes, football tables come in a variety of different designs. From French to vintage bar styles, solid beech to melamine, and Gerflex playing surfaces or coin slots, there is plenty of choice out there. Read on for our top tips to find the perfect football table for your needs!
Important features
Model
Material
Playing surface
The main types of football tables
Commercial football tables
Commercial football tables come in the traditional style of football tables found in bars and cafés. These models
may or may not be equipped with a coin slot
.
Commercial football tables are all about entertainment, and that's exactly what you'll get with tables from retailers like Bonzini, Sulpie, Scudetto and René Pierre . These football tables are responsible for generations of brush-passing, and dead-man, hover snake and tic-tac shots!


Boasting sturdy designs
, commercial tables are built to withstand the firm grip of weekend foosballers who tend to
twist the rods
. This makes them suitable for use in
gardens
, living rooms,
games rooms
and the local pub.
Football tables with coin slots
Football tables
with coin slots
are most commonly seen in pubs and games rooms. To
play a match,
simply place a coin into the football table. As these football tables are intended for
intensive use
, they are often made from
melamine wood with aluminium players
.
Football tables for those with reduced mobility
There are also
football tables designed for people with reduced mobility
or those with disabilities. These models are also suitable for small spaces and for temporary use.
Junior football tables for children
Children's football tables, such as
Smoby football tables
, are much more fragile as they are usually made from
plastic or a thinner type of melamine
. Practical and easy to move around, these
junior football tables
provide children with many long hours of play. Additionally, these
miniature football tables
can often be converted into
ping-pong
or snooker tables. As they are designed for children, it is important to verify
compliance with standard requirements
, in accordance with the
toy standard EN 71
(European regulations).
Main features of football tables
If you're looking for the best football table for friendly tournaments, you should go for a commercial football table.
Weight: depends on size and materials, determines the stability of the equipment. Recreational football tables (with or without coin slots) weigh around 53 to 75 kg. The lightest models weigh around 20 kg.
The box and legs of the football table are available in the following materials:

beech effect melamine with visible grain made to look like traditional football tables or wenge effect melamine for a sleeker and more modern aesthetic;
solid beech for competition grade or luxury football tables.

A Gerflex playing surface with raised edges to allow you to put the ball in the corner and to avoid the ball from getting stuck in the middle of the game.
The bars are generally made of steel and the aluminium players are traditionally painted blue and white for one team and red and white for the other.
Broad ergonomic handles designed to improve grip.
Dimensions of commercial football tables:

Length: approx. 155 cm
Width: approx. 76 cm
Height: approx. 91 cm
Playing surface: approx. 121 cm x 70 cm (thickness: 9 mm)
Bar diameter: 1.45 cm
Distance between players' feet/pitch: approx. 1.5 cm
Height of players: 12.5 cm

The balls are usually made of natural-coloured cork or painted white or in neon colours. Delivered in 2 parts for football tables without coin slots and in 11 parts for pub football tables with coin slots.
A score counter above the goal.
Choosing a style for your football table
When used at home, football tables are a decorative object in their own right. If you're not a fan of the traditional 1960s style of football table, there is a variety of modern football tables to choose from:
wenge football tables;
white or orange football tables;
stylish black or silver-grey football tables.
Coatings for football table playing surfaces
There are currently three different surface coatings for football table playing surfaces:
wooden pitches;
tempered or sandblasted glass pitches;
Gerflex pitches.
Football tables with wooden playing surfaces
Wooden playing surfaces (most commonly melamine) make for an
especially lively game
as they offer faster play than Gerflex. This material is
more hard-wearing as it is less sensitive to UV rays and humidity
. It offers a good alternative to Gerflex. However, purchasing this type of model will
pay off in the long run
as the material is strong.
Football tables with glass playing surfaces
Contrary to popular belief, glass coatings are not fragile. They are usually made of
tempered glass
and are
perfect for fast-paced matches
.
Sandblasted glass coatings
are also available. This material offers
better ball control
. However, people who are used to wooden playing surfaces may find themselves disoriented at first because of the
fluidity and speed of the game on this kind of pitch
.
Football tables with Gerflex playing surfaces
Gerflex pitches are very popular with French-style table football. This was the material of choice for
football tables
among older generations.
This coating is specially designed to improve ball control during the game.
It makes the ball move faster and makes stopping easier. As such, this material is suitable for
professionals as well as amateurs
. Nonetheless, don't forget to check the material's
ITSF (International Table Soccer Federation) certification to guarantee quality of play
. This coating must also be protected from the sun and humidity if you want it to last.
Choosing the best football table for your needs
Finding
the football table of your dreams
will come down to selecting a model that offers comfortable use,
longevity and play precision
. The cost of commercial football tables may seem high – somewhere in the region of at least £400 – but football tables do not lose value.
Cheaper football tables, costing around £200, are lighter and less sturdy but still offer great play. Those familiar with commercial football tables may, however, be a little disappointed as they do not feature the same gripping points.



Warranties and maintenance
It's worth noting that established football table retailers, such as
Scudetto
,
Bonzini
,
Sulpie
and
René Pierre
, offer premium warranties (replacement of handles, etc.). What's more, they have been building expertise and market presence for decades meaning their football table games are hard-wearing and 100% reliable.
In terms of maintenance,
avoid placing football tables behind bay windows to protect them from UV rays and avoid setting them up in humid environments
(Gerflex playing surfaces can suffer as a result). It is recommended to insert a little
grease
into the bar sleeves
on a regular basis.
All that's left do to now is to settle on
the rules of play
before starting your game!
More information
For more information on outdoor play equipment, check out these guides on related topics:

Did you find this guide helpful?
Guide written by:
Sebastian, self-taught DIY-er, Exeter 177 guides écrits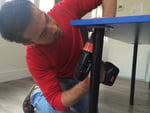 Redo a roof with wooden beams? Check.
Advise Mister everybody in the DIY shop? Check.
Redo the bathroom plumbing? Check.
Fit together, build the walls, paint a partition, throw my hammer in a rage thinking that it will fix the problem? Check.
The DIY motto ? Learning is better than delegating… well, it's also a question about your wallet! The satisfaction? The beer at the end of the job!
What do the best have in common? The influence of Gyro Gearloose, Mac Gyver and Carol Smiley depending on your generation, a good dose of curiosity, a average hand-eye coordination and a taste for risks… and if it doesn't work, try again! Advise you? I'll do my best!
The products related to this guide