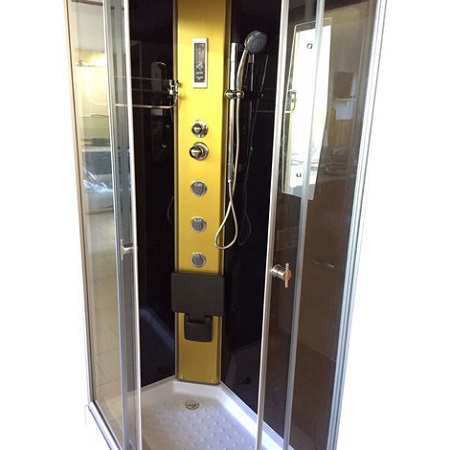 Features of a hydromassage shower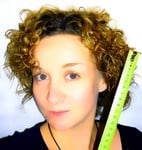 Guide written by:
Anne, Painter, Cambridge
32 guides
With invigorating, rain effect or relaxing jet settings, hydromassage is brilliant for your health and wellbeing. Hydromassage cubicles can perform both relaxing and energizing forms of hydrotherapy treatment. We're here to help you choose between the standard and made-to-measure types.
The pleasure of hydrotherapy in your bathroom
---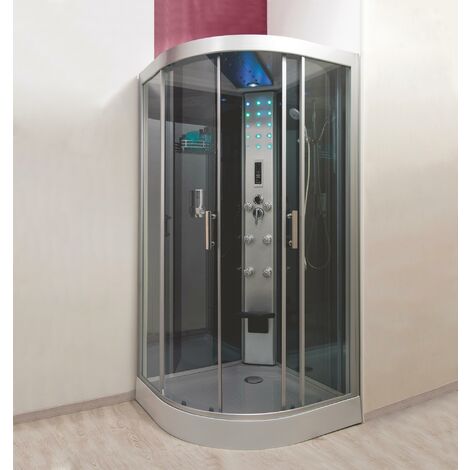 Hydromassage shower cubicles are also referred to as balneotherapy cubicles, taking their name from a form of complementary therapy whereby jets of water target various parts of the body at different rates and pressures to relax the muscles and improve blood circulation.
You can use a hydromassage cubicle to relieve articulatory and muscular pain, stress and hypertension – or simply for a moment's enjoyment and relaxation in the bathroom. The water temperature is generally between 31 and 35°C to promote exchange between the skin, water and the trace elements contained in it. However you plan to use it, the benefits of a hydromassage cubicle in terms of wellbeing are widely attested.
Explore the ManoMano catalogue
Hydromassage shower cubicles
Choosing the right cubicle
---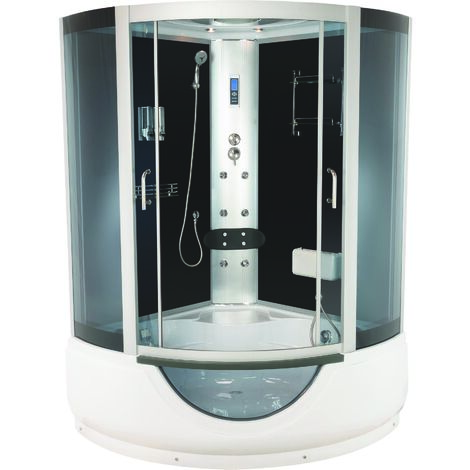 The shape of your cubicle ultimately depends on the shower tray (square, half-moon, rectangular); while the size will depend on how much space you have to dedicate to it: 80 x 80cm; 90 x 90cm; 110 x 80cm; 115 x 80cm; 90 x 120cm; 80 x 120cm; 135 x 135cm. While there are many different types of cubicles, in a range of dimensions and designs, they can all be divided into two broad categories: one-piece kits and made-to-measure cubicles. The layout of your bathroom will determine the type that's best for you.
One-piece hydromassage cubicle
This is a ready-to-install model that's easy to connect up and use. Perfectly waterproof, it can be installed anywhere in the bathroom, provided you have the space. The tray and the bottom wall are typically made of acrylic and the doors made of safety glass. The hydromassage system itself consists of a single column with a handheld shower head and several nozzles (4 - 6 on standard models) which are controlled via a mechanical mixer tap.
Made-to-measure hydromassage cubicle
This is a more flexible option that can be adapted to suit your needs, your bathroom and the dimensions of the supporting structure. It's installed in a predefined location, usually in a corner or built into the wall. The process consists of putting up one or more partition walls, a shower door, a hydromassage column and a shower tray… All things considered, this type of hydromassage cubicle is basically just a made-to-measure shower cubicle, or a couple of partitions, some tiling and a shower head. Great for if you're renovating yourbathroom, the cost will vary depending on what you've already got installed, the level of luxury you're after, choice of materials, etc.
Explore the ManoMano catalogue
Shower head
Sequential or multi-jet massage system
Sequential jet system
---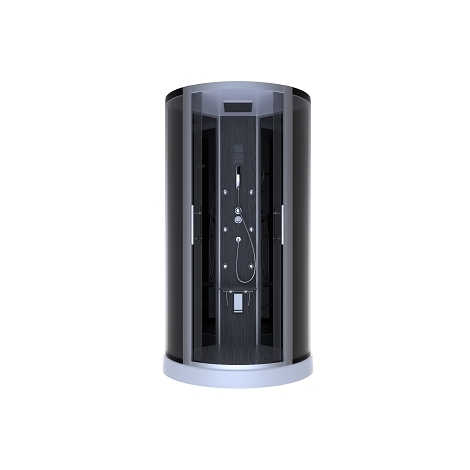 Each jet functions independently, so you can regulate their intensity and pattern separately: great if you want to target the hydromassage effect (e.g. for relieving muscular pain). The nozzles are usually mechanical, but some of the more sophisticated models can be controlled electronically.
Multijet system
This type of hydromassage system is run directly off the mains water supply. The nozzles act simultaneously with the same pattern and speed. A multijet system is more suited to general wellbeing and relaxation. It requires a more heavy duty water supply, both in terms of pressure and flow.
Installation constraint: sufficient water supply
For optimal performance, a hydromassage cubicle needs a supply pressure of at least 3 bars. If your network can't provide this, installing a booster pump (a device for increasing water pressure in a pipe network) can make a good alternative. It also works best on a storage heater system with a capacity of 300 litres, rather than an instant water heater which can't provide a sufficient water flow rate. A hydromassage cubicle consumes between 20 and 30 litres of water per minute.
Explore the ManoMano catalogue
Instant water heater
Sliding or swing door?
---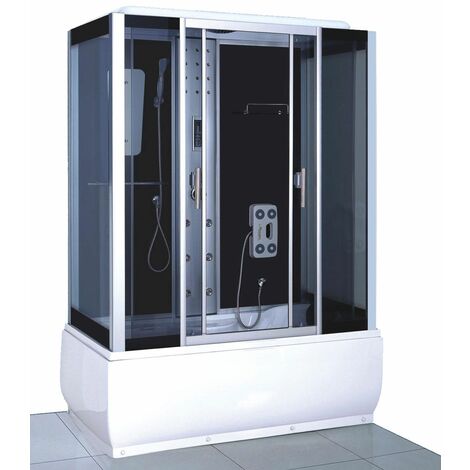 The type of doors on your hydromassage cubicle will again depend on the space available in your bathroom. Depending on the size and features of your shower, you'll be able to decide on front or corner access. Whatever door you choose needs to be compatible with your shower tray (i.e. curved or straight); your mission is to choose a door that combines practicality with an elegant appearance.
Sliding door
Access has to be front-on or from one corner. The door consists of several panels superimposed on one another. This type of door is highly practical as it doesn't require any clearance to open it (great for smaller bathrooms), but it's often unpopular as it limits access to the cubicle (significant for larger or reduced mobility users) as well as being trickier to maintain.
Swing door
This type of door is the same as for most mainstream showers. It provides easy access to the shower; however, its downsides are a lack of watertightness when the door opens outwards and the substantial clearance required for opening.
Explore the ManoMano catalogue
Shower tray
Settings and options
---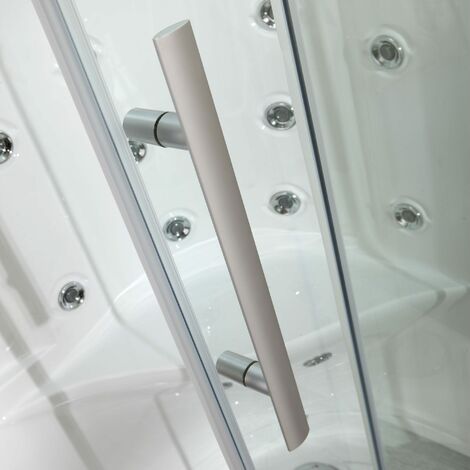 Depending on the model of hydromassage cubicle you go for, it may offer more or less in the way of different settings. Some of the more common ones are:
hydromassage jets and massage programmes - with jets of water or bubbles, these can be relaxing or invigorating, soft or pounding… massage programmes of varying durations and effects
cascade or affusion shower - producing a fine spray of water for guaranteed calm!
foot massage - with jets of water spraying up from the bottom of the cubicle; particularly beneficial if you're on your feet for long periods of time
Along the lines of a balneotherapy tub, your cubicle may offer a range of additional features for enhanced comfort, such as:
chromatherapy - or the therapeutic use of colours. Beams of light are directed towards certain parts of the body for a range of therapeutic effects
music therapy - immerse yourself in music for ultimate relaxation
aromatherapy - enjoy the benefits of essential oils diffusing subtly around you
hammam - maximum comfort from a combination of hydromassage jets and warm steam between 35 and 50°C (humidity level around 90%). The hammam technique promotes relaxation, relieves muscular and articulatory pain and stimulates circulation - as well as allowing toxins to escape the body by opening the pores and rehydrating the skin. A built-in vaporizer produces the steam and releases it via a nozzle about 30cm from the base of the cubicle.
Various tempting accessories are also available, depending on the tech level of your cubicle:
bathtub (for enhanced comfort)
storage boxes
neck cushions
folding or collapsible seat
mirror
top dome with recessed lighting (LED spots)
bamboo duckboards
Explore the ManoMano catalogue
Balneotherapy tub
Learn more about bathroom design...
To find out more about bathroom design, follow our editors' advice and check out their other guides:
Guide written by:
Anne, Painter, Cambridge, 32 guides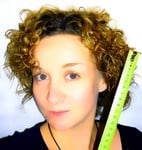 After 8 years of trade, I turned professional: I trained myself to be a painter and carpet layer either solo or with 16 years old comrades. 9 months later, following vocational school, my registration in Trades Directory, and the label 'Artisan' in hand, I created my company. And since then, I don't even touch my brushes. I'm a self-taught DIYer and decoration enthusiast, I love to find and restore furniture and to create unique decoration elements. I completed the restoration of my sister's house, this was last summer, with my niece: electrical, tiling, finishing, plasterboard...we did it all. And today, if I can share my experience I'm happy to do it. A total DIY enthusiast joke: 'What's the difference between a clown and a DIY enthusiast? A sense of humor.' Good Luck.  
The products related to this guide