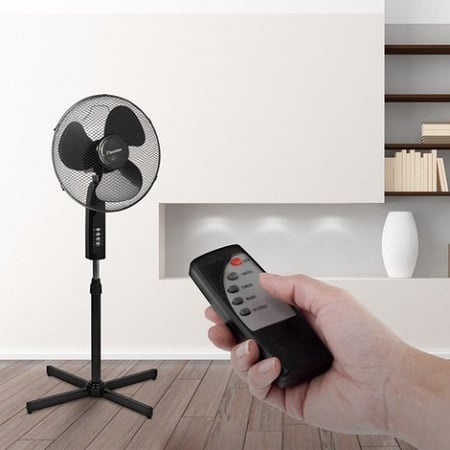 Fan buying guide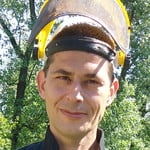 Guide written by:
Jeremy, construction site supervisor, Cardiff
132 guides
In the office or at home, fresh air is a basic need, especially in the summer! Pedestal, column and ceiling fans ensure ventilation and fresh air. With misting options for higher comfort or ionization for well-being: follow this guide and our advice to choose the perfect fan!
How does a fan work?
---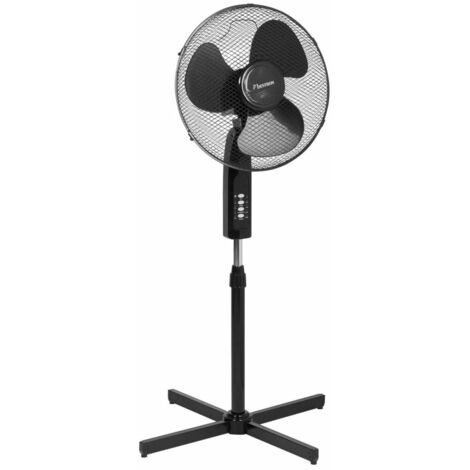 Unlike air conditioning, ventilation uses a very basic concept. Stirring the ambient air of a room of the house naturally stimulates the movement of cold and warm air flow. This variation of flow causes an overall lowering of the temperature and provides a sensation of freshness.
The more volume of air is displaced, the stronger the freshness. The potential volume of air depends on the size and power of the fan. It is important to consider that a fans, even of high power, can not significantly lower the temperature of a room as would an air conditioner.
Explore the ManoMano catalogue
Fans
What are the different types of fans?
---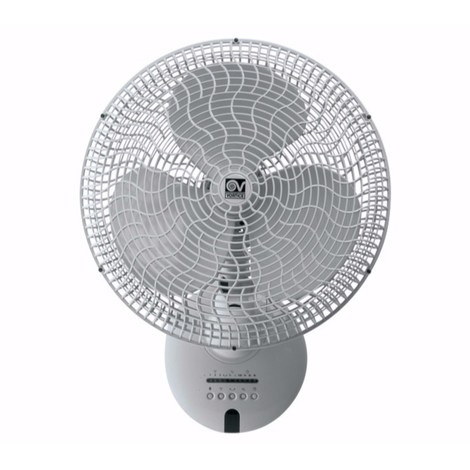 There are three types of fans: axial, centrifugal and bladeless fans.
Axial fans or bladed fans
Technically, the bladed fans employ the simplest technology. The propeller is directly connected to the motor shaft which drives it and thus generates an air movement. The power of the blade fans varies from a few watts (W) to over 200 watts for the larger ones. Blade fans are often on a stand or on feet, but this type of technology is also used for ceiling fans or large floor fans - which are often found in workshops or garages.
The blades' size can vary, ranging from a few centimeters for base-mounted desk fans to more than 50 cm in diameter for shopextractor fans or ventilation fans. Generally, blade fans are relatively noisy and are available in different models:
On a stand, ideal for laying on a desk or living room table. Their low weight makes them highly manuverable;
Ceiling and wall fans, both of which need to be securely installed with a drill and dowels. Ceiling fans are linked into the home electrical supply;
Extractor fans, being so powerful, are largely designed for large surfaces.
---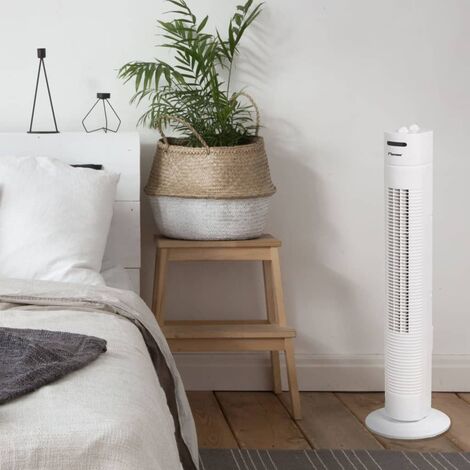 Column or centrifugal fans
Centrifugal fans are specifically designed for head duty insdustry use. In principle, it is no longer a propeller that generates the air movement but a wheel. This wheel (equipped with blades) rotates in a casing. The exhaust air may or may not be channeled. To attach the image to the description, this is the technology used for column fans.
Less noisy than axial fans, centrifugal fans or column fans are also less energy-consuming because the power required to equal volume of air moved is less. Ideal for a room where silence is essential, the column fan is limited, however, when you need to service a large room - even for the most powerful fans.
Bladeless fans 
Bladeless fans are the new generation of fans. They use a relatively complex technology, developed by a famous bag-less vaccuum cleaner manufacturer (and head of several brands). Bladeless fans are very quiet and relatively efficient (in terms of air volume displaced) but more expensive than other types of fans.
Explore the ManoMano catalogue
Ceiling fans
What are the functions of a fan?
Blowing air is the primary role by nature for a fan but some available models have alternative modes. Apart from the technology used to generate air movement, some fans also offer additional modes such as fog, humidifier or ionization modes. All these modes modify the ambient air and create a feeling of freshness. Depending on the mode, air purification can also be added, thus reducing the risks of asthma.
---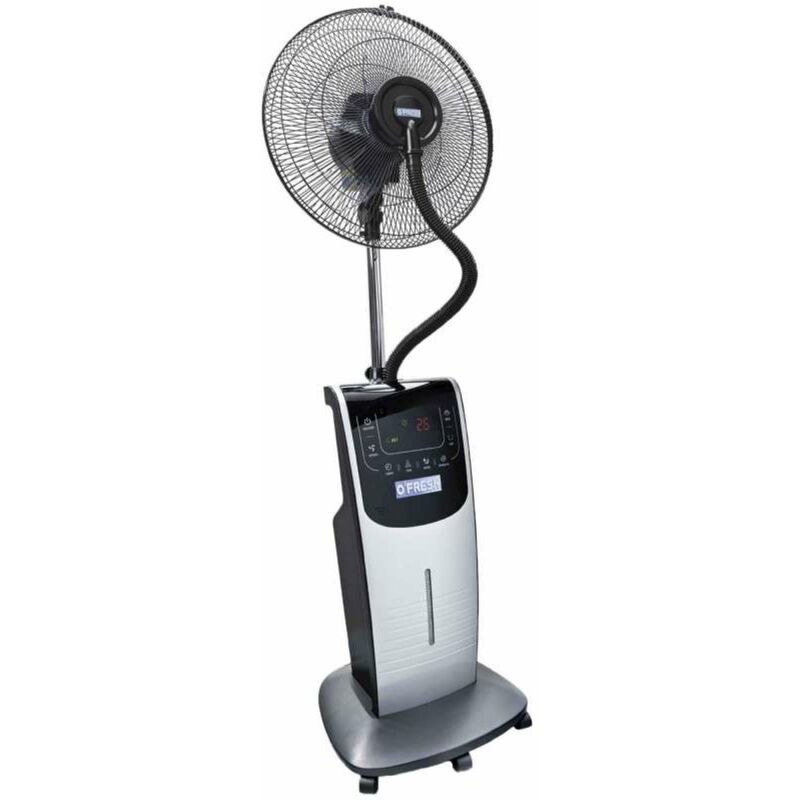 Misting
A misting fan allows  pressurized water to be released alongside the fresh air for a superior refreshing effect. They can be both moveable or fixed - and can also be incorporated into structures like parasols.
Humidification
Humidification on a ventilator allows to increase the humidity of the ambient air so that it is not too dry, which can cause respiratory problems or increased risks of asthma.
Ionization
Ionization alters the chemistry of air by charging it with negative ions to stabilize it. For an increased sensation of well-being, the balance between the positive ions (cations) and the negative ions (anions) must be respected. In the home and office, this rate is rarely respected (pollutants like formaldehyde releases, electromagnetic fields, kitchen fumes, solvents, dust, are constantly released). This is why ionization is highly recommended.
Explore the ManoMano catalogue
Parasols
How to choose your fan?
Choosing your fan is simple when you know which questions to ask. To be sure of making the right choice, ask these questions first!
---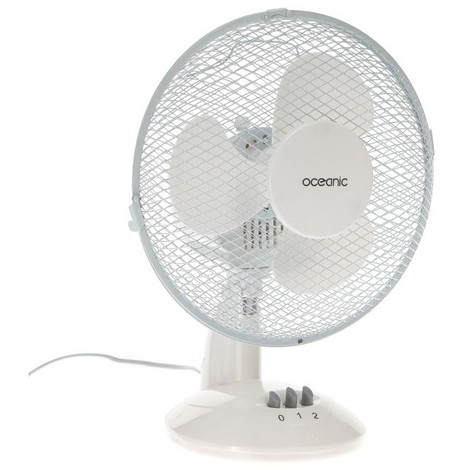 Where is the fan going?
Depending on the space you hope to refresh, the required type can vary. For a desk, a smallfan on low power stand is perfect. For a living room, or a large room, a free-standing fan (moveable) or a ceiling fan (fixed installation) are quite suitable. For a bedroom, a column fan allows you to refresh the room in silence.
Which air flow to choose for its fan?
Directly linked to the power of the fan, the generated air flow is an important parameter to be taken into account. It validifies the fan's effectiveness. 
The air flow rate of the fan is expressed in m3/h (cubic meters per hour) or m3/min (cubic meters per minute). For a small fan on desk stand, 15 m3/min is a sufficient flow. For a 30 m2 living room, however, set a flow rate of 150 m3/min to obtain effective ventilation. For a workshop, you will find exhaust fans ranging up to 350 or 400 m3/min.
| | | |
| --- | --- | --- |
| | | |
| | | |
| | | 20 m² (bedroom, living room) |
| | | 30 m² (living room, open kitchen, etc.) |
| | | 70 m² (workshop, garage etc.) |
Soundproofing of the fan
A fan, whatever its type, is always a bit noisy. A completely silent ventilation does not exist. It's important to take the generated noise into consideration because this might be a crucial factor. Being cool in deafening noise is not ideal! If your intention is to freshen up a bedroom, column fans are perfect as they are relatively quiet. But all the fans are up to scratch, it's often necessary to really study the technical descriptions. The generated noise is expressed in decibels (dB) - a fan of 40 dB is the maximum threshold allowed to ventilate a room. Even in a living room (dining room, kitchen, etc.), noise is quickly disagreeable.
What are some features of a fan?
Depending on your needs, it may be worthwhile to choose a fan with one of the following feautres.
---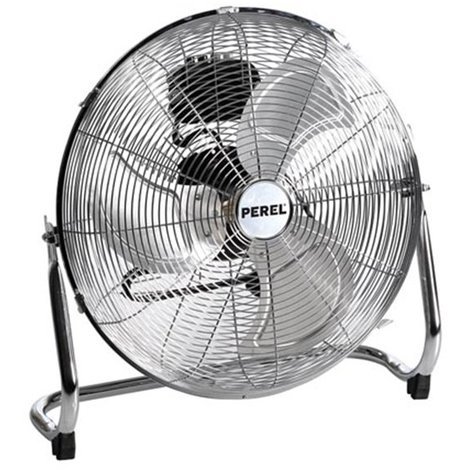 Programming 
Programming a fan allows you to select operatinghours or set a delayed start. It's practical to avoid letting the fan run all night or to prepare a room for your arrival.
Remote control 
A remote control is useful and avoids all the back and forths. In addition to the possibility of turning the fan on and off, the remote control is used to adjust the fan's speed.
Speed control
When it comes to power, the vast majority of fans incorporate different gears - often ranging from 1 to 3 speeds. This is a crucial feature to better adapt the ventilation to the ambient temperature.
Oscillation of the fan
The oscillation of the fan head is essential for a better distribution of air. The majority of the fans oscillate on 180 ° however there are fans capable of 360 ° oscillation.
Explore the ManoMano catalogue
Fans
Tip for choosing your fan
---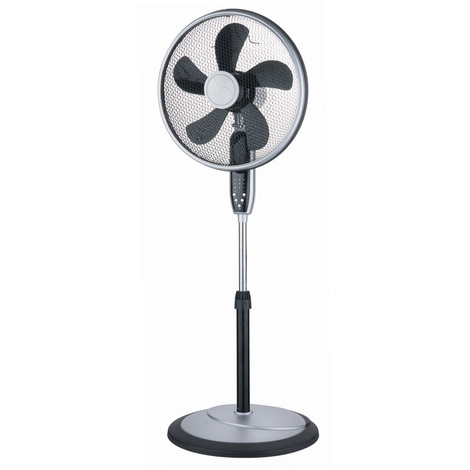 For your health, especially if you are using a base-mounted fan, do not place yourself too close to the appliance or directly in front of the generated airflow.
If you use a misting or humidifier fan, remember to regularly ventilate the room in which it is located to renew the ambient air and expel excess moisture.
Regularly clean water recovery units and filters.
If you are considering a fan for your garage or workshop, always consider the generated noise as these high-power fans are often the noisiest.
Maintenance of fans
Like any other appliance, a fan needs regular maintenance.
Generally, maintenance is limited to cleaning the various filters and water recovery unit - for misting fans or air humidifiers. This remains relatively simple. For all other fan models, a simple regular cleaning is sufficient.
More information
For hot summers and a more healty air flow, follow the links below for related accessories, advice from our editors and more helpful guides:
How to choose your ventilation system?
How to choose your dual flow ventilation system?
How to choose your smoke detector?
Guide written by:
Jeremy, construction site supervisor, Cardiff, 132 guides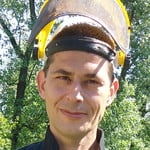 Electrician by trade, I first worked in industrial estates where I installed, wired and fixed a large number of electrical installations. After this, I managed a team of electricians for this type of work. 10 years or so ago, I turned to building and construction. From the modest family home, to gyms and theatres; I have been able to coordinate, audit and organise all sorts of construction sites. for 4 years now, I am restaoring and bulding an extrension to a bungalow in the heart of the welsh countyside. My experience in manual work and my knowledge means I am proud to be of service. Terraces, interior design, roofing, plumbing, electricty, anything goes! We have, my wife, daughter and I, built almost everything we have from scratch! So to answer all of your questions, and to orientate and advise you on coosing your tools? Easy!
The products related to this guide