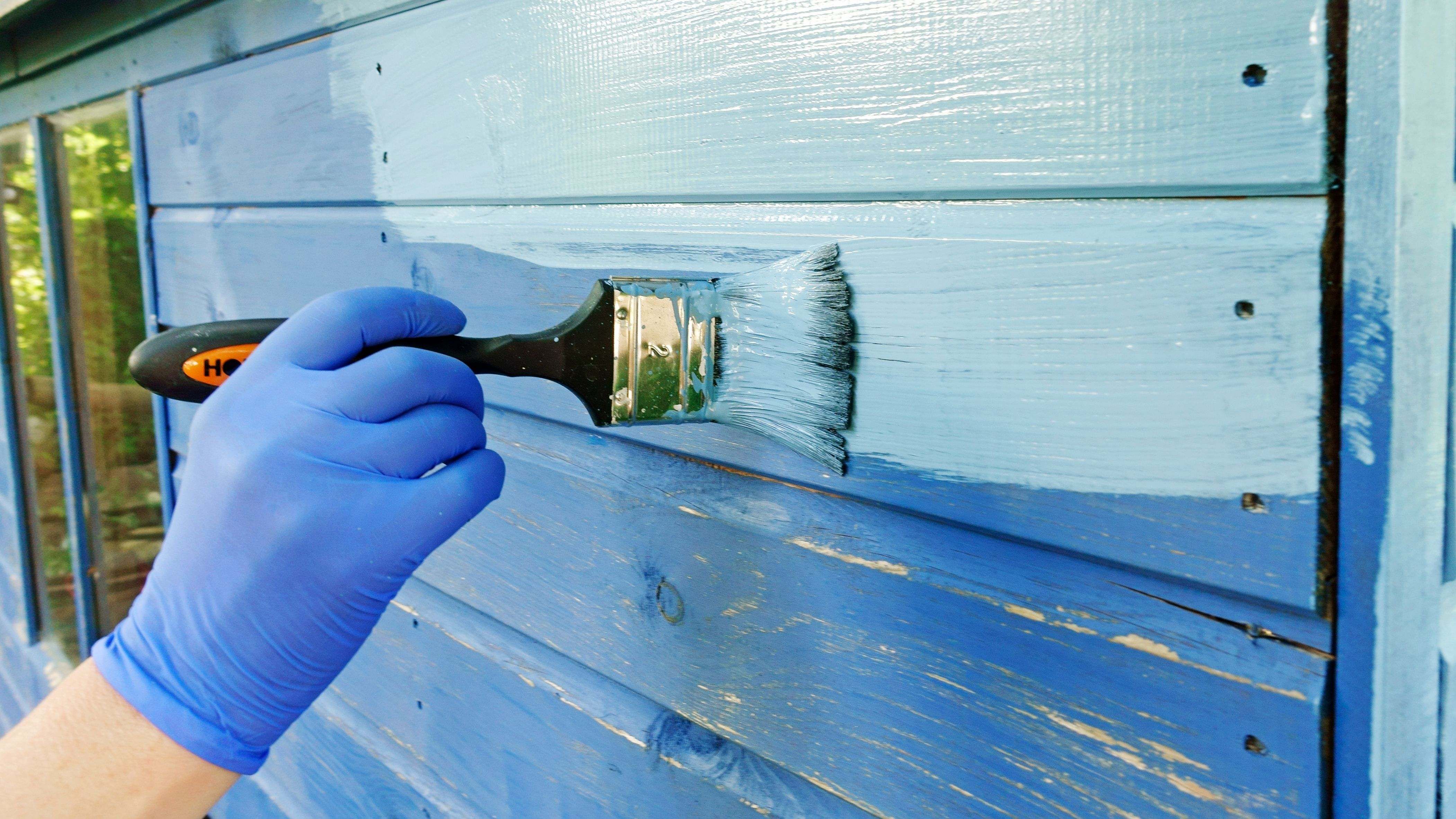 Exterior wood paint buying guide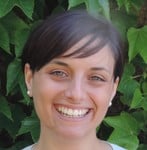 Guide written by:
Julie, Interior Designer, Manchester
27 guides
Cracked paint? Faded colours? A simple change of taste? No problem, we've got the solution! Whether it's acrylic paint, oil based or stain, you'll find just the thing to revive your woodwork and your brushes!
Advantages of using a wood paint that is specifically for exterior use
---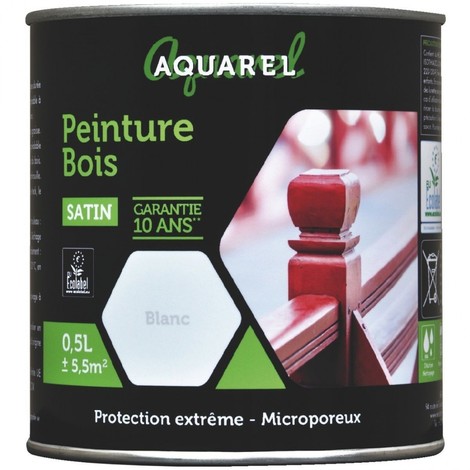 It's simple: to ascertain as best you can the correct age of the wood.It's important that exterior wood surfaces have good resistance to UV rays and weathering. Nobody likes sanding, there is no point inflicting such a task upon yourself year on year by using the wrong products.Wood is a living material that changes over time.  Care must be taken to protect it and maintain its quality. Then you can experience the joys of a quality exterior for years.The fungicidal and insecticidal properties of exterior wood paint is a non-negligible aspect.
Explore the ManoMano catalog
Exterior wood paint
The importance of evaluating the substrate before applying the wood paint
---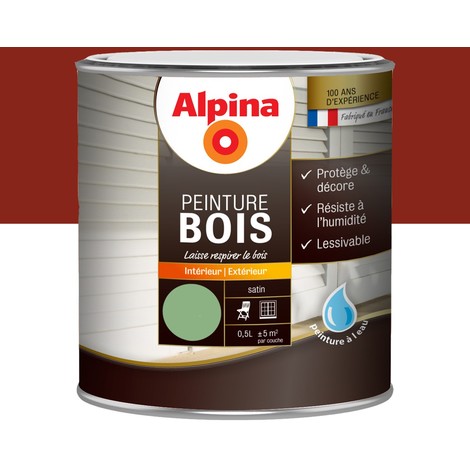 Choosing paints specific to exterior woodwork requires a little knowledge of the substrate (the surface being painted). It would be a shame to spend all that time slapping on the wrong type of paint and then have to start all over again. First, you must identify the nature of the wood.
Is it a resinous or non-resinous wood?
Is the wood new?
Has it already been painted?The answers to these questions will help you narrow down the choice. Once this has been done, and after preparing the substrate, you can move on to choosing a suitable product. Don't forget, you'll find all the info you need in the product descriptions! Choosing the right maintenance products for your wood will ensure the durability of your woodwork!
Exterior wood paints: acrylic
---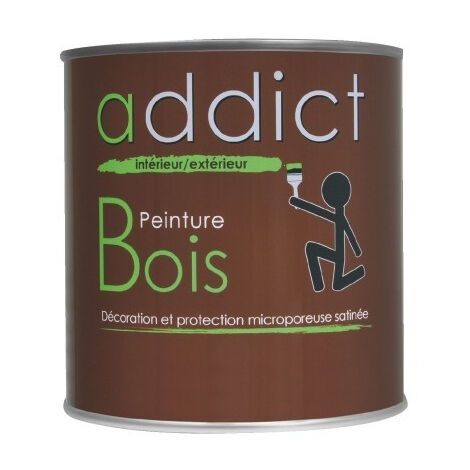 Acrylic paint is water-based and is therefore referred to as microporous. What's the deal with that? Well, it means the paint will let the wood breathe over time. Thus, it will be less susceptible to flaking and water infiltration. Pretty important outdoors! Acrylic is a popular type of paint, because unlike other paints, it doesn't give off an odour. Neither does it require a specific product to clean it. And yes, you won't need to wash your hands with anything other than water after your DIY session!Acrylic paint is also highly valued for its low level of VOC (volatile organic compounds) emissions, making it more environmentally friendly. It often has a matte or satin appearance.
Exterior wood paints: oil-based paint
---
Unlike acrylic paint, oil-based paint, also called glycerol, has an oil base. As a result, it takes longer to dry (about 8 hours per coat).In general, oil-based paint has a shiny appearance. It comes in a lacquer variety.The more pronounced odour is weighed up against its high moisture resistance and strong adhesion.To clean your brushes and rollers and wash your hands, you will need to use a solvent such as white spirit.Since it's not microporous, acrylic paint doesn't allow the wood to breathe, creating a risk of scale formation in the event of water infiltration.
Explore the ManoMano catalog
Solvent
Exterior wood paints: alkyde paint
---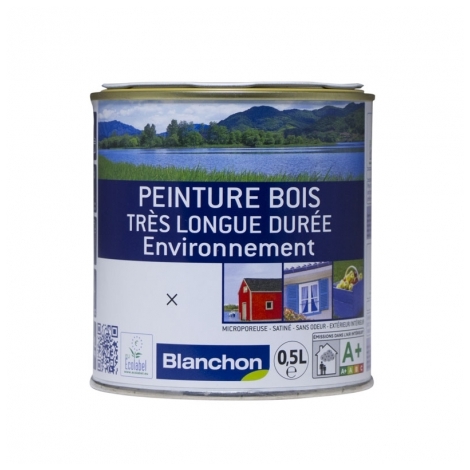 Since European directives have begun to impose very low levels of VOC emissions in recent years, a new type of paint has appeared on the market - namely alkyd.Alkyd offers a combination of the benefits of acrylic and oil-based types of paint. It is water-based (making easier to clean your tools!) but still has the synthetic resin of oil-based paints. This means that it is highly resistant and offers a high-quality finish.It has a taut appearance. However, there is one disadvantage: it is sensitive to shocks and it takes several weeks to fully dry.
Why choose a stain?
---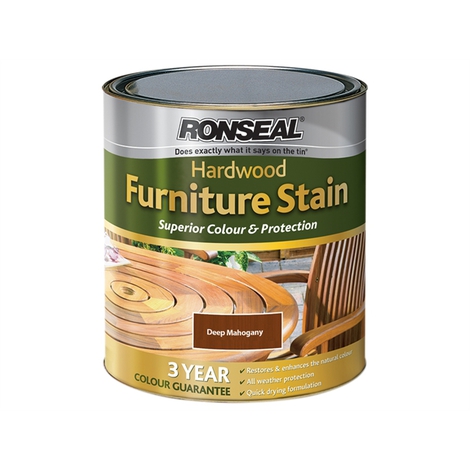 Wood stain is intended to protect wood from mould and insects and preventgreying while leaving the natural grain of the wood visible.It provides microporous, water-repellent protection and doesn't crack. These days you can get different kinds of stain, tinted or clear. They generally take the name of a type of wood with a qualifying adjective such as golden or aged. Obviously, not all stains have all the qualities listed above. Watch your budget, make sure you read the product descriptions and you're off!
Colour-tinted stains
These are mainly decorative. You'll find every shade under the sun, mute pastels to lively, saturated colours. The colour gives this type of stain a high UV resistance. Moreover, the darker the colour, the stronger the resistance. Note that unlike traditional paints, coloured stains show the grain of the wood.
Clear stainsSo-called classic stains retain the natural appearance of the wood without altering its colour. Because of this, they are a little less UV resistant. Their resistance is determined by the level of dry residue they contain. A lifespan of over 8 yearsis feasible with a dry content over 50%. Otherwise, you're looking at 2-5 years.You should check which product is the best suited to the weather conditions in the region where you're painting. There are even stains designed for extreme climaticconditions such as those found in marine or mountain environments. You can also find anti-parasitic varieties of clear stain. Now you see the importance of a thorough assessment of the substrate!
Explore the ManoMano catalog
Stains
What's a saturator?
---
Saturators are used to protect wood from the effects of ageing.They act against staining and give the wood a satin look without tinting it. Really a saturator is more of a colour enhancer that lets the wood's grain show through!Saturators are recommended for chalets, decking, fences, etc. Rather than 'painting' it per se, you're covering and protecting the wood!
Exterior wood paints: selection advice
---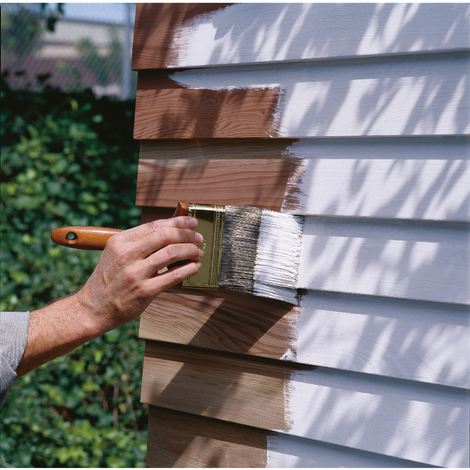 Preferably, go for microporous paints that allow the wood to breathe.Stain is entirely a matter of taste. The best stains offer optimal wood protection.For any exotic woodwork, a saturator is a very good compromise because the wood retains its original colouring. The oil also provides good protection.Before applying the first coat, be it paint or stain, don't forget to prepare the substrate well: an unprepared area can eventually trap moisture or even develop mould.Since you can't escape maintaining your woodwork - on a regular basis - equip yourself well! Brushes in a range of sizes, rollers, dustsheets, roller trays, etc. Choose your painting tools well and you'll have a smoother time of it for sure.
Exterior wood painting: 6 steps for proper substrate preparation
For an exterior wood paint to be effective, it's essential to prepare the substrate before application. So here are a few tips to make sure you get optimal coverage and longevity. (Don't get us wrong, we love painting - but not every year!)
1.Sanding
Sand the surface - it's not hugely fun but it is necessary! Sand coarsely with the right abrasive and a decent sander, no need to overdo it! If your wood is stained, however, you'll need to get right down to the original wood. If your wood is new, remove the grease with a specialised product depending on the type of wood.
2.Dusting and cleaning
Clean the wood before you do anything else. Be careful, do not use water or anything like that. This may cause an undesirable chemical reaction after painting and you definitely don't want that! A brush will do the trick perfectly.
3.Filling
If necessary, fill the holes with a specific type of filler to restore a smooth surface. If you do not have a wood filler in the required colour, mix it with the dust from sanding.
4.Applying an undercoat
Use a primer, an undercoat so that the paint isn't entirely absorbed by the wood. Better to apply one undercoat and one coat of wood paint than two coats of wood paint.
5.Applying the paint
Paint, in the direction of the grain of the wood! Be sure to paint the entire area of wood as evenly as you can. Use several paint brushes if necessary.
Guide written by:
Julie, Interior Designer, Manchester, 27 guides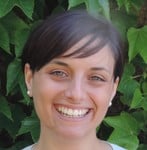 After years of DIY, renovation, designing, I decided to turn my passion into my career. Starting in 2006, in the South-West, I helped people with renovation or contruction projects. My expertise and my curiosity led me to look further into innovative ideas for myself and my clients. Indeed, to live your passion is also to transform the space you live in and the objects you use daily. My family love my creations and ideas that I bring into their lives! My favourite thing to do: use colour to brighten up interior space. But also tips to hide away clutter. Your home is just never big enough, is it? It is thus a great pleasure to share my tips with you, so that you also can take as much pleasure as I do when starting up your next project!  
The products related to this guide