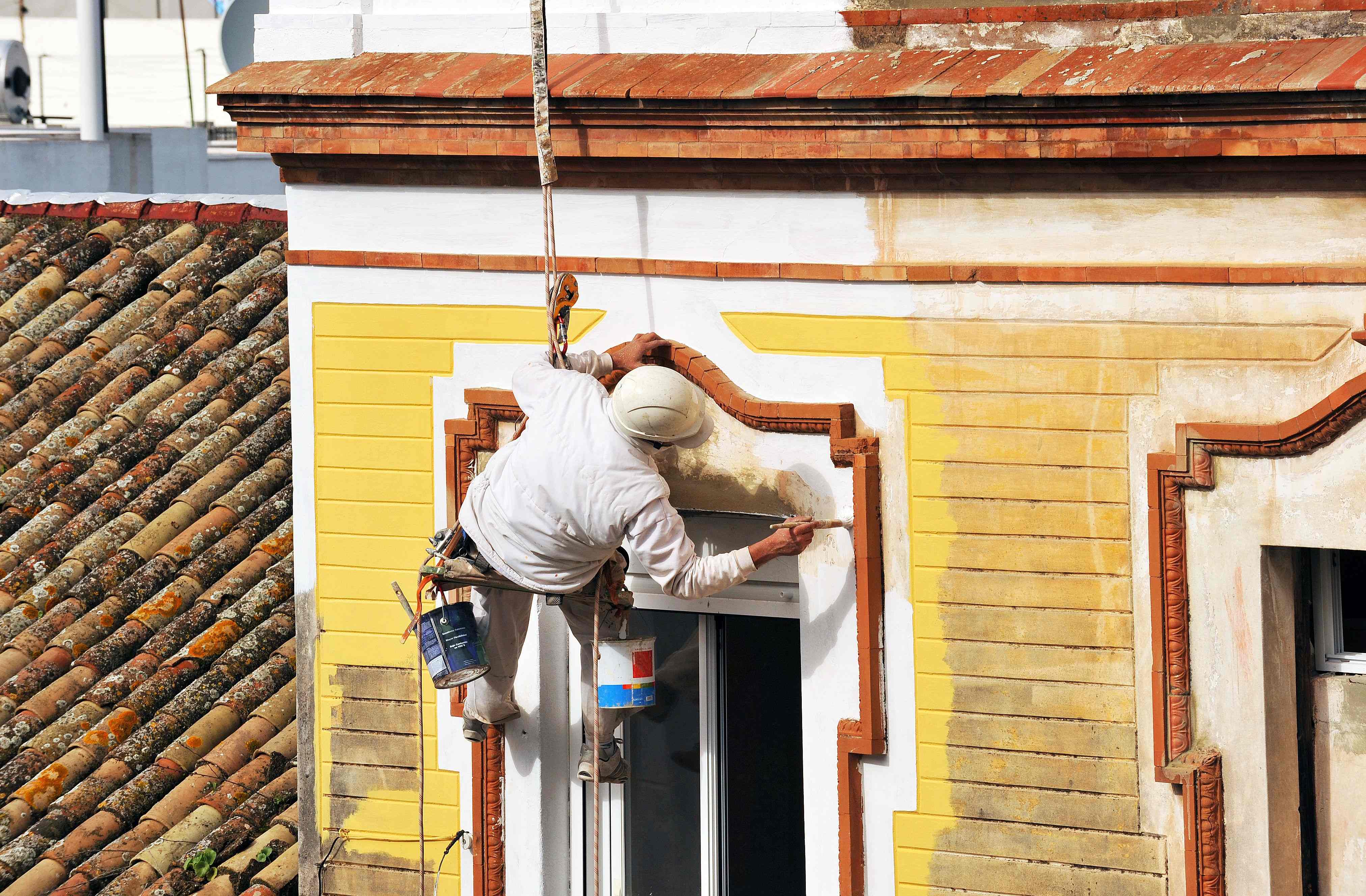 Exterior wall paint buying guide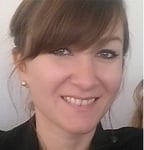 Guide written by:
Crystal, Owner of a small gardening business, Oxford
51 guides
Exterior wall paint helps to improve the look of the outside of your home, but it'll also help to protect it against rain, sun, pollution or even salt. Pliolite, hydropliolite, siloxane or mineral, your choice of masonry paint will depend on where you live and the materials that make up your façade.
How to choose exterior wall paint
---
All exterior paints are designed to weatherproof walls while also allowing air and moisture to escape. However, most paints differ in terms of the properties they offer.  In order to choose the right exterior wall paint, you will have to weigh up a number of factors.
Surface type: the type of material that makes up your façade (for example concrete or wood) will determine the type of exterior paint you need to use. That said, a lot of these products are multi-surface paints.
The condition of the surface: if your façade is damaged, a Pliolite-based masonry paint will be ideal. For cracked or very rough surfaces, go for a thick acrylic paint.
The type of environment you live in will also affect your choice of paint. If you live in the mountains, go for a siloxane paint designed to provide high protection against weather damage. A self-cleaning masonry paint is ideal for areas with a lot of pollution.
The colour of your paint will, of course, influence the look of your house. Be sure to check any local regulations before you paint.
Different types of exterior wall paint
There are many different types of exterior wall paint to choose from so you're sure to find one to suit your needs.
Acrylic exterior wall paint
---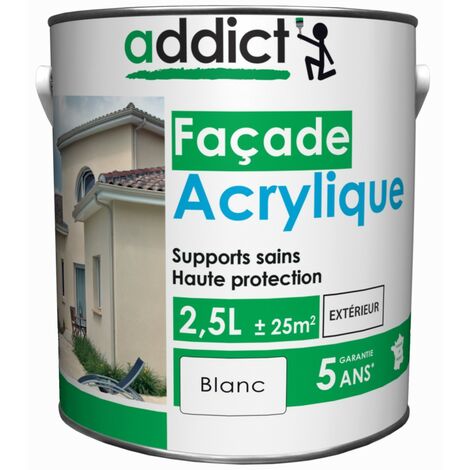 Acrylic exterior paint is a type of microporous paint that can usually be applied to any outdoor surface in good condition (with the exception of metal). The least expensive option of all, it's also easy to apply, has little odour and you'll be able to clean all your tools with water once you're done.
Acrylic paint is also highly effective and can offer protection for up to ten years. Thick acrylic paint can be used to disguise paint crazing or to mask unevenness in the exterior wall render.
Pliolite or Hydropliolite paint
---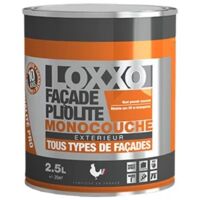 Pliolite paint is a microporous masonry paint containing Pliolite resin dissolved in solvent. Recommended for damaged, moist and/or UV-exposed surfaces, this type of paint can last for up to ten years. However, it is quite tricky to apply and takes a long time to cure. Furthermore, it does give off a strong smell and you will have to clean your tools with white spirit.
Hydropliolite paint is a water-based exterior masonry paint that does not contain any solvents. More environmentally friendly, this type of paint is also easier to apply, quicker to dry, emits less of an odour and you'll be able to wash your tools in water. However, Hydropliolite paint is more expensive than ordinary Pliolite paint.
Siloxane exterior wall paint
---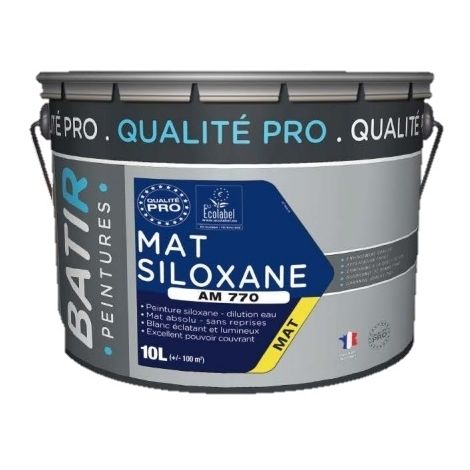 As its name suggests, siloxane paint is made using siloxane resin which allows the paint to dry within several hours. Similar in appearance to mineral-based paints, siloxane paint is breathable, suitable for almost all surfaces and highly water-repellent meaning the rain will not be absorbed but rather will run off your surface in drops. Highly resistant to scuffing, acid rain and UV rays, this paint will last up to 15 years making it particularly recommended for more extreme environments. While siloxane paint is effective, it is more expensive than other options.
Mineral-based exterior wall paint
---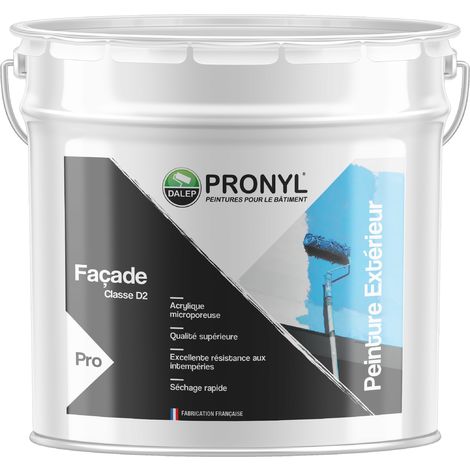 Made using lime or silicate, mineral-based masonry paint has been used for centuries and is chosen primarily for its finish.
Limewash boasts anti-bacterial properties and is fire retardant. Silicate paint is very good at warding off UV rays and pollution which helps to prevent dirt build-up.
Both options are permeable and hard-wearing, and are now much easier to apply than they used to be. However, as these paints are not terribly flexible, they should only be used on surfaces that are in good condition.
Explore the ManoMano catalog
Exterior wall paint
Exterior wall paint for different environments
---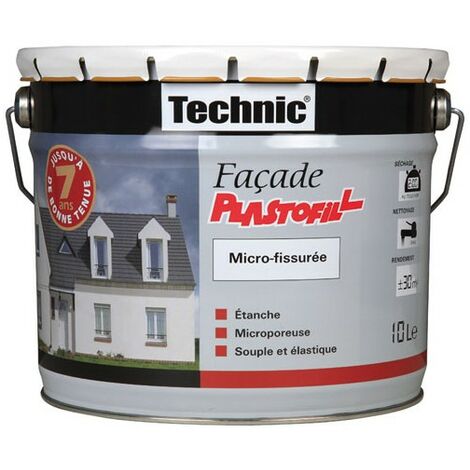 In addition to thinking about the materials and state of your façade, you'll have to think about the environmental conditions the paint will have to withstand:
Coastal homes will require paint that can stand up to salt, sand and UV rays. Ideally, your best option will be a siloxane exterior wall paint that mentions coastal areas on the label.
Mountainous environments require paint that can stand up to extreme temperatures and UV rays. It's a good idea to go for a siloxane paint in this case too but look for a paint that mentions extreme or severe weather conditions, depending on your needs. 
Wooded or moist areas with a lot of moss and lichen growth, and areas that tend to suffer from issues like rising damp, will require a paint that is able to cope with extreme environmental conditions, such as siloxane.
Any areas with high levels of pollution will require a dirt-resistant paint and potentially one that is crack-resistant if you live beside a busy road or railway. Acrylic paint with a smooth finish will work well.
Picking an exterior wall paint colour
It goes without saying that the colour of your exterior wall paint will have a big impact in the overall look of your home.
Taste vs. surroundings
---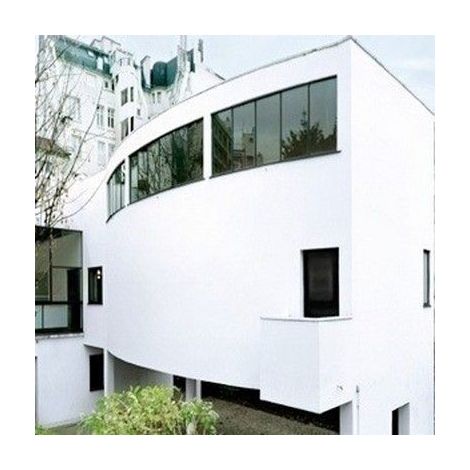 First of all, you'll have to think about your own tastes. Generally speaking, light colours are advised for façades that have to deal with a lot of sun exposure. However, it's best to avoid pure white as it does tend to get dirty. On the other hand, a north-facing façade can be painted in a neutral tone which won't go out of style in a hurry.
Be sure to take into account the colour of your roof, windows, woodwork and window ledges when picking an exterior wall paint. Don't use more than three different colours.
Your choice of colour will also depend on the surrounding houses and the general style of your area.
UK regulations on house colour
---
Before you set about buying paint, you'll have to check up on any regulations in your local area. Generally speaking, you will usually be able to paint your house in any colour you want.
However, some local authorities do not allow you to pick just any colour so be sure to check first. Furthermore, if your house is listed or on designated land additional rules will apply.
Explore the ManoMano catalog
Windows
Guide written by:
Crystal, Owner of a small gardening business, Oxford, 51 guides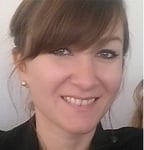 From a background in waste transportation, I became a farmer specializing in organic market gardening. A graduate of a professional baccalaureate in Agronomy and Horticultural Production, I tried for several years as a young farmer to settle in the beautiful region of Oxford.   After many disappointments, I finally started a small-business in home services, specifically in gardening, assisted by my loving, dear husband. Passionate about nature and wild edible plants, I am very attentive to ecological solutions and respectful of our environment in all aspects of my daily life.   From the vegetable garden to the flower beds, from seed to harvest, I have all kinds of advice up my sleeve. Do not hesitate to ask me your questions.