Electric plane buying guide
Guide written by: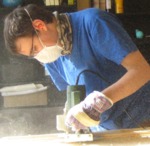 John, DIYer & IT developer, Brighton
59 guides
An electric plane is a crucial tool for any amateur carpenter, as it is ideal for adjusting doors, creating edges, trimming or to rectifying wooden pieces in cabinetmaking! Suction, with or without bag, 82 mm irons, shoes... follow this guide to choose your electric plane!
Important features
Width of irons
Power
Depth of cut
Bag and aspiration
Ergonomics
What is an electric planes?
Like the
hand plane
, the electric plane is a crucial woodworking tool used for
planing
.
Planing involves placing a flat, smooth surface on the wood, either a piece of raw wood or a piece of planed wood.




In addition to its primary role, the electric plane makes it possible to
create edges
or
grooves
- to break up lines edge. The
electric plane
can also trim - about 25 mm, basically making a notch that runs down the entire length of the edge of a piece of wood.
How does an electric plane work?
The operating principle of an electric plane is very simple. The plane's blades, also known as
irons
, are attached to a
drum
driven at a speed ranging from
10,000 to 16,000
revolutions
per minute
(rpm) by an electric motor. A handle, located on the front of the plane, is used to adjust the
depth of cut
, ie the amount of wood material to be removed.
Ranging from one to a few millimeters (generally 4 mm), the depth of cut depends on the
power absorbed
by the electric plane, the
efficiency
of its motor, the
quality of the irons
and the
width
on which you're working.
The
planer blades
, fixed on the drum, are housed in the
back shoe
in a retainer - the table resting on the wood to be planed. The basic and cheapest electric planes are only equipped with one iron.
Power planer: which size of irons to choose?
Standard electric planes are equipped with
82 mm
wide
irons
. This planing surface, combined with a low weight, makes it possible to achieve
chevrons
(60 x 80 mm),
battens
(from 20 to 40 mm) and trim any piece of wood with a width
less than 82 mm
. Note that two passes on a single piece of wood with a width greater than 82 mm will leave a noticeable mark on the
entire planed surface
- any planing should be done in one single pass.
With power from
600 to 1000 W
, electric planes are ample enough to make
an edge
, trim
a door
or to thin out
small planks
with a little practice. The power is dimensioned according to the width of
the planing irons
and consequently of the
shoe
.
There are, however, carpenter planes with shoes measuring 100, 150, 170, 180 mm or even more to plane large pieces of wood such as joists, purlins, crossbows, entryways etc.


While they are very powerful, the carpenter's planes' weight makes them less manageable. These planes are generally reserved for heavy duty lumber work.


How to choose plane irons?
High-speed steel
or HSS plane blades are suitable for working
soft woods
such as pine.
The HSS planing irons can be reshaped, making them economical, provided they have the necessary tools for sharpening. HSS irons tend to be upgraded by tungsten carbide irons, suitable for working hard or synthetic wood - the glue of which is very abrasive. The reversible irons have two cutting edges, very economical, just return them and go for another turn!




The coiled tool holders and those wielding two irons more evenly distribute the cutting force for a nice even finish. Something to take into consideration when choosing your plane!


Electric plane: with or without wire?
Many manufacturers offer battery operated
wireless
planes - it's important to remember, however, that for a small planing job, the
hand plane
offers cuts up to
50 mm
.
Very practical for small
mobile work
,
battery
-operatred planes are very
handy
and can be used without depending on any electrical outlet.
Conversely, a wired electric planer will never fail you. If you opt for a wireless planer, go for fast charge lithium batteries. Any wireless plane delivered with two batteries would be highly recommended, as this will allow you to work continuously by alternating batteries.




The capacity of a battery is measured in
Ampere hour
(Ah) and
Volts
(V); The higher the values, the more
battery
power
and
autonomy
.
Electric plane: options and accessories
Cylinder sander



V-grooves under the shoe




Electric plane accessories



Square




Stationary support




Suction bag


How much does an electric plane cost?
The quality of finish of an electric plane is relative to its intended use, namely whether its for
occasional, regular
or
intensive
use
. Electric planes are available at all prices and for all types of work.

Occasional use


Prices for basic electric planes are less than 50 €. As you can imagine, at this price, these are configured with rough, low-performance settings. They are rather noisy and quite tiring to use. This is the primary reason they are reserved only for occasional use.


Regular use


Between 50 € and 150 €, this range's grip is improved, the
soft-grip handles
being more pleasant, while the adjustments easier and
more precise
. A
chip bag
or a connection for an
external
aspiration allows you to work in a healthier environment. Electric planes equipped with a retractable foot or an
electric brake
are very safe, as they further reduce the risk of accidents - it is not uncommon to put the plane down while the drum is still rotating. Imagine injecting an electrical wire or worse, a limb! In this price range, a wireless planer is possible, but without a battery. Ideal if you already have other wireless power tools you can reuse the same battery and
charger
.
Heavy duty
Going over 150 €, these are professional electric planes. More comfortable to use, more enduring, these planes will never fail you no matter what the job. Their electronic control is powerful, they are precise, reliable and offer a perfect finish.


Electric plane: advice on purchase and use

Buying Advice


To choose the right electric advice, consider the following characteristics:
The length of the irons or the width of the shoe - relative to the pieces of wood you want to plane;
Aspiration or the presence of a chip-collecting bag;
The quality of the delivered irons - HSS or tungsten carbide;
The number of irons - one or two, relating to the quality of the plane.

Usage tips


More Information

For do-it-yourselfers and amateur carpenters gearing up, or the amateur who is just getting started, follow the links below for gardening-related accessories, advice from our editors and more helpful guides:


And to work safely:
Did you find this guide helpful?
Guide written by:
John, DIYer & IT developer, Brighton 59 guides écrits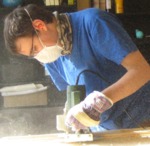 From a very young age, I was always fascinated by manual and technical work, especially woodworking. When I got my very first flat, it became my own personal DIY playground. I rewired some of the electricity (remember, safety first!) to better supply all my computers and gadgets. I also built partition walls and did some decorating with my wife. We worked on some made-to-measure furniture and came up with little tricks to optimise the space, keeping the original charm of the building in mind. When the little one arrived, I started building bits and pieces for him as well.

We don't have a lot of space, so I don't have a permanent workshop or certain tools I've always dreamed of owning. But with my IT background, I already know a lot about DIY, and I love helping others troubleshoot their ideas!
The products related to this guide