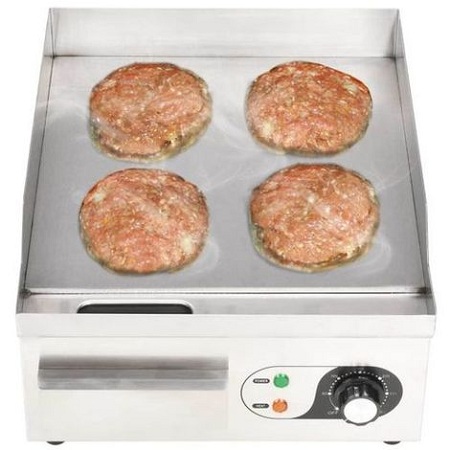 Electric plancha grill buying guide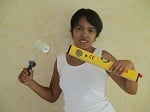 Guide written by:
Holly, self-taught DIYer, Cardiff
22 guides
All electric plancha grills feature a metal cooking plate powered by a heating element. But they do come in a range of models with different coatings and power ratings as well as various features and accessories. From cast iron models to hard chrome plating, read on to find the perfect electric plancha grill for you.
Important features
Power and cooking surface
Cooking surface material and thickness
Frame and trolley
Additional options and accessories
Warranty and maintenance
Key criteria for choosing an electric plancha grill
---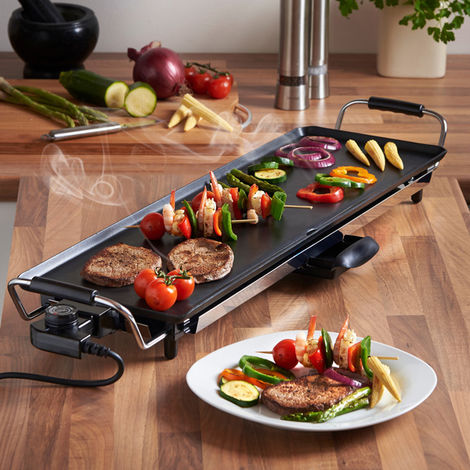 Originating from Spain, plancha grills are indoor and outdoor.cooking appliances used to sear food at high temperatures. Electric models do not require any fuel as they can be plugged into the mains – although this will limit where you can use them.
Electric plancha grills produce less smoke and are safer to use than gas models. Your choice of model should be based on your needs taking a number of key factors to take into account:
power rating: the higher the wattage, the faster your food will cook;
size of the cooking surface: depends on the number of people you want to cook for;
the cooking plate material. From cast iron to stainless steel, carbon steel to hard chrome plating, your choice of material will depend on a number of factors such as how fast you want your grill to heat up and your requirements in terms of durability and maintenance;
the type of frame that the electric plancha rests on: there are various options and accessories to choose from or you might want to choose a trolley.
Plancha power and cooking surface
Power
---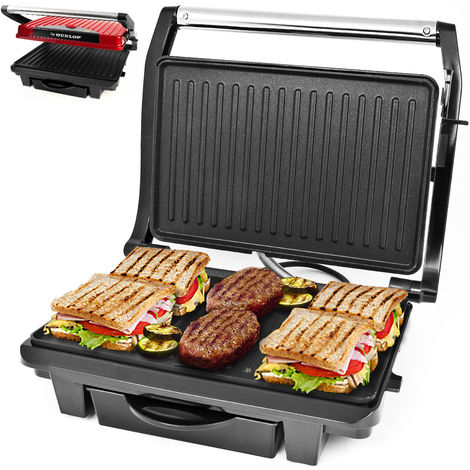 Electric plancha grill power generally ranges from around 1600 W to 3200 W. The power rating is key as it will determine your cooking times, bearing in mind that electric planchas warm up more slowly than gas models.
Planchas with less than 2500 W are best suited to occasional use or cooking small pieces of meat or fish. Anything over 3000 W will allow you to sear a larger amount of food more quickly.
Cooking surface
---
The size of the cooking surface should be selected according to the number of guests you tend to cook for and the amount of food you want to cook at any one time.
A plancha measuring about 30 to 40 cm in length will serve4 to 5 people while a model measuring 50 to 60 cm will cater for roughly double that number. Extra-large planchas can stretch up to 70 to 80 cm and will feed about a dozen people.
Cooking plate material and thickness
There are five main materials to choose from, each with its own advantages and disadvantages.
Cast iron electric plancha
---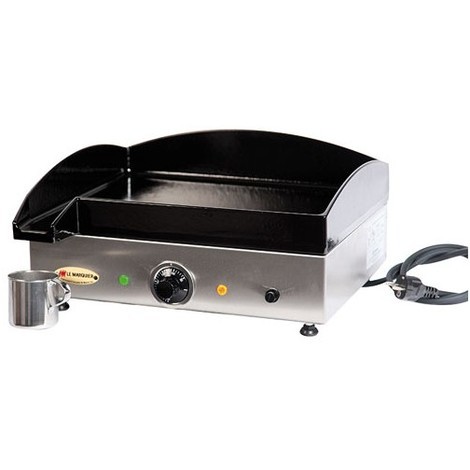 Cast iron plancha grills are popular as they offer good value for money. Cast iron offers decent heat-up times and also stays hot thanks to its high thermal inertia.
Like with stainless steel, the quality of the enamel is very important. Be careful not to scratch or bump your plancha as this will damage the enamel.
Carbon steel electric plancha
---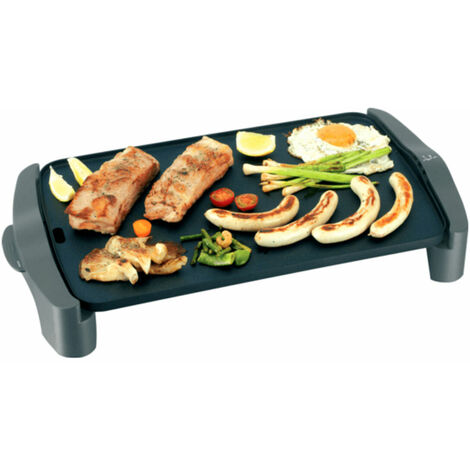 A good low-end option, carbon steel is fairly inexpensive and will heat up quickly but will also cool down at the same rate. Lightweight and hard-wearing, these planchas are easy to care for but are scratch-sensitive.
Enamelled steel electric plancha
---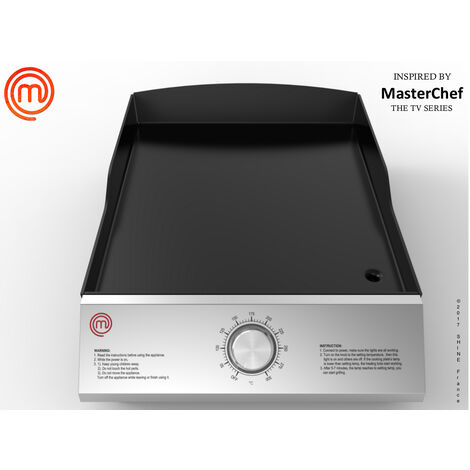 Enamelled steel planchas are strong but will heat up less quickly than other materials. That said, they do offer high thermal inertia and will stay hot for a long time. The non-stick coating makes cooking easier and reduces the risk of rusting. This material is shock- and scratch-sensitive.
Stainless steel electric plancha
---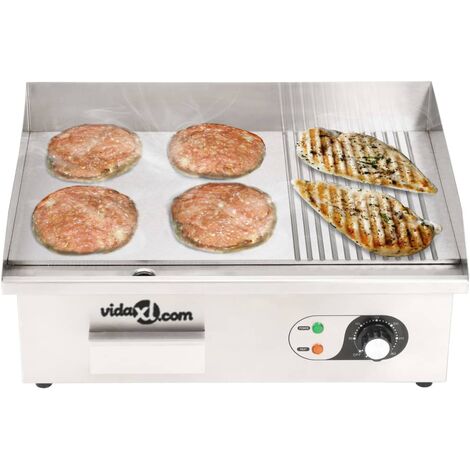 Strong, rust-resistant and easy to maintain, stainless steel is also a very hygienic material. One of the most popular materials for cookware, stainless steel offers less effective thermal conductivity than other materials but is shock-resistant and won't chip. It is a durable material that stands up to heavy-duty use.
Hard chrome plating
---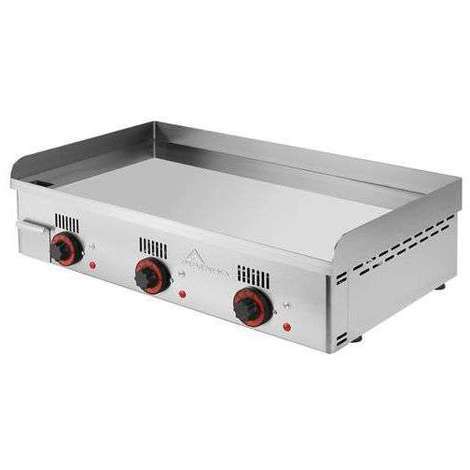 This material allows planchas to reach very high temperatures to achieve perfect cooking results. Rust-resistant and easy to clean, these planchas are the most expensive of all models. That said, they will last a long time, even with intensive use.
Cooking plate thickness
It's important to pay attention to the thickness of the cooking plate material as this will impact how long the plate stays hot. A thickness of at least 6 mm is generally recommended.
Enamel quality
Enamel protects metals like cast iron and steel and helps to prevent rust. Ideally, the coating should be quite thick as if the cast iron or steel comes into contact with the air through chipping or scratching, it will start to rust.
The cooking plate can be cleaned by spraying on a degreasing product and cleaning with a sponge. Try not to use any hard utensils when cleaning as this can scratch the enamel coating. Oil should then be applied to entire cooking surface.
Plancha frame and trolley
Plancha frame
---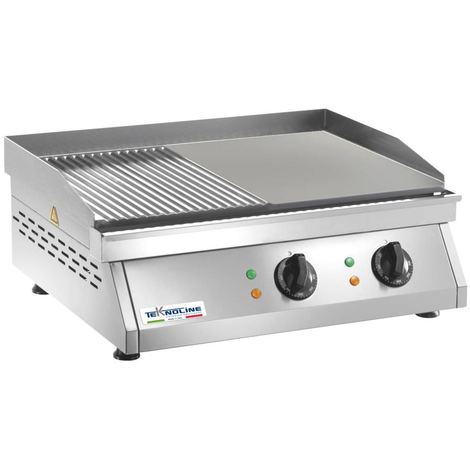 The cooking plate of your electric plancha is held by a frame which is usually made of steel or stainless steel. Once again, you'll have to think of the pros and cons of each material. Bear in mind that a stainless steel frame may be more expensive but it will limit the risk of burns as it won't heat up as much as other materials. It is also rust-resistant.
If you don't want to set your electric plancha grill up on a trolley, go for a model with legs that can be used to tilt the cooking surface. Depending on the model you choose, you should be able to tilt your plancha either to drain the grease away from your food or keep the juices in place.
Plancha grill trolleys
---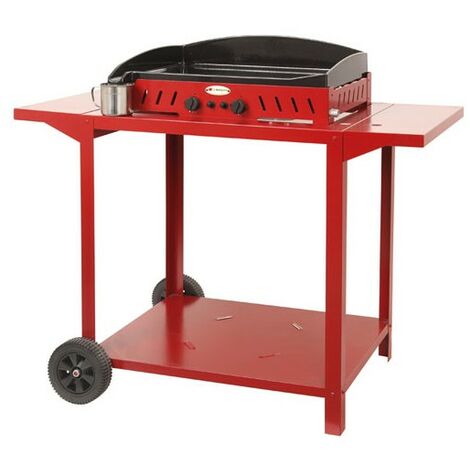 If you're using your electric plancha indoors, it can generally just sit in its frame. If you want to use it on a balcony, deck or garden, it can be placed on a trolley. The trolley may be supplied with the plancha or sold separately. A trolley allows you to move the grill around wherever you like and also provides a space for storing cooking accessories. 
Electric plancha grill accessories
---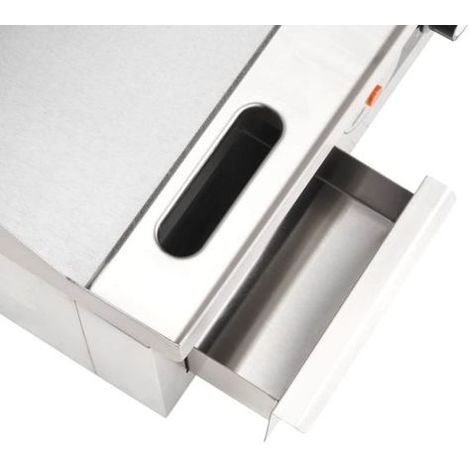 Electric plancha grills can come with any number of accessories or add-ons which you can choose as required:
a grease drawer allows you to collect fat while cooking then dispose of it easily when you're done; should be ergonomically designed;
a splatter guard allows you to avoid splashing grease;
a two-sided cooking plate with a flat plancha on one side and ridged grill on the other;
two cooking zones for different temperatures;
various utensils, such as a wide spatula, tongs, etc.
Warranty and maintenance
---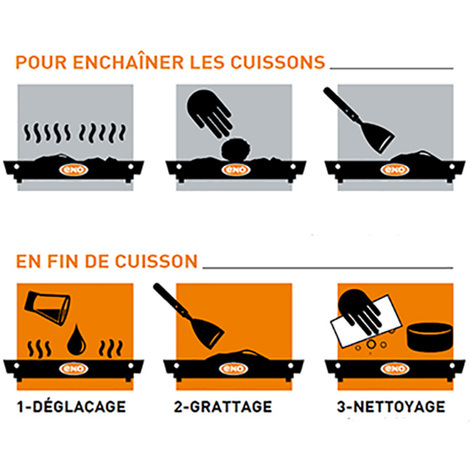 A long warranty is a good indication of an electric plancha with a long service life. The length of the warranty may range from 1 to 10 years depending on the manufacturer.
However, if you want your plancha grill to last you will have to take good care of it. After each use, scrape the cooking plate with a spatula or scraping tool while it is still hot. Be sure to use the right type of utensil for the material. Once your grill has cooled down, clean it with a soft sponge and some washing up liquid, and dry carefully.
Finally, empty and clean out the grease drawer.
Guide written by:
Holly, self-taught DIYer, Cardiff, 22 guides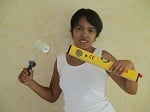 First of all, my studies have nothing to do with decoration or DIY as I was specialised in management. My passion in DIY started 5 years ago (very recently!) Everything started when we bought a house to renovate from floor to ceiling. As I'm a self-taught person, I started working on different house project both inside and outside. My husband helped me but the student soon overtook the teacher! And as there are a lot of green spaces in Creuse, gardening tools have no secrets for me. My friends and family often come to me for advice when it comes to DIY. Today, I want to share this with you!
The products related to this guide