Electric panel heater buying guide
Guide written by: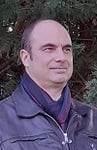 Albert, Rédacteur, Isère
90 guides
Whether used as your main source of heat or as an additional device, electric radiators range from slick panels to more traditional designs. Powered by both convection and radiation, these radiators may be equipped with a programmer or timer and can even be made of materials such as glass.
Important features
Model
Sizes and shapes
Thermostat
Power rating
Programmer and timer
Electric panel heaters: an overview
Electric panel heaters
combine two different types of heat transfer:
infrared radiation and convection
. Thermal radiation transfers heat directly to objects and people. Convection works by heating the air then circulating it throughout the room.
Using a combination of these two types of heat will provide
better performance and thermal comfort
compared to convection heating alone.
Using an electric panel heater
---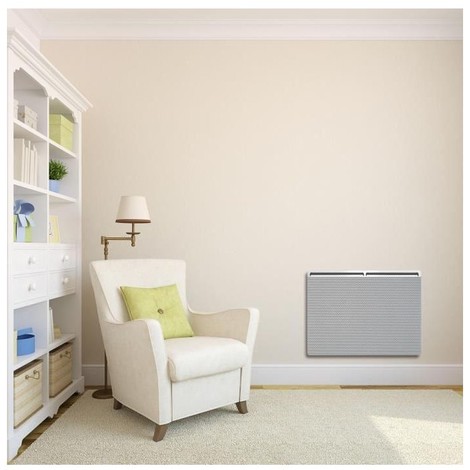 Electric panel heaters are recommended for use in corridors,
kitchens
, spare rooms,
bathrooms
, or as an
additional heating system
.
Quiet to operate
and
energy-efficient
, these devices can be an interesting option.
However, it should be noted that they these devices will stop generating heat as soon as they are turned off. With this in mind, electric radiators may be a more suitable option for living areas, as they continue to provide heat even after they have been switched off.
Setting up an electric panel heater
---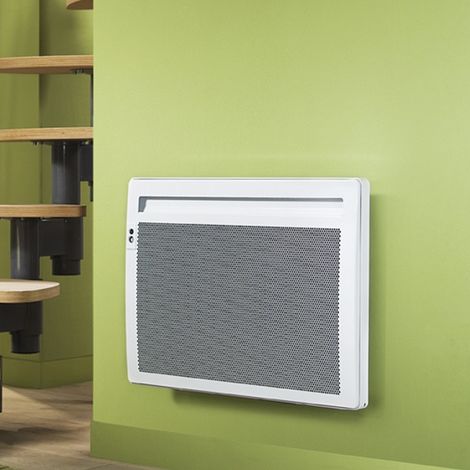 Like all heaters, the power rating you go for will depend on the size of the room you want to heat and the quality of the building's insulation. The features of an electric panel heater –plus any add-on options – will vary according to the model and range selected.
Explore the ManoMano catalogue
Electric panel heaters
Types of electric panel heater
There are several types of electric panel heater, with various size and shape options available.
Horizontal electric panel heaters
---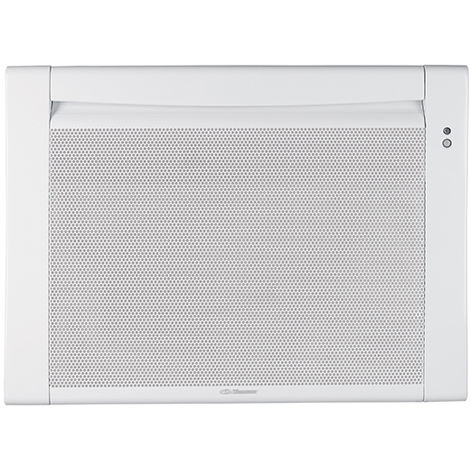 Wider than they are tall, horizontal panel heaters are generally the most popular choice. They are designed to fit easily into most layouts and can be used in any room of the house.
Vertical electric panel heaters
---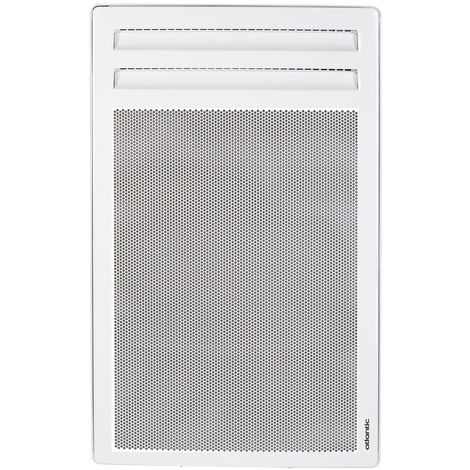 If horizontal space is limited, it is possible to install a
vertical panel heater into the spot available
.
Glass electric panel heaters
---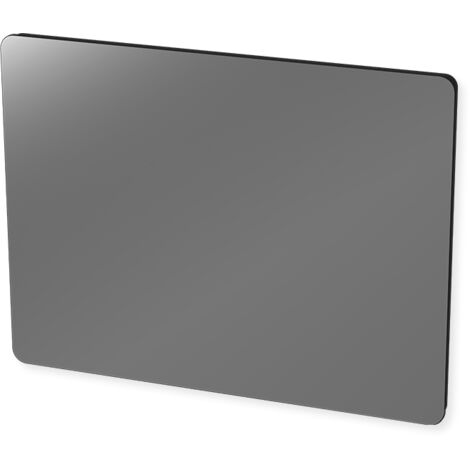 Some electric panel heaters are designed with appearance in mind. These are often called designer panel heaters and can come in the form of mirrors, in various colours or may even feature a printed image.
Portable electric panel heaters
---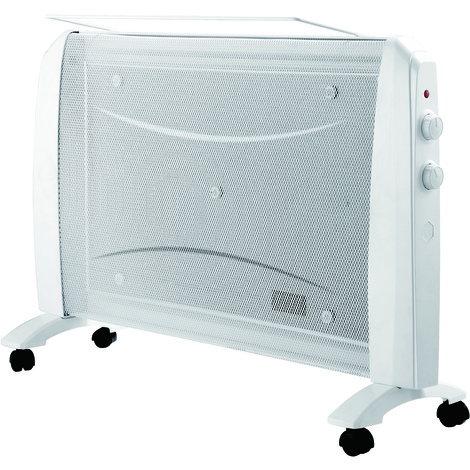 Usually horizontal in form, portable panel heaters can
be moved from one room to another
. They are usually equipped with wheels, making them easier to move around. These models
don't take up much room
and are easy to store after use.
Electric towel rails
---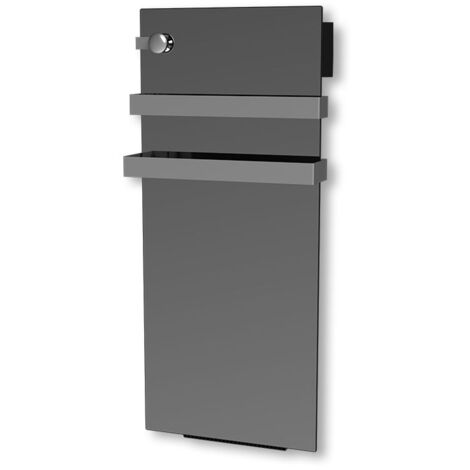 While less commonly used,
electric towel rails
can be a great solution for heating up a
bathroom
.
Very convenient to use, these models heat up instantly and offer comfortable heating. What's more, they'll also keep your towels warm. Rated IP34, these systems are splash-resistant.
Radiant ceiling panels
---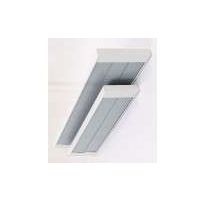 Radiant ceiling panels can be
fixed to or hung from the ceiling
. These panels send out heat towards the ground and
distribute heat evenly throughout the room
.
They feature an inertia heating body for improved thermal performance.
Electric panel heaters: how do they work?
Electric panel heaters
transfer heat through both
electromagnetic radiation
(infrared) and
convection
. Some newer models may also store heat by
inertia
– although this will not make up a large portion of the overall heat transmitted.
Heat transfer
---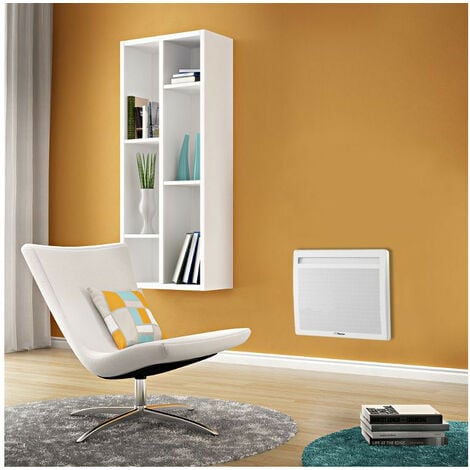 Electric panel heaters distribute heat through an
aluminium panel that is warmed up by a carbon fibre or quartz element
. These panel heaters use
medium- to far-infrared
. The light emitted is invisible to the naked eye.
Electric panel heaters heat up instantly from the moment they are turned on and transfer heat in a similar way to the sun; the closer you are to the device, the warmer you will be and vice-versa. The disadvantage of these systems is that they stop providing heat as soon as they are turned off.
Explore the ManoMano catalogue
Electric panel heaters
Features and additional options for electric panel heaters
The performance of a panel heater will depend on its features and any additional accessories it may be equipped with. The more features it offers, the more expensive the system will be. On the other hand, these additional parts may reduce your bills and provide a longer service life, leading to savings in the long term.
Thermostats
---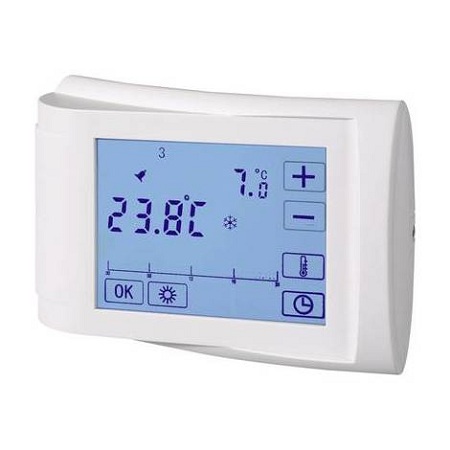 Thermostats may be controlled by an
LED display or a dial
depending on the model. Temperature adjustments will vary in accuracy according to the control type:
mechanical

: maintains pre-set temperatures with an error margin of 2°C;

electronic

: maintains a temperature of 0.5 ° C;

digital

: maintains pre-set temperatures with an error margin of 0.1°C.
Programmers
---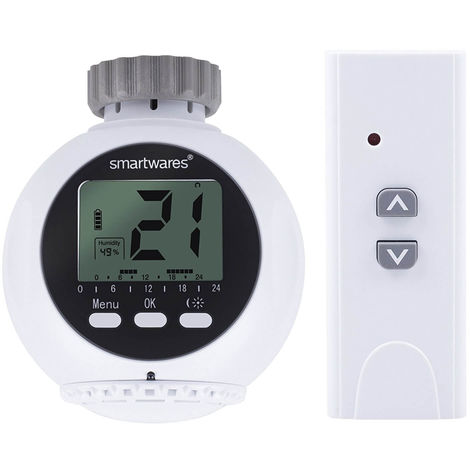 Programming your heater will allow you to
save money
. Programmers can be used to set specific
time frames and temperatures
. This can be done by means of a
built-in unit
or via a remote
programmer
.
Room thermostats
Available with most models, room thermostats adjust your heating power based on the temperature of the room.
Power cable length
While it may not seem like an important decision, choosing the right cable length will allow you to make the panel heater work with the room layout without having to use an extension cord.
Indicator light
Indicator lights are particularly useful for electric panel heaters as they do not emit any visible light. This is a very easy and efficient way to tell when your panel heater is on.
Backlit LCD displays
---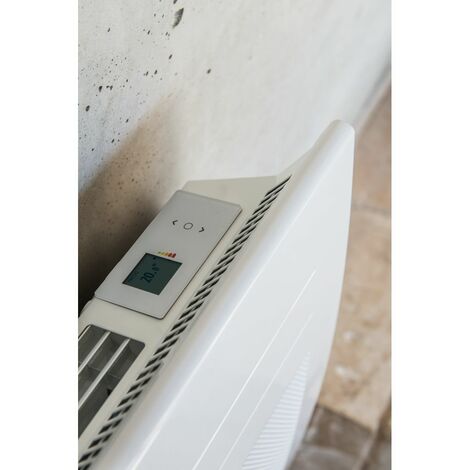 LCD displays can be used to keep your
controls
(timers, time and programming settings, etc.) on show. A
locking control panel
usually comes with
LCD displays
.
Timers
Timers allow you to schedule your panel heater to shut off quickly and easily. If used as an additional heating source, programmers can be used instead of timers for even more savings.
Remote control
panel heaters can be controlled individually or as a group via powerline communication or a pilot wire.
Smart control
---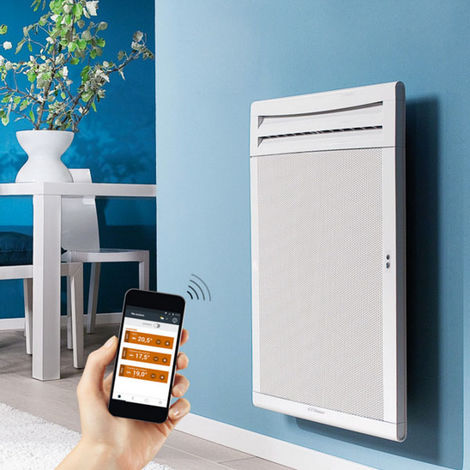 You can
control your heater
directly from your smartphone with the
use of an app
.
This technology is ideal for increased comfort and convenience.
Designer heaters
---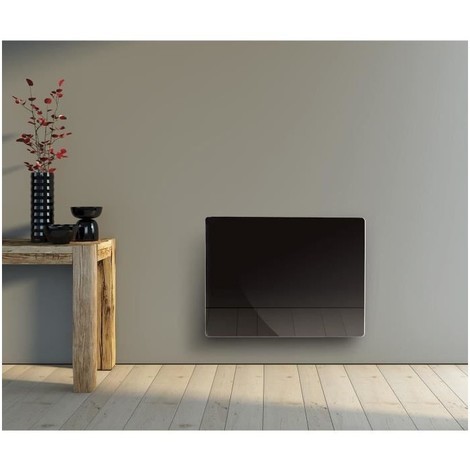 These models offer a range of materials, colours and a greater variety of shapes, allowing you to
match your heater to your room decor
.
Explore the ManoMano catalogue
Programmer
Choosing a power rating for your electric panel heater
Electric panel heaters vary in power.
You should choose a model that is the right fit for the space it aims to heat, in terms of size and the room's level of insulation.
| | | | |
| --- | --- | --- | --- |
| | Well insulated buildings | Very well insulated buildings | Poorly insulated room or bathroom |
| Required power: watts per m² for a ceiling height of 2.5 metres | 100 W / m² | 60 W / m² | 125 W / m² |
| Power required per m3 | 0.04 kW / m3 | 0.024 kW / m3 | 0.05 kW / m3 |
Please note that it is advisable to reduce these estimations by:
20% for a room with a party wall;

5 to 10% for a south-facing room.
Guide written by:
Albert, Rédacteur, Isère 90 guides écrits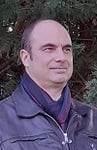 Le jardinage et le bricolage font partie de mon quotidien depuis longtemps. Aussi bien sur le plan personnel que professionnel. En effet, après des études dans le commerce, j'ai évolué vers les métiers du bâtiment et du paysage : technicien, paysagiste et responsable d'activité.
De la maintenance technique d'immeubles à la création des espaces paysagers, en passant par la rénovation de logements, mon expérience m'a permis d'être polyvalent. Les conseils à mes interlocuteurs, particuliers et professionnels, m'ont orienté logiquement vers le métier de rédacteur.
C'est donc avec plaisir que je vous apporte mes conseils dans le jardinage et le bricolage. Je sais combien il est utile de savoir choisir ses équipements et de faire ses travaux soi-même. Cela vous permet d'améliorer votre confort à la maison et au jardin, la fierté et les économies en plus !

The products related to this guide