Electric lawnmower buying guide
Guide written by: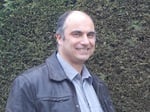 Albert, Manager of a gardening service, Leicester
48 guides
Used for lawns in small gardens, electric lawnmowers offer an alternative to petrol models and can be mains- or battery-operated. From push models for the smallest lawns to ride-on mowers for the biggest, choose your lawnmower according to factors such as cutting width and height, power rating and any add-on options.
Important features
Corded or cordless
Cutting height
Cutting width
Type and operation
Benefits of an electric lawnmower
---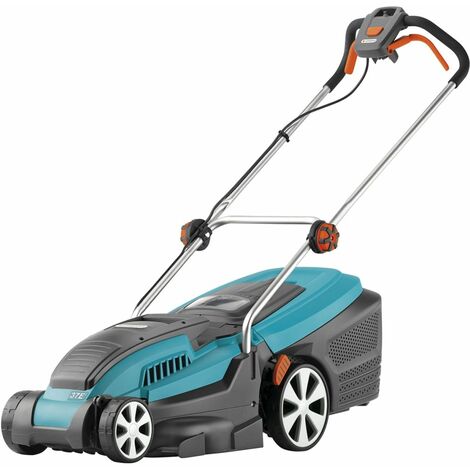 Electric lawnmowers are particularly
well suited to surface areas of less than 700 m²
; beyond this point, go for a
petrol-powered mower
or even a ride-on mower for the biggest gardens. Electric lawnmowers offer a number of advantages: they require
next to no upkeep
, are
quiet
,
lightweight and compact
and offer
easy start-up
. In terms of
performance
, they compare favourably to a medium-range petrol lawnmower as they can be just as efficient but are
much less noisy
.
The main drawback of electric lawnmowers is the power cable
which does limit their range of motion. This means you will usually have to use an extension cord which can be bothersome for
gardens
with a lot of flower beds and
trees
. Similarly,
battery-powered lawnmowers
rarely have a long enough battery life for covering large areas. Furthermore, they are much more expensive and the batteries do wear out over time.
How to choose an electric lawnmower
Main characteristics of an electric lawnmower:

power rating, depends on the cutting width and size of the garden;
battery power, a high ampere hour (Ah) rating will guarantee a longer battery life;
push models can be used for flat gardens of under 500 m²;
self-propelled models can be used for sloping gardens and/or those measuring over 500 m²;
mulching prevents you from having to gather the grass which is chopped up and left behind as fertiliser;
grass box: your mower may or may not feature one; can be made of plastic or cloth; capacity of 30 litres for gardens under 400 m² and 50-60 litres for larger spaces;
cutting width, depends on the size of the lawn:

less than 46 cm for lawns measuring less than 400 m²;
from 46 to 53 cm for gardens measuring 400 to 700 m²;

cutting height, from 20 to 60 mm depending on your preferences (40 mm for a classic lawn);
additional options:

folding and adjustable handlebar;
anti-vibration system;
grass comb for working against walls and edging;
Leaf Collect system for gathering dead leaves as you mow;

warranty and after sales care: for a long-lasting purchase.
Types of electric lawnmowers according to cutting system and application
There are several types of electric lawnmowers:
rotary mowers;
cylinder mowers;
hover mowers;
battery-operated mowers;
push mowers;
self-propelled mowers;
mowers with mulchers;
robotic mowers.
Each of these electric lawnmowers offers a different set of features and is designed for a specific application.
Electric cylinder mowers
---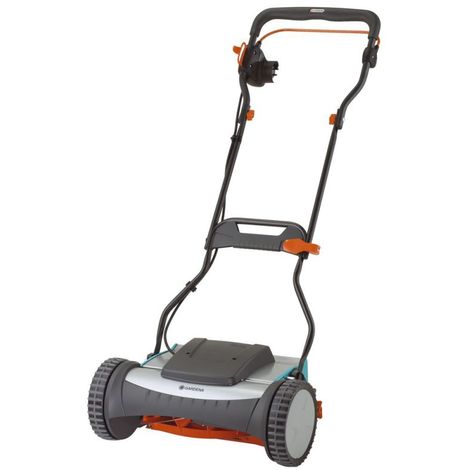 While less common than other models, electric cylinder mowers are becoming more and more popular. Offering
excellent cutting quality, they provide the ideal solution for more demanding users
.
The main downside of these models is their price which will be higher than the cost of a rotary mower.
Rotary electric lawnmowers
---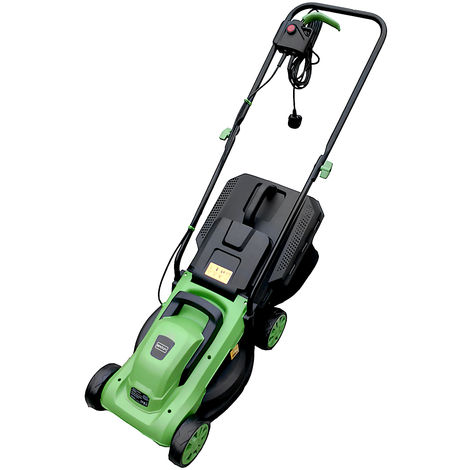 The most popular type of mower, these models offer a range of advantages.
Rotary blade mowers
are
easy to use
, lightweight and more affordable.
Hover lawnmowers
---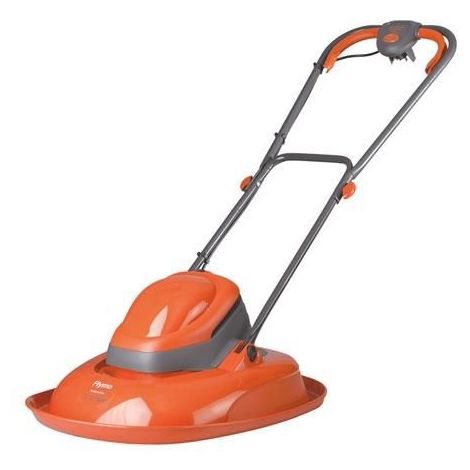 Designed for small gardens,
hover lawnmowers
are lightweight, powerful, easy to handle, compact and offer a clean and tidy cut.
These models do not feature wheels and will not collect cut grass as they operate using a mulching system. They hover thanks to a fan system.
Electric push mowers
---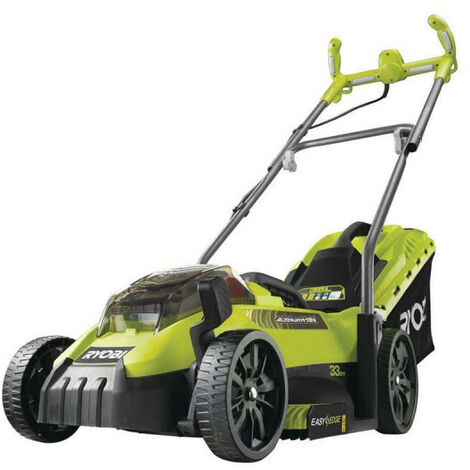 Along with hover mowers, electric push mowers are among some of the most affordable models available. They are straightforward to use,
lightweight and easy to handle
. However, they do work best on
small, flat gardens
.
Self-propelled mowers
---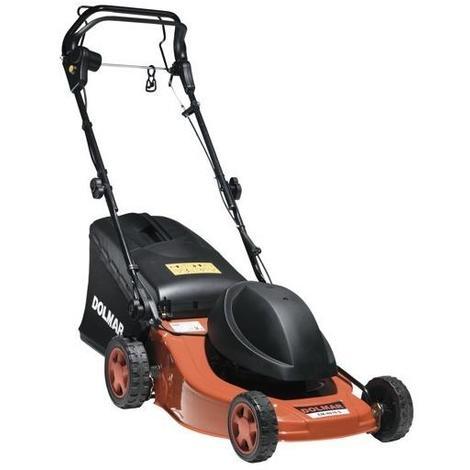 Electric self-propelled mowers are
recommended for areas of 500 m² or more, or those with a gentle slope
.
The automatic propulsion offered by these models allows you to guide the machine without having to push it. These models are not absolutely necessary if your space is small or flat.
Mowers with mulchers
---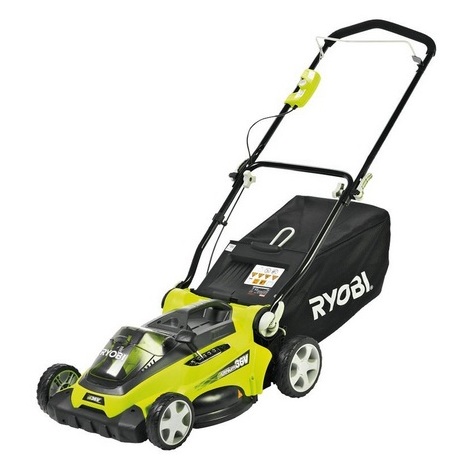 Mulching offers an
great alternative to traditional mowing
. It involves cutting the grass up very finely in order to reintroduce it back into the soil where it is used as a natural fertiliser.
Some models are designed to mow exclusively in this way while others alternate this mode with traditional mowing using a grass box.
If you are thinking of buying a mulch-only model, you should know that you will have to mow more often as this type of mowing is not suitable for long grass. If that poses no problem, mulching will be a sensible and cost-effective choice.
Battery-operated or cordless mowers
---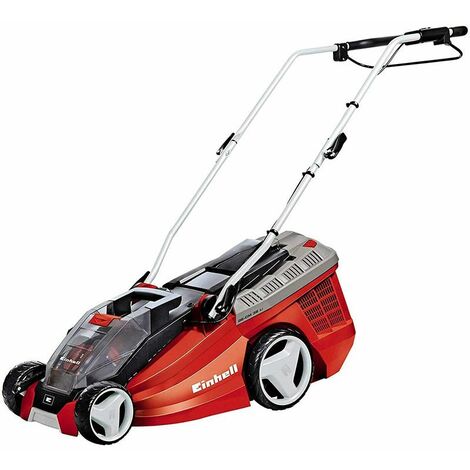 The advantage of these models is their
lack of power cable
; dealing with a cable around your feet can be tedious. Generally speaking, battery-operated mowers will perform as well as other models. However, they will
only run as long as the battery lasts
, they weigh slightly more and the
battery
will eventually wear out (even though this usually takes some time).
Before choosing this type of mower, you need to make sure that your battery will last the length of the time needed to mow your lawn. However, batteries have come a long way.
It's always a good idea to have at least one replacement battery so keep this in mind when it comes to deciding between models. Some will include a second battery, others will only provide one. It is therefore necessary to read the product specifications carefully.
Lawnmower batteries
---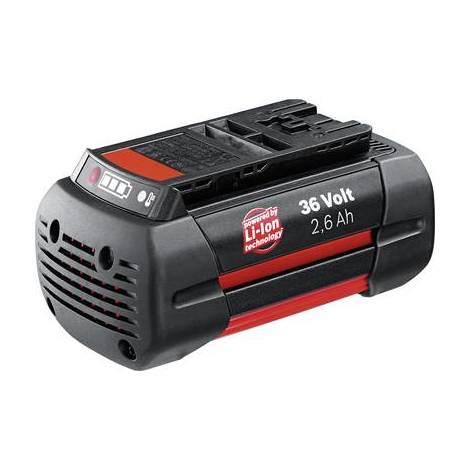 Lithium-ion (Li-ion) batteries
are the most commonly used batteries for
cordless mowers
. These batteries are the most efficient on the market and are more or less standard; they offer quick charging, no memory effect and a long service life. There are two characteristics to compare:
the voltage indicated in volts (V): the higher the voltage, the more powerful the mower;
the amperage indicated in ampere hours (Ah): the higher the Ah, the longer the battery will run.
Robot lawnmowers
---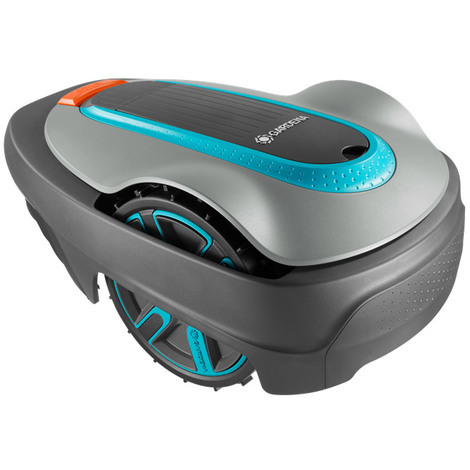 The latest models to arrive on the market, robot lawnmowers present
an interesting option to anyone who doesn't have much time to mow
and is willing to pay the price.
These
battery-powered
devices are
miniature automatic mowers
that are either guided by a
boundary wire
or by
sensors that allow them to avoid obstacles
. Robots that operate using a boundary wire will be less costly but do require more time to set up.
The boundary wire should be installed in advance. However, there is a risk of accidentally cutting through this wire when gardening.
Robot lawnmowers with sensors
are more independent and mean you won't have to install a wire. However, you will have to set down
borders
or other objects to
create a barrier
that the robot is able to sense or it will run right into them.
The size of your lawn is an important factor to take into account when choosing a robot lawnmower; it will be indicated by the manufacturer but will never exceed 2000 m².
Explore the ManoMano catalogue
Borders
The main features of electric lawnmowers
After you have decided on a type of electric lawnmower, you will need to weigh up a few important factors to make the right choice of model.
Power rating of corded electric lawnmowers
---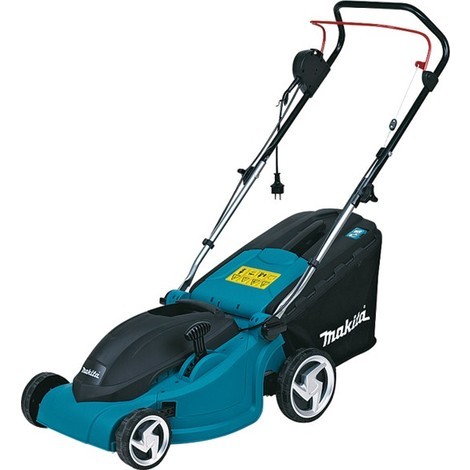 The power of electric lawnmowers is measured in watts (W). Your lawnmower must be powerful enough to cover the lawn it will be mowing.
For an area of 300 m², you'll need a power rating of 100 to 1300 W; go for 1400 to 1800 W for areas of up to 700 m².
Lawnmower battery life and power
---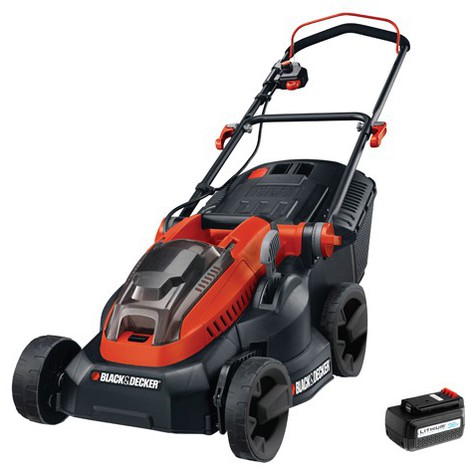 In order to
evaluate the performance of lawnmower batteries
, you'll have to think about both battery life and power.
The voltage (battery power) is indicated in volts (V) while the amperage (battery duration) is measured in ampere hours (Ah). The higher these values, the more powerful and long-lasting your machine will be.
Compare the following battery types in terms of
lawn
size:
for a lawn measuring 300 m² or less, you will need around 18 V and 2 Ah;
for gardens measuring 300 to 500 m, you will need 36 V and 3 Ah of power;
for lawns measuring 500 to 700 m², go for 36 V and 5 Ah.
Please note that there's nothing stopping you going slightly beyond these values, especially when it comes to the ampere hour rating as this represents battery life.
Cutting width
---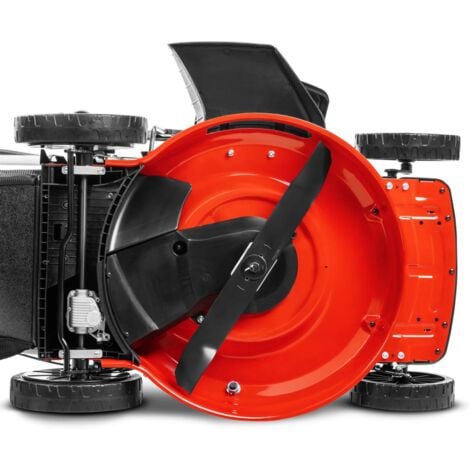 The cutting width of a lawnmower is
linked to the size of your garden
and determines how many times you will have to go back and forth.
Cutting height
---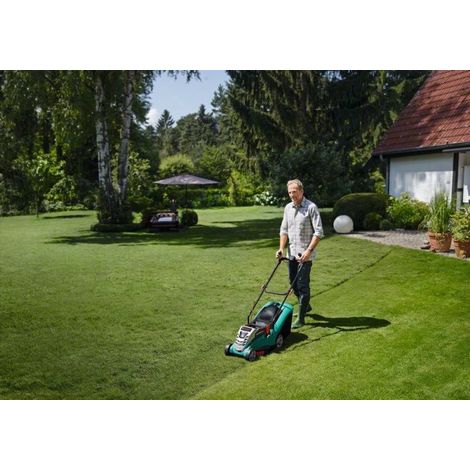 The cutting height of lawnmowers will vary from
20 to 60 mm
, depending on the model. Nonetheless, be sure to consider the cutting height of each model. Some lawnmowers
offer a minimum cutting height of just 30 mm
, which will prove frustrating for fans of short lawns!
It's worth nothing that the
standard lawn height ranges from 35 to 45 mm
, a
short lawn
or green will go from 20 to 30 mm while a pasture will be around 50 to 60 mm.
Pay close attention to the cutting height of lawnmowers: most models have 3 to 8 height settings. The idea is to adjust the cutting height to match the length of your grass. It's worth noting that an overgrown lawn will have to be mowed twice or even three times using different height settings.
Grass box
---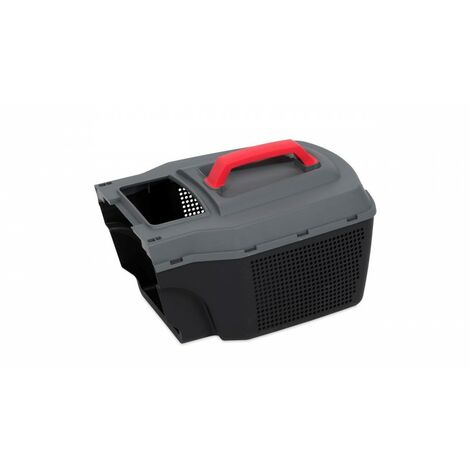 Depending on the model, the
capacity of the grass box may range from 30 to 60 litres
. For a small garden (less than 400 m²), a grass box with a 30-litre capacity will suffice. For larger
gardens
, you'll need 50 or 60 litres.
Some are made of plastic, others are made of fabric. The latter option is lighter but must be sprayed down with water regularly, unlike plastic boxes.
Weight
Electric lawnmowers generally weigh between 6 and 15 kg. If you're looking at push lawnmowers, you simply need to compare the weight of different models and go for the lightest one.
Additional options and services for your electric lawnmower
Most lawnmowers come with a range of practical options that should help guide you in your decision.
Handlebars
---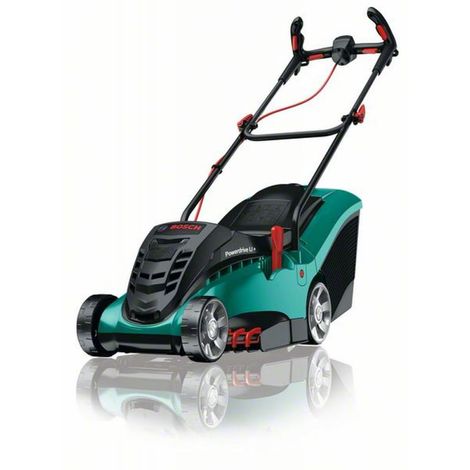 The type of handlebar is an important considering in terms of
user comfort
,
storage
and
transport
.
Some models are equipped with an adjustable handlebar which allows you to adapt the height of the handle to suit the user. A number of lawnmowers offer the option to fold down or even remove the handlebar in order to make the machine easier to move around and store.
Additional options
---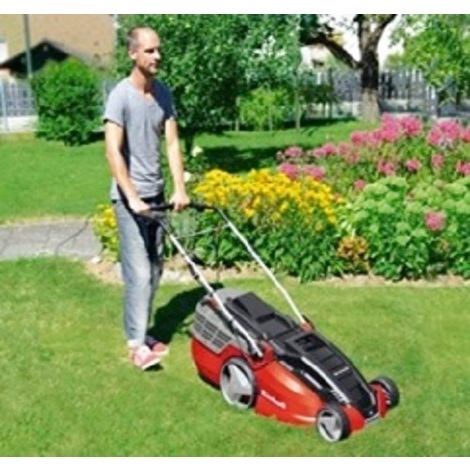 The more high-end the lawnmower, the more
straightforward and efficient
the equipment will be to use. Your lawnmower may come with attachments such as:
cutting height adjustments via a single knob or button;
a grass box with a level indicator or one that can be folded for storage;
ergonomic handle grips: used for quick and pleasant handling;
an anti-vibration system made up of specially designed materials;
a grass comb: this device allows you to cut right to the edge of walls and edging as the deck is the same width as the outside of the wheels.
a Leaf Collect mode to gather dead leaves using a special blade.
Warranty and after-sales care
---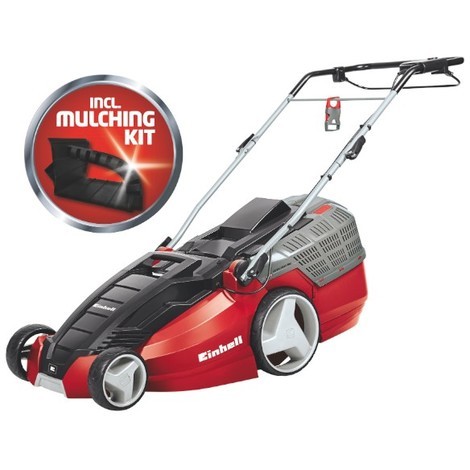 The
most efficient and reliable
lawnmowers available usually offer a longer warranty period than other models.
Opting for a well-known brand means you will usually be able to find replacement parts
.
Of course, lesser known brands may offer replacement parts and lawnmowers of the same level of quality. However, they sometimes take longer to be delivered. If you have any doubts, contact the manufacturer before purchase.
Caring for electric lawnmowers
Maintenance boils down to
cleaning the cutting system
and sharpening or replacing the
blade
on a regular basis.
Explore the ManoMano catalogue
Blade
Guide written by:
Albert, Manager of a gardening service, Leicester 48 guides écrits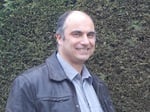 For several years I have been running a garden service with a clientele of both individuals and companies. I manage a team of gardeners and ensure the creation and maintenance of green spaces. At the same time, I bring my expertise to my clients in terms of the maintenance and improvement of their gardens.

In fact, as a trainee and working in the hospitality industry at the beginning of my career, I focused on landscaping in a local community where I acquired solid technical skills through in-house training and the follow-up of major projects in a rapidly changing town.

On a personal level, I am equally oriented towards the art of gardening. With my wife, I created our garden from start to finish and I maintain it carefully, the same goes for the vegetable garden. As for DIYing, it's not to be outdone. Yes, gardening is also tinkering: pergola, hut, pavement, fence, and so on...There is always something to do in a garden.

After working well together, my wife and I are proud of the result and delighted to be able to take full advantage of a friendly and warm environment. So, let us give you advice and help you in your choice of tools, maintenance, or improvement of your garden, nothing could be simpler.
The products related to this guide