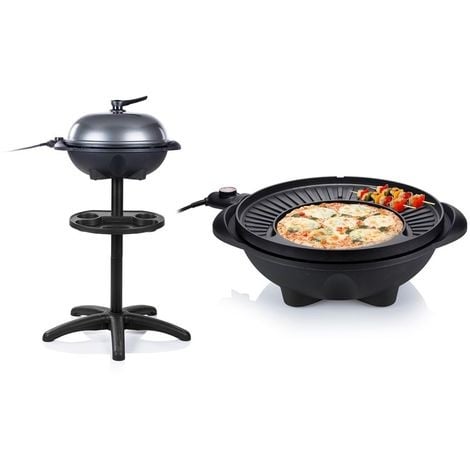 Electric barbecue buying guide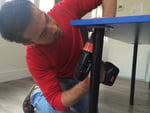 Guide written by:
Sebastian, self-taught DIY-er, Exeter
192 guides
Electric barbecues work just as well on a dining room table as they do in the garden, making them a perfect neighbour-friendly option for use indoors or on the balcony. Whether you're grilling for two or eight people, we'll tell you everything you need to know from adding water to sprinkling on your spices!
How to choose an electric barbecue
---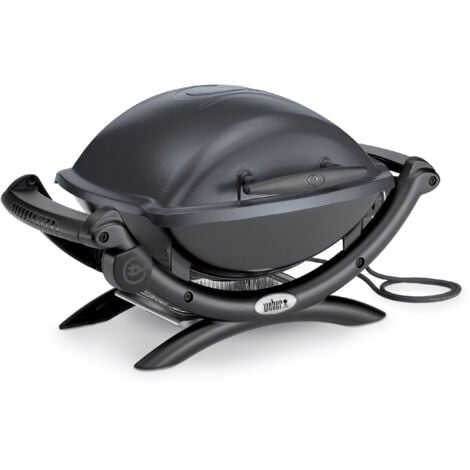 Electric barbecues can be used both indoors and outdoors and, depending on the size of the grill rack, allow you to grill for two, four, six or even eight people. These BBQs are a particularly popular choice among city dwellers as they are compact, lightweight and safe. What's more, while they do release some fumes during cooking, it's nothing compared to a charcoal barbecue!
These barbecues heat up quickly, are easy to clean and just need to be plugged into an electrical outlet.
Tabletop or grill stands
---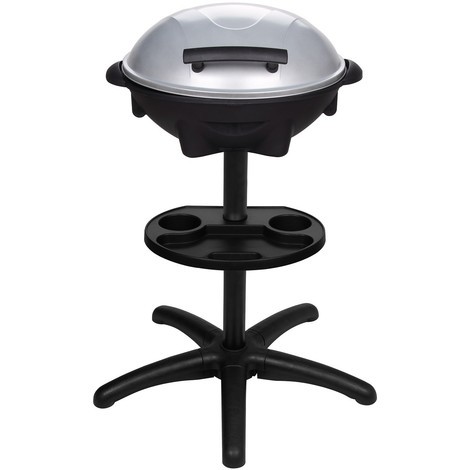 Electric barbecues can be placed on a table top or on a stand. Keep in mind that tabletop barbecues are the best choice for indoor use. They are edpecially ideal if you already own a piece of furniture where you can place your BBQ. These models are lighter and take up less room. They can also be placed in the centre of a table when you want to gather your friends around for a grill night!
Barbecues on stands, on the other hand, are free-standing units that are better suited to balcony grilling. If the stand features a storage shelf or a small work surface, a BBQ trolley is not required. These models do take up more space and are slightly heavier. Nonetheless, they usually feature the extra bonus of removable feet meaning they can also be used atop a table.
Grill components
---
The level of user comfort and design of electric barbecues will vary in terms of shape, colour and dimensions. However, the main cooking components are the same across most models. All models comprise:
a body made from one of three main materials: thermoplastic (lightweight and affordable); powder coated steel (stronger yet more sensitive to rust if scratched, mid-range); enamelled steel (heavy and hard-wearing, high-end);
a heating element proportioned to the size of the cooking surface with a power rating of around 2,000 W (the higher the power, the quicker the cooking times);
a thermostat allowing you to make precise temperature adjustments;
a grill rack made from nickel-plated steel for a low-end option or stainless steel for higher quality and rust-resistance.
a drip tray (removable trays are recommended for easier cleaning).
Features and add-on options
---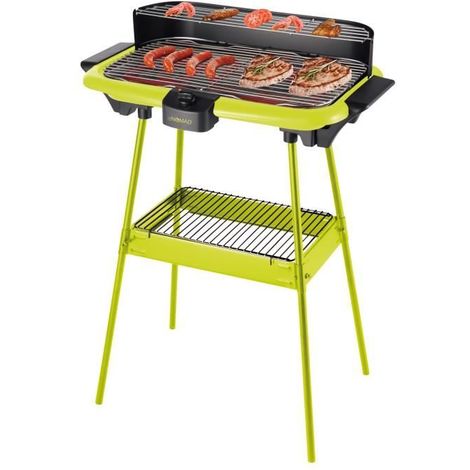 Electric barbecues can be fitted with a range of extras to suit your needs and cooking preferences, such as:
a shelf for storage space: used with barbecues on stands to keep all your chef's tools on hand;
two handles on the grill rackfor greater user comfort and to reduce the risk of burns;
a hot plate (smooth or griddle) for searing vegetables, bacon or chillies, etc., plancha grill-style ;
a removable aluminium drip tray positioned beneath the grill rack to collect grease;
a removable grease guard to fit behind the grill to reduce grease splatter;
a circuit breaker to cut off power to the heating element in case of disconnection from the barbecue and an indicator light;
a second grillto keep your sausages or skewers warm while you're cooking;
a lid for smoking on the barbecue (like a Weber wood burning barbecue). This lid can be fitted with a thermometer for monitoring the temperature in your improvised oven;
an automated rotisserie to perfect your roast chicken;
an side work surface for adding spices to your skewered meat or placing your fork or other BBQ utensils while cooking.
Explore the ManoMano catalogue
Other BBQ utensils
Why add water to your electric barbecue?
---
Electric barbecues function by means of a heating element which is positioned as close as possible to the cooking surface. Beneath this surface, you can add a removable drip tray to catch large amounts of grease produced by cooking sausages or meat skewers.
Want to avoid hours of cleaning up? Add some water into the drip tray. Once the grease has been collected in the tray, all you need to do is to empty it and wash it out using a household cleaning product, such as washing up liquid.
The water must be added to the tray before you start cooking while the heating element is still cool. You do not need to fill the tray up to the top (around a third of the way full will suffice).
5 tips for selecting the right electric barbecue
---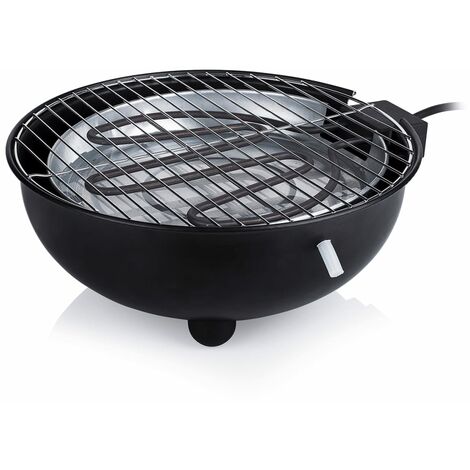 Choose an electric barbecue with a heating element that covers a large area for a greater cooking surface on the grill.

The size of the cooking surface determines the number of people the barbecue is designed to serve. You should therefore pick your barbecue based on the number of people you plan to cook for.

Finally, opting for a higher power rating will help to reduce cooking times.

Purchasing a smooth or griddle hot plate will allow you to convert your barbecue into a plancha grill used to sear vegetables and meat.

Finally, opting for a removable drip tray will make cleaning easier – especially when it is partially filled with water.
Explore the ManoMano catalogue
Plancha grill
Guide written by:
Sebastian, self-taught DIY-er, Exeter, 192 guides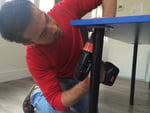 Redo a roof with wooden beams? Check.Advise Mister everybody in the DIY shop? Check.Redo the bathroom plumbing? Check.Fit together, build the walls, paint a partition, throw my hammer in a rage thinking that it will fix the problem? Check. The DIY motto ? Learning is better than delegating… well, it's also a question about your wallet! The satisfaction? The beer at the end of the job! What do the best have in common? The influence of Gyro Gearloose, Mac Gyver and Carol Smiley depending on your generation, a good dose of curiosity, a average hand-eye coordination and a taste for risks… and if it doesn't work, try again! Advise you? I'll do my best!
The products related to this guide