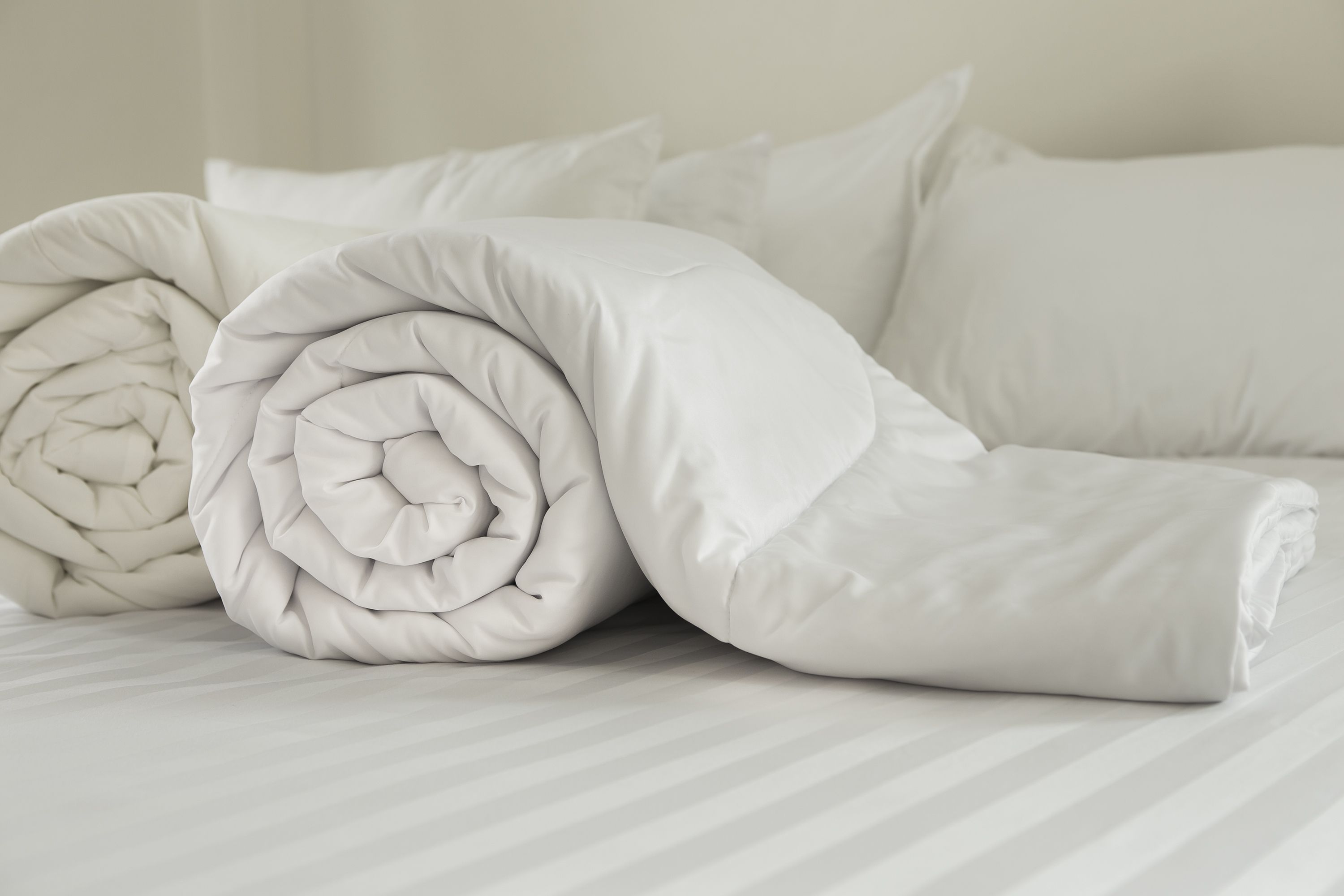 Duvet buying guide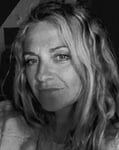 Guide written by:
Sylvie, Ecrivain & journaliste brico/déco, Essonne
257 guides
Duvets are an essential part of your bedding and key to getting a good night's sleep. But between natural or synthetic filling and different sizes, casing types and tog ratings, it can be hard to know which duvet is right for you. Read on for everything you need to know about choosing a duvet!
Important features
Size
Duvet filling
Wool filling
Silk filling
Synthetic filling
Construction method and tog rating
Treated and all-season duvets
Key factors for choosing a duvet
---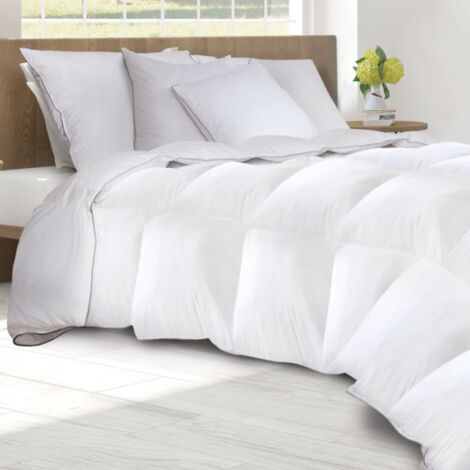 Duvets should be selected according to your personal needs and sleeping habits. For example, if you tend to get cold and/or your bedroom is not well-heated, opt for a warm duvet. On the other hand, if your bedroom is very well-heated, you should go for a mid-season or even summer duvet.
That is, unless you're after an all-season duvet. Made up of a lightweight summer duvet and a heavier mid-season duvet, these duvets can be joined together to create one very warm cover for the winter.
No matter which model you go for, you will, of course, need to pick the right size for your mattress and make sure it hangs in a way that suits you. You will then have to choose the outer fabric, or casing, which can be made of classic cotton or the natural feel of silk or bamboo. The filling material may be natural (down, wool, silk) or synthetic; each option has its advantages and disadvantages. Duvets can also be treated against dust mites or other allergens.
Finally, don't forget to check how the filling is distributed and kept in place in the duvet. And remember: when comparing different duvets with the same filling, the higher the tog rating, the warmer the duvet will be.
Explore the ManoMano catalog
Duvets
Choosing a duvet size
---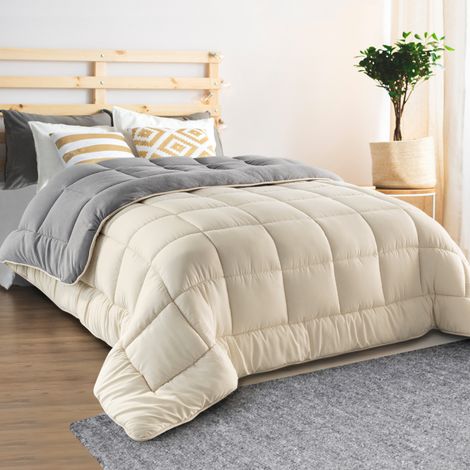 The size of your duvet will depend on the size of your mattress. However, the dimensions must not be identical so as not to let in any cold air. Instead, choose a duvet that overhangs the mattress by 20 to 40 cm on each side.
Generally speaking, a duvet for a single bed should measure around 140 x 200 cm while a double duvet will be around 160 cm in width. If you prefer a large overhang for a double bed, go for 220 x 240 or even 240 x 260 cm.
Selecting the right casing for your duvet
The casing of a duvet contains the filling and stops it from spilling out. You should therefore pay attention to the casing material as well as the thread count.
Percale cotton casing
---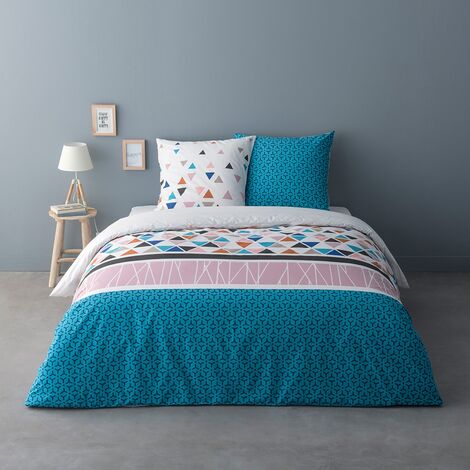 This material is absorbent while also offering good ventilation. For a synthetically filled duvet, a thread count of around 80/90 per cm 2 will suffice.For a duvet with a natural filling, this number should increase in order to prevent materials like down from escaping.
Silk casing
---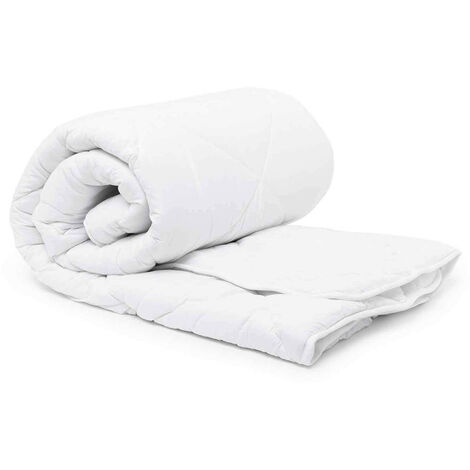 It is also possible to find silk casings, which are soft to the touch, or bamboo. Both of these materials are naturally anti-bacterial and hypoallergenic.
Choosing a duvet filling: natural vs. synthetic
The filling of your duvet may be natural or synthetic: both options have their positive and negative points.
Natural filling
Among the most popular natural duvet fillings are down and wool.
Down duvet filling
---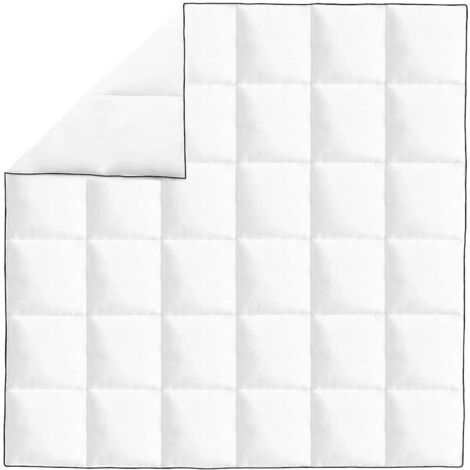 In reality, this type of filling is generally a mix of down (goose and duck) and feathers. The higher the percentage of down, the warmer, softer and plumper the duvet will be.This type of filling is also great at regulating body temperature which will stop you from sweating during the night. Please note, however, that these duvets are expensive and difficult to care for.
Wool duvet filling
---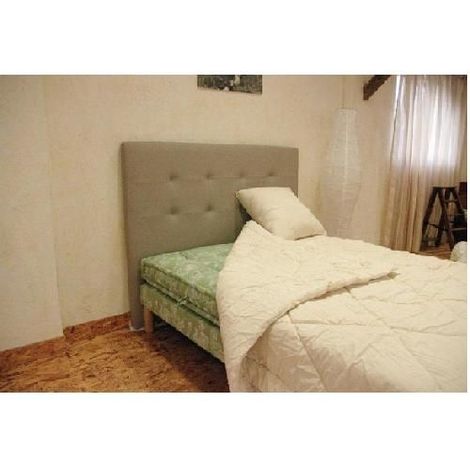 Naturally resistant to dust mites, wool has excellent thermal insulating properties and ensure body temperature regulation. Additionally, it has highly effective moisture-wicking properties meaning it will stop your bed from feeling damp, even if you sweat a lot overnight. The price of the duvet will vary depending on the quality of the wool.
Silk duvet filling Very soft and lightweight, silk-filled duvets are naturally protected against dust mites and are good at regulating body temperature.
Synthetic duvet filling
---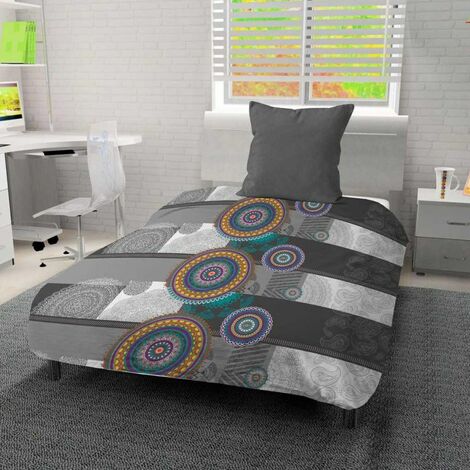 When it comes to synthetic duvet fillings, you can choose between various levels of polyester microfibre quality. The plumper the duvet and the more air it contains, the lighter the duvet will be while still maintaining its insulating properties. Some types of polyester microfibre are coated with silicone in order to slide around freely in the casing without clumping.
This option will also make the duvet feel more cushioned. Breathable and less costly than a duvet with a natural filling, a synthetic duvet will also be easier to care for. However, these duvets will not last as long.
Picking a duvet tog rating and construction method
Duvet construction method
---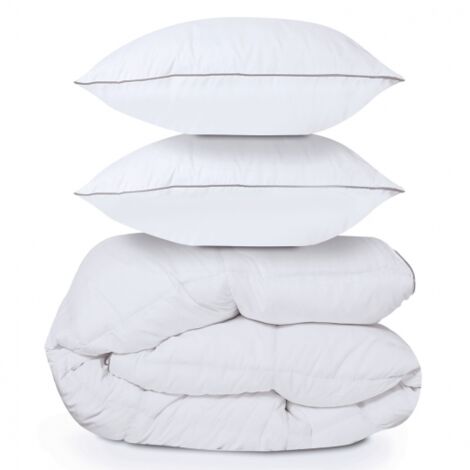 The duvet construction method will determine how the filling is kept in place.The two main types of construction method are box stitch and baffle box: the first is where the top and bottom sides of the casing are stitched together to form boxes while the second method involves stitching in extra material between the boxes between the top and bottom.
Tog rating
---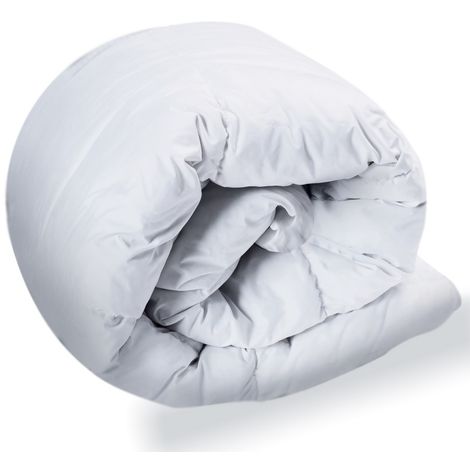 The tog rating of a duvet will determine how warm it keeps you. The higher the tog rating, the warmer the duvet will be.
Duvets with natural fillings are generally more lightweight. Down duvets are especially light, as long as they contain a higher percentage of down than feathers.
Tog ratings can range from 1 tog right up to 15 tog for the warmest winter duvets.
Summer vs. winter tog ratings
Anti-allergen and all-season duvets
Some duvets have been treated to offer protection against dust mites and other allergens, making them suitable for people who suffer from allergies. These treatments can be applied to the casing and/or the filling.
These days, some manufacturers coat the duvet fibres in essential oils instead of using chemicals. Eucalyptus, lemon and lavender are some of the most commonly used oils.
All-season duvets
---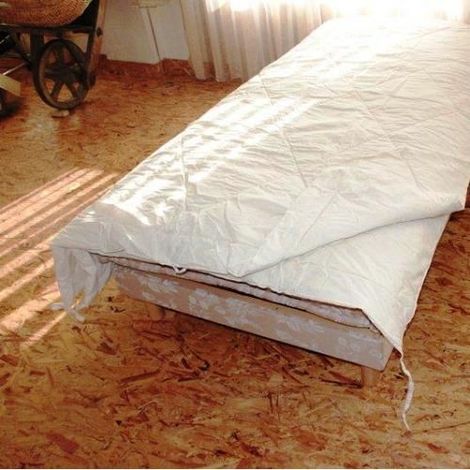 An all-season duvet can, as the name suggests, be used year-round from summer to winter.
These duvets are made up of two different duvets with different tog ratings: a lighter duvet is used in the summertime, a heavier one is brought out between seasons and the two can be clipped together to create one single, very warm duvet for over the winter.
Guide written by:
Sylvie, Ecrivain & journaliste brico/déco, Essonne, 257 guides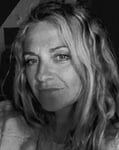 Après avoir travaillé au service de presse de France 2 et de la Cinq, j'ai choisi de laisser parler ma plume en m'orientant vers le journalisme et l'édition. Aussi éclectique dans mes goûts que dans mes écrits, passionnée de décoration et de bricolage comme d'histoire et de sciences, j'écris depuis plus de vingt ans sur ces thématiques. À mon actif : des ouvrages didactiques, romans et nouvelles, et de très nombreux articles brico déco regorgeant de conseils et d'astuces, expérimentés dans la vieille maison que je rénove peu à peu.
The products related to this guide