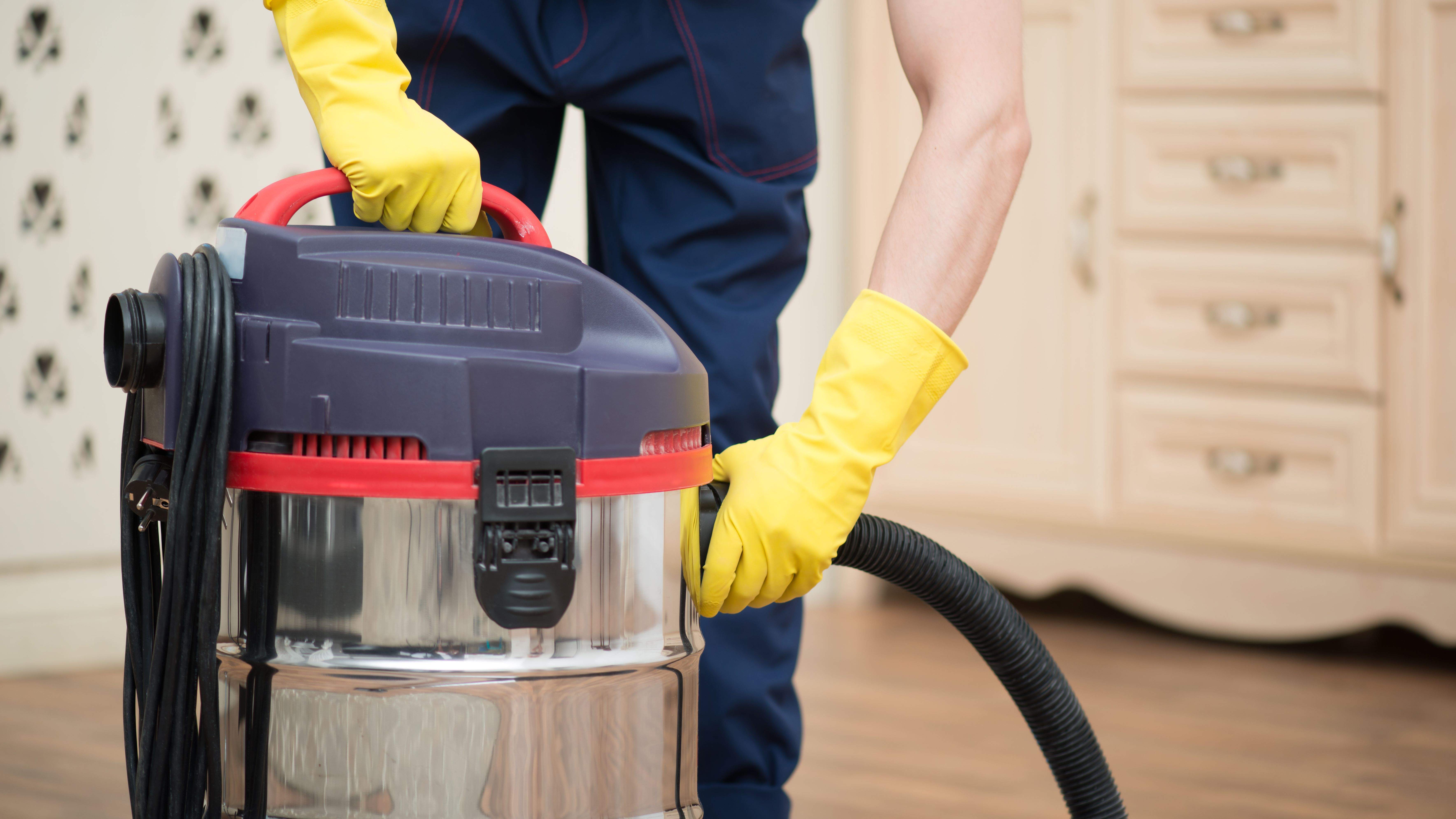 Dust extractor buying guide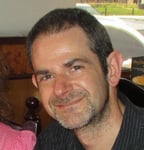 Guide written by:
Didier, Technical manager, Cardiff
8 guides
Whether used to clean up work surfaces or to extract dust from your power tools as you work, dust extractors are a must for any self-respecting workshop! From bagged to bagless models, chip extractors to vacuum attachments, follow our guide to help you pick the right dust extractor for your needs.
Choosing a dust extractor to suit your needs
In order to choose the right dust extractor, start by weighing up your needs. The technical specifications of your dust extractor must match the tasks it will be handling. The quality of dust extractors is determined by the strength of the materials used to make them and the reputation of the brand; the level of quality you go for will depend on how often you plan on using the machine.
DIY tasks and small workshops
---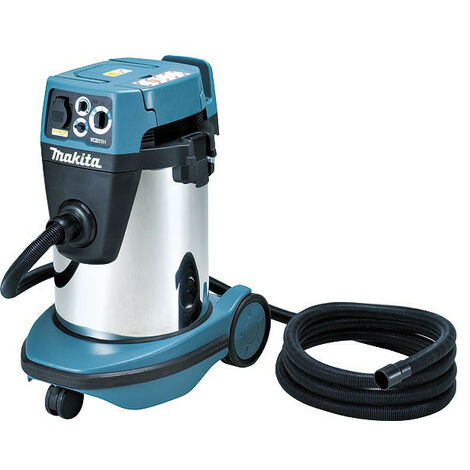 Need to extract fine dust particles and rubble? Would wet cleaning be a bonus? Go for a dust extractor with a suction power of 12 to 19 kPa, a tank capacity of 15 to 20 litres and a power rating of 700 to 1,200 W. If you are looking for a lightweight machine, go for a model with a plastic tank; otherwise, a stainless steel tank will offer greater durability.Don't forget to add on vacuum attachments for different surfaces. At the least, you'll need a brush head, flat nozzle and extension wand. A power take-off socket will be a definite plus if you plan on using your machine alongside tools such as circular saws.
Workshops
---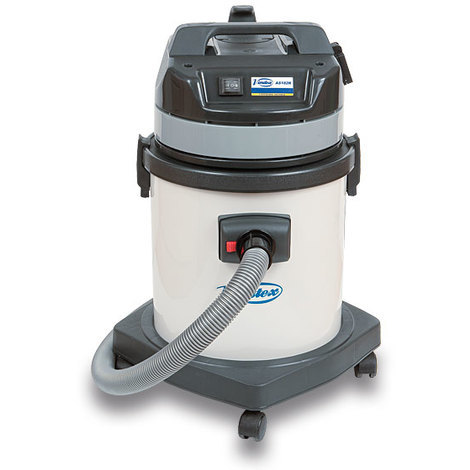 Looking for a dust extractor to use in your workshop on a regular basis? You'll need a stronger and more powerful machine. Go for a power rating of around 1,400 W with suction of 19 to 23 kPa. A stainless steel tank is recommended.These more powerful machines will be able to handle more specific tasks such as extracting chips or ash, if required. 
Work sites
---
On-site dust extractors must be quick and efficient. A thorough and powerful machine is therefore necessary. You will need a stainless steel tank. Furthermore, it is recommended that you choose a power rating of 1,600 to 1,800 W and a suction power of 19 to 25 kPa. Be sure to choose a long hose of around 8 to 11 metres or you'll often find it won't reach quite far enough!It's also worth considering a range of modern features such as automatic filter cleaning, a wet vacuuming water-level sensor, a fan blower and a power take-off socket. The controls of your dust extractor should be located on the handle. For more intensive use, choose a quieter model for better working conditions on sites where noise resonates.
Industrial use 
---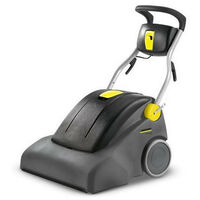 A dust extractor with a rotating brush head that sweeps and extracts debris at the same time is a good idea for industrial use or use in large commercial buildings. Consider dust extractors starting at 1,600 W with an air flow rate of at least 300 litres per minute and suction of 20 kPA minimum.These machines are pushed like a lawnmower and can be corded or battery-operated.
Dust extractors: how do they work? 
---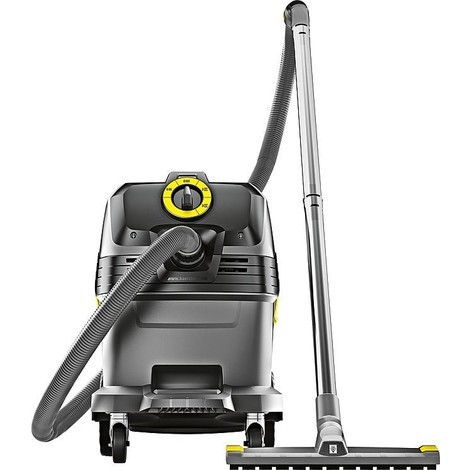 Dust extractors are very handy machines that allow you to extract dust-filled air and other light debris and store it in a tank that may or may not contain a bag. The suction effect is produced by a motor which spins a fan to create a vacuum.This negative pressure pulls in air and small particles through the vacuum head and hose. The particles are then deposited into the tank or bag while the warm air is vented out through an exhaust port. 
Bagged vs. bagless vacuum cleaners
---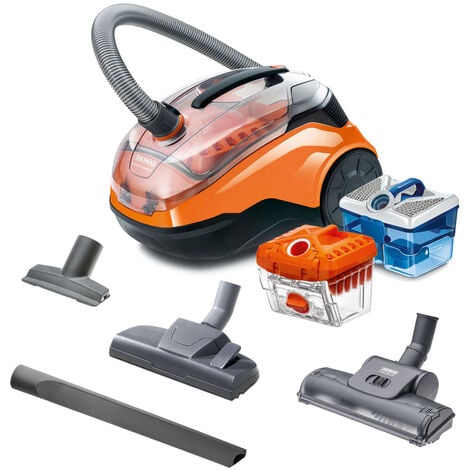 In bagged dust extractors or vacuum cleaners, the negative pressure generated bythe fan passes through a porous bag.These bags let in a lot of air when new. However, the pores become clogged after several uses which reduces the suction power as the air cannot pass through as easily.On the other hand, bagless dust extractors do not have ths issue meaning they do not lose suction in the same way.
Dust extractor components
---
The vacuum cleaner is brilliant in the home - for carpet, tile, wood floors and lino. Vacuum cleaners, compact or canister type cleaner, whatever their technology, are equipped with:
A motorwhich generates suction - power varies between models;
A tank - of varying volume and with or without bag;
Filters - to provide protection for the motor;
A suction head - rectangular or triangular;
A flexible hose of variable length;
Interchangeable extension wands - usually two, made of metal or plastic;
Brushes and nozzles (rectangular or triangular brishes, round or rectangular nozzles);
Wheels (two, four or five depending on model).
Explore the ManoMano catalog
Cleaner
The main features of a dust extractor
---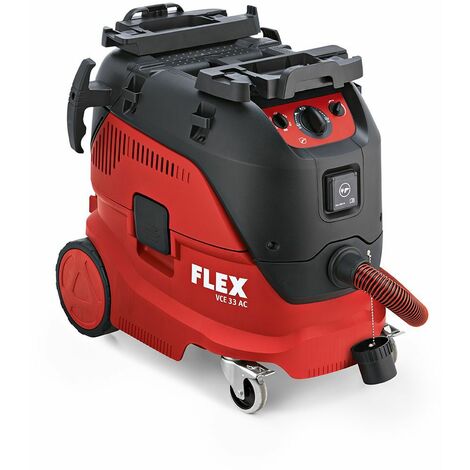 Before you start comparing models, let's take a look at the keycharacteristics of dust extractors and, most importantly, what they mean:
Powerconsumption (in Watts) corresponds to energy consumption. A high-power vacuum cleaner isn't necessarily the best, but power consumption is linked to some other important characteristics;
Air flow in L/min (litres per minute) is the volume of air that your vacuum cleaner will take in;
Vacuum pressure is measured in kPa (kilo-Pascals) and this corresponds to your suction power; the higher it is, the more your vacuum will extract;
The size of the filter is given in cm2. A greater surface area and higher filter quality will give you cleaner expelled air;
Tank capacity is measured in l (litres), and will depend on frequency and type of use;
Weight in kg (kilograms); this is important if you have to carry your appliance around;
Noise level in dB (decibels); for comfort of use - if you're a frequent user or have sensitive hearing,  you may need ear protectors;
The length of the hose and power cord will determine your range of movement; thankfully, you can get extensions;
Battery voltage and amperage will determine the machine's power and duration of use.
Dust extractor accessories
---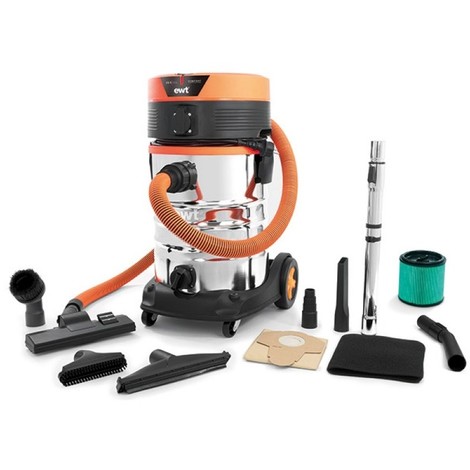 Dust extractor attachments allow you to perform a wide range of tasks and should be chosen according to your needs. Essential attachments are supplied with the dust extractor itself (e.g. hose, handle, brush and nozzle); however, higher end brand dust extractors will also offer additional accessories designed for specific purposes. The following attachments are common:
Brush heads - rectangular or triangular;
Flat nozzles - for precise dust extraction;
Wet and dry nozzles;
A vacuum foot - for flat surfaces;
Extension wands;
A curved extension wands;
Variable-length hoses;
Accessory holder.
Explore the ManoMano catalog
Dust extractor attachments
Advantages of a dust extractor
---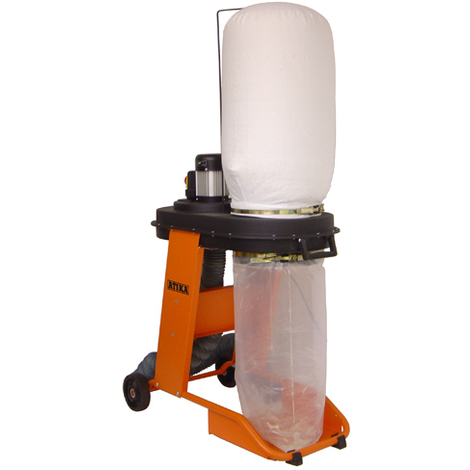 Whether you're cleaning the garage, the car, the workshop or clearing up the house after a messy DIY session, cleaning is a chore everyone would rather do without – but it's unavoidable!First of all, ask yourself what type of debris you want to vacuum:
Fine dust on the floor, to clean up after a plaster sanding session;
Light dust in the air, to avoid breathing in dust from tools like circular saws;
Liquid on the floor, from washing machine leaks and other accidents;
Woodchips, to avoid having to sweep up after using your planer, go for a chip extractor;
Rubble, after clearing the bulk of the debris from demolition work, use a dust extractor to avoid lifting any dust.
Whilst some dust extractors and vacuum cleaners are desgined for very specific purposes (such as chip extractors or ash vacuum cleaners) other models are very versatile and can extract both water and dust particles with ease.
Explore the ManoMano catalog
Ash vacuum cleaners
Dust extractors: bag or no bag?
In short, bagged dust extractors are less cost-effective but they are also more hygienic. Bagless models, on the other hand, will save you money and are highly practical!
Bagged dust extractors: pros and cons
---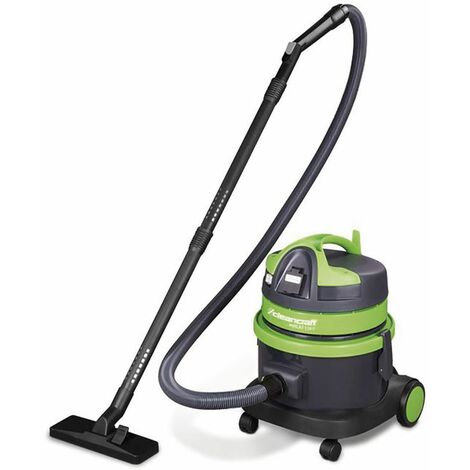 Vacuum cleaner bags offer better dust filtration. They can be made from synthetic materials, which offer better more efficient filtration and durability, or paper, which is a cheaper but lower quality option.The idea of the bag is to securely contain the waste, which is important if you are allergic to dust or dust mites.The disadvantage of these bags is the cost they entail and the loss of suction force as the bag wears.
Bagless dust extractors: pros and cons 
---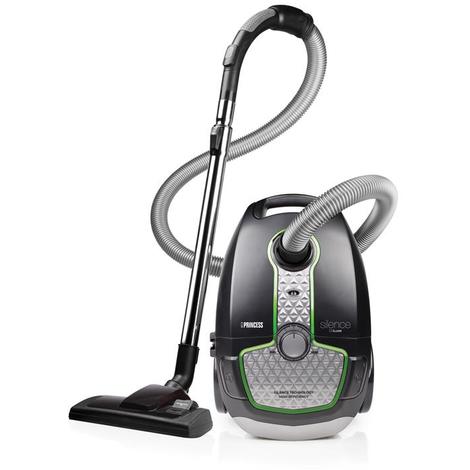 When it comes to bagless dust extractors – with the exception of some cleaners specially designed for home use – emptying the tank is never a pleasant experience for the sinuses! This is especially tricky for anyone with dust allergies. As you can imagine, unlike bag models, the tank of bagless dust extractors must be cleaned regularly.The advantage of bagless dust extractors, however, is that they are more cost-effective and don't generally experience loss of suction over time.
Explore the ManoMano catalog
Bagless
Add-on features for dust extractors
Depending on the type of dust extractor, you may choose from a range of options designed for user comfort and to cut down on the time you spend cleaning!
Filter cleaning
---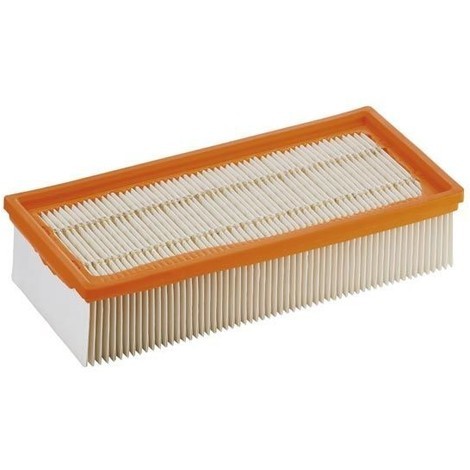 Filter cleaning can be manual or automatic: manual models require you to take out the filter and tap it off; with an automatic model, there's no need to disassemble your machine to clean it.
Power take-off socket
---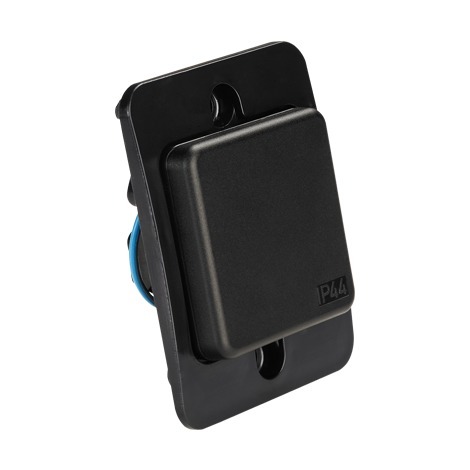 This accessory is essential for dust extractors used in workshops as it allows you to connect your power tools directly to your machine. Stop the dust in its tracks!
Blower
---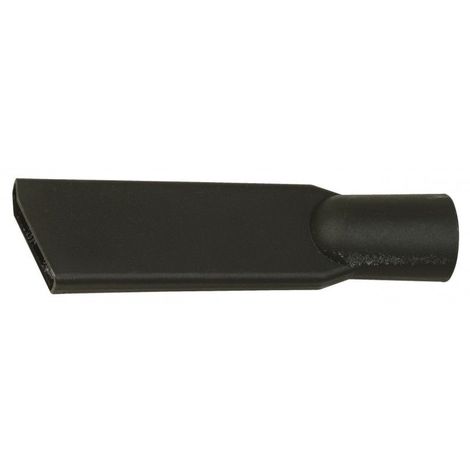 A blower, as the name suggests, turns your extractor into a blower fan. This is handy for removing dust from hard-to-reach places or can even be used to clear up leaves!
Two-stage motor
---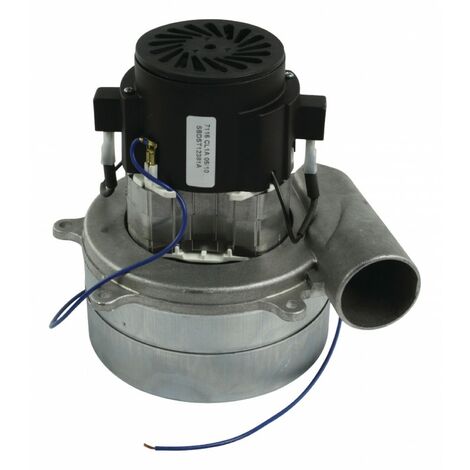 Two-stage motors offer improved weight distribution.
Pre-filter
---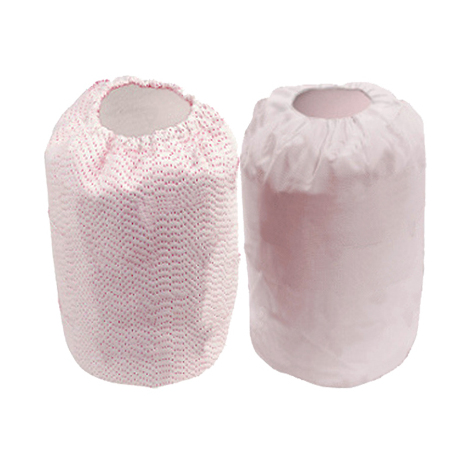 The pre-filter is designed to preventthe main filter from clogging.
Rotating brush head
---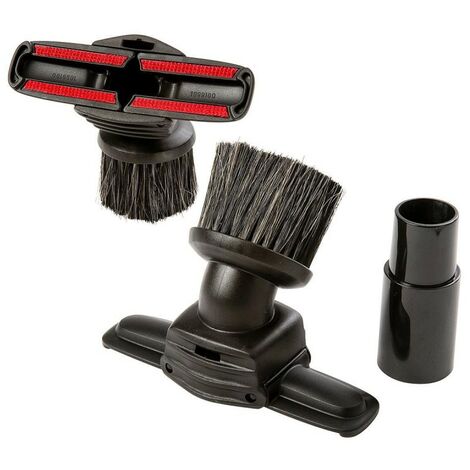 A rotating brush head is usually supplied with industrial models. The brush uses a rotating movement to dislodge dirt which is then sucked into the dust extractor.
Using a dust extractor to clean your car
---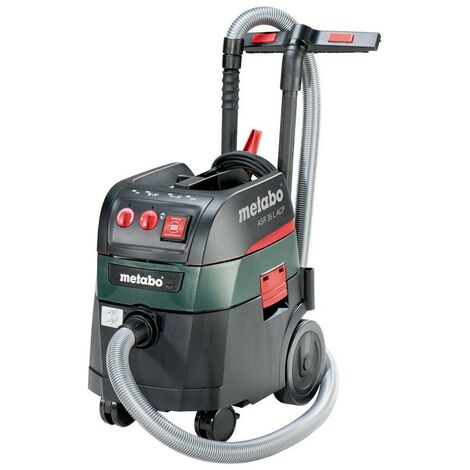 For lack of a better option, household vacuum cleaners are often used to clean cars. However, the level of dust plus the presence of gravel and other bits of rubbish usually found in cars puts your appliance at risk.What's more, the thickness and density of car floor mats means you'll need a higher suction power than usual to get them clean. Car seats also require a stronger machine to tackle crumbs dropped in between seams, etc. 
Choosing a cleaner for your car
In order to choose the right machine to clean your car, we advise you look for the following specifications as a minimum:
bagless models;
1,400 W;
23 kPA;
flat nozzles, extension wands and suction brushes;
a long hose for vacuuming seats, parcel shelf and boot.
Final tips for choosing the right dust extractor
---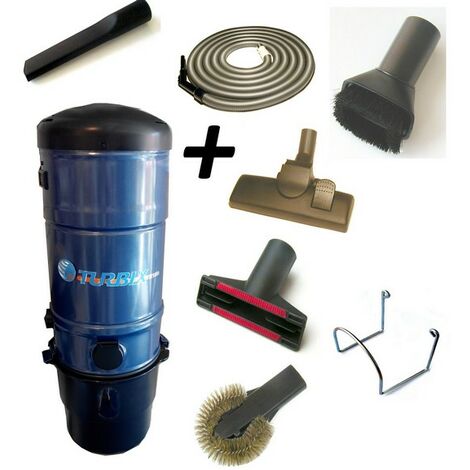 Your choice of dust extractor will come down to finding the right mix of technical specifications and features. Choosing the right materials is also very important.
Some dust extractors are designed for industrial use and others for spaces where cleanliness is paramount. Rest assured, these specifics will be given in the sales description of each model.
It's also worth noting that you shouldn't attempt to vacuum any type of material that your appliance is not designed for; a home dust extractor is no good for rubble, a specialised wet and dry model shouldn't be used for ash (ash in particular consists of very fine particles and can be hot) and so on. As for any tool, always read the instructions before use.
More information
For more advice on specialist cleaning machines, check out the following guides:
Guide written by:
Didier, Technical manager, Cardiff, 8 guides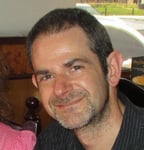 I spent ten years working in maintenance services, first as a Technician and then as a Head Technician. For eight years, I have perfected the methods and management of subcontracting. Today, I continue my career while I work on technically versatile projects. DIY: I love it. I like having the right tools. Precise work fascinates me, I like working with wood and metal and I do not hesitate to make something myself if it doesn't exist. In my daughter's room, for example, has a bed built into her desk. My family and neighbors don't hesitate to ask me for advice or troubleshooting. My experience in home renovation combined with my knowledge of the various building trades allow me to advise on tool choice with pleasure.
The products related to this guide