Drill press buying guide
Guide written by: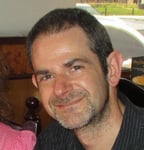 Didier, Technical manager, Cardiff
8 guides
Ideal for precise and standard drilling, a few different types of drill press are available: drilling machine, stationary drill, radial drill, or magnetic drill. From drill stand to key or self-clamping chucks, trust in this buying guide to help you choose your drill press.
Important features
Distance column-mandrel
Speed
Easy adjustments
Drilling accuracy
Power
Which type of drill press do I choose?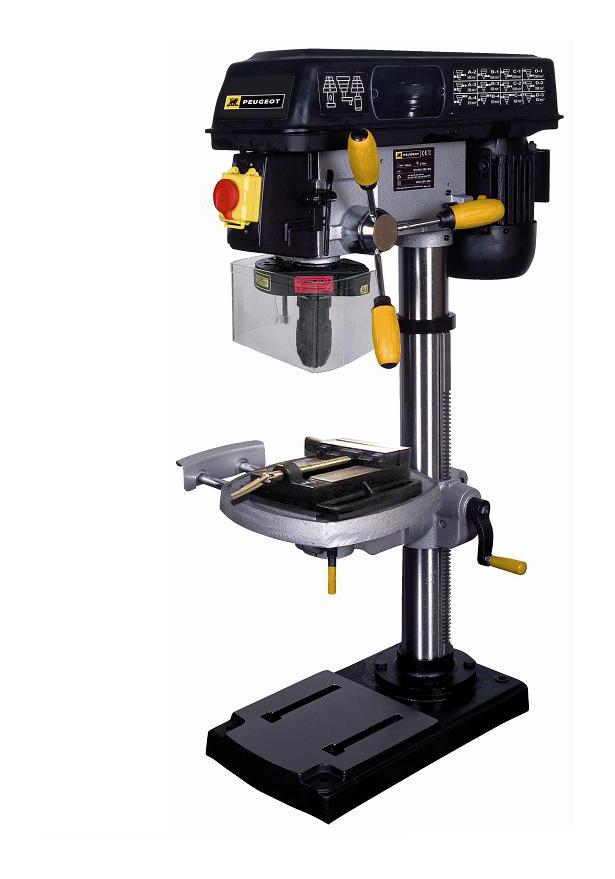 Primarily owned by professionals, the drill press is
indispensable
for
drilling wood
or metal with precision. Nowadays, they are adapted to the needs of
craftsmen
and are accessible for do-it-yourselfers.
The
drilling machine
exists in different designs. As required, the drill press may be:
Compact: These models are easily fixed to a table which makes it easy to use without dedicating a lot of space to this tool. This type of drill press is suitable for craftsmen and do-it-yourselfers alike in a small work space.
Stationary: Also called "floor columns", they are suitable for a workshop that can dedicate a location for just this tool which lends it more to large room templates. The stationary drill press is a ground-mounted tool, high capacity and high powered.
Radial: The design of the drilling machine is close to the bench drill. The radial drilling machine is differentiated by a horizontal adjustment that varies the distance between the chuck and the column. The radial drill is suitable for drilling away from the edge of a material.
Magnetic: Allows drilling mobility at a worksite or in a workshop. The drill fastens with electromagnets to a flat metal surface. It is a flexible tool that allows for drilling and milling alike.
Drill stand: An economical solution if you already have a good quality drill, but the main downside to this option is that the accuracy is affected. The drill bracket is a good compromise for infrequent use where the drilling accuracy is not sufficient with a portable drill alone.
What are the characteristics of a drill press?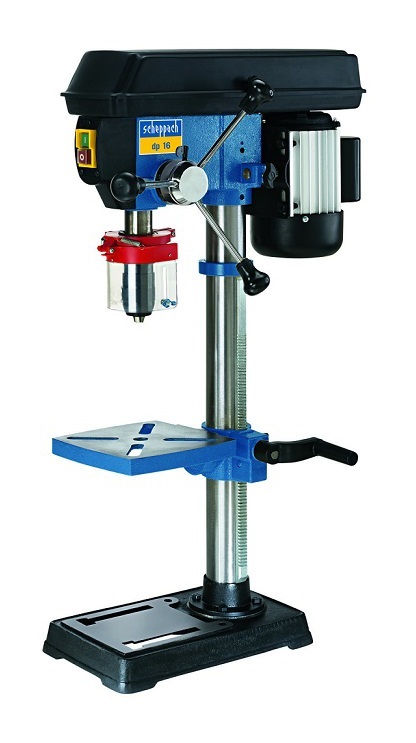 In order to fill in the holes in your knowledge on the subject, check out the characteristics of the drill press. Key features include:
Drilling depth: Depends on the ability of your guide (spindle) to lower the chuck. By default, this parameter is the length of your longest drill bit. If your need is particular, the carpenter drill stand offers you the greatest range.
The length of the column/height of the chuck: Depends on the width of the material you are about to drill. Drilling a flat sheet of metal or a tall structural beam does not require the same space. A high column allows you some flexibility in this or you could have an intermediate tray that also allows for easy adjustment.
The spindle-to-chuck distance: Depends usually on the design of your drill. This distance is variable, however, on radial drills. It depends on your needs. As with the height, a greater distance provides greater flexibility.
The power required: Depends on your hole diameters and the materials into which you are going to drill. Be sure to overestimate your power needs especially for frequent or sustained use. Think about how much more power drilling with a holesaw requires than with a conventional drill bit.
The power supply: Depending on the model, your drill may run on a conventional home outlet for power. Some models, those more likely to be used professionally or industrially require a greater power output. Pay attention to the compatibility with the drill you select.
The capacity of the chuck: This determines the diameters of drillbits and accessories you can use. Be aware that a chuck fixed by cone to the spindle can interchange. You can thus adapt large diameters of drills with a conical shank instead of a chuck of this type.
The range of speeds: While some older models may not offer a range of speeds, most drills boast either variable or a variety of speeds to choose from. Just be aware while you're working and adjust to low and high speeds as you need.
The selection of speeds: This is effected by moving the belt on the pulleys. The inverter fits into some models of drill presses and allows fast and accurate speed control.
The effort required: Refers to the progression of the drill through the material. This remains an important matter because long handles are more comfortable and allow a more precise application of the pressure while drilling. A flywheel will be more suitable for drilling of soft materials.
The ease of adjustment: This should be a top priority for frequent use. Try to avoid systems that require the use of a key to tighten or loosen a chuck. It's a time-consuming process and the key is easily and frequently lost.
The precision of drilling: Fine work may require millimetre gauges on all your settings. However, this precision also depends on the quality of your equipment. A large column combined with a well-covered guide ensures an accurate perpendicularity.
How you balance all of these features in the selection of your drill press will ensure the precision equipment.
How to choose a drill press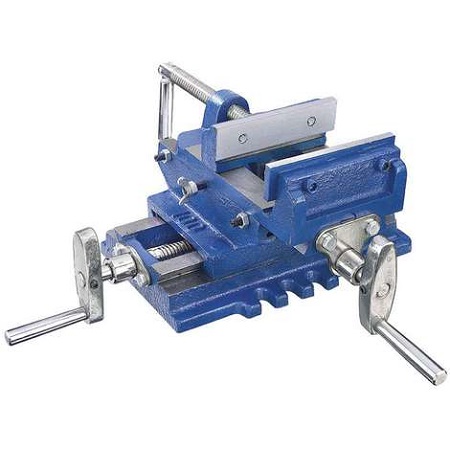 A
drill press vice
must be sufficient enough to properly hold the material you need to secure.
The stem clamp
is lighter and therefore more manageable but not as strong.
A
machined vice
is heavier and suitable for large and frequent drilling.
In any case, the choice is determined by the
width
and
height
of the jaws and then of its
opening capacity
.
Think of the flanges that fit better with bulky pieces.
How to choose the mandrel of its drill press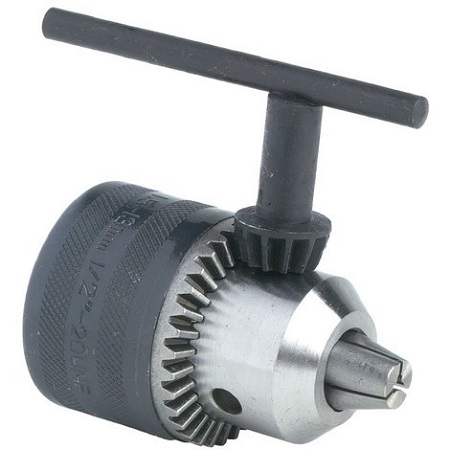 The
chuck
is the system that you will handle most often, ensuring the tightness of the drill bits.
The
key chuck
is more constraining to use because it is more difficult to tighten. The key chuck is, however, in the process of disappearing in favour of the
self-tightening
chuck
, which is easy to use and effective when clamping.
The self-tightening chuck comes in two varieties:
Nylon - more fragile;
Machined - robust and enduring.
How to use a drill press safely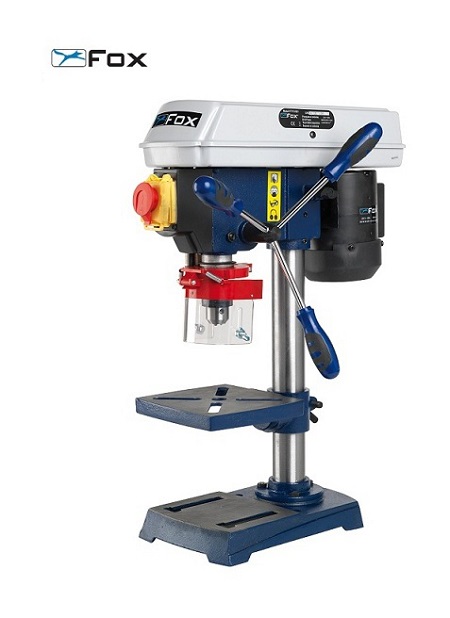 For starters, you need good
metal drill bits
and these need to be sharp - consider using a
drill bit sharpener
and make sure that you're drilling at the right speed to prevent unnecessary wear and tear or risk of accident or injury.
If you're working in the morning you're not paying close enough attention, being absolutely sure your tools are sharpened and precise will help keep you safe!
To do this, the
chuck housing
on your drill press must be properly handled and tightened.
Lighting
is sometimes
necessary
as well to ensure your safety and the precision of your work.
Wear appropriate
protective gloves
and
goggles
and avoid touching the drill bit during drilling.
Remember to secure your
vice
to the
table
if there is a risk of rotation, otherwise,
clamp
your material.
If you need to
drill tiles
or
drill glass
with your drill press, choose the right drill bits and drill with water. This will help control dust and excess noise from friction.
Remember that a drill press is suitable for any DIYer, but if your use is frequent bet on a quality
drill press
. Even if you spend a little more at the outset, you will see a return in its durability and the quality of the work.
For do-it-yourselfers who are curious about know-how and want to choose the accessories related to drills, follow the advice of our editors and discover their Guides:


And to work safely:


Did you find this guide helpful?
Guide written by:
Didier, Technical manager, Cardiff 8 guides écrits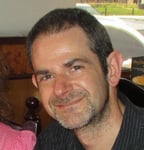 I've spent 10 years working in maintenance services, first as a Technician and then as a Head Technician, and eight years perfecting my subcontracting methods and management. Today, I get to be both a project manager and a technical jack of all trades.

DIY: I love it. I like having the right tools. Precise work on wood and metal is my passion - if it doesn't exist, just hand me the tool and I'll make it myself! In my daughter's bedroom, for example, I made an integrated unit which fits both her bed and desk for homework. And apparently word has gotten around: even the neighbours knock on my door when they need some DIY advice and support.

With my experience in home renovation and my knowledge of the various building trades, I'm always happy to help you pick the right tool or equipment.
The products related to this guide