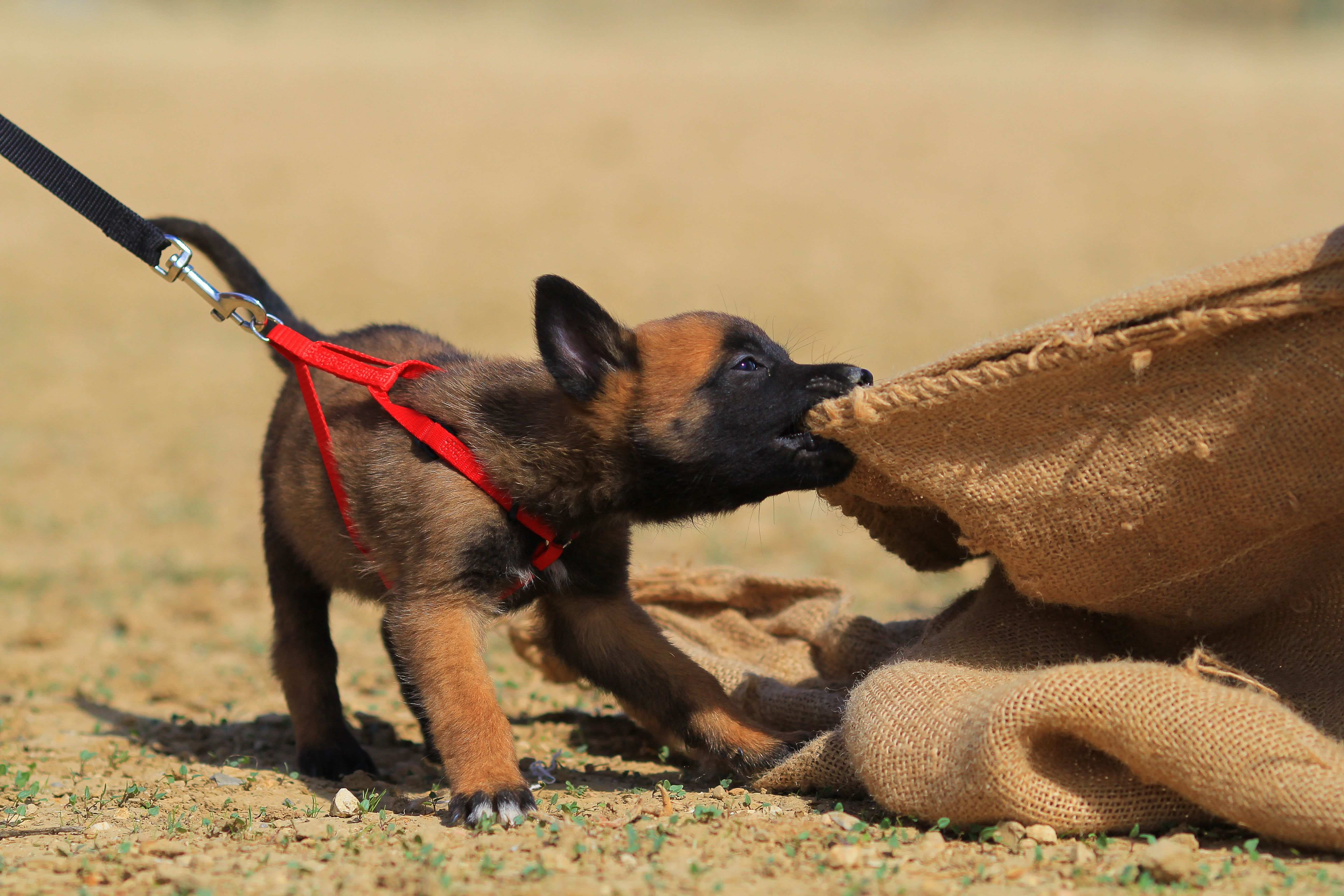 Dog training lead, collar and harness buying guide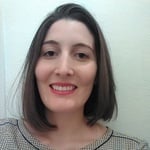 Guide written by:
Pauline, Self-taught handyman, Leeds
122 guides
Essential for walking dogs around town, attaching a dog tag or for a training session, dog training collars, leads and harnesses should be chosen according to usage and the temperament of your dog. From training harnesses to long leads, read on to find the right training accessories for your dog.
Choosing a dog collar
---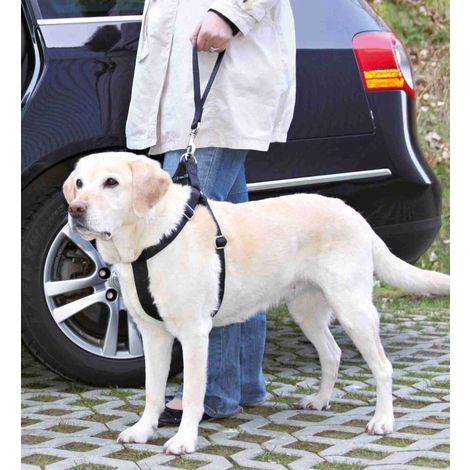 Dog collars are traditional accessories used to attach a lead (or chain) and a dog tag to help identify your dog.
In additional to their practical functions, dog collars can also constitute a fashion accessory allowing you to express yourself and personalise your dog's style!
There are many different styles and designs available:
leather, nylon, steel, fabric;
one-colour or patterned;
thin or thick (e.g. specialist wide collars for sighthounds);
with rhinestones, decorative studs, embossed floral patterns, etc.;
If your dog has sensitive skin, go for hypoallergenic materials such as biothane.
Note that various 'training' collars, such as choke collars, are also available. However, many dog handlers nowadays prefer to use a flat collar or a training harness for ethical reasons – and because these accessories tend to work better!
Please note: dog tags are not a substitute for microchipping or id tattooing. In the UK, all dogs must be identifiable by law.
Explore the ManoMano catalog
Dog tag
How to choose a dog lead
Lead type
---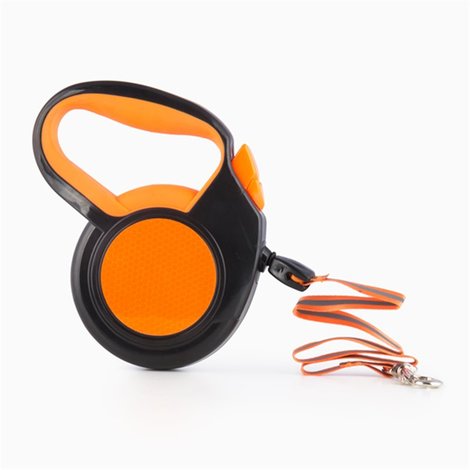 There are many different types of lead on the market, starting with fixed or rectractable leads.Fixed leads only reach a certain length meaning the dog must learn to respect this distance without pulling (in theory, anyway).Retractable leads are made up of a handle and a cord that stretches several metres and winds in or out depending on the position of the dog. Please note, however, that this type of lead is not recommended when your dog does not know how to walk on the lead. Any untrained dog will quickly reach the end of the lead and can end up being up to 5 metres away from their owner!Flexi leads come in a range of sizes to match the weight of your dog (S,M,L). You must always hold the handle firmly so as not to let go of the lead if your dog suddenly takes off.
You can now also find a third type of lead equipped with a flexible, extendible section. These leads are called shock-absorbing leads and are a good option for dogs that are a little nervous.
Lead length
---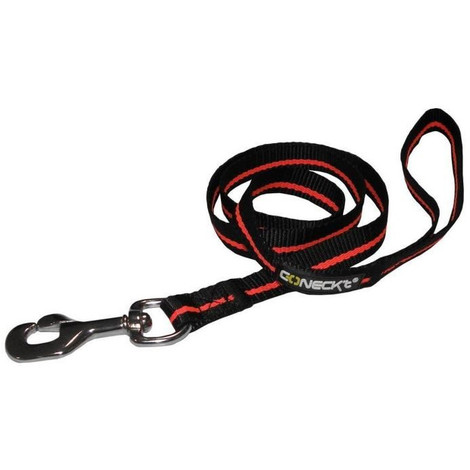 Firstly, you will have to determine the function of the lead. This will help you to decide on a length. There are three main categories of dog leads:
Short leads (1 metre);
Medium-length leads (1.5 - 2 metres);
Long adjustable leads (2 - 3 metres); can be adjusted to multiple lengths via a ring system;
Long training leads: 3 - 10 metres, used for training recall and long walks.
If you are teaching a dog to walk on the lead, it has long been the norm to use a very short lead (1 metre to 1.5 metres max.). You can, however, absolutely use a longer lead which will allow you to work on walking to heel and walking ahead on-lead without pulling.
Lead materials and shapes
---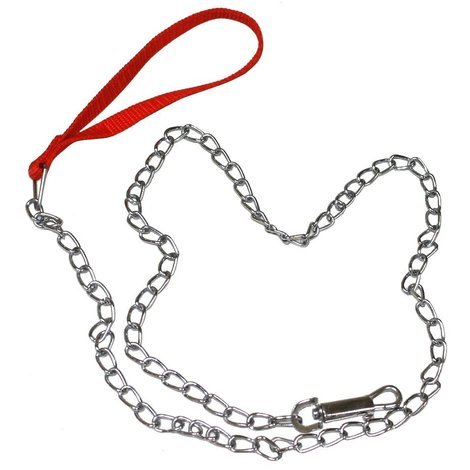 Dog leads come in a range of different materials, each with its own set of advantages and disadvantages.
Leather: expensive, hard-wearing but breakable, high quality, stylish.
Biothane: polyester with coating, more resistant than leather and no risk of injuries, matt leather look, odourless, anti-fungal treatment.
Nylon: hard-wearing, can cause rope burn if not held properly.
Metal: indestructible and rustproof, heavy.
You should pay close attention to the diameter of round leads as this will determine the weight of the material (to be chosen according to your dog's strength). A large dog will require a thick lead while a small dog can use a thinner lead. Round leads (3-10 metres) can be easier to handle than flat leads.
Dogs that bite the lead will end up tearing it – especially puppies as they have very sharp teeth.
If you have a very excitable dog with an aversion to the lead, it is advisable to choose a thick, round lead and to avoid flat leads.
Explore the ManoMano catalog
Retractable leads
Choosing a dog training harness
---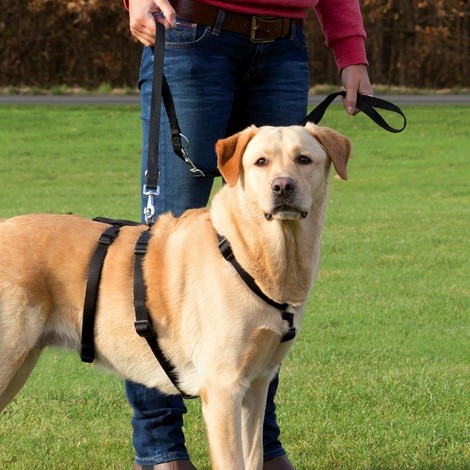 Training harnesses have two purposes: firstly, they can be used as a training tool (but don't expect miracles!); secondly, they are used for making your dog more comfortable while out both during and after training.
When choosing a dog harness, you should consider the following points:
Check how easy it is to fit (the easier it is to put on, the less it will bother your dog).
Check that the straps are padded and thick enough to avoid cutting into the skin as they dog moves.
Choose a model with a fairly low chest strap to avoid cutting into the windpipe.
Opt for a two-position harness with a ring on the front and back to adjust according to activity (e.g. walking, recall, etc.).
In terms of material, almost all harnesses are nylon and some feature fleecy parts. Your harness should feature stainless steel buckles to ensure the product will last even if it gets rained on or Rover decides to jump in a lake.
In order to choose the perfect training accessories for your dog (lead, collar or harness), put your dog's comfort first and think about the activities you plan on carrying out with your four-legged friend.
Explore the ManoMano catalog
Rained on
Guide written by:
Pauline, Self-taught handyman, Leeds, 122 guides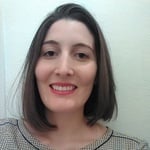 With a handyman-father, I grew up with the soft sound of the sander and hammer on weekends. I am both manual and cerebral (yes, it is possible.), I learned the basics of DIY and the customization of furniture because I was passionate. The salvage mentality is a true way of life that allowed me to know how to use all the tools and products needed to give something a second life, from sander to varnish. I have two favorite activities: the transformation of old furniture and decoration tips. I am always ready to lend a helping hand to revamp a table or to restore a mirror that was intended for the trash that will become a friend's centerpiece. I'm convinced that it's possible to reinvent an interior by small, regular modifications, I constantly research low-cost, test ideas.
The products related to this guide