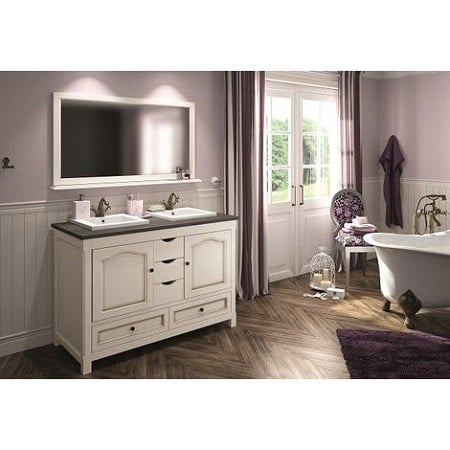 Designer bathroom: modern and functional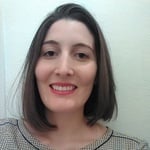 Guide written by:
Pauline, Self-taught handyman, Leeds
89 guides
Do you fantasize about having a designer bathroom? If so, it implies you are ready to change it up and look at the space through a different angle. From the shape of the furniture, to amazing bathroom layouts and preferred materials, not forgetting the choice of coverings and colors, we have all our advice here so you can obtain your ultra-modern designer bathroom.
Important features
Asymmetric furniture
Open shower
Shape of the sink
Layout of the bathtub
Minimalist decor
Coating color
Asymmetrical furniture for an uncluttered bathroom
---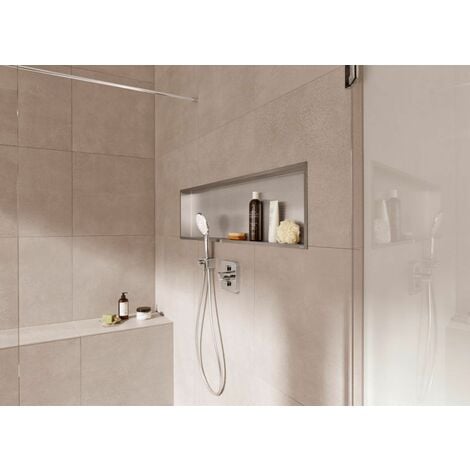 Gometric furniture fits just like a glove in designer bathrooms. In terms of materials, both solid wood (lacquered, polished, solid or perforated) and composite doors can create the designer look, especially since it is the shape of furniture that really matters.
You can place a higher priority on choosing wall-mounted furniture, furniture with thin chrome-plated metal feet (like in the 1950s) and open storage.
Tip: add a shelf along the shower wall to keep your bodycare products, a guaranteed way to start with a stylish shower.
Explore the ManoMano catalogue
Wall-mounted furniture
Exceptional restroom facilities
---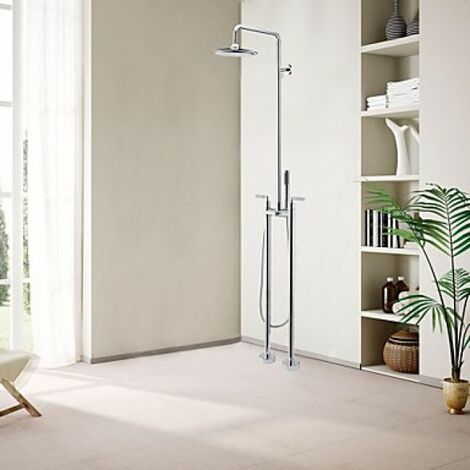 A wide open shower
A whole new world opens up in your very own bathroom when you get rid of the convential shower enclosure and screens. A walk-in shower is generally positioned in a corner, wide open and inviting, leaving the rest of the room to be completely tiled, from floor to ceiling.

---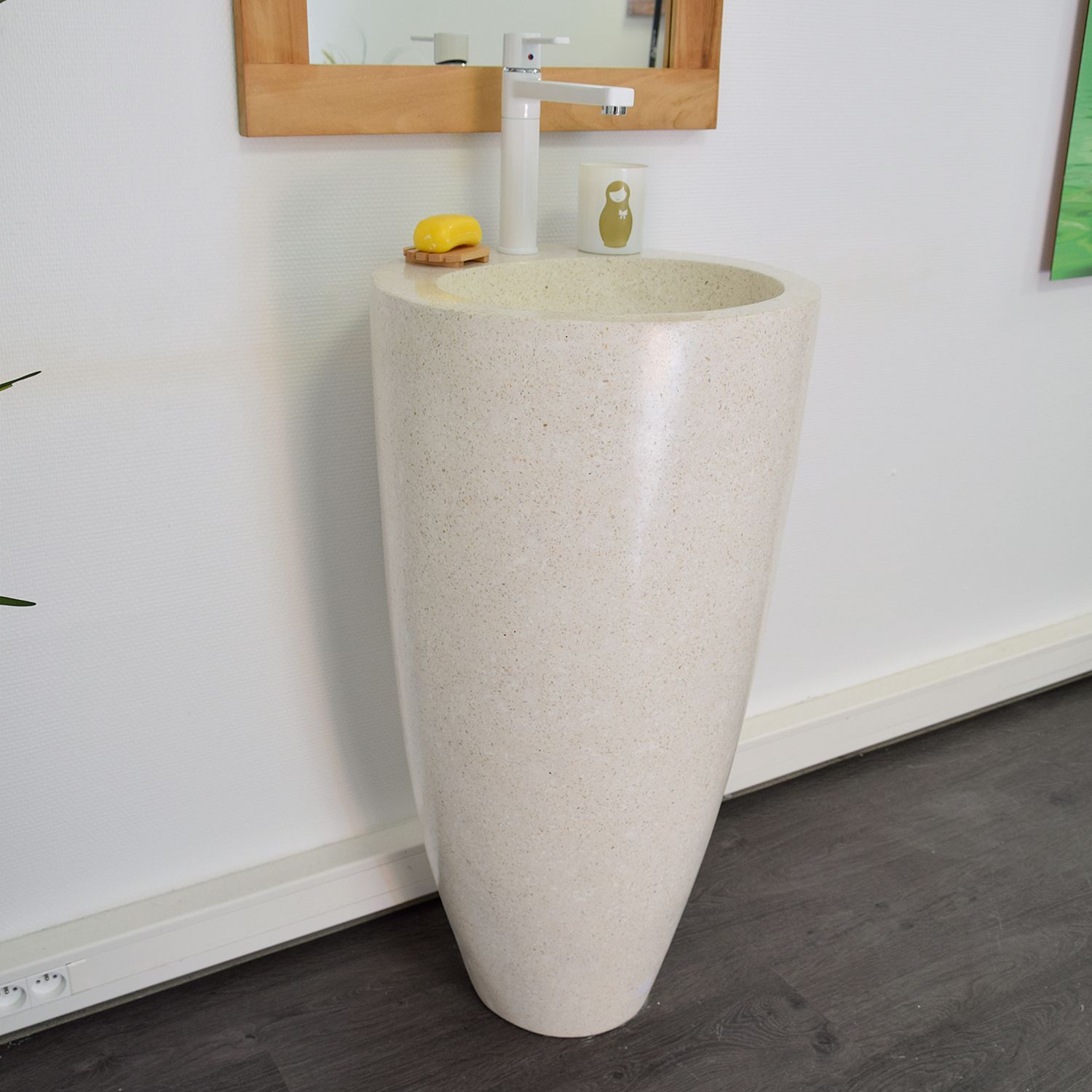 A unique sink: the key to a designer bathroom
The term designer in itself implies somewhat of a surprise. When it comes to the bathroomsink, it's time to unleash all your fantasies. Here are some ideas to get you started:

A round or square sink elevated on a piece of furniture;
A free-standing sink, usually composed of ceramic or terrazzo (composed of fragments of stone, marble and cement), preferrably with rounded or angular edged, depending on the rest of your decor.
---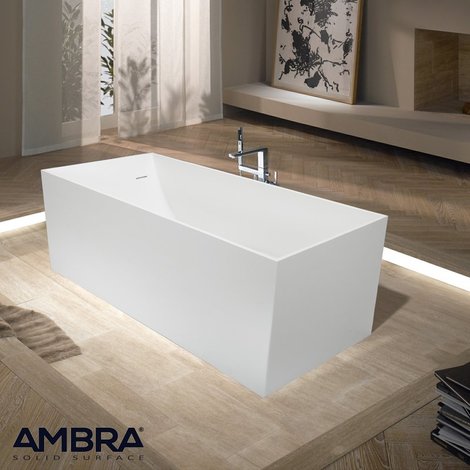 Tub in middle of room

If your modern bathroom is spacious enough to install a bathtub, there's really no reason to deprive yourself of one of the most common artistic fantasy. Which one, you ask (we all have so many)? Placing your bathtub in the center of the room.
It doesn't matter if it has rounded curves or sleek, angular lines. It's just a valid for semi-sunk bathtubs, on the contraty, this will yield an offbeat and unique effect.
Bonus tip: go for a bathtub with integrated lights. If you choose a spa bath, you can kill two birds with one stone by combining designer qualities with improved well-being thanks to light therapy!
Explore the ManoMano catalogue
Bathtub
Dare to go iron and embrace the industrial look
---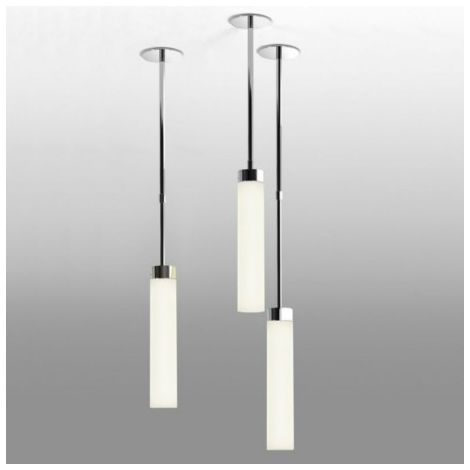 The term designer often evokes images of a refined decor, but that does not make it any less researched.
Here are some elements that can easily be integrated with your designer bathroom:
When it comes to lighting, there are a multitude of options for embelleshing your designer bathroom:
Explore the ManoMano catalogue
Spotlights
What colors for a designer bathroom?
---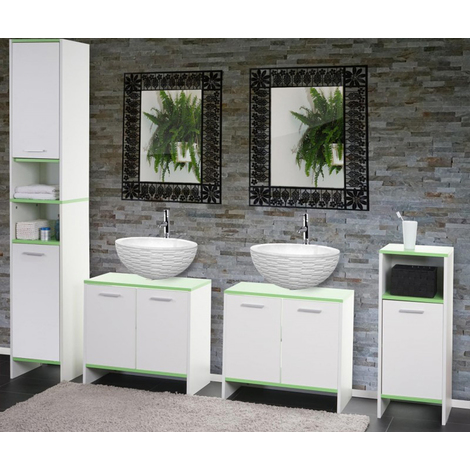 Traditionally, designer bathrooms imply a color pallet of black and white, radiating sobriety and elegance.
The designer bathroom has since evolved and is available in every shades of the rainbow. What style you choose will primarily depend your bathroom's look, shape and layout. Paint, polished concrete or tiles should also be taken into considerations as these details can significantly impact the overall style. Don't be afraid to go pink, blue or lily green if you are a fan of these colors. For those who prefer to keep it simple, this type of color notes can be infused via a variety accessories.
The current trend for designer bathroom revolves around asymmetry, even on the walls. Feel free to choose a segment of said walls and decorate just that part with wallpaper for added effect (leather, brick, stones, etc.).
Explore the ManoMano catalogue
Walls
A bathroom in two parts
---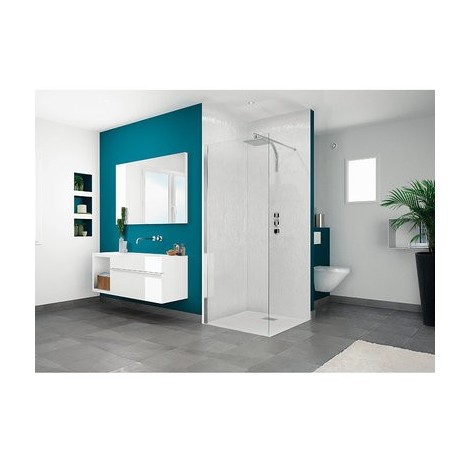 Designers tend to play around with volumes and shapes. Designer bathrooms are no different, and their design is often as innovative.
Rather than laying the room out in a single space, the shower can be installed the shower in a bathroom nook or behind a wall panel. This configuration will allow you to manipulate the space, possibly increasing it for a cozier bathtub or shower.
All that's left now is to go out and design your perfect designer bathroom, at the same time functional and stylish!
Explore the ManoMano catalogue
Bathtub
More Information
For more ideas on different designs for your dream bathroom, follow our editors' advice and check out their other guides:
Guide written by:
Pauline, Self-taught handyman, Leeds, 89 guides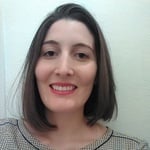 With a handyman-father, I grew up with the soft sound of the sander and hammer on weekends. I am both manual and cerebral (yes, it is possible.), I learned the basics of DIY and the customization of furniture because I was passionate. The salvage mentality is a true way of life that allowed me to know how to use all the tools and products needed to give something a second life, from sander to varnish. I have two favorite activities: the transformation of old furniture and decoration tips. I am always ready to lend a helping hand to revamp a table or to restore a mirror that was intended for the trash that will become a friend's centerpiece. I'm convinced that it's possible to reinvent an interior by small, regular modifications, I constantly research low-cost, test ideas.
The products related to this guide