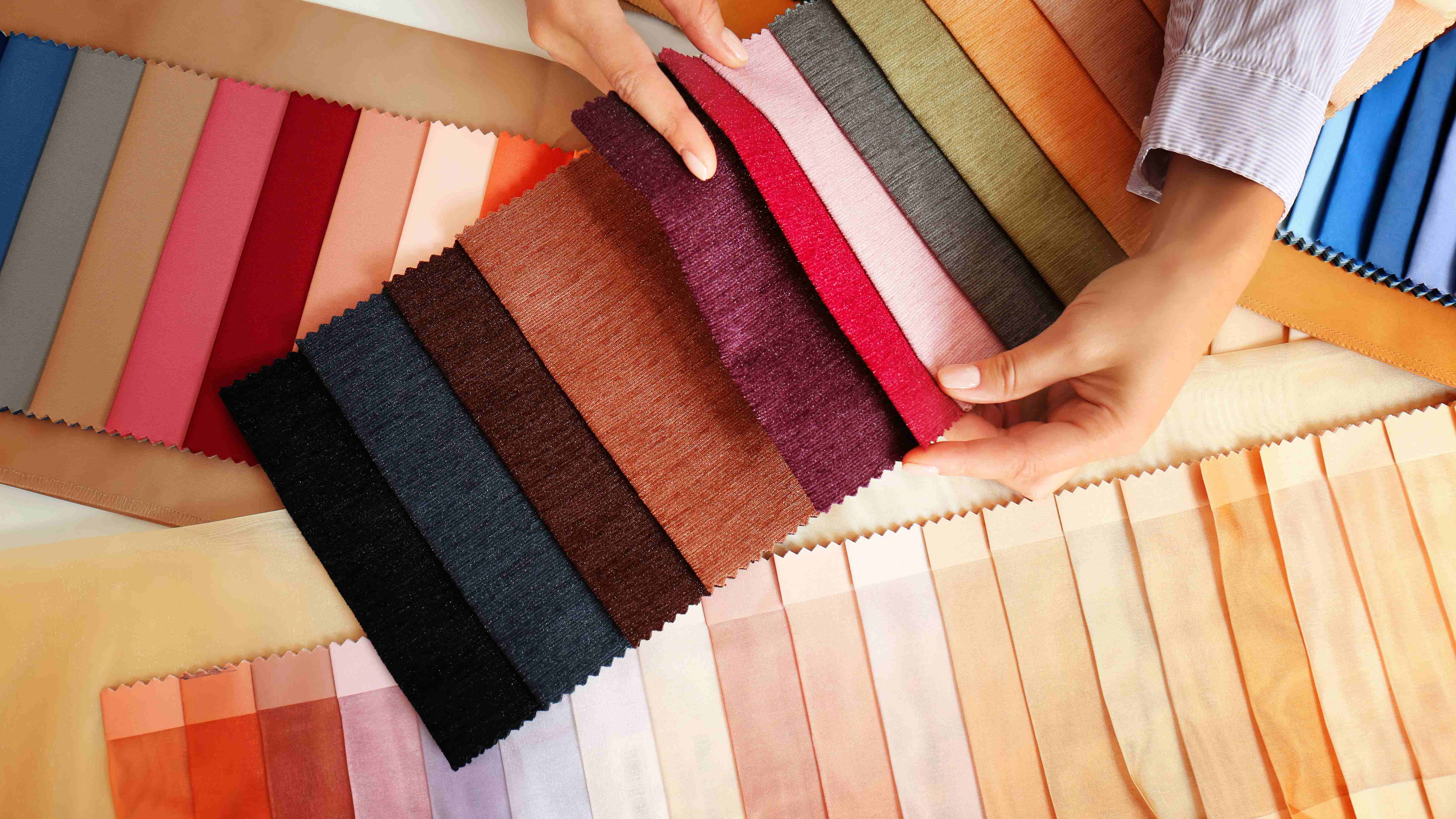 Curtains buying guide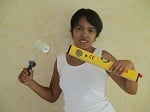 Guide written by:
Holly, self-taught DIYer, Cardiff
22 guides
Aesthetic and functional, they can be used to evoke many effects. Blackout curtains, curtains for thermal insulation, curtains beautify doors and windows in kitchens, bedrooms, and living rooms. Between the material, the colour, and the dimensions, choosing well can be an art.
Dressing a living space with curtains
---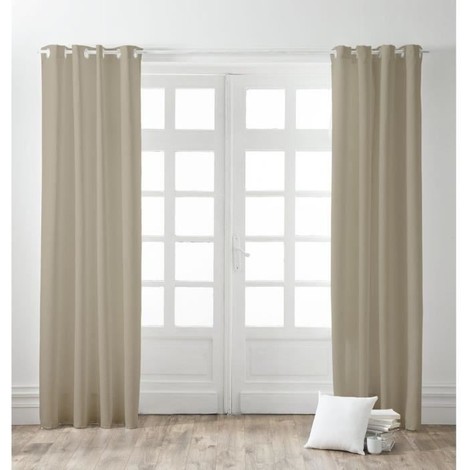 Curtains give a dressy effect to any living space. They completely complement the decoration of a house. In addition to their purely aesthetic value, they also serve a functional purpose and can be used to bring some additional comfort to your life. Even this criterion can be subjective. Before choosing your curtain, it's important to ask yourself the question:  For what function do I need curtains?
Preservation of privacy and creation of atmosphere
If your goal is to preserve your privacy or to obscure the daylight without blocking it entirely, opt for light curtains such as classic curtains, sheer curtains, or windowcurtains. These curtains let only a little of the sun into the room and help to keep the room cool even in direct sunlight. The view from the outside is obscured to protect your privacy while you maintain some of the views outside.
Light shielding and thermal protection
If you want a curtain that guarantees total opacity, you need thick curtains. Thick curtains like blackout curtains offer complete darkness in any room they are hung in. Often includinga thermal lining, these thick curtains also act as an insulator. The insulating properties allow for both acoustic, light, and thermal insulation. On some models, the lining is attached to the curtain with Velcro making it easily detachable.
Explore the ManoMano catalog
Curtains
How to choose a door curtain
---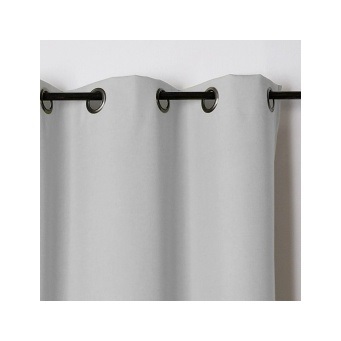 Doors or other openings in your home such as a bay window can be decorated with a door curtain. Whether light or heavy and whatever its material - cloth, bamboo, beads, etc., the choice depends primarily on its usefulness and the atmosphere you want to create.
Door curtains come in various designs and styles, but remember to look for easily maintained materials if you have high-traffic doorways.
Door curtain with PVC straps
They bring together all the requirements of a door curtain both in concealing and in aesthetics.
Bead curtain
For a luminous effect, the bead curtain highlights your decoration thanks to the presence of its luminous beads. It is also convenient for a large room needing separation.
Velvet Curtains
It is the most commonly used type of blackout curtain. It provides a refined style and is a stylish choice that is easy to find and install. Its other advantage: you do not have to take the ready-to-install model which does not exceed 2.60 m in length, you can make it yourself and have your own, custom-made curtains.
Bamboo curtain
Illustrative of a seaside aesthetic and has an exotic side that may suit you quite well, or not.
Mosquito net curtains
Less aesthetic but practical for protecting your from insects, especially mosquitoes and other flies.
Thermal insulation curtain
Designed to retain heat or cold and help to insulate a space.
Explore the ManoMano catalog
Door curtains
Various types of curtains and their purposes
---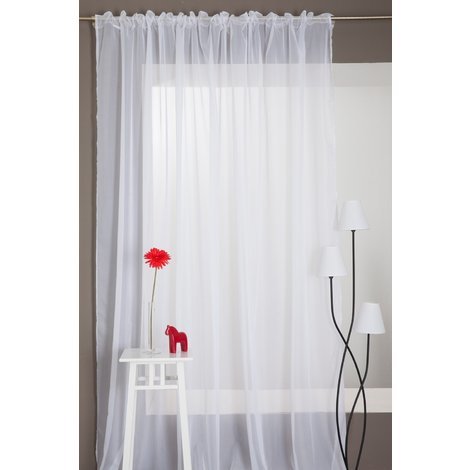 Classic curtains bring charm and romance..In most cases, they are placed on a support on the wall, on the ceiling or between two walls. Because of its translucency, the curtain allows the light to pass easily. Whether the two curtains adorn large windows, doors, bay windows, or glazing, the curtain attaches directly to the window and can be used on windows of many sizes as well as patio doors.On the practical side, the function of the window is maintained even with curtains, they do not interfere with the opening of doors or windows. To ensure this, they must follow the same dimensions of the door or window they accompany.If your style is focused on the traditional? Lace curtains will fill you with happiness.
Are you looking for a decor that departs from the ordinary? Wire curtains are very fashionable for adorning all of your openings. In a studio, they can also be used to separate different spaces. In front of a storage space, they play the function of concealer.
Which curtain rod should I choose?
---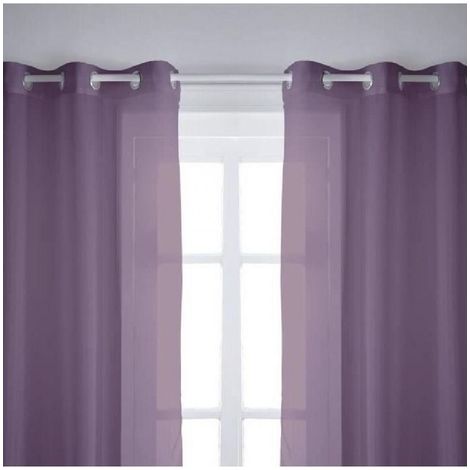 The curtains are installed by means of a rod, depending on the chosen fixing method. First of all, there is the round rod. It attaches to the wall above the window, on the ceiling, or between two walls. It may be of a simple shape or adorned with decorative ends.Curtain rods are divided into three categories:
Wood for a rustic side - easily cut to size
Wrought iron for a classic style - heavier
When choosing, it is better to take a size longer than the width of the window or door where it is being installed. For this, count an overhang of 10 cm minimum on each side. For the height, it is necessary to measure from the point of attachment up to 2 cm off of the ground. If your curtain is a light curtain type, choose a round rod of small diameters - 16 or 20mm.Larger diameters should be reserved for heavy curtains. This is not only a practical choice but also an aesthetic one. A lightweight curtain would seem out of place on a heavy rod.
There are also special curtain rods for certain curtains, as well.The flat rod or glazing rod attaches directly to the window. It comes in several ranges: ultra-thinmodels can be installed on the window sash using adhesive fasteners, while round models are fixed on brackets which require you to fasten them to the window frame. They are often extensible, meaning they adapt to all window sizes.
Anchors and screws are often supplied with the rods, but they are not necessarily suitable for your wall or ceiling. For prudence sake, it is better to purchase the proper anchors and screws separately.If you are in the mood for a different type of end caps than the one already assigned to your rod, please note that the tips may be interchangeable depending on the model.
Curtain fixing: rail or cable?
As with the rods, rails and cables also serve to hang your curtains. The difference is that they can give an additional original touch to your decoration.
---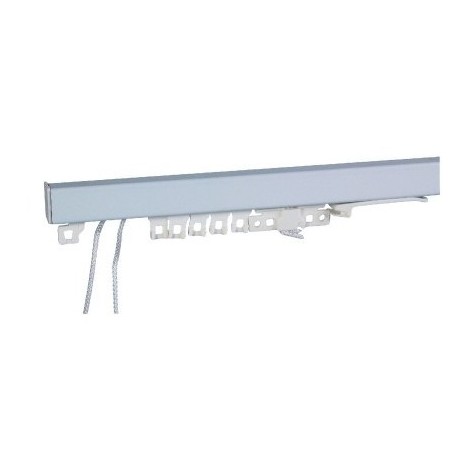 Rail
The rails attach to the ceiling or wall. They have sliding rollers with hanging hooks to attach the curtain. You have either a wand or a cord to operate the opening and closing of the curtains - on one side for a curtain - or the central opening - on both sides for two curtains. The rails can have several shapes adapted to all the configurations of the windows and can support one or two curtains.
Cable
Cables are also very modern. Apart from the style, cables are also used when the space between the window and the ceiling is limited. As the steel that makes up the cable is lightweight, it is common for the curtains to be light weight as well, however, the steel is also strong enough to support heavier curtains as well.In general, the cable's supports and installation are like a classic rod. Only these supports require solid walls or ceilings.
Explore the ManoMano catalog
Cables
How to choose your support and curtain fixing
---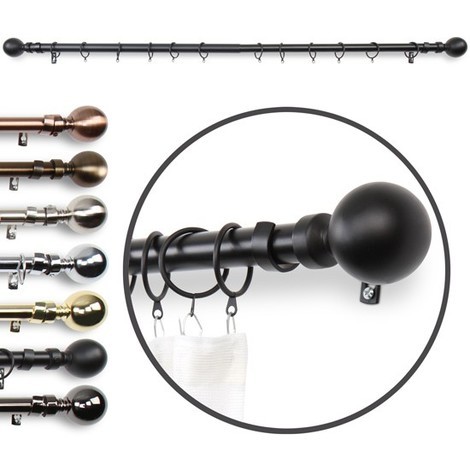 Each rod and each fastening method correspond to suitable mounting brackets. This can be a single or double wall bracket, a ceiling bracket, a wall bracket, or an expandable bracket.
The wall bracket is the most widespread and allows the installation of one or two curtains, in the case of a double wall bracket. In order to adjust the distance between the rod and the wall, an extensible support is very useful. However, when the space between the top frame of the window and the ceiling is restricted (less than 5 cm), it is better to fix the support to the ceiling.
On the other hand, installing the support from wall to wall works if the doorway or the window has a height that allows sufficient clearance for someone to pass through easily. Be aware that there are extensible and self-locking curtain rods. They are fixed between two walls without drilling and without risk of disengagement, even with a heavy curtain. For a rod more than 2 m, it is necessary to provide a central support to keep the curtain from sagging in the middle.Note for those who do not want to drill their walls or windows. There are supports that can be installed without drilling. For glazing, there are self-adhesive or pressure supports.
Explore the ManoMano catalog
Mounting brackets
What are curtain tiebacks?
---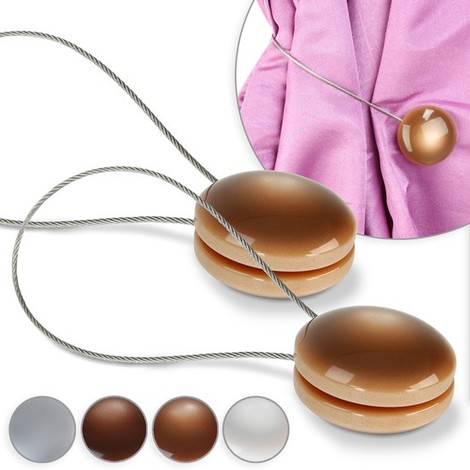 When you want to dress your curtain while keeping it open, you can use tiebacks to keep it to the side. This offers a middle ground between having the curtains fully open or fully closed.The tieback is an additional touch that helps to perfect your decoration and window treatments because they allow for a more dynamic movement to your curtain.Whatever the type of your tieback, tassel, wired, magnetic, tied, everything is played on the desired result. They must be in harmony with the ambience of the room.
Explore the ManoMano catalog
Tiebacks
Choosing your colour
---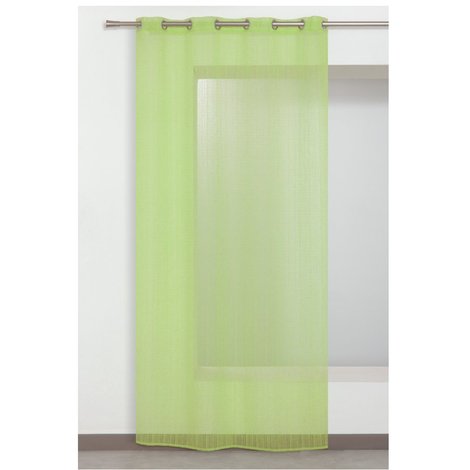 The curtains, and consequently their colours, are an integral part of the final touch of decoration.As a general rule, light colours tend to enlarge the surface they cover in contrast to dark colours.On the seasonal side, light coloured curtains repel the insistent radiation of the summer sun. Conversely, in winter warm colours increase the feeling of a cosy nest.
Curtain with ruflette, eyelet or paw?
---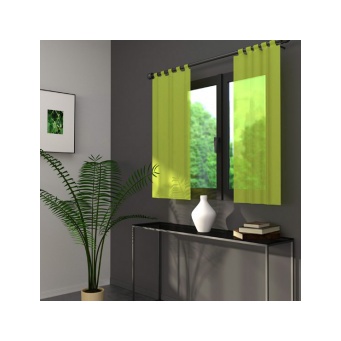 The choice of a curtain and its accessories stem from the style of your home. Not to mention that before thinking about decoration, think about comfort. Whether light or heavy, fabric or some other materials, they must fit your environment and your lifestyle. While we're on the subject, taffeta and silk reflect nobility, linen exudes a natural ambience, and the cotton or polyester give a modern air.Once you've given it thought and made these decisions take your measurements before you make your purchase. Remember that the choice of the rods is not only aesthetic. They should match the curtain as well.
Curtain with castors
Draws a kind of wave - hangs on the rails or on a flat rod.
Eyelet curtain
With metal rings, glide impeccably on a round rod or a cable.
Curtain with fabric "rings" and curtain with tied "rings"
The "rings" are made of fabric, they work better on the rounded rods.For DIY enthusiasts interested in knowing how to choose the accessories related to curtains, follow the advice of our editors and discover their Guides:
How to choose your insulation
How to choose your stepladder
And to work safely:
How to choose your protective gloves
How to choose your protective eyewear
Guide written by:
Holly, self-taught DIYer, Cardiff, 22 guides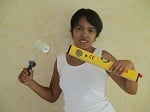 First of all, my studies have nothing to do with decoration or DIY as I was specialised in management. My passion in DIY started 5 years ago (very recently!) Everything started when we bought a house to renovate from floor to ceiling. As I'm a self-taught person, I started working on different house project both inside and outside. My husband helped me but the student soon overtook the teacher! And as there are a lot of green spaces in Creuse, gardening tools have no secrets for me. My friends and family often come to me for advice when it comes to DIY. Today, I want to share this with you!
The products related to this guide