Coffee table buying guide
Guide written by: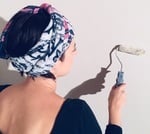 Tess, painting & decorating consultant, Brighton
13 guides
Functional and stylish, coffee tables are essential to living rooms. A great place to chat with friends and family, these tables can offer storage and come in materials like wood, glass or melamine. Between various sizes, shapes and heights, there's a coffee table to suit everyone. Read on to find the one for you!
Important features
Coffee table styles
Shapes and materials
Coffee table uses
Size and height
Key criteria for finding the perfect coffee table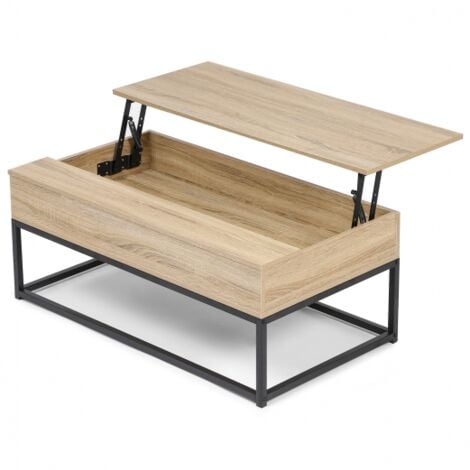 To begin with, a coffee table is
essential
when you have a sofa.
Designed for more than one purpose
, coffee tables are great for drinks with friends and TV dinners. Your choice of coffee table will come down to the following factors:
aesthetics:

style, such as contemporary, rustic or traditional;
shape, such as round, oval, square or, most commonly, rectangular;
material, such as wood, glass, plastic, composite materials or metal;

technical features:

uses, functional tabletop alone or with extra storage (built-in drawer, shelf or compartment);
tabletop surface area;
height.
While the
care requirements and durability of your coffee table will be determined the materials used to make it
, it's also important to match the piece to rest of your living room furniture and the
overall design of the space
.
Finding a coffee table to match your tastes and lifestyle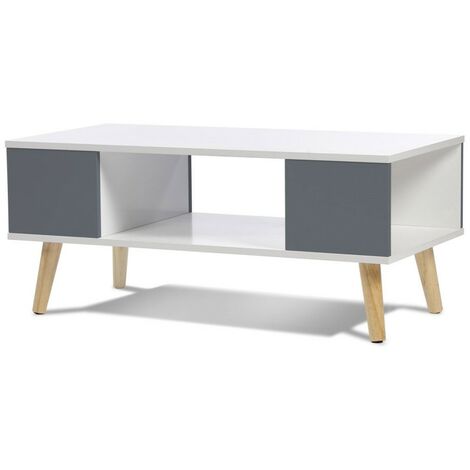 If you want a tastefully decorated living room that reflects you, it's important to choose a
coffee table
that matches both your style and the rest of your
décor
.
The model you choose must blend in seamlessly with your living room
. There are various styles of
coffee table
available:
traditional style: often made of wood or wood composite. Simple but effective, a traditional style coffee table looks understated but performs its function well;
Scandinavian style: white or coloured tabletop, usually round or oval in shape and fitted with tapered legs in light-coloured wood;
rustic style: heavy and solid, often made from either cherrywood or oak and fitted with decorative legs;
industrial style: a combination of dark metal and wood fits a loft or warehouse-type décor;
retro style: coloured plastic or wood, this style gives the room added character;
designer style: typically metal formed into clean, sleek lines which often merge to create a contemporary look.
Shapes, materials and maintenance: making the right choice
hoosing a coffee table shape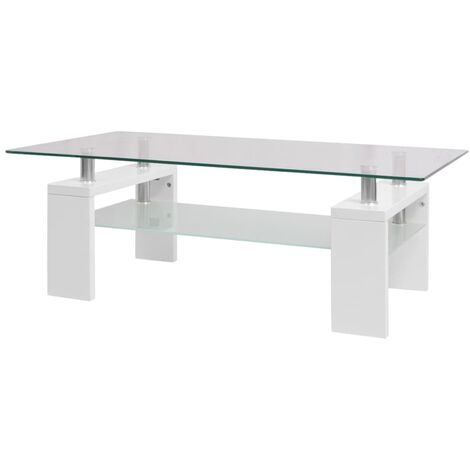 When it comes to aesthetic criteria,
shape is perhaps one of the most important factors to consider
. There are a multitude of possibilities, ranging from the most standard square or rectangular
coffee tables
to more original forms:
square or rectangular;
round or oval;
pebble-shaped;
solid material or single surface.
Choosing the right materials for your coffee table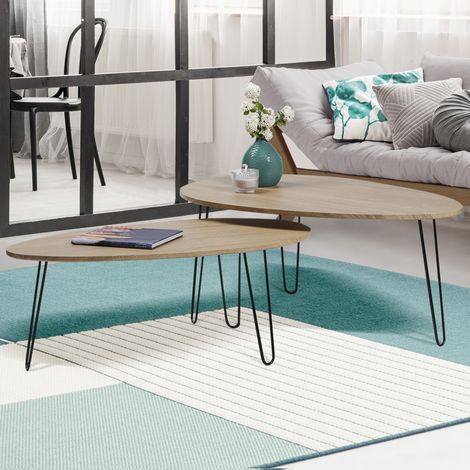 The choice of materials available is equally vast:
solid wood: heavy and solid, these coffee tables are both extremely resistant and durable;
wood composite: melamine with laminate or lacquer coating; many finishes to choose from (such as a concrete or stone effect, various patterns, etc.); offer excellent value for money;
plastic: while fragile and easily scratched, this lightweight material makes the coffee table easy to move around;
glass: with wooden or metal frames, this material is delicate and must be treated with great care;
metal: sturdy and resilient, these tables are extremely long-lasting;
stone and reconstituted stone: solid and heavy, this material will add an extra dose of charm to your living room.
A word of caution to parents: while
the glass that makes up coffee tables is tempered
, it's still dangerous. Make sure you also consider the
corners of your coffee table
, which can be very dangerous for toddlers!
Maintenance: style vs. material requirements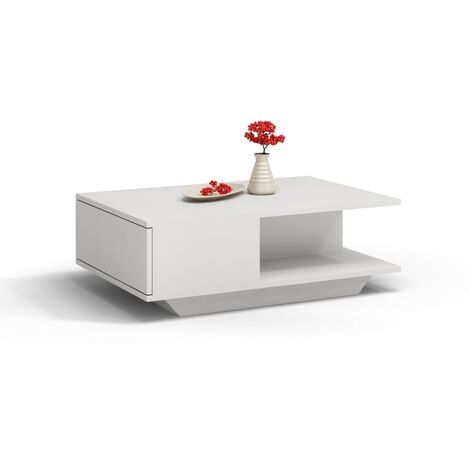 The style of your coffee table goes hand in hand with the material from which it's made which, in turn, will determine how much care it requires. If you select a coffee table in glass or one with a black tabletop, you will most likely need to dust it every day. On the other hand, a white or light-toned wood coffee table won't show dust as quickly. For near dust-proof surfaces, we also recommend iron coffee tables with a rusted finish or those made of natural or reconstituted stone. Even after a week's worth of dust, they still look clean!

It's also worth remembering that coffee tables made from certain materials can be refurbished. Iron or wood coffee tables can be painted or customised, whereas paint won't stick on PVC coffee tables. This is worth thinking about if you have art-loving children!
Finding the right balance between style and function
It is essential to pick your furniture with its intended purpose in mind:
Decorative coffee tables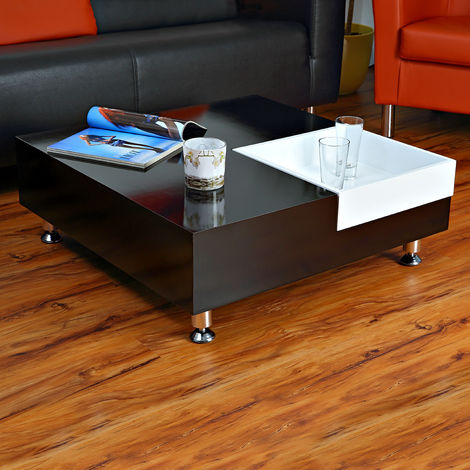 Treat yourself to the model that you like best! Whether you opt for a
single table
or
multiple tables
(several small tables of different sizes and heights you can stack together),
you can use your coffee table to display items
such as candles or eye-catching placemats
. If you want to make your coffee table
the centrepiece of your living room
, select a model made of a
luxurious
material or one with an
edgy shape or sleek design
.
Coffee tables for TV dinners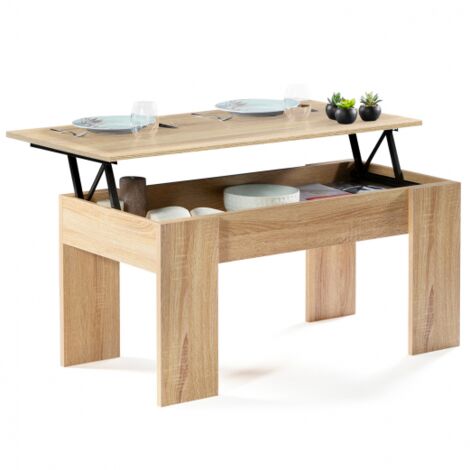 Some models can be
adjusted in height
to create a dining surface while others
can be unfolded and extended towards you
so you can enjoy your favourite film without leaving the couch!
You can even opt for a
coffee table with an integrated footstool
that can be easily slid under the table when not in use.
Coffee tables for entertaining friends and family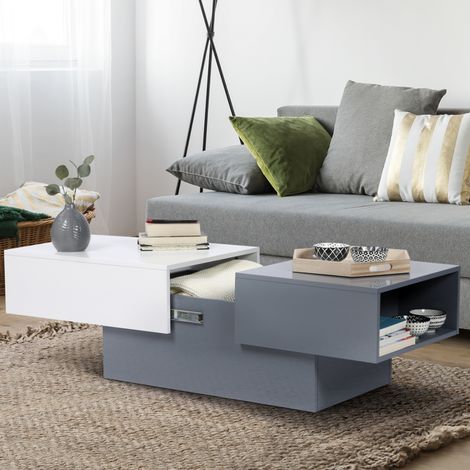 A great traditional option,
a lift-top coffee table with built-in storage
is a great place to keep refreshments and snacks for entertaining.
The tabletop is often wide and the unit provides a
deep chest
.
Standard, practical coffee tables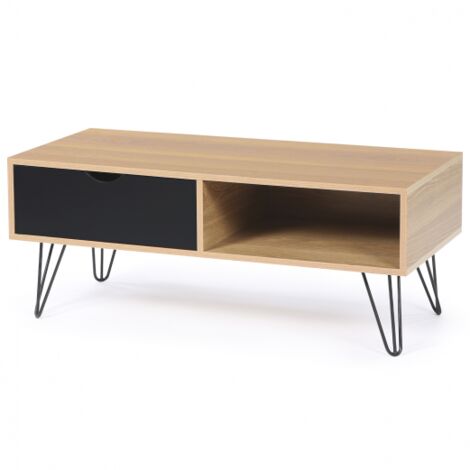 A must-have for households that prize practicality, coffee tables with
double tabletops
or
storage compartments
are the most functional models available.
Affordable and often made of wood composite for easy maintenance
, these tables can also be used to tidy away magazines. Add a
drawer
and you'll have a
hideaway space
to store a whole range of items such as pens, Sudoku books, tablets or packets of tissues. What's more, these coffee tables now offer a range of stylish options with
combinations of materials
that look great together.
Choosing the right size and height for your coffee table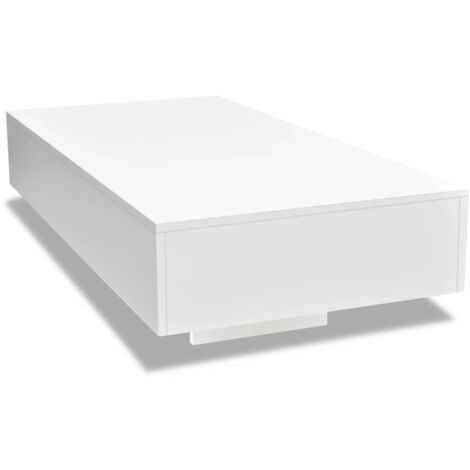 Size is a major factor when it comes to finding a coffee table that's right for you. The
size of your table will be dictated by size of your living room and the furniture you already have
. For example, if you have a small
sofa
, you should avoid overwhelming it with a huge coffee table.
However, if you have a large corner or U-shaped sofa, select a large coffee table that will match the proportions of the furniture.
The height of your coffee table is determined by its legs (which can be fixed or adjustable) or base. In order to create a feeling of space, we recommend going for an ultra low model that will open up the room in terms of height. You can also opt for a table with tall legs if your sofa is higher than standard models.
Did you find this guide helpful?
Guide written by:
Tess, painting & decorating consultant, Brighton 13 guides écrits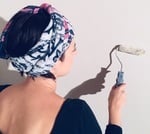 The products related to this guide