Clamps buying guide
Guide written by: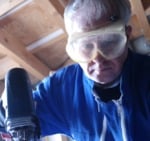 Dennis, self-taught DIYer, Bristol
18 guides
An essential tool for beginners and experts alike, a clamp is used in nearly all assembly operations. Whether they are mason clamps, hand pumps, screws, or even tweezers, there's a clamp to squeeze just about anything.
Important features
Pump
Screw
Hitting
Automatic
A clamp
What you need to know about clamps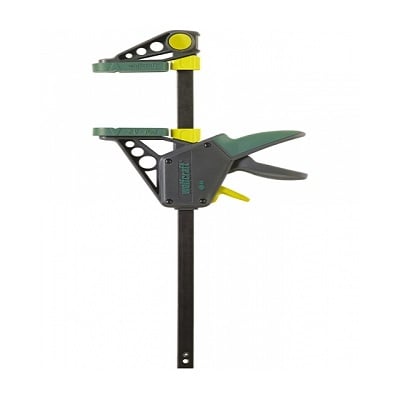 Used in masonry, carpentry, and generally DIY projects,
clamps allow you to keep any type of work still and fixed to the spot.
Whether you are clamping to your workbench or holding multiple pieces of an assembly together, whether you're glueing, drilling, cutting, or welding, a clamp helps to keep your work from moving out of place.
Clamps differ from one another in two key ways: their clamping capacity (a combination of length, from a few centimetres to several meters; depth, up to about 20 cm; and power, as high as 1200 kg of clamping force) and operation which can be carried out in several ways.
Screwing – as is the case with C-clamps, tightening or loosening a screw adjusts the opening of the clamp.
Striking - think of mason clamps, which are hammered down into the substrate beneath the masonry to secure it.
Squeezing – most hand clamps can be done 'one-handed' either using a spring or a ratchet system to apply pressure.
A few words about the main clamps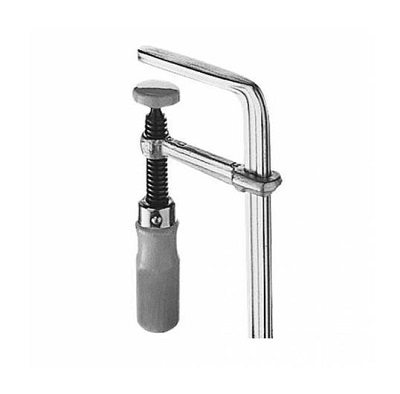 Whatever your project, you will find a suitable clamp.
The spring clamp: these will meet about 40% of the needs by themselves. It is the most robust and powerful variety. The spring, which provides the force to the clamp, is usually completely protected from blows or dirt. Look for models with sturdy metal handles, as this will extend the lifespan of your clamp. Longer handles are also an advantage as they allow for easier use or for high clamping force. These clamps are perfect for glueing or fixing an assembly of parts.
The screw clamp: a little less elaborate and less powerful. Tightening or loosening a screw adjusts the opening or the force of the clamp. The clamping force of these models is only actually limited by the strength of your arm.
The masonry clamp: as indispensable to the mason as the wheelbarrow. Tightening is carried out by striking the slide which moves along a steel rail.
The "one hand" or hand-pump clamp: as the name indicates, it can be operated with one hand. The hand pump operates a ratcheting system which tightens one side of the clamp. These models are limited in their power (roughly a hundred kg).
A final recommendation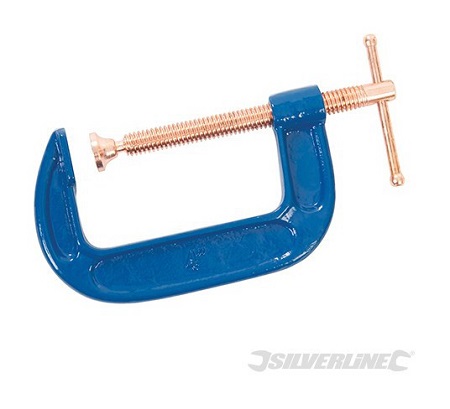 Consider buying your clamps in pairs to help balance the clamping forces.
The pressure that many clamps exert may easily mark wood or other soft materials. Be sure to take measures to protect them and avoid overtightening.
Do not hesitate to buy an extra clamp now and then. You will surely find that you always have a use for another clamp here or there.
For DIY enthusiasts interested in knowing how to choose the accessories related to clamps, follow the advice of our editors and discover their Guides:
And to work safely:
Did you find this guide helpful?
Guide written by:
Dennis, self-taught DIYer, Bristol 18 guides écrits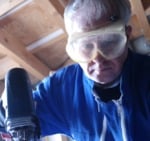 I first got into DIY around ten years ago, when I bought a house in desperate need of a makeover.

After insulating the loft and refurbishing the kitchen, bathrooms and bedrooms, I set about building an extension, installing a gated fence and fitting the house with a solar water heater. I've poured tens of tonnes of concrete into slabs and foundations and also renovated a roof. In short, it's safe to say that I'm no stranger to building work!

I've logged hundreds of hours browsing DIY forums and magazines trying to find the best solutions to my specific problems. For that reason, I feel it's only fair to give back some of my own experience and share my knowledge of tools and building equipment.


The products related to this guide