Circular saw buying guide
Guide written by: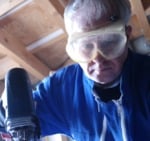 Dennis, self-taught DIYer, Bristol
18 guides
The circular saw is the ideal tool for straight cuts in wood-based materials. Standard or plunge-cut, pay attention to the power rating and the blade type - number of teeth and diameter. Guide rail? Laser? Follow this guide to choose your circular saw!
Important features
Power
Cutting depth
Plunge-cut
Guidance
Circular saws: standard or plunge-cut?
Circular saw
The
circular saw
is the perfect tool for
frequent
straight-line
cutting tasks
. The
circular saw
is operated with both hands - one on the rear handle with the on-off button, the other on the front handle to steer. It rests on the piece of wood to be cut and can make straight cuts of a variety of lengths. The circular saw can cut boards of different lengths and widths but
the thickness must not exceed the depth of the blade
- this is adjustable and varies according to the diameter of the blade.
The depth of cut is predetermined before use. Circular saws have a
tilting hood
protecting the bottom of the blade and retracting as the cutting progresses.
Plunge-cut saw
The plunge-cut circular saw
has a special feature: when you press the rear handle, the blade 'plunges' down and penetrates the wood (the latter is protected by a one-piece hood whose upward movement is resisted by springs). What this means is that you can
start cutting a piece of wood from the middle
.
Of course, both types of saw have a motor that drives the rotating blade between 3000 and 6000rpm.
Circular saws: which power rating to choose?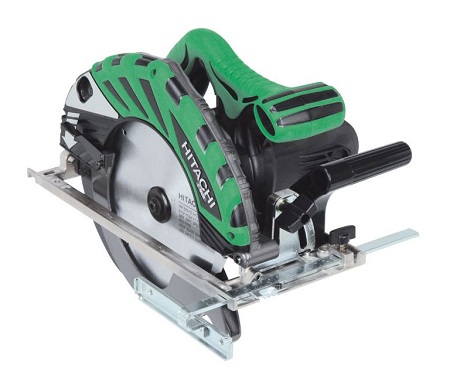 Power rating and cutting capacity of a circular saw

Essentially, a saw's power rating determines its ability to cut through material. It isn't very helpful in this case to talk in terms of maximum duration of use. Depending on your needs and the type and size of wood you plan to cut, you might choose a higher or lower powered saw. Go above 1800 or 2000W and you're into the big time.

You won't get through an 80mm x 1.5m oak timber with a puny circular saw under 1200W!





Power rating is also related to cutting depth, dictated by the diameter of the blade. A carpenter's circular saw with a cutting depth of 132mm requires a motor of at least 2300W and weighs around 18kg.


Weight is generally dependent on power rating - in turn, dictated by the cutting depth possible with a certain blade diameter. To give you an idea, the average weight of a circular saw with a cutting depth of 60mm is 5kg.



Circular saw with battery
Battery-powered circular saws
only have the energy of their
battery
. They are less powerful, limited in their duration of use and only effective for
cutting depths up to 55mm
.
Circular saws: why use a cutting guide?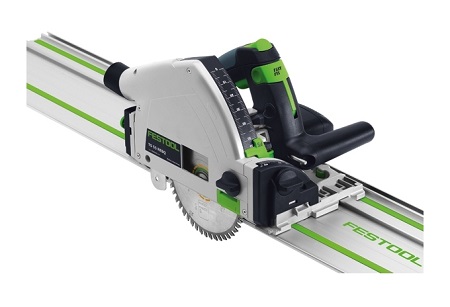 Adjustable and laser guides

Controlling your circular saw's action with some kind of guide will immediately improve the accuracy of the cut. Most circular saws are equipped with an adjustable guide fixed parallel to the base. However, this isn't always helpful - especially when you're cutting a long way from the edge, or the edge isn't straight. Some saws are equipped with a laser guide but don't get too excited. The precision of the cut still mostly comes down to your own concentration!




Guide rails
The best control can be had with an aluminium
guide rail
, complete with non-slip brackets or clamps, which is placed on the piece to be cut. The base of the saw slides along the rail, ensuring a perfectly straight cut.
Circular saw: which features and accessories to choose
The blade of a circular saw can rotate up to 6000rpm - so enhanced safety options are not to be sniffed at. Depending on the model, you might have:
A separator to prevent the already-cut part of the wood from jamming the blade;
A blade brake to 'cut' stopping time down to 3 seconds;
A variable-speed drive to adapt cutting speed to the material;
Movable blade housing for added protection;
A rear vent for chip clearing;
A vacuum cleaner connection for less dusty work;
A tilting base for bias cuts (45°);
Adjustable blade depth for different thicknesses;
A laser tracer to guide you along the cutting line.
Circular saw: how to choose a circular saw blade

Circular saw blade: cutting depth
Each model of circular saw is designed for a specific diameter of
blade
, and blade diameter determines cutting depth:
A 160/170mm diameter blade allows cutting depths of 55mm.
Diameter 185mm: depth 60mm;
Diameter 190mm: depth 65mm;
Diameter 230mm: cuts up to 85mm deep.

Circular saw blade: number of teeth


The number of teeth on the saw's blade effects cutting speed and quality of finish. The number generally ranges between 10 and 48. The more teeth, the slower and neater the cut. "Diamond" or tungsten carbide tipped blades are preferable to steel blades - which are cheaper but wear out up to 5 times faster.






Multi-purpose circular saw blade


Multi-purpose blades, as the name suggests, cut all materials - from softwood to hardwood to non-ferrous metals (aluminium, copper, brass), as well as plastics and laminates.



Circular saw blade: bore gauge


The bore
- or hole allowing the blade to be fixed to the saw - differs in size from one saw to another. Before
replacing the blade
, remember to check its bore diameter (you'll find at least three figures: total blade diameter, bore gauge and blade thickness; the number of teeth may also be given). If you find you've got it wrong,
reduction rings
can be obtained - designed to adapt blades to different bore gauges.
3 top tips for choosing your circular saw
If your needs are straightforward and you only plan to use your saw
occasionally
, a 1200W mains-powered saw with a 12-24 tooth tungsten carbide blade will give you what you want.
Or are you the type to design your own furniture, never mind the lungfuls of sawdust? Then go for a higher-power circular saw - i.e. 1600-1800W - to get good performance and
cut quality
on hardwoods. Your choice of blade will depend on what you want to cut.
If you're a professional, don't hold back! You might even want more than one circular saw to serve various needs. Nothing gets through floorboards like a pro-level circular saw! As for blades, they can always be replaced, but you could also re-sharpen them yourself.
That just leaves the usual precautions to remind you of:
gloves
,
goggles
and
ear protection
!
Learn More
Additional circular saw information can be found below:


Did you find this guide helpful?
Guide written by:
Dennis, self-taught DIYer, Bristol 18 guides écrits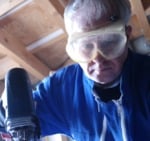 I first got into DIY around ten years ago, when I bought a house in desperate need of a makeover.

After insulating the loft and refurbishing the kitchen, bathrooms and bedrooms, I set about building an extension, installing a gated fence and fitting the house with a solar water heater. I've poured tens of tonnes of concrete into slabs and foundations and also renovated a roof. In short, it's safe to say that I'm no stranger to building work!

I've logged hundreds of hours browsing DIY forums and magazines trying to find the best solutions to my specific problems. For that reason, I feel it's only fair to give back some of my own experience and share my knowledge of tools and building equipment.


The products related to this guide