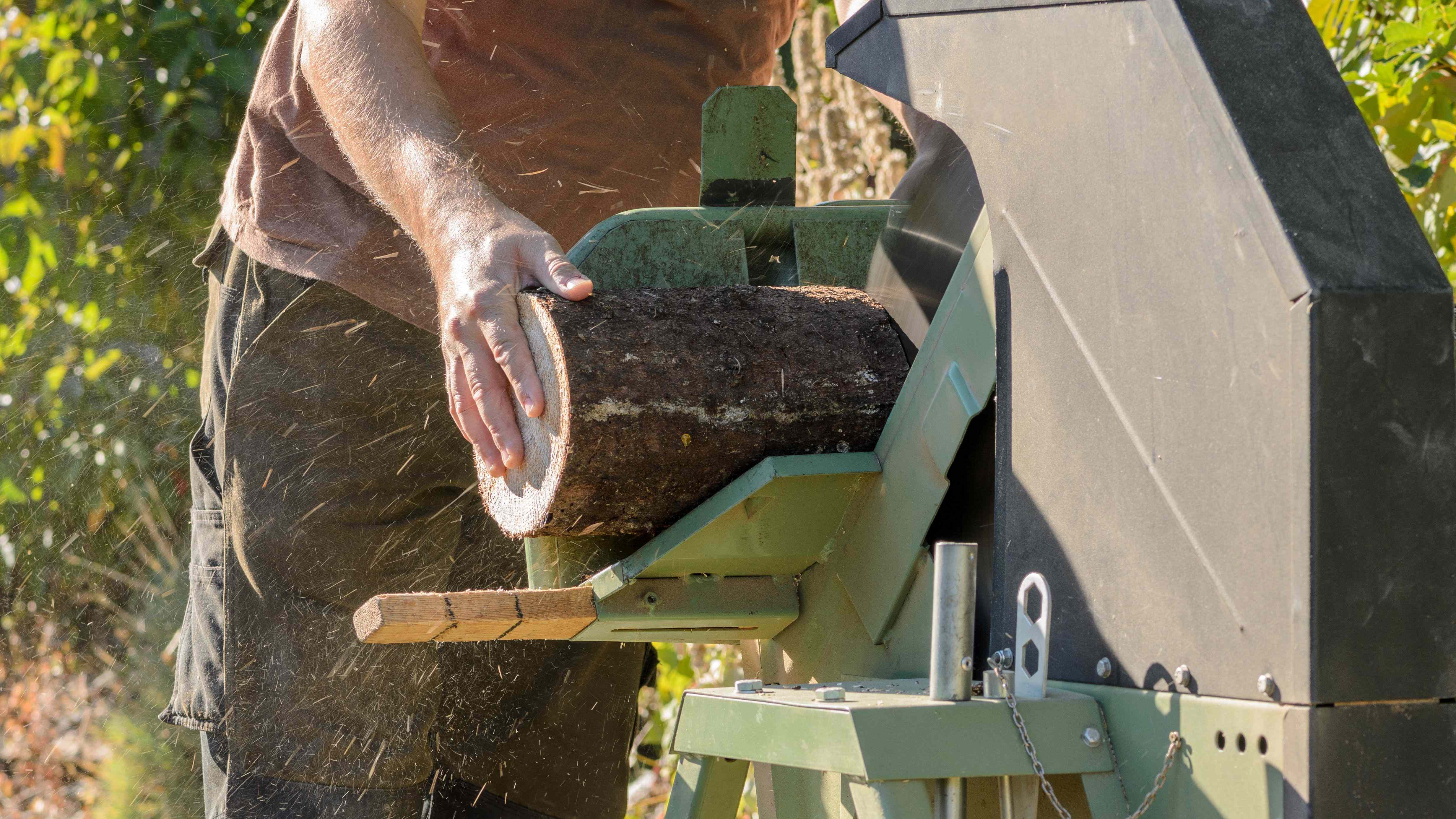 Circular log saw buying guide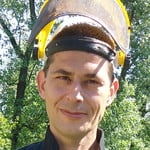 Guide written by:
Jeremy, construction site supervisor, Cardiff
134 guides
Whether you've felled a tree or simply had logs delivered to your door, you'll still have to make sure it fits into your fireplace or stove. A circular log saw can be used to cut your wood down to the right length quickly and efficiently. From electric to petrol-powered saws, read on to find the right model for you.
Parts of a circular log saw
---
How does a log saw work?
A circular log saw is a stationary saw that is used to cut logs down to size to make firewood.Relatively simple in terms of design, all log saws work in more or less the same way. An electric motor or a petrol engine drives a circular blade which can vary in size from around 40 cm (15.7") to 70 cm (27.5"). The motor and the circular blade combine to form the cutting mechanism. Whole logs and sections of timber are placed on an cradle which is equipped with an adjustable stop to alter the length of the log as required.
These machines can be equipped with a swingarm which is controlled manually in order to cut down on the wood held in the cradle. However, due to the weight of the engine, more powerful petrol-powered models will generally be equipped with a swivel cradle which is used to feed the wood into a stationary cutting mechanism. The whole unit is attached to a frame for a greater stability. This frame is usually fitted with wheels allowing you to move the saw around easily.
Explore the ManoMano catalog
Log saws
Types of log saws
All circular log saws are basically identical in appearance and operate in much the same way. However, there are two major categories of circular log saw, based on the machine's power source.
Electric log saws
---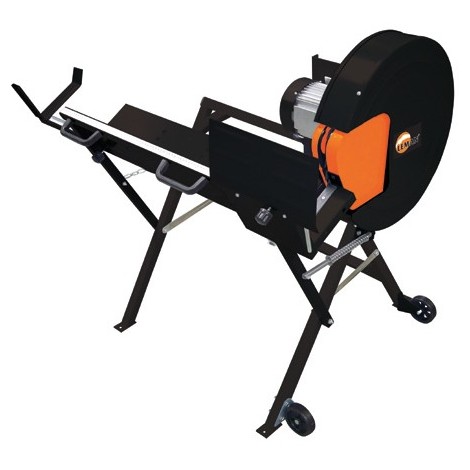 Designed for small-scale or occasional work, electric log saws are primarily intended for personal use. Easy to operate, relatively lightweight and quiet, they are ideal for preparing wood for the winter whether you are cutting logs to the right length or for breaking them down for removal.Commonly equipped with a 40 cm (15.7") to 50 cm (19.6")  blade, the most powerful electric log saws can nonetheless accommodate a blade measuring up to 70 cm (27.5"). These saws are rated at around 2000 to 3000 W.
Petrol-powered log saws
---
Geared more towards heavy-duty or frequent work, petrol-powered log saws are generally reserved for professional use. Just as easy to use as electric models, they are nevertheless heavier and much noisier. On the other hand, petrol-powered log saws do not require an electrical outlet and can be used wherever you fell your trees or anywhere without a mains connection.The majority of petrol-powered models offer a blade diameterof 60 cm (23.6") to 70 cm (27.5"). In terms of power, a 45cc to 60cc engine (the equivalent of around 2.5 kW) is about the minimum requirement. Some saws can be equipped with a 125 cc motor (about 7 kW) for heavy-duty or continuous use.
Features of a circular log saw
Cutting capacity
---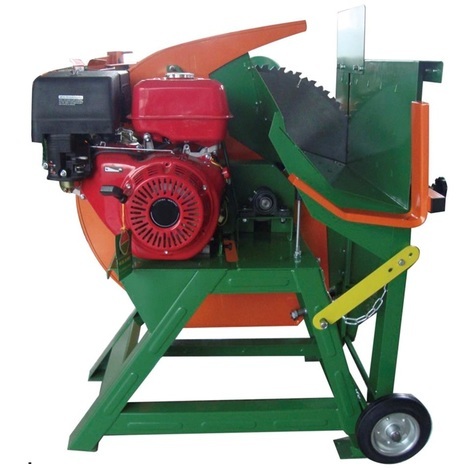 Cutting capacity is the main characteristic to pay attention to when purchasing a log saw. This translates into the width of the wood you can cut. For example, you might think that a blade diameter of 50 cm (19.6") would be able to cut through a log of about 25 cm (9.8") no problem. Sadly, this isn't the case: the real log diameter is actually much less than that!Here is a short summary of cutting capacity vs. blade diameter to help you make the right choice:
Blade diameter of 40 cm (15.7") = maximum cutting capacity of 17 cm (6.6")
Blade diameter of 50 cm (19.6") = maximum cutting capacity of 19 cm (7.4")
Blade diameter of 60 cm (23.6") = maximum cutting capacity of 23 cm (9.0")
Blade Diameter of 70 cm (27.5") = maximum cutting capacity of 27 cm (10.6")
Power
Whether you go for an electric or petrol-powered model, the amount of power your machine provides will determine the maximum blade diameter of the saw. Whatever your cutting capacity needs, you will need at least 2000 W or about 50 cc for a petrol-powered engine. If you have particularly large timber or a large volume of wood, go for a high-powered motor rated at least 3000 W or a 75 cc engine.
Safety
As you can imagine, a large blade with sharp teeth working at high speeds is dangerous. Be sure to select a log saw with both a safety guard and an easily accessible emergency stop button.
Final tips for choosing a circular log saw
---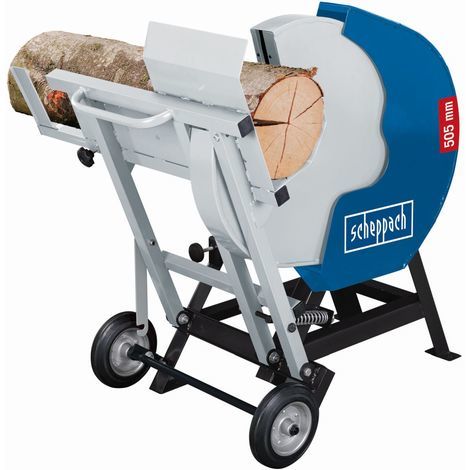 Log saws are handy but dangerous tools. When using your saw, be sure to wear safety shoes, gloves, protective goggles, and noise-cancelling headphones.
If you have a log that is particularly hard to cut, it's a good idea to adjust its position on the cradle and make several attempts to cut through it.
In terms of maintenance, it's important to clean the cradle, stops and blade guard regularly. When cutting a large amount of wood, it's a good idea to pause occasionally to remove sawdust and wood chips from your saw.
Remember to clear up your workspace as well: clean the floor regularly to avoid slipping or tripping.
More information
Check out the following guides for more advice on related products:
Guide written by:
Jeremy, construction site supervisor, Cardiff, 134 guides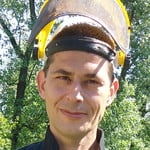 Electrician by trade, I first worked in industrial estates where I installed, wired and fixed a large number of electrical installations. After this, I managed a team of electricians for this type of work. 10 years or so ago, I turned to building and construction. From the modest family home, to gyms and theatres; I have been able to coordinate, audit and organise all sorts of construction sites. for 4 years now, I am restaoring and bulding an extrension to a bungalow in the heart of the welsh countyside. My experience in manual work and my knowledge means I am proud to be of service. Terraces, interior design, roofing, plumbing, electricty, anything goes! We have, my wife, daughter and I, built almost everything we have from scratch! So to answer all of your questions, and to orientate and advise you on coosing your tools? Easy!
The products related to this guide