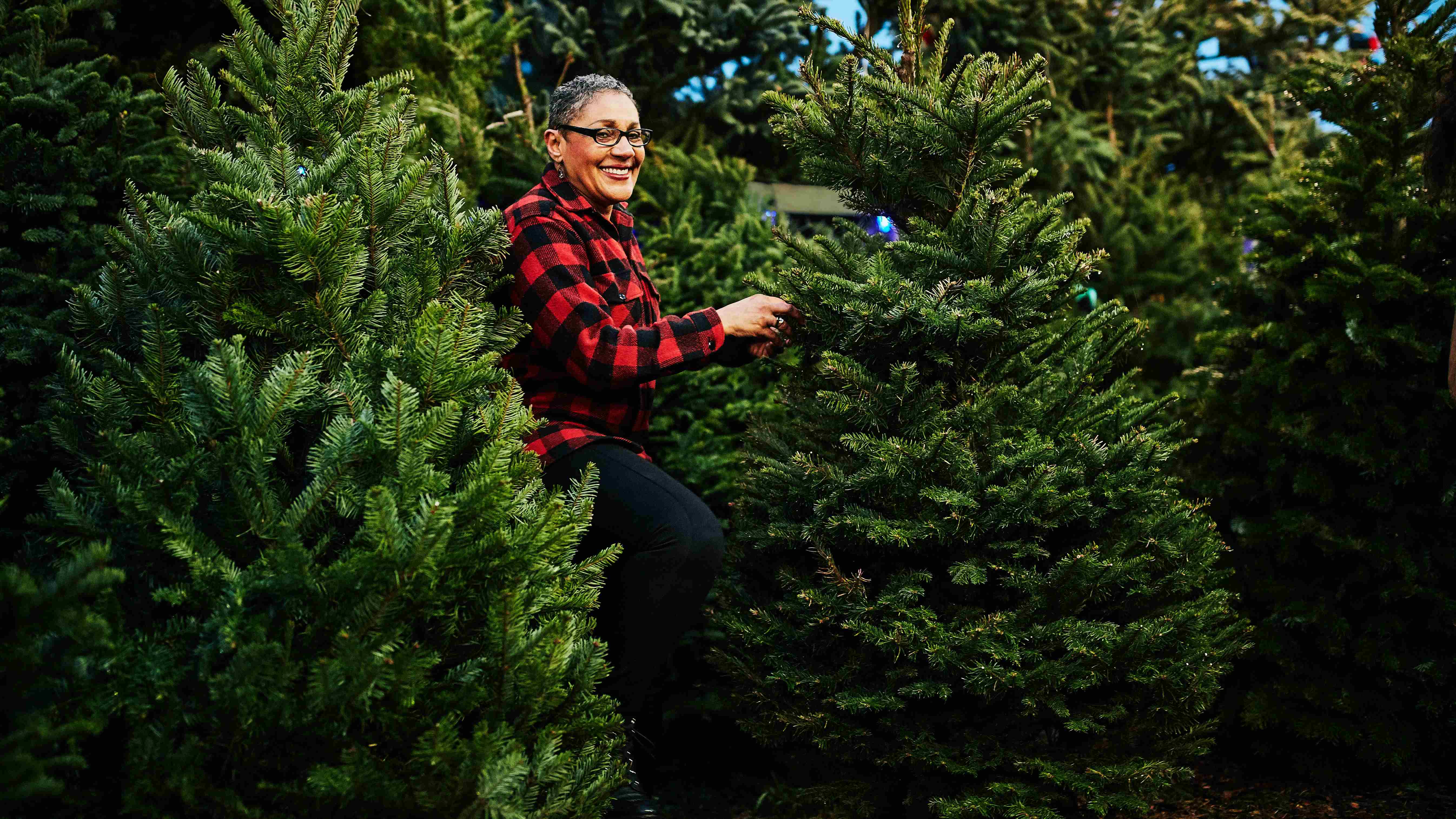 Christmas tree buying guide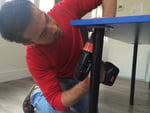 Guide written by:
Sebastian, self-taught DIY-er, Exeter
220 guides
Christmas trees come in all shapes and sizes from artificial trees to real spruces and Nordmann firs. Whatever you choose, your tree should be able to cope with indoor temperatures without losing too many needles under the weight of your baubles and lights! Read on to find the perfect Christmas tree for your home.
Christmas trees: real vs. artificial
---
Christmas is a magical time of year and to make the most of this special season, many of us choose to invest in a beautiful tree to gather the whole family around. But before you get to putting your star or angel in pride of place, you'll need to pick the perfect tree for your home. Christmas trees come in several different varieties – the features of which we'll delve into a bit later on – and you'll have to think about whether you want a potted or cut tree. Read on to learn more about the advantages and disadvantages of each option!
Potted Christmas trees
---
Once the Christmas festivities are over, potted trees can be replanted in your garden or in a nearby woodland. You just need to ensure your tree is planted alongside other conifers and that you don't plant it without permission from the landowner. The following year, you can even dig up the tree, along with its roots, and place it back indoors. The main advantage of doing so is that your tree won't end up in landfill or as compost. What's more, these potted trees tend to lose fewer needless, regardless of the variety you go for.
Cut Christmas trees
---
Cut Christmas trees can only be disposed of once you're done with them. You'll need to buy a new one each year and throw away or compost your tree at the end of the festive season. The smell and colour of your tree will differ depending on its species. The only advantage of buying a cut tree is that it is usually less expensive than a potted one. The downside: most species will quickly lose their needles when cut.
Artificial Christmas trees
---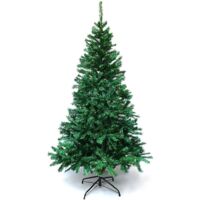 Once folded down and put back in the box, artificial trees can be stored in a garage, laundry room or attic. These days, high-end fake Christmas trees can look a lot like the real thing! The main advantages of these trees is that they won't lose their needles and they are more cost-effective as you'll only have to make a one-off purchase.
Explore the ManoMano catalog
Artificial Christmas trees
Picking a Christmas tree variety
Every type of tree has a different colour, smell and touch. Furthermore, some varieties hold onto their needles better than others; this factor is especially important if you choose a cut tree. Before you crack out the fairy lights and shiny baubles, let's take a quick look at the star of the show!
Nordmann firs for minimal needle loss
---
Nordmann firs (Abies nordmanniana) don't tend to lose a lot of needles. Bright green in colour, these trees don't have much of a scent and feature dense branches. Compared to other varieties, these trees are somewhat softer to the touch. Featuring an even and elegant shape, these slow-growing firs are considered high-quality Christmas trees. But remember: a Nordmann fir will always be less fragrant than a Noble fir.
Noble firs for a classic Christmas scent
---
The distinctive smell of a Noble fir (Abies procera or Abies nobilis) makes it a popular choice. What's more, this species is particularly resistant to indoor temperatures. Go for a potted Noble fir and you're sure to have a Christmas tree that smells good and looks great all through the holiday season.
Norway spruce: a budget option that works best in a pot
---
Norway spruces (Picea abies) tend to lose a lot of needles when cut and the slightest touch will bring down an avalanche of green. Got a cat that fancies itself an acrobat? This option is not for you! A less expensive option than a Nordmann fir but less fragrant than a Noble fir, these trees do offer a pleasant shape. If you go for a potted tree, you can easily expect your spruce to last three weeks indoors.
Blue spruces
---
Blue spruces (Picea pungens) are so-called thanks to their striking blue colour. These spruces feature spiky, hard needles, but they do tend to cling onto them! A blue spruce copes well with heat and smells just like a Christmas tree should.
Serbian spruces: a unique option
---
Serbian spruces (Picea omorika) do make their way into some living rooms, but are not a popular choice as their soft branches fold easily under the weight of tree decorations.
Picking an individual tree
---
Christmas trees all grow at different rates which gives each variety its own unique shape. In fact, most Christmas tree farms will often group their trees into two categories depending on the appearance of the tree:
the first group is the most attractive trees which are judged in terms of shape, branch proportion and density. While these trees offer a more even shape, they are usually more expensive.
the second group contains Christmas trees with any faults; for example growths or an unbalanced shape.
Selecting an artificial Christmas tree
Artificial Christmas trees are made up of a metal frame covered with PVC 'needles'. Most fake Christmas trees are designed to fold down a bit like an umbrella to take up less space in storage. These trees come in a wide range of sizes and styles to fill any type of space. However, some find that an artificial tree simply lacks the charm of a big old traditional tree!
Flocked or frosted Christmas trees
---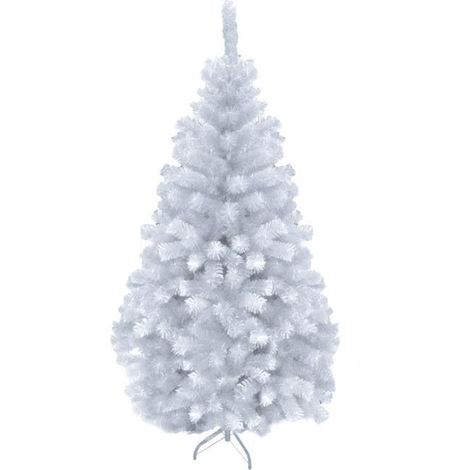 Frosted or flocked Christmas trees are designed to look as though they've been sprinkled with snow. When decorated tastefully, the results can be quite impressive and there's no denying that these trees have that white Christmas spirit! It's worth noting, however, that real frosted Christmas trees will be much more attractive than an frosted artificial tree. That said, neither type of tree will be suitable for recycling.
Bare artificial trees
---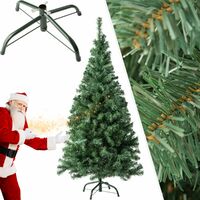 While cheaper artificial Christmas trees don't always look great, luxury faux trees can be quite striking. Once you've got all your fairy lights and baubles in place, your tree is sure to dazzle!
Pre-decorated artificial trees
---
These trees just need to be folded out and your work is done! While pre-decorated or even light-up Christmas trees do feel a bit like 'Christmas in a box', they do come in handy for anyone who tends to put up their decorations on Christmas Eve! A pre-decorated tree may be adorned with anything from fairy lights to frosted needles or Father Christmas ornaments.
Artificial Christmas trees: price vs. quality 
In terms of quality, you pretty much get what you pay for. Cheaper artificial trees tend to have fewer branches and some look as though they've had a bit of a battering! One piece of advice: if you do go for a PVC tree, make sure you pick one that looks like the real thing so you don't end up having to buy another one down the line! In other words, you'll have to think carefully about its shape, density and the number of branches it has. A cheap Christmas tree won't look anything like the majestic firs of the forest!
---
Explore the ManoMano catalog
Fairy lights
Choosing the right Christmas tree size
Of course, your space will more or less dictate the size of Christmas tree you can buy. Nonetheless, if you're buying online or are just having a bit of trouble picturing the proportions, check out our handy infographic below! Finally, bear in mind that the taller your tree, the wider it will be.
---
6 final tips for choosing a Christmas tree
---
1. If you have a garden, go for a potted Christmas tree. Whether you choose to plant it in the ground or keep it in the pot, this is the most eco-friendly and cost-effective solution. But don't forget: you will have to repot your tree as it grows over the years!
2. If you have a cat and want to buy a cut tree, do not go for a Norway spruce! As soon as your cat decides to play with the baubles or climb the tree, you'll have a bare Christmas tree on your hands! 3. All cut trees will dry out so don't set your cut tree up until about 2 weeks before Christmas Eve. Otherwise, follow tips 1, 4 and 5! 4. To make your cut tree last longer, place the trunk in a bucket of sand and be sure to water from time to time. 5. If your real Christmas tree doesn't have any electric lights, you can mist it to keep it perky. 6. Remember that it's essential to choose the right size of tree for your space. Make your choice based on the space you have available!
Explore the ManoMano catalog
Christmas tree decorations
Christmas tree stands and bases
With the exception of potted trees, you'll need to invest in a stand for your Christmas tree so it can stand tall in your living room! 
---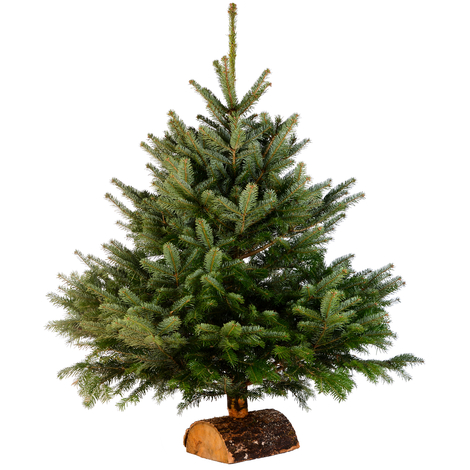 There are several ways to hold up a cut tree:
Log bases: rustic and decorative, a log base is probably the most traditional option. Be sure to choose the right size of log to match your tree.
Wooden cross bases: whether you buy one or make it yourself a cross base basically consists of two wooden boards with a point in the middle where your Christmas tree will be installed.
Tree stands: these stands may take the form of a tripod or star shape and are often made of metal. The tree trunk is slotted into a tube and held in place by two screws. These stands may also be round or plastic.
Parasol bases: cover your parasol base in shiny wrapping paper and it can make for a great tree base! The only drawback is that you'll have to taper off the end of the trunk to ensure it fits in the base... and you'll also have to have a parasol base lying around.
Sand pots: if you have a spare pot from re-potting another plant, fill it with sand before inserting your Christmas tree. The moisture from the sand will allow your tree to look fresher for longer.
It's worth noting that you can purchase a wicker pot cover to cover up any unsightly pots!
Explore the ManoMano catalog
Christmas tree stands and bases
When to put up your Christmas tree
---
Originally, the Christmas tree anddecorationswere only put up on December 24. However, to make the most of your beautiful tree – and to keep the kids quiet – Christmas trees can go up 2 or 3 weeks before the big day. However, remember that this does depend on the variety and whether your tree is cut or in a pot: 
2 weeks before Christmas: for species that tend to lose needles (such as cut Norway spruces);
3 weeks before Christmas: for species that tend not to lose their needles and stand up well to indoor temperatures (Noble and Nordmann firs and Blue spruces);
end of November: for potted plants that hold onto their needles and are able to withstand indoor temperatures (potted Noble and Nordmann firs and Blue spruces); 
Once you've chosen the perfect tree for your home and decorated it to the nines, all that's left to do is adorn your outdoor space with fairly lights and snowmen and tackle the rest of your indoor decor!
Explore the ManoMano catalog
Christmas decorations
More information
---
Start the Christmas festivities right with a well-decorated home and tree. Need some help? Check out our guides for tips on everything from picking Christmas decorations to recycling your tree!
Guide written by:
Sebastian, self-taught DIY-er, Exeter, 220 guides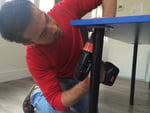 Redo a roof with wooden beams? Check.Advise Mister everybody in the DIY shop? Check.Redo the bathroom plumbing? Check.Fit together, build the walls, paint a partition, throw my hammer in a rage thinking that it will fix the problem? Check. The DIY motto ? Learning is better than delegating… well, it's also a question about your wallet! The satisfaction? The beer at the end of the job! What do the best have in common? The influence of Gyro Gearloose, Mac Gyver and Carol Smiley depending on your generation, a good dose of curiosity, a average hand-eye coordination and a taste for risks… and if it doesn't work, try again! Advise you? I'll do my best!
The products related to this guide