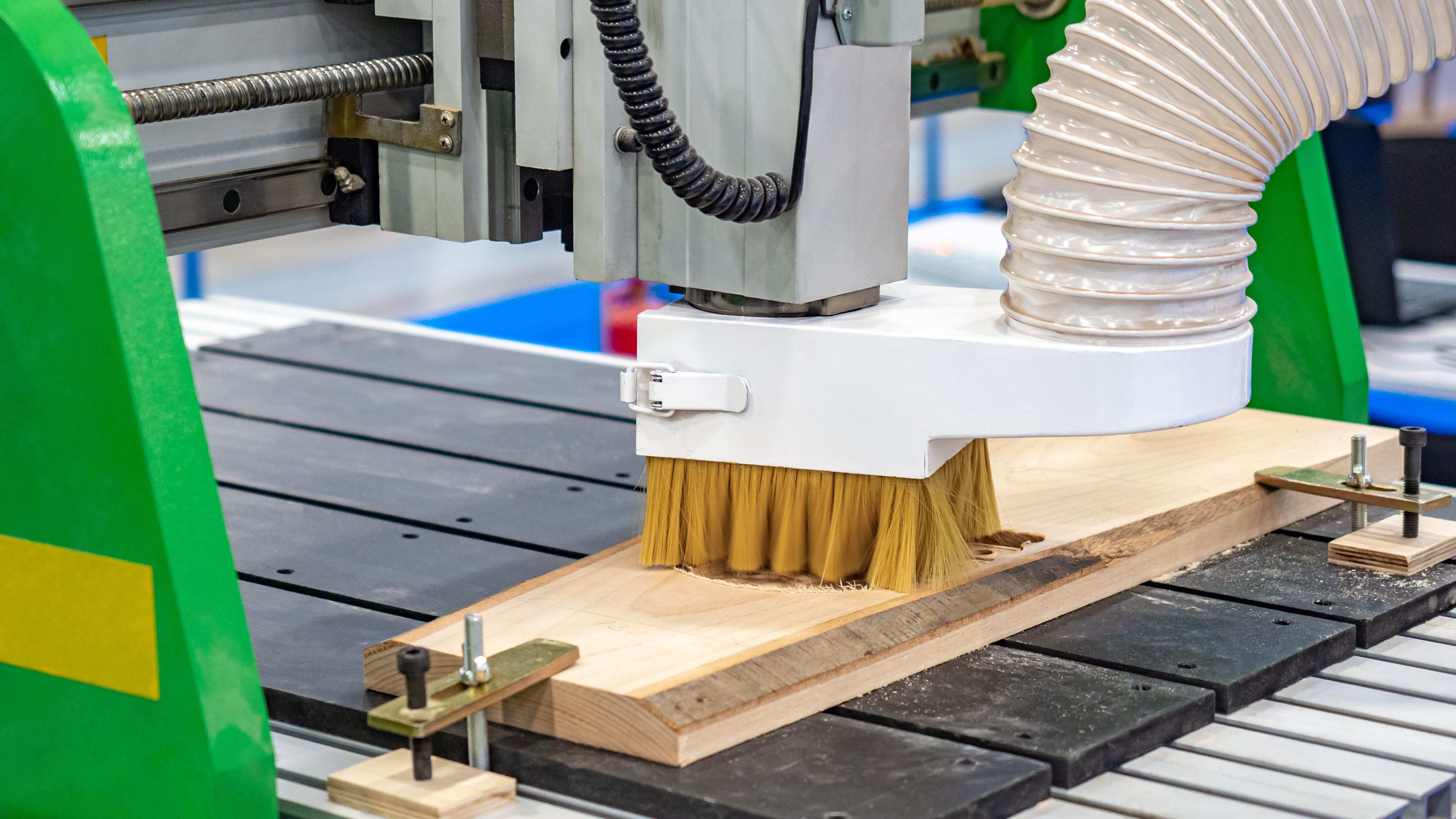 Chip extractor buying guide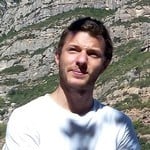 Guide written by:
Lucas, Antique wood-worker, Gloucester
27 guides
Essential to any carpenter, chip extractors suck up the shavings and wood chips produced by workshop machines. Equipped with a cloth or plastic bag, these machines usually feature a steel structure and can vary in suction and air volume, depending on use. Read on to find the right chip extractor for your workshop.
What is a chip extractor used for?
---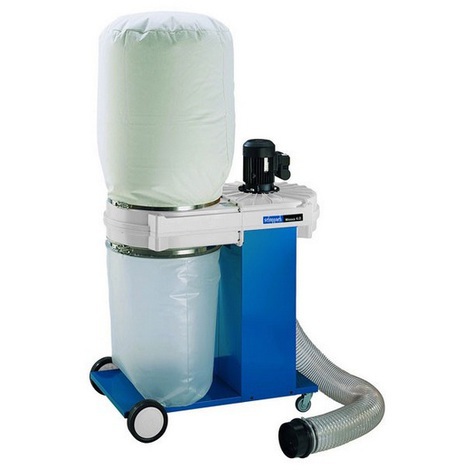 Chip extractors are the ideal companion for any woodworking enthusiast. These machines are used in the workshop and are vital for all woodworking projects that result in large amounts of material being removed, such as planing, jointing, sawing or any kind of extensive cutting.
Chip extractors differ from conventional dust extractors in that they feature a larger suction hose and lower suction power. The idea is to use an increased volume of air flow to optimise the extraction of the chips, without having to constantly unclog the pipes or empty the bag.
These machines follow a simple operating principle: a motor is attached to a impeller, which creates suction. A hose is connected to your machinery on one side and two bags on the other side:
The collection bag, located in the lower part, is used to collect wood chips;
The filter bag located in the upper part, which expels the air while filtering as much of the harmful wood dust contained in the chips as possible.
Finally, some chip vacuum cleaners are equippedwith multiple suction outlets (usually two or three) so you can attach several workshop machines at once without having to constantly disconnect and reconnect the extractor.
Explore the ManoMano catalog
Bag
Main features of a chip extractor
Power 
---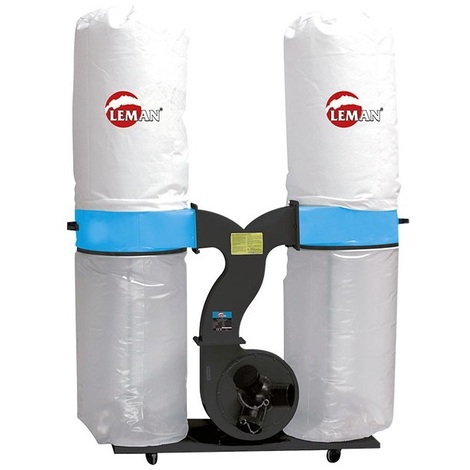 Like many workshop machines, chip vacuum cleaners can be equipped with various different types of motor:
Synchronous - these motors are efficient and brushless;
Induction - the most common motor type;
Single-phase or three-phase - depending on your electrical supply.
You will also have to select a power rating for your machine:
From 400 to 1000 watts - these machines are perfect for occasional or non-professionaluse. These machines are limited to a single suction hose for greater efficiency;
From 1000 to 2000 watts - these machines are ideal for regular or semi-professional use;
Beyond 2000 watts - these are professional-level chip extractors, capable of operating all day on several machines at a time and sucking in large volumes of air.
Suction volume and tank capacity 
In addition to motor power, these two factors will help you choose a chip extractor to suit your needs.
Air volume
Air volumeisindicatedby a CMF (Cubic Feet per Minute) rating which will determine how much air your machine pulls through per minute. This volume can start at around 50 CFM and can easily exceed 300 CFM for industrial models.
For occasional to regular use,  an average value of 130 - 150 CFM is highly recommended. This guarantees optimum air flow and means you won't be limited if you have bigger projects in the future.
Tank capacity 
The capacity of the tank is indicated in litres. This specification should not be overlooked as woodworking of any kind (planing, in particular) will create large volumes of chips. The idea is not to have to change the vacuum bag every hour! Ranging from around 60 litres tanks up to 280 litre double tanks, you can choose from a range of options. If the size of your workshop allows it, choose a tank with a minimum capacity of 150 litres. This should guarantee versatility while ensuring the machine doesn't take up too much room.
Ergonomics and handling
Weight
---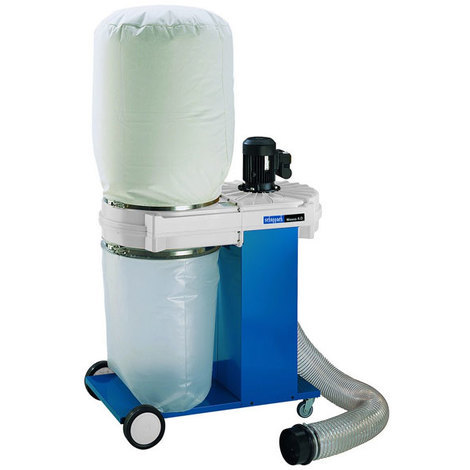 The weight of your chip extractor can vary from around 25 kg to over 200 kg. This depends on how you plan on using the machine and the size of your workshop. If the chip extractor will be stored away between uses, it is better to get a lightweight model or one mounted on a trolley with wheels. The heaviest machines are designed for industrial use and to serve large areas.
Sound level 
The sound level of a chip extractor can exceed 85 dB! No matter which model you choose, you will require the use of good hearing protection in the workshop.
Hose length
The hose should not be too long to avoid losing suction. It is, however, possible to buy longer hoses depending on your needs and the models on offer.
Suction diameter
The suction diameter depends on the type of tool you are working with (circular saw, surface planer, multi-purpose woodworking tools, etc.). Thestandard diameter is 100 mm but this can go up to 200 mm for industrial machines.
Materials
With regards to your chip extractor body, metal orsteel will offer greater strength. Following the same idea, the impeller may be made of plastic or steel. However, steel is the wiser choice, especially since the impeller is not protected from shocks if a big branch somehow gets through!
Cyclone filtration, integrated units and impellers
---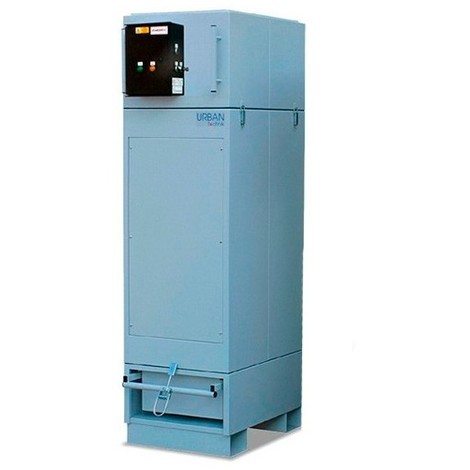 Most chip extractors should be able to hand most of your dust extraction needs. However, be aware that there are more developed models available for more advanced applications.
Cyclone
Cyclonic dust extractors operate using centrifugal force. The debris and chips are first filtered by this process before the fine dust passes through a filter cartridge. These models are even more efficient than the traditional dust extractors, but they do come with a higher price tag!
Dust extraction units
Dust extraction units are intended for workshops comprising at least 4 or 5 continuously operating machines and serve to centralise your suction system. The primary factors to look out for are the same as for a conventional chip extractor.
Impellers
Impellers can be swapped out to fit your needs. You can create a very effective system when properly configured.
Health benefits of chip extractors
A healthier workshop
---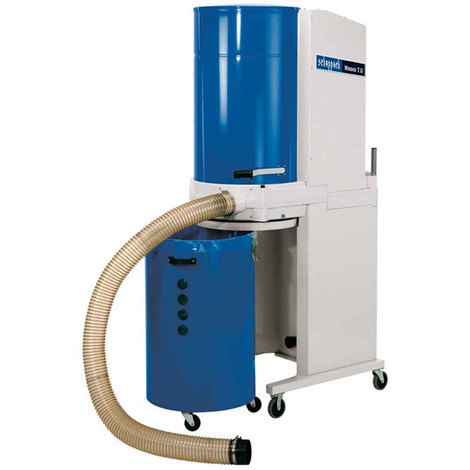 An effective chip extractor will protect your lungsfrom wooddust, which is harmful to health. These particles are contained within the filter bag but these bags do vary in quality.
The filtration rate is expressed in microns, or in milligrams per cubic foot. It is advisable to invest in a model with a high filtering capacity, especially if you want to protect your lungs and keep woodworking on a regular basis! The filtering surface and capacity in microns are important factors to keep in mind when purchasing a chip extractor; a higher number will guarantee optimal filtration.
In the same vein, it's important to note that some vacuum cleaners models can be equippedwith a filter cartridge. Installed in place of the filter bag, these cartridges offer a filtration rate of up to 10 times higher than conventional bags. However, these still require changing regularly.If you are using your machine in a daily basis, a cartridge will prove essential for capturing the finest dust particles. These accessories are chosen depending on the diameter of the filter bag. If you have chosen to go with a filter cartridge, you will require a waterproof plastic collection bag (as opposed to cloth) to avoid losing efficiency!
Tips for operation and installation
---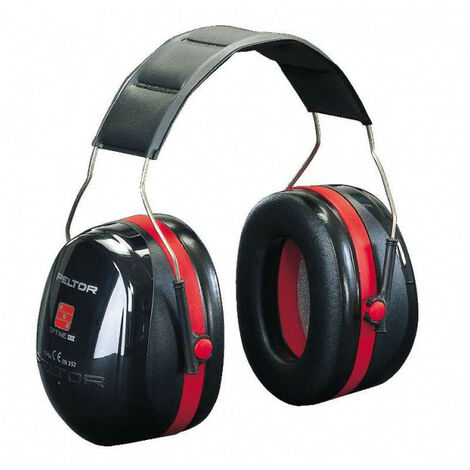 You can install blanking plugs to chip extractors to avoid losing suction if only one hose is in operation at any given time.
Take care to remove the largest pieces of wood so as not to damage the impeller or pierce the bag (if plastic).
Finally, always use a protective mask and hearing protection when working with wood!
Explore the ManoMano catalog
Hearing protection
More information
For more advice on woodworking tools, check out the following guides:
Guide written by:
Lucas, Antique wood-worker, Gloucester, 27 guides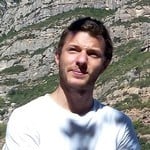 After some time busting my hump at construction, specifically at renovation, painting, carpentry, laying kitchen and bathroom tile, I decided to get my degree as a Carpenter. And I did well because nothing is more pleasant than working on a timber frame or designing a wooden house. Everything about woodworking fascinates me, and building my own home in this material is one of my goals. I'm also a follower of construction tools: I love to learn about innovations, the way they're used, the tips and tricks, or the performances of each new tool on the market, whether it's for woodworking or not. I would be happy to advise you and help you with your choices. Happy Tinkering.
The products related to this guide