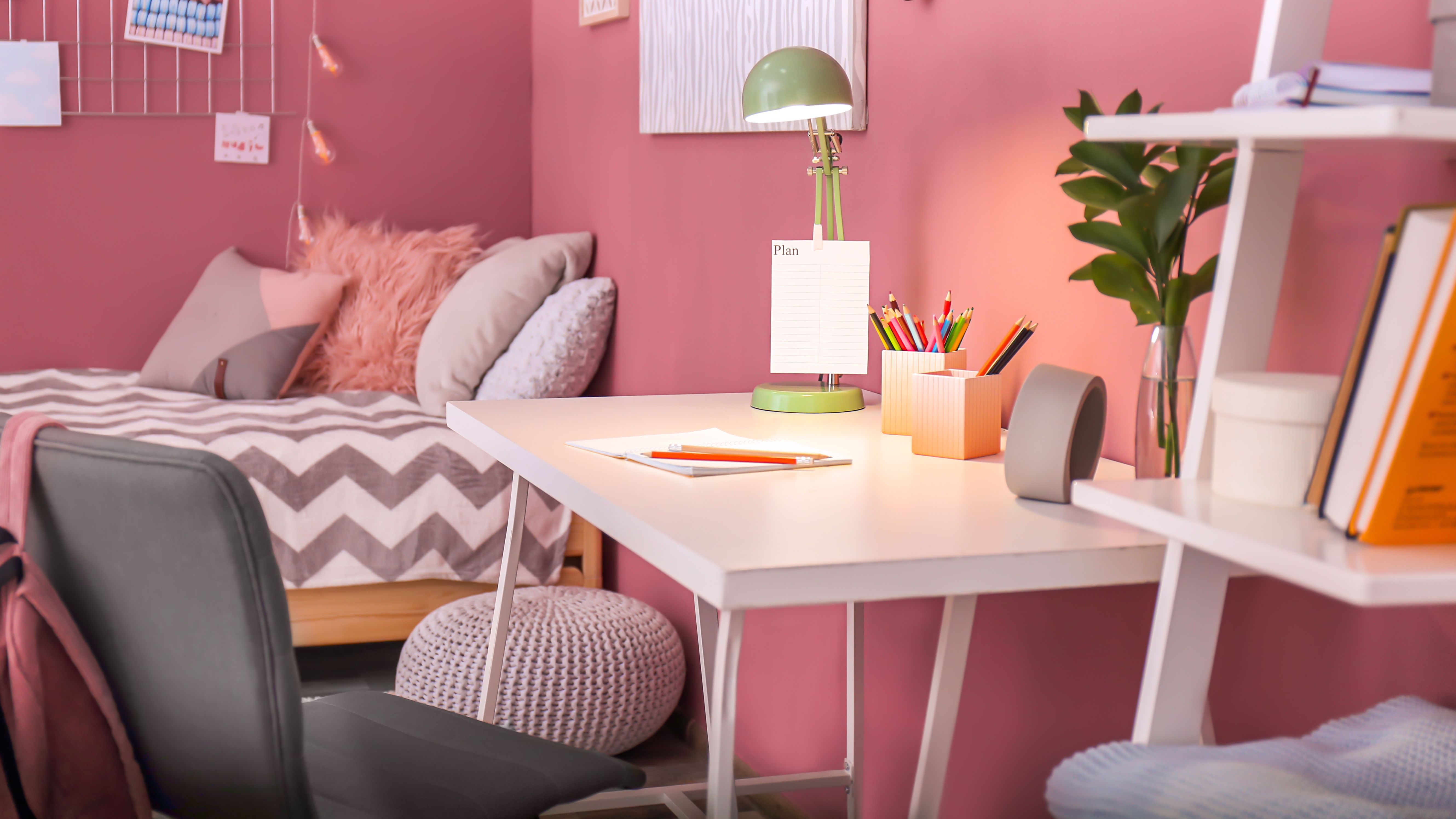 Children's desk buying guide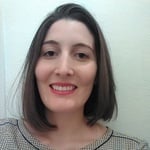 Guide written by:
Pauline, Self-taught handyman, Leeds
107 guides
Children's desks provide a dedicated area not only for work but to create and play as well. Often a temporary solution before setting up a teenager's room, these desks come in a range of styles, materials and dimensions, and may also feature storage space. Read on to find the best children's desk for your needs.
Important features
Child size
Materials
Built-in storage
Height-adjustable
Temporary purchase or durable investment
Key criteria for choosing a children's desk
Children's desks: multi-functional furnishings
---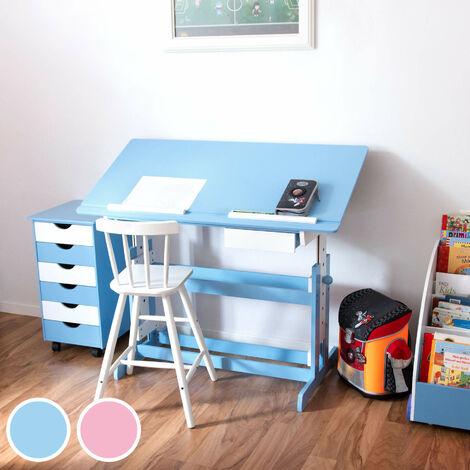 A children's desk is a piece of furniture that can extend beyond a single purpose or stage in your child's development. These little tables are always a big hit with children because they allow them to feel independent and offer your kids a whole new space to explore. Children's desks also come in a wide range of materials such as glass, steel, wood and plastic.
For younger children, rest assured that this furniture item will see its fair share of ink stains, stickers, bumps and splashes of paint!
Here are some basic questions to help you choose the right children's desk:
Does the desk match the design and style of your child's room?
Are the dimensions appropriate for your child's age and the space you have available?
Does it provide sufficient storage space?
Will the desk last?
Children's desks: choosing the right dimensions
---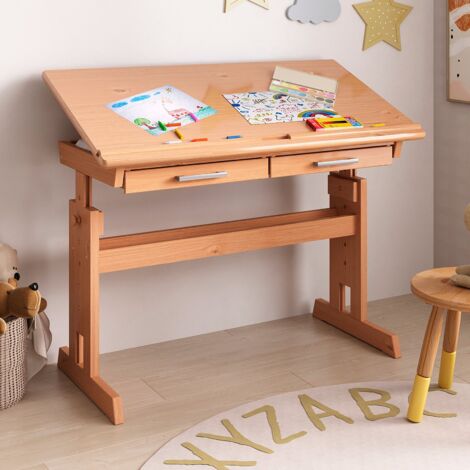 Before making any purchase, remember that the deskshould be the right size for your child. The top of the unit must be around elbow level to ensure older children maintain a safe posture when using the desk.
As a general rule, a child's first desk is intended for ages 3 to 6, whereas a school desk model should be used from the age age of 6 up to secondary school age.
Most children's desks come in these standard dimensions:
75 cm high;
60 cm wide;
50 cm deep.
Some desks have height-adjustable legs, which is ideal for making sure the desk grows with your child until it's time to get a full-sized model.
Children's desks and storage
---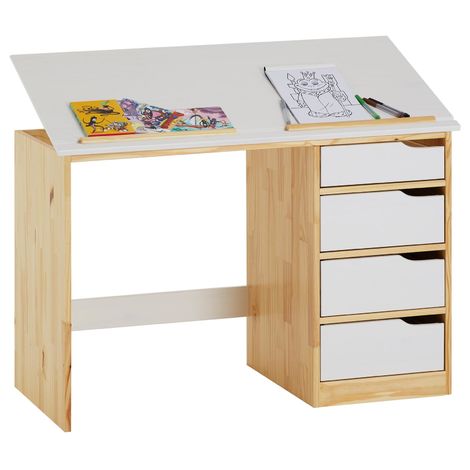 Rather than choosing a basic work surface on legs, we recommend desks with integrated storage units. These help to keep the top clear for work or creative pursuits – at least at the start of activity time! Children's desks can offer a variety of storage solutions:
drawer column on one side;
two drawer columns, one to each side of the chair;
storage units on the desk (drawers or shelving).
For a more bespoke design, you can always create a play or work zone made up of the following:
a desk on a trestle base or tube frame;
separate storage columns;
overhead storage compartments in MDF or HDF (better quality);
cardboard or plastic boxes or storage compartments;
wall-mounted wire cabinets.
Explore the ManoMano catalog
Desk
Finding the right style for your children's desk
---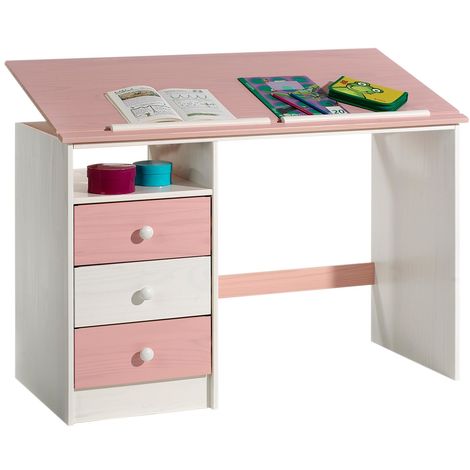 Every child's room has its own individual style. Some parents enjoy creating a cohesive space with a set of furniture from the same collection (e.g. bed, bedside table, desk, wardrobe, chest of drawers), while others prefer mixing a variety of furniture and decorative elements.
There are many different kinds of styles to choose from when decorating a child's room:
themed (circus, princess, knight, car, animals, etc.);
colour themes (subtle or bright);
carved or printed patterns;
specific designs (19th century school desk, contemporary, traditional, dressing table, etc.);
featuring a single or stand-out material (unfinished wood, painted wood, melamine, metal, PVC).
PVC desks are generally recommended for younger children. These desks are highly resistant, won't cause injury in the event of falls and are super easy to clean. If you decide to go with another material, be sure to check that the desk has rounded edges.
While you probably didn't ask your child's opinion when setting up their nursery, it won't be long before he or she lets you know what they like and don't like! Your child's opinion will generally be based on:
his or her tastes and preferences;
his or her needs;
his or her favourite trends.
Whether it's for homework or fun, asking your child to take part in picking a desk will ensure it will get used.
Explore the ManoMano catalog
Chest of drawers
The best time to buy a children's desk
---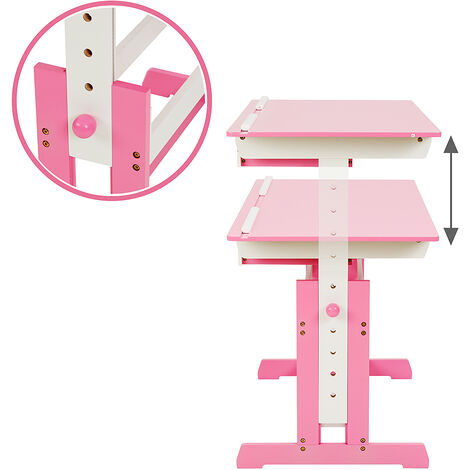 There's no real minimum age for buying your child a desk! While children love imitating grown-ups and playing make believe, they also enjoy having their own space to get creative. When they are old enough to start reaching for drawing materials, it's time to give them their very own little desk. In fact, babies as young as 1 years old can start doodling! Around the age of two, drawing becomes part of their routine.
For younger children, desks are for play and creativity. For children starting primary school, desks provide a space for doing homework – although bear in mind it's still very early to be thinking about such things!
After they've settled into the routine of school life, you may want to encourage them to develop good working habits by using their desk for homework. And if they don't feel ready, don't worry: children's desks are built to last.
Tips for creating a good work space
---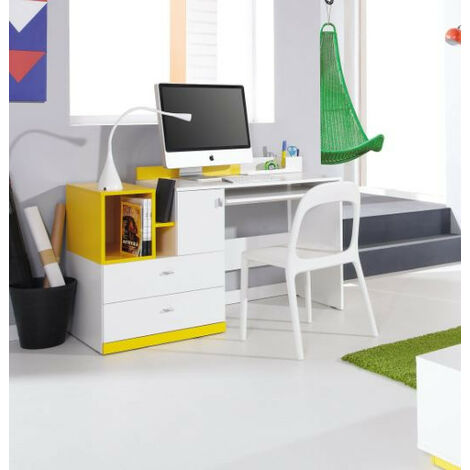 It's important to ensure your child's desk is placed in the right spot. To avoid flooding their work surface with sunlight, we recommend setting up the child's desk perpendicular to a window. Most children prefer to face the bedroom door or at least to keep it within their line of vision. It's a good idea to avoid placing desks too close to shelves or toy boxes to help your children avoid temptation!
Desk lamps make it easier for kids to see their work and, in turn, concentrate. Last but not least, most children feel more comfortable if the desk is not placed directly underneath a ceiling light.
Whether designed for toddlers or children entering primary school, children's desks are an essential part of any young person's room. Colourful or neutral, with or without storage, in wood or metal... there's a desk out there to match every child!
Guide written by:
Pauline, Self-taught handyman, Leeds, 107 guides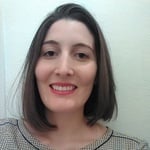 With a handyman-father, I grew up with the soft sound of the sander and hammer on weekends. I am both manual and cerebral (yes, it is possible.), I learned the basics of DIY and the customization of furniture because I was passionate. The salvage mentality is a true way of life that allowed me to know how to use all the tools and products needed to give something a second life, from sander to varnish. I have two favorite activities: the transformation of old furniture and decoration tips. I am always ready to lend a helping hand to revamp a table or to restore a mirror that was intended for the trash that will become a friend's centerpiece. I'm convinced that it's possible to reinvent an interior by small, regular modifications, I constantly research low-cost, test ideas.
The products related to this guide