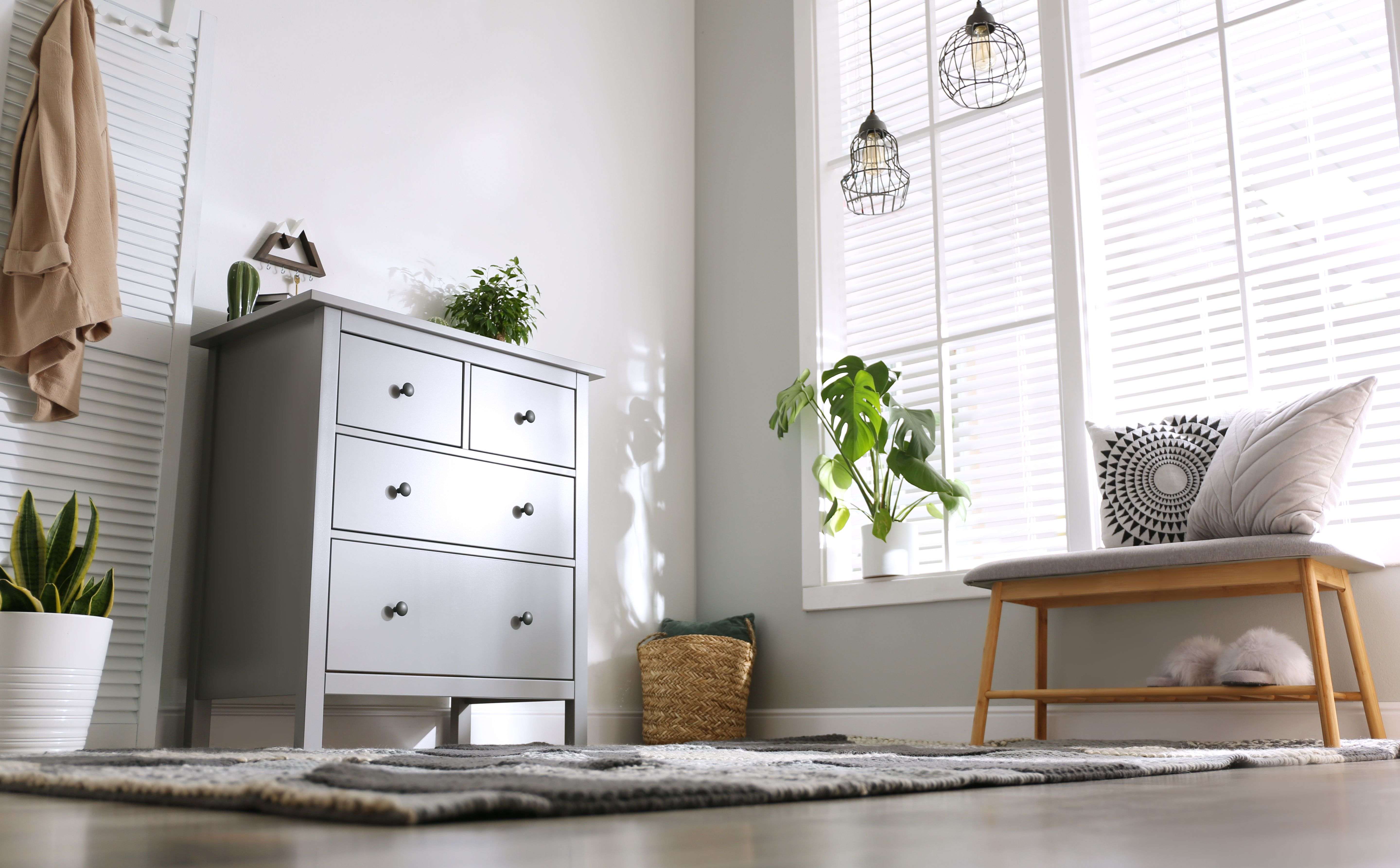 Chest of drawers buying guide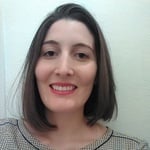 Guide written by:
Pauline, Self-taught handyman, Leeds
119 guides
Chest of drawers can be used to carefully store away household linens, bedclothes and clothing in the bedroom. Equipped with pull-out drawers with slotted or knobbed handles, this piece of furniture should suit the overall style of the room and provide enough storage space, while not taking up too much room.
Important features
Wood, MDF, metal or plastic
Type of opening system
Drawer size
Style
Number of drawers
Key criteria when choosing a chest of drawers
The type of chest of drawers you choose will essentially come down to the following:
the amount of available space;
the amount of storage space you need;
the furniture style;
ease of use.
Chest of drawer sizes
---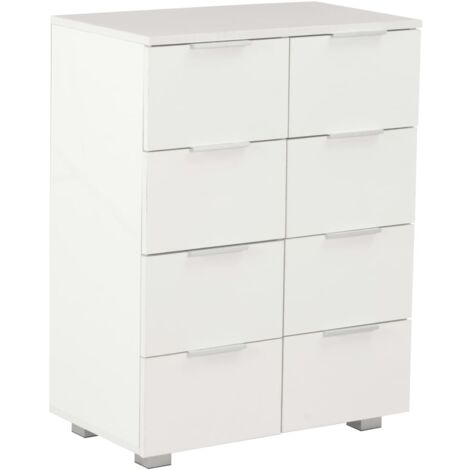 In order to pick the right size of chest of drawers, it is important to take measurements of the room and consider where you will place it. The chest of drawers must be easy to get to and allow you to move freely around the room without blocking any other items of furniture. Remember to factor in enough clearance space around the dresser for the drawers to open fully with someone standing in front of the unit .
Here are some examples of chest of drawer formats:
small, 3-drawer chest of drawer: 70 cm wide x 90 cm high x 35 cm deep;
large-capacity, 3-drawer chest of drawer: 90 cm wide x 80 cm high x 40 cm deep;
nappy-changing chest of drawers: 120 cm wide x 98 cm high x 55 cm deep (78 cm with detachable nappy change surface).
Note that an anti-fall barrier must be added to all chest of drawers intended for changing nappies.
It's worth noting that selecting a dresser with drawer sliders will ensure ease of use (drawers can be opened and closed effortlessly). Some models are equipped with a soft close mechanism to prevent the drawers from slamming shut.
Explore the ManoMano catalog
Chest of drawers
Choosing a chest of drawers to suit your organisational needs
---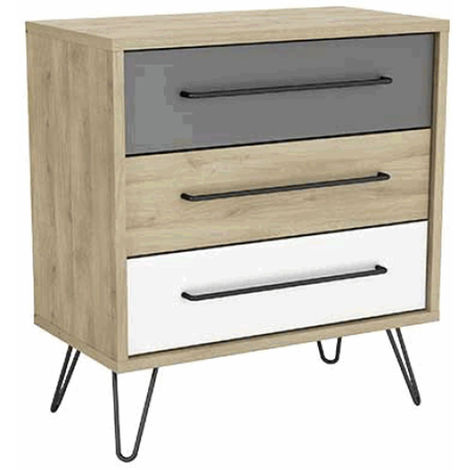 Before deciding on a model simply because you like it, think about how you will fill it, for example:
underwear in the top drawer;
t-shirts in the second drawer;
jumpers and body warmers in the third drawer;
trousers in the bottom drawer;
additional drawer: pyjamas and lounge wear.
If you are short on space, you will have to think about where you will place any linens that you can't fit in the chest of drawers: can it be stored in a wardrobe or in the bathroom, for example?
In order to make sure you don't end up with a unit that doesn't suit your needs, consider the following before purchase:
If you are furnishing a child's room, safety comes first! A dresser with rounded edges is a better option than a designer dresser with sharp corners and avoid any handle shapes that could injure your child.
Practicality and design: style vs. convenience
Chest of drawers are an essential piece of bedroom furniture. While they allow you to store a significant quantity of clothing and bedclothes, they can also be decorative. With this in mind, design will also play a big part in your decision.
Chest of drawer shapes
---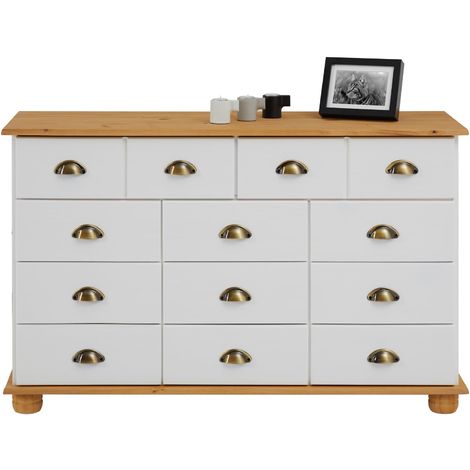 Traditionally, a chest of drawers consists of several drawers with most models featuring at least three. These drawers come in different sizes:
wide drawers that extend across the entire width of the dresser;
two drawers per row;
three drawers or more per row.
Usually, the top drawers of a chest of drawers are more shallow while the bottom drawers are deeper.
It is now possible to find chest of drawers that combine open shelves on top, with two or three drawers underneath for a modern twist on a timeless essential. Shelves can be supplemented with decorative baskets or boxes to organise items that need to be stored away and to keep them from collecting dust.
Are you looking for a different style of chest of drawers? Why not opt for a semainier chest, which has seven drawers, or a chiffonier? This is the number one choice for small spaces and making the most of the height of the room.
For dressers that are placed directly in walk-in closets, simple models are often preferred as they do not have to match the décor.
Choosing a chest of drawers style
---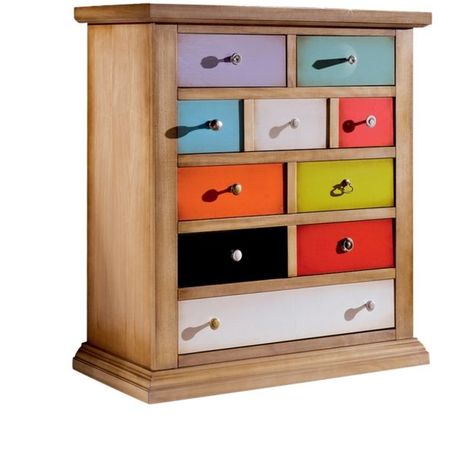 The design of a chest of drawers – meaning its materials, shape and colour – will play a key part in your decision.
Here are the most common materials used for a bedroom chest of drawers:
wood;
plywood;
plastic (thick, opaque, coloured, embossed, etc.);
paper (Japanese-style door panels);
metal (feet, structure).
Of course, a classic white chest of drawers made of MDF (medium-density fibreboard formed into panels) is easy to find and available in a range of prices. This type of chest of drawers is ideal for matching to existing furniture (bed, night table, wardrobe) as well as the colours of the walls and the floor.
If you are thinking of moving away from the more classic style, dressers come in a wide range of different looks:
multi-coloured dressers (drawers in different colours, for example);
patterned drawers, with wood-inlay or carved wood;
chest of drawers with decorative cornices;
Scandinavian-style dressers: MDF in light or pastel colours and feet in light-coloured wood (pine);
vintage-style dressers: with classic 50s to 70s shapes and metal, tapered legs;
industrial-style dressers (dark metal, unfinished wood and nails);
traditional dressers (made of solid wood with or without a patina finish, square feet or ball feet).
You will also have to decide how you want your drawers to open and close:
handles;
grooves;
pull cords;
push-to-open (smooth surface).
Quick interior design tip: avoid combining different styles of furniture. If you decide on a colourful dresser, we recommend choosing one with colours that are similar to the colour of furniture already in the room, or putting it with furniture made of natural materials.
The various parts of chest of drawers can also vary:
| | | |
| --- | --- | --- |
| | | |
| | | |
| | | |
| | | |
| | | |
| | With handles (wood, metal, ceramic, cord, etc.) | No handles (groove or push-to-open mechanism) |
As decorative as they are practical, chest of drawers still have an important role to play in modern bedrooms. Multi-coloured, chic or traditional... which style of chest of drawers will you fall for?
Explore the ManoMano catalog
Dresser
Guide written by:
Pauline, Self-taught handyman, Leeds, 119 guides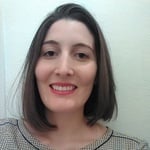 With a handyman-father, I grew up with the soft sound of the sander and hammer on weekends. I am both manual and cerebral (yes, it is possible.), I learned the basics of DIY and the customization of furniture because I was passionate. The salvage mentality is a true way of life that allowed me to know how to use all the tools and products needed to give something a second life, from sander to varnish. I have two favorite activities: the transformation of old furniture and decoration tips. I am always ready to lend a helping hand to revamp a table or to restore a mirror that was intended for the trash that will become a friend's centerpiece. I'm convinced that it's possible to reinvent an interior by small, regular modifications, I constantly research low-cost, test ideas.
The products related to this guide