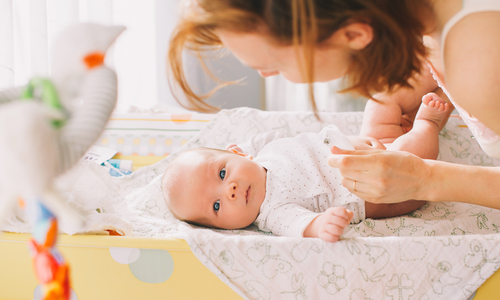 Changing table buying guide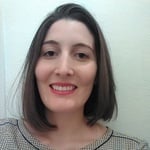 Guide written by:
Pauline, Self-taught handyman, Leeds
97 guides
A changing table is one of the most essential items to purchase when preparing for the arrival of a baby. From basic to combined models, wood to plastic, there are plenty of options to match your personal taste and style. Before purchase, be sure to check size and safety standards so you can change baby risk-free!
Changing tables: an overview
---
It is absolutely possible to change your baby safely without injuring your back! Changing tables are designed to help you care for, change and clean small babies and toddlers. Before making your decision, be sure to check the height and layout options so you don't regret your purchase. For example, two models might differ by 84 cm to 92 cm in height.
Changing tables are available in a variety of designs. They can come as a basic changing table, combined with a dresser or bath or even be designed to moved around. Your choice depends on the space available in your home and your routine.
Your changing table must comply with the European standard NF EN 12 221, which guarantees product stability for child safety. You should also check the screws regularly to make sure they have not shifted. Changing tables can be sold as a single unit, without accessories or changing mats.
Explore the ManoMano catalogue
Changing tables
Choosing a changing table based on its intended use
---
Changing tables can be used for the following purposes:
changing babies and toddlers;
providing care to babies such as nasal cleansing and applying creams;
dressing/undressing infants.
As these actions normally wake babies up, it is always a good idea to place an age-appropriate mobile above the baby (at belly level).
Choosing your changing table
Types of changing table
---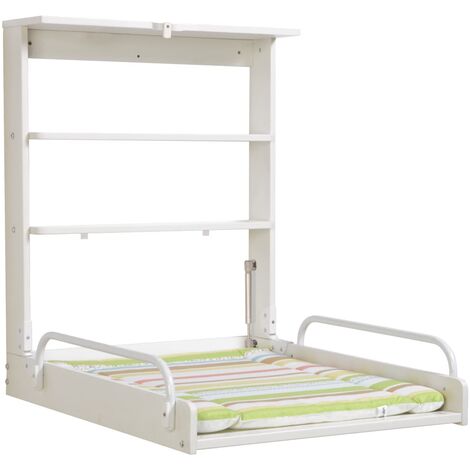 While this piece of furniture mainly serves to change babies, there are a variety of models available to choose from. Here are the different types of changing tables:
traditional changing table with legs and shelves;
changing tableon a dresser or a changing dresser;
changing table with bath ;
portable changing table(with wheels);
wall-mountedchanging table.
There are many options to consider. For example, it's important to think about practicality, storage capacity and accessory accessibility. You should also consider the compatibility of accessories purchased separately, and the width and height of the unit, in order to fit the right size of changing mat (size of which may vary).
Materials and care vs. style
Choose the changing table based on the style you have in mind for the baby's room or the space you've set aside in your own room. Changing tables are available in unfinished or painted wood, in coloured plastic, and with or without carved or printed patterns. Wood changing tables are more expensive but stand the test of time, provided the paint is coated with non-toxic and hard-wearing varnish.
Any type of surface can be cleaned without the use of harsh cleaning agents. Use soapy water or baking soda instead.

Recommended accessories
The question of space should also be considered. To optimise storage space, we recommend adding large baskets, which are easier to use every day than boxes.
Changing table comparison
Traditional changing table

Good storage capacity.

Often has 2 levels.

Additional ease of use with baskets.

Yes, if space is optimised,

lateral accessories can be added.

Changing table with wheels

2 levels.

Medium storage capacity.

Boxes recommended so contents don't fall out when table is moved.

Yes, you won't have to buy 2 pieces of furniture.

Practical for bathing.

Plastic not as sturdy as wood.

Perfect if you don't have a bathtub.

Very useful for infants.

Wall-mounted changing table

Yes: folds away to free up space.

Can be turned into a desk.

Wide surface.

Accessible drawers.

Large storage capacity.

Yes: 2 pieces of furniture combined.

Long-term investment that is difficult to adapt (dresser or desk) afterwards.
Tips for using your changing table
The changing table should be neither too low nor too high. Make sure you work out the dimensions of the product before ordering, based on your own height. To avoid injuring your back, do not lean too far forward when using the table.
Where to put your changing table
---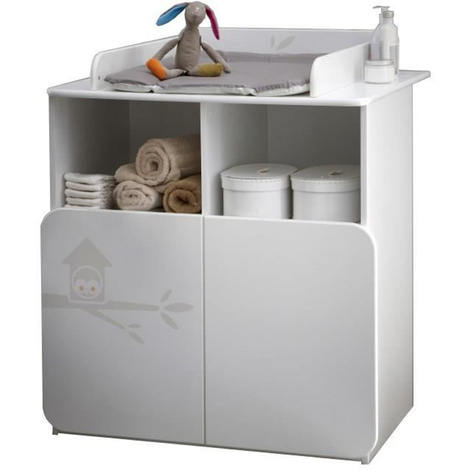 Here are three tips for finding the perfect spot for your child's changing table:
in the corner of a room;
against the wall at eye level;
not too close to the bed so that baby can't grab objects when standing up.
Precautions for use
---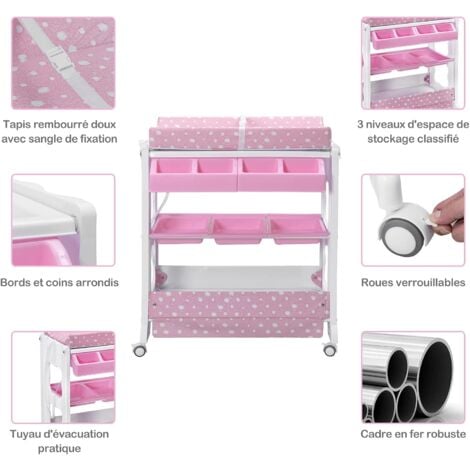 Most changing tables are intended for self-assembly.
To ensure the safety of your child, you must be capable of assembling the table and have the recommended tools for assembly.
For portable changing tables, wheels must be locked before each use.
Other useful tips:
set up your changing table one month before baby's arrival so that it can air out (release any volatile organic compounds);
always prepare your things before putting baby on the changing table;
do not put objects that could cause harm near baby (scissors/cardboard);
keep one hand on your child's body when you need to look for something on the shelves.
Your changing table must above all be practical and meet your expectations in terms of storage and decoration (material, colour, shape). However, the most important thing is your child's safety.
Guide written by:
Pauline, Self-taught handyman, Leeds, 97 guides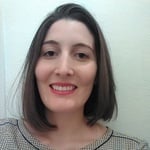 With a handyman-father, I grew up with the soft sound of the sander and hammer on weekends. I am both manual and cerebral (yes, it is possible.), I learned the basics of DIY and the customization of furniture because I was passionate. The salvage mentality is a true way of life that allowed me to know how to use all the tools and products needed to give something a second life, from sander to varnish. I have two favorite activities: the transformation of old furniture and decoration tips. I am always ready to lend a helping hand to revamp a table or to restore a mirror that was intended for the trash that will become a friend's centerpiece. I'm convinced that it's possible to reinvent an interior by small, regular modifications, I constantly research low-cost, test ideas.
The products related to this guide