Chainsaw or power pruner: which is right for you?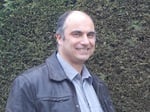 Guide written by:
Albert, Manager of a gardening service, Leicester
52 guides
Chainsaws are used for tasks that don't require extreme precision such as felling trees, and cutting branches and large section wood. Power pruners are lightweight machines used to trim trees. They are easier to handle, less powerful than chainsaws and can be mounted on a pole to trim trees from the ground.
Main differences between chainsaws and pruners
Chainsaws and pruner share the same basic operating principle and feature similar technical characteristics. Nevertheless, they do differ in terms of the length of the guide bar, power rating and the applications for which they are designed.
Without going into great detail, pruners and chainsaws operate in the same way: a motor or engine serves to drive a sprocket and chain guide to turn a chain equipped with cutting teeth which is, in turn, used to cut branches and tree trunks.
Chainsaws
---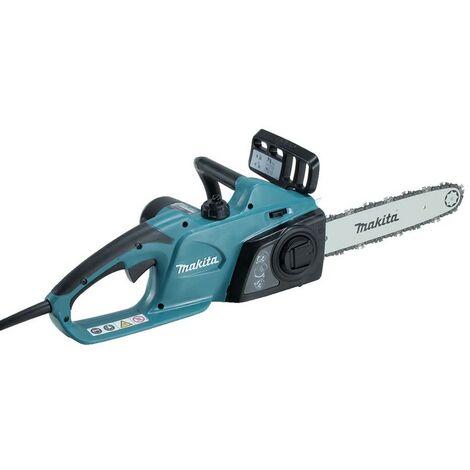 Chainsaws are designed for forestry and logging work; in other words, they  are mainly used for tree felling. They can also be used to make firewood. In order to perform these tasks, chainsaws provide a lot of power. The more powerful the machine, the larger the cutting diameter and the longer the guide bar.
Power pruners
---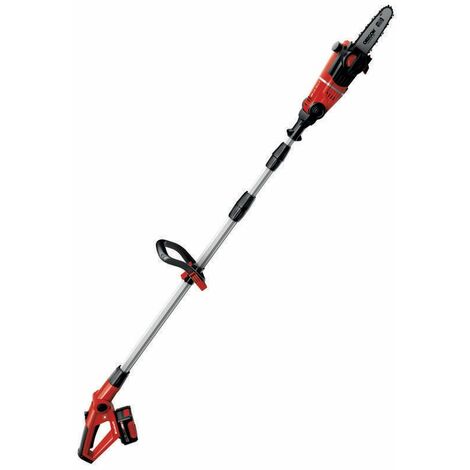 Power pruners are used to make smaller cuts on branches or shrubs. As the name suggests, pruners are used to prune trees. It is possible to find very robust pruners, which offer a very efficient operating rate. Less powerful than chainsaws, the cutting diameter of power pruners will be smaller as the chain guide is shorter. A power pruner is basically a motorised version of a manual pole pruneror branch cutter.
Explore the ManoMano catalog
Pruner
Pruners vs. chainsaws: technical characteristics
Power pruner specifications
Power pruners are designed for small pruning jobs. They are smaller and weigh less than chainsaws. They generally feature an ergonomic design that makes them easy to grip and are very easy to manoeuvre. Here are their main characteristics:
Weighing between 2.5 and 5 kg, pruners are very easy to handle, but you should still be aware of the risks of using this type of machine;
power ratings range from 0.8 to 1.9 kW;
cylinder capacity: between 22 and 35 cm3;
guide bar length: between 25 and 35 cm;
power source: fuel (petrol/oil mixture), electric or battery-powered.
Pole-mounted pruners or pole pruners
---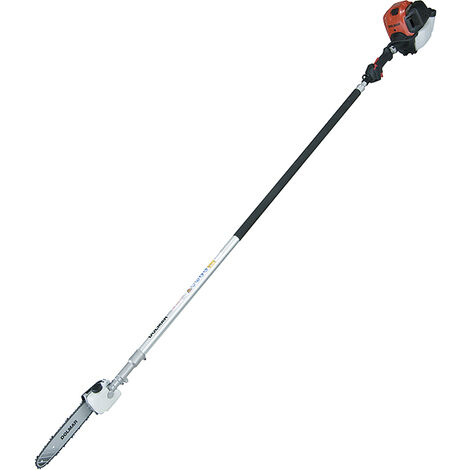 Featuring the same guide bar length and power output as ordinary power pruners, these machines offer the advantage of being able to cut branches from the ground. This is all thanks to an ingenious device: namely, the pole.
Poles can be fixed or telescopic, with some models measuring up to 4 metres in length. These devices might can also feature a fixed or multi-position head, the latter of which can be tilted making it even easier to perform small trimming tasks.
There are many different types of pruner available including petrol-powered, electric or battery-operated models. If you are looking for more power and the freedom to move around, choose a petrol-powered pole pruner; electric pole pruners are better suited to domestic use.
It's worth noting that pole prunerswill have their power unit at the base of the pole while pruners mounted on pole attachments will have their power unit at the end of the pole, making them heavier.
Chainsaw specifications
---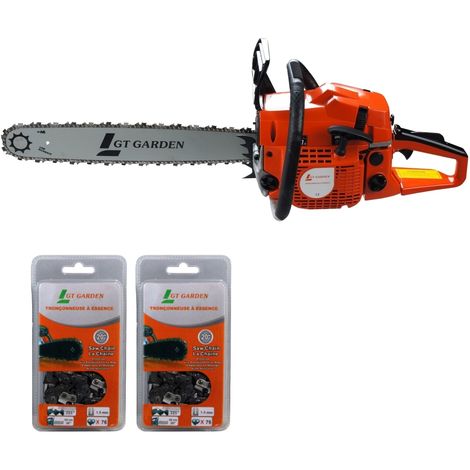 Chainsaws are designed for cutting wood with a larger diameter than a power pruner will allow. This corresponds to the length of the guide bar. Chainsaws feature a longer guide bar which generally measures 35 cm to 70 cm, or even up to 120 cm for professional-grade models used by foresters or loggers.
In terms of performance, chainsaws represent a real step up from pruners. These machines feature a power rating of 1.8 kW to 6 kW, and an engine capacity ranging from 35 cm3 to 125 cm3. A certain amount of experience is required to operate the most powerful models as these machines are generally used to tackle large trees; you must, therefore, be able to properly manage and control the risks involved in these tasks.
Chainsaws generally run off petrol, as this provides the power required for large-scale tree felling work. Petrol-powered chainsaws offer more freedom (as you are not tied to an electrical outlet) and can be carried with you anywhere.
Of course, electric chainsaws do exist, but they are limited to domestic use in gardens with a power outlet not too far away.
Finally, what about battery-operated chainsaws? Despite some advancements in technology, these machines are still far from achieving the efficiency of petrol-powered machines in terms of both power and freedom of movement.
Explore the ManoMano catalog
Electric chainsaws
Guide written by:
Albert, Manager of a gardening service, Leicester, 52 guides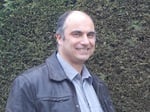 For several years I have been running a garden service with a clientele of both individuals and companies. I manage a team of gardeners and ensure the creation and maintenance of green spaces. At the same time, I bring my expertise to my clients in terms of the maintenance and improvement of their gardens. In fact, as a trainee and working in the hospitality industry at the beginning of my career, I focused on landscaping in a local community where I acquired solid technical skills through in-house training and the follow-up of major projects in a rapidly changing town. On a personal level, I am equally oriented towards the art of gardening. With my wife, I created our garden from start to finish and I maintain it carefully, the same goes for the vegetable garden. As for DIYing, it's not to be outdone. Yes, gardening is also tinkering: pergola, hut, pavement, fence, and so on...There is always something to do in a garden. After working well together, my wife and I are proud of the result and delighted to be able to take full advantage of a friendly and warm environment. So, let us give you advice and help you in your choice of tools, maintenance, or improvement of your garden, nothing could be simpler.
The products related to this guide