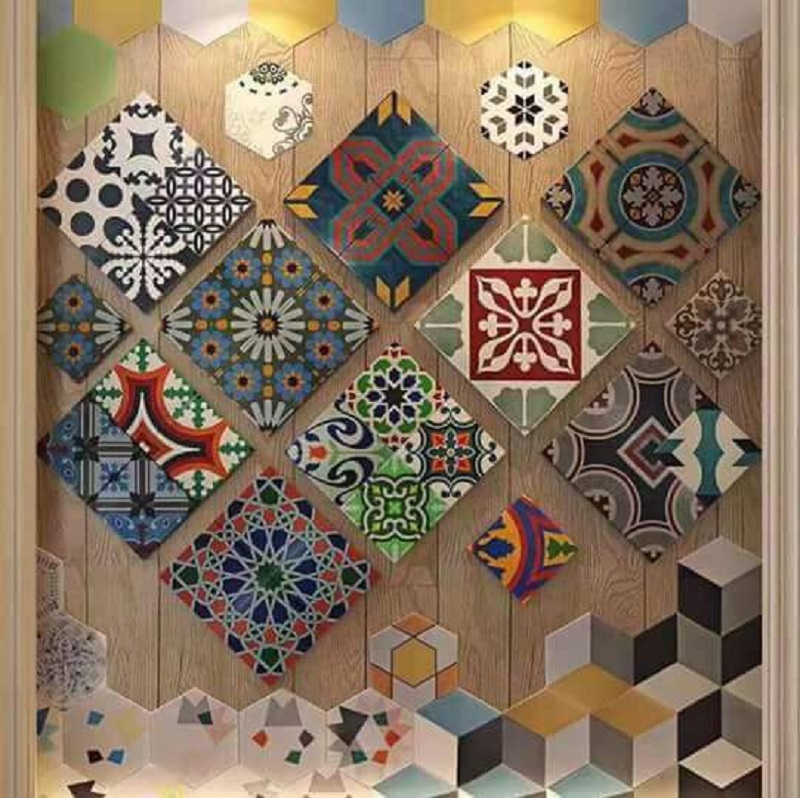 Cement tile buying guide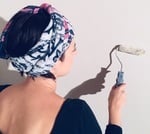 Guide written by:
Tess, painting & decorating consultant, Brighton
26 guides
Whether you go for imitation or authentic cement tiles, you'll find a wide range of patterns in both muted tones and bright colours. While these tiles are usually chosen for their designs, you'll also have to think about practical factors like size and care needs. Read on for all you need to know about cement tiles!
Authentic cement tiles
---
Cement, or encaustic, tiles were first produced in the mid-14th century and remained widely popular right up to the 1970s. At this point, the material fell out of favour and came to be replaced by porcelain or ceramic. However, these tiles have been making a comeback in recent years with the trend for all things vintage.
Today, the definition of cement tiles has been widened to include imitation tiles that are actually made of porcelain or ceramic. As these materials feature similar properties to cement, they manage to imitate real cement tiles quite closely.
That said, purists will be happy to hear that it is still possible to find authentic cement tiles and there are manufacturers specialising exclusively in making them.
If you are only interested in the look of cement tiles, you can choose from a number of different materials that have been made to resemble cement tiles with varying degrees of success. As mentioned above, porcelain and ceramic will give you the most realistic effect thanks to their composition as well as the way in which they are installed.
Composition
---
Cement tile manufacturing is based on an artisanal method that has never changed and is based on the following components:
For thicker tiles (3 mm approx.)
---
white cement;
marble powder;
colour pigments;
water.
For thinner tiles
---
All of these materials are worked by hand before being pressed into a mould and left to cure for several weeks. Cement tiles are through-body tiles that are, quite unusually, produced without heat.
Cement tiles are not only hard-wearing, they also come in a range of interesting patterns and colours making them a highly sought after choice in interior decorating.
However, their main drawback is that the material is porous and must be sealed, especially if you plan on using the tiles in a kitchen or bathroom.
Size and format
---
Cement tiles don't come in large sizes like ceramic or porcelain tiles.
Most of these tiles are square and measure 20 x 20 cm or, at most, 30 x 30 cm.
It is also possible to find hexagonal or octagonal tiles. The thickness of these tiles varies from about 17 to 20 mm.
Designs
---
Cement tiles are usually very colourful and can feature very bold patterns in their most unique forms. They are often used in corridors or in small rooms. Bolder designs can be incorporated into your décor to give your home a grand manor-style feel!
Another way to use these tiles is to mix them up with an inlay made from another material for a more unique look. Cement tiles can be used to cover your floor or walls to provide a smooth but porous surface.
It's worth noting that some manufacturers will produce custom-made recreations of old cement tiles. This can be a great option to check out if you're working on a renovation project.
Uses
---
Cement tiles are generally installed on floors but can also be used to cover walls. If used in a room with moisture (e.g. a kitchen or bathroom), the tiles must be sealed after installation.
To do so, you'll need to apply a pore-blocking product in two coats to protect your cement tiles from splashing water. This will also help to prevent stains which will show up very readily if you do not treat your tiles.
Care requirements
---
This is the main disadvantage of authentic cement tiles. These tiles are naturally matte. but you can achieve a glossy effect by applying a wax after the hydrophobic tile treatment has cured.
For regular cleaning, use a mild soap mixed with clean water.
Alkaline-based or harsh cleaning products should be avoided as they can cause irreparable damage to cement tiles.
Explore the ManoMano catalogue
Indoor tiles
Imitation cement tiles
---
Real cement tiles can be quite pricey. Yet these highly decorative tiles have swung back into fashion in recent years. Thanks to this trend, you can now find a number of different materials that have been made to look like cement tiles.
Imitation cement tiles are thinner, less tricky to care for and less expensive. They are made to closely resemble cement and it can even be tricky to tell them apart from the real thing.
Composition
---
Most imitation cement tiles are made from ceramic or porcelain. While some tiles are more hard-wearing than others, the composition and manufacturing method are similar.
These tiles are made of:
minerals;
clay;
water;
enamel.
Size and format
---
Imitation cement tiles generally come in the same sizes as those described above (20 x 20 cm or 30 x 30 cm).
You can also find traditional hexagonal and octagonal shapes.
Unlike cement tiles, ceramic or porcelain tiles generally measure up to 8 to 10 mm in thickness.
Designs
---
Thanks to high-definition printing technology, the tiniest details of cement tiles can be replicated with a high degree of precision.
All kinds of colours are possible as well as any type of pattern from the most traditional to the most daring.
You can find entire collections of imitation cement tiles meaning you will have endless options to choose from. These tiles can be installed just as easily on the floor as they can on the walls.
They can therefore be used anywhere from a kitchen floor to a splashbacks above the sink.
Care requirements
---
In addition to being less expensive than real cement tiles, the real advantage of imitation tiles lies with their care requirements. Imitation cement is indeed much easier to clean.
Unlike real cement tiles, these tiles don't need to be given a hydrophobic treatment after installation. For regular cleaning, you just to vacuum the surface regularly before mopping using clean water mixed with a little mild detergent. It couldn't be easier!
Other types of imitation cement tiles
---
PVC floor coverings can also be made to give the traditional yet currently very popular look of cement tiles. This type of material is sold in strips (as part of a roll) or in squares.
Wall coverings are also available. In fact, it's fairly easy to find adhesive splashbacks with cement tile-style designs that can be stuck directly over the sink or elsewhere.
You can even find wallpapers designed to look like cement tiles. In short, there's no end of choice in terms of materials!
Your decision will come down to your own needs and the constraints of the material. That said, whether you go for real cement tiles or a faux version, you're sure to find the right type of cement-inspired material to let your inner decorator run wild!
Explore the ManoMano catalogue
PPE
Guide written by:
Tess, painting & decorating consultant, Brighton, 26 guides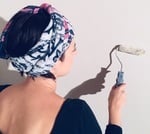 The products related to this guide