Caulking Gun buying guide
Guide written by: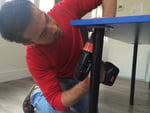 Sebastian, self-taught DIY-er, Exeter
184 guides
Perfect for the application of any sealant or silicone, caulking guns, also known as silicone guns, are essential for the laying of linear sanitary joint or gluing in primary or lighter work. Manual or electric, the caulking guns dispenses sealant and silicone!
Important features
Rachet Rod
Electric
Output
What are the advantages and disadvantages of the rachet rod caulk gun?
---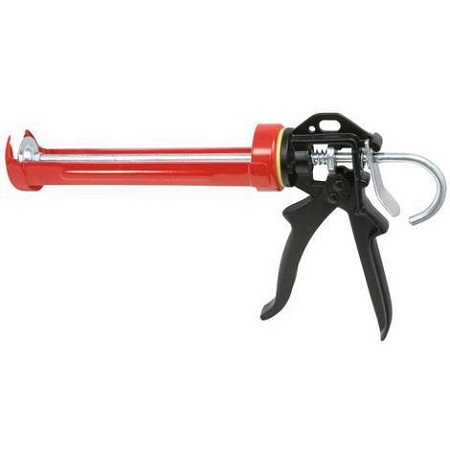 Due to its mechanical operation, the rachet rod
caulk gun
is
autonomous
and will not leave you in short supply in the middle of a job. Its simple mechanism also assures a flawless
reliability
. Its low cost and robustness are also major positive factors.
A certain dexterity is needed when wielding it to produce a consistent line with roughly the same diameter. Since the consistency and the amount of discharged
caulk
is based on the pressure exerted on the gun,
irregular pressure will result in a lopsided line!
For this reason, it is sometimes difficult to properly judge the amount of sealant needed.
In case of low temperature, the sealant or silicone will expand, forcing you to exert even more pressure.
If your gun is of poor quality and you stubbornly continue to push on it, its cradle might bend or the rod could fall out. In this case, rather than continue any unfruitful attemps to force it, simply heat your sealant or silicon. It's a much better solution that damaging the gun and wearing out your arms!
Explore the ManoMano catalogue
Caulk
What are the advantages and disadvantages of the electric caulking gun?
---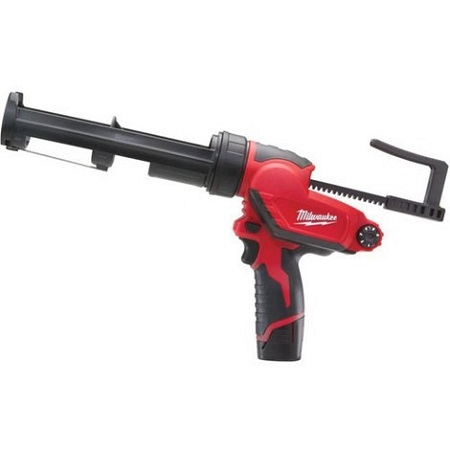 Three key words would qualify the electric caulking gun: precision, efficiency and comfort.
Precision

To succesfully lay joint in a straight line and of the same diameter, a constant flow of silicone is needed, so a lower or higher pressure must be exerted to alter the width of the line. The electric gun, allowing for a continuous and regular output, facilitates this type of implementation.
Efficiency

Only a small amount of sealant is needed to perform a precision joint or a low volume seal. The electric caulk gun, offering adjustable regulators, directly doses the amount of sealant or silicone output. No more under and over consumption.
Comfort
The electric caulk gun is perfect for
prolonged use
or for those who have a soft grip! You can also add more handy features:
A trigger lock ;
A provided needle for unclogging cartridges;
An anti-drip guard;
A loading indicator.
Explore the ManoMano catalogue
Cartridges
How to choose the battery for your electric caulk gun?
Ni-cd: nickel cadmium
Nickel cadmium represents the old generation! This battery is heavy and takes a long time to charge - not every time, but often enough. This type of battery features the memory effect: if a load is prematurely stopped, the component believes that it has reached its maximum charge and defaults to this value on the next charge. When done repeatedly, you end up with a battery that can no longer hold a charge. The nickel cadmium is more often used in basic models. Recent trends show it disappearing in favor of Lithium-Ion batteries. It is also highly recommended to let these batteries discharge completely before recharging, and remove them from chargers once fully charged. These batteries have a large number of charge cycles.
Li Ion: Lithium-Ion
The ultimate choice! This battery is light, recharges quickly - in about an hour and a half - and has no memory effect. A Lithium-Ion battery will give everything it has - or almost - until its dying breath, which can be tricky if there is no charge indicators. Lithium-ion batteries are powering more and more tools, maximizing both efficiency and comfort for the user.
Ni-Mh
Stands for nickel metal hybrid. Behind this mouthful of a name hides a rather heavy battery - weighing more than the nickel cadmium battery - and with a slight memory effect. This type of battery has fewer charge cycles than nickel cadmium - 3 times as less.
Explore the ManoMano catalogue
Chargers
Top tips!
---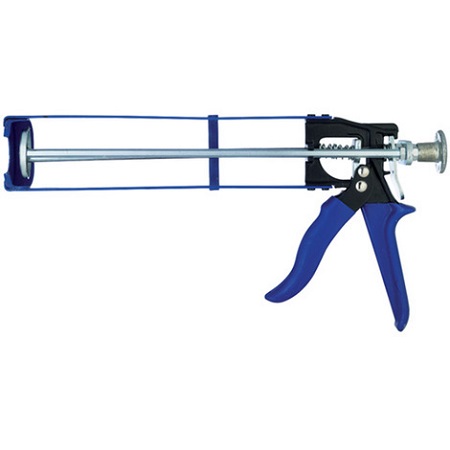 The choice of any tool must first be based on its requirements and needs.
The electric caulk gun is so accurate that for this reason alone, its a solid choice, especially if your work requires it.
If, on the contrary, you only are laying down a rough caulk, and using your finger to smooth and seal the joint, you may only consume one cartridge or two a week, in which case a rachet rod caulk gun is sturdy and has less chance of breaking if it falls off a roof!
Keep in mind that electric caulk guns are electronic devices and are totally dependent on their battery and their craftmanship. They are also more fragile and will quickly be noticed if left behind on a building site.
The
rachet rod caulk gun
has little to be jealous over, it is
inexpensive
yet
durable
and will lead to impressive forearms with regular use!
Usage tips
When you're done, simply allow a bit of sililcone to seep through the nozzle, so as to avoid damaging it by having to unclog it with a sharp spike.
Explore the ManoMano catalogue
Nozzle
More Information
For Do-It-Yourselfers who are curious and want more know-how, follow the links below to caulk related accessories, advice from our editors and more DIY guides:
For tips on other useful tools around the house:
How to choose your screwdriver?
How to choose your drill?
Guide written by:
Sebastian, self-taught DIY-er, Exeter 184 guides écrits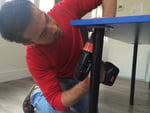 Redo a roof with wooden beams? Check.Advise Mister everybody in the DIY shop? Check.Redo the bathroom plumbing? Check.Fit together, build the walls, paint a partition, throw my hammer in a rage thinking that it will fix the problem? Check.

The DIY motto ? Learning is better than delegating… well, it's also a question about your wallet! The satisfaction? The beer at the end of the job! What do the best have in common? The influence of Gyro Gearloose, Mac Gyver and Carol Smiley depending on your generation, a good dose of curiosity, a average hand-eye coordination and a taste for risks… and if it doesn't work, try again! Advise you? I'll do my best!
The products related to this guide