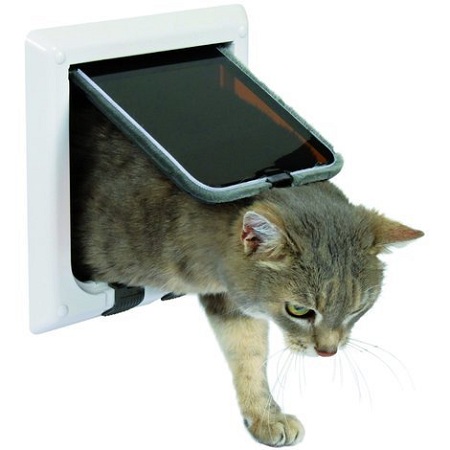 Cat flap buying guide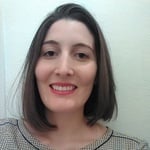 Guide written by:
Pauline, Self-taught handyman, Leeds
107 guides
Does your cat love to get out and about? If you don't want to open and close the doors and windows every time your feline friend wants out, your best option is to install a cat flap or pet door to let your cat come and go as they please. Read on to find the right type, size and opening mechanism for your cat flap.
Types of cat flaps
Cat flaps offer the ideal solution to satisfy your cat's need for independence! But did you know that cat flaps come in with a range of models with different features?
Your choice will come down to the number of cats you own, the size of your pet(s) and any specific features you are after. For example, if you are looking for a draughtproof cat flap that can be accessed in both directions, a microchip cat flap will be your best option. Alternatively, if your cat flap will be installed in a garage and you're not worried about neighbourhood cats getting in, you can go for a basic manual pet door.
Manual cat flap
---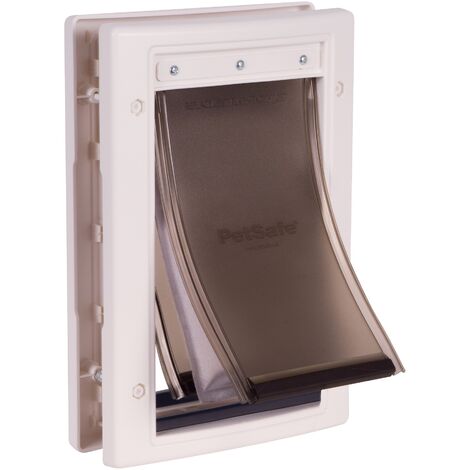 These are the most basic cat flaps available but will still allow your cat to come and go as they please. Your cat simply has to lightly push on the swing door to exit and return to the home. The swing doors may be made of plastic or aluminium.
Advantages and disadvantages of a basic cat flap
| | |
| --- | --- |
| | |
| | Any animal can access your home. |
| | Any animal can leave the home. |
| | |
Microchip cat flaps
---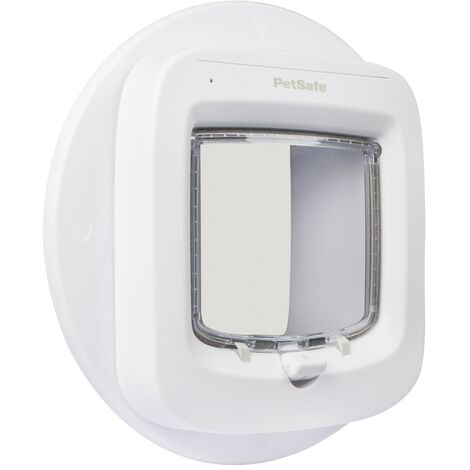 Don't feel comfortable having an accessible hole in your home? A great option is to go for a microchip cat flap which will only open if it reads your pet's microchip. Alternatively, these flaps may come with with a special magnetic tag to attach to your cat's collar. Register your cat's microchip to the door and your cat will be the only animal allowed to enter so you can say goodbye to curious neighbourhood kitties!
Some cat flaps come with a range of settings that will give you more control over the comings and goings of your pets. This can be handy if you have a cat that is ill or in recovery, or if it is raining outside.
These cat flaps are battery-powered so you will have to check the batteries from time to time to make sure you don't lock your cat out or in.
Advantages and disadvantages of a microchip cat flap
| | |
| --- | --- |
| | |
| Can control which cat leaves. | |
| Draught-proof and soundproof. | |
Explore the ManoMano catalog
Cat flaps
Where to install a cat flap
---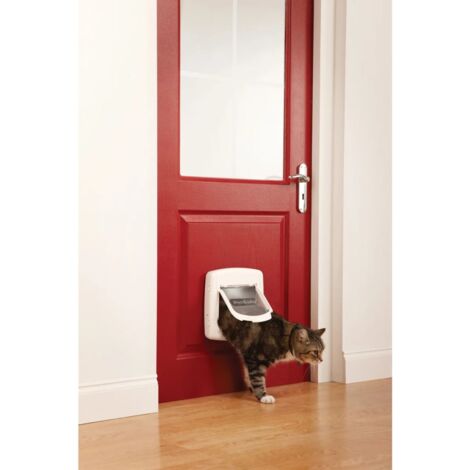 Cat flaps can be installed in a window, door or even a wall, depending on the model. However, not all cat flaps are suitable for all materials; the product description will indicate the types of materials in which the cat flap can be installed (brick, aluminium, wood, glass, etc.).
Cat flaps can be installed in single or double glazed windows. It is a good idea to have the cat flap installed before the window is put in place. Otherwise, you will have to cut out part of the window and this can be costly. The easiest option is to install a panel in the window or wall where the cat flap can be inserted.
Please note: the size of the hole required for installation will, of course, be larger than the size of the opening itself. Depending on the model, you may need to calculate around 2 to 6 cm more than the specified dimensions and about 5 cm in depth.
How to choose the right cat flap
Start by asking yourself the right questions in terms of the features you require.
Size of opening
---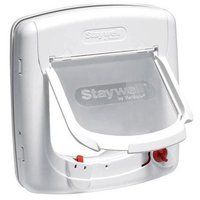 This simply depends on the size of your cat. If you have a larger framed cat weighing about 7 kg, you'll need to go for a cat flap with a large opening (around 17 x 17 cm, for example).

If you have a medium-sized cat, a standard cat flap (about 14 x 12 cm) should suffice.
Cat flap material
---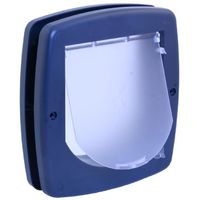 Materials that have been treated to withstand UV rays are more durable and will look new for longer.
Go for a hard-wearing plastic that will stand up to heavy use. Remember: a broken door often means changing your entire cat flap!
If design is important to you, make your choice based on the range of colours available. That said, most cat flaps tend to be white, grey or black.
Finally, it is possible to find cat flaps connected to tunnels to increase the depth of the opening.
Setting a microchip cat flap
---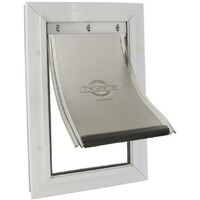 If you go for a microchip cat flap, there are three factors to think about.
How many cats do you want to register to the system?
What are the available features?
How many types of exit can you programme?
Some cat flaps (manual and electronic) come with a lock for when the cat flap is not being used.
Finally, don't forget to look into the power source (batteries or rechargeable batteries) and the length of the product warranty.
Explore the ManoMano catalog
Rechargeable batteries
Guide written by:
Pauline, Self-taught handyman, Leeds, 107 guides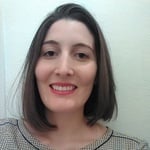 With a handyman-father, I grew up with the soft sound of the sander and hammer on weekends. I am both manual and cerebral (yes, it is possible.), I learned the basics of DIY and the customization of furniture because I was passionate. The salvage mentality is a true way of life that allowed me to know how to use all the tools and products needed to give something a second life, from sander to varnish. I have two favorite activities: the transformation of old furniture and decoration tips. I am always ready to lend a helping hand to revamp a table or to restore a mirror that was intended for the trash that will become a friend's centerpiece. I'm convinced that it's possible to reinvent an interior by small, regular modifications, I constantly research low-cost, test ideas.
The products related to this guide