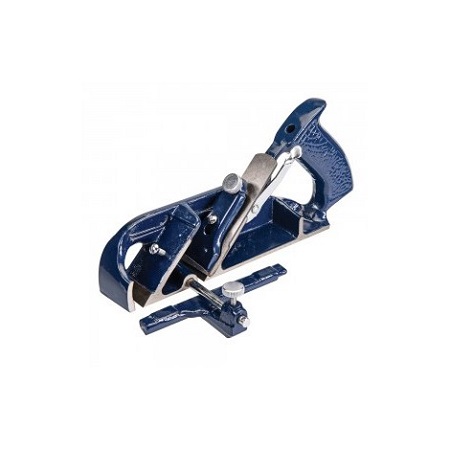 Carpentry and cabinetmaking tool buying guide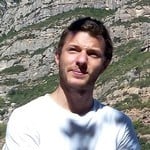 Guide written by:
Lucas, Antique wood-worker, Gloucester
27 guides
Carpentry and cabinetmaking are vast subject areas! Starting with the irreplaceable wood chisel to the hand plane, and ending with the punch, gimlet and the bench chisel, this article will turn you into a real expert on woodworking tools! Sculpting, trimming, drilling: each tool has its use. To the planes!
What are the different tools of the carpenter and the cabinetmaker?
---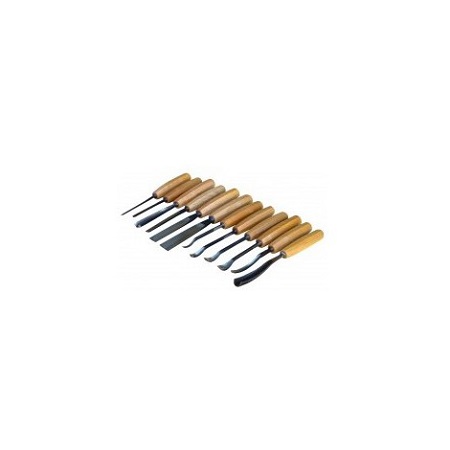 Although carpentry and cabinetry work in the same medium, there are a few differences between the two, as you can imagine!
For example, the cabinetmaker must undertake extremely detailed work while the carpenter - always a hot topic for the carpenter - will be content with a slightly less precise result in his work, especially in the cuts.
Each tool has a very specific function and it's important to note that there is just one single type of wooden chisel or hand plane. The judicious choice of these tools with dictate the quality and ease of the planned job.
Generally speaking, woodworking tools can be divided into three categories:
Cutting, trimming and sculpting tools. This includes bench chisels, bevel chisels, hand planes and other spokeshaves - no fear, we will elaborate in a bit!
Marking and tracing tools.
Now that we can see more clearly, let's keep going!
Explore the ManoMano catalogue
Drill bits
What are the main cutting and trimming tools?
---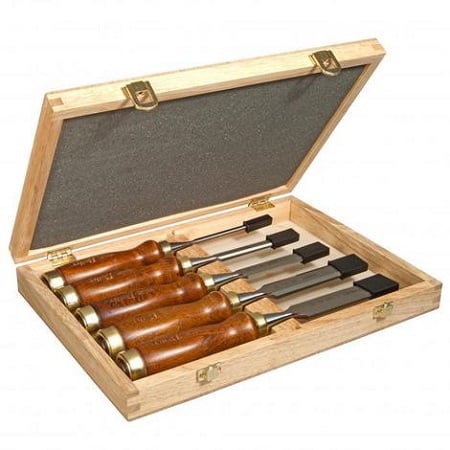 Used for trimming and sculpting, the tools are often sized in relation to the nature of the work. As you can imagine, you will not use the same chisel to reproduce Mona Lisa's nose on an olive tree as you would to carve a mortise on rafters!
Wood chisels
The blade:
For this element, there are several factors to consider. For the metal, without lingering too long on the need for quality, it is important to know that its toughness will dictate its cutting durability- even though they are harden to sharpen!
For beginners, it is best solutions is to find a compromise. Also consider looking at the bevel's angle - check between the cutting edge and the rest of the blade - because the higher the angle, the higher the resistance, but the more effort is needed! In general, a 30 ° bevel is perfect for everyday use.
The board:
This is the metal body, not including the blade. Another choice is imposed: a shorter length provides a more manageable chisel while the opposite gives you more stability on the piece of wood. Its thickness is on average 5 to 7 mm but it can obviously be more important for tools like the bevel chisel because more force is exerted.
The handle:
Made of wood or composite material. It all comes down to personal taste, each material has its pros and cons: purists often opt for wood but the composite handles are also very pleasant to the touch.
The width:
All dimensions are possible according to the structures to be realized.
From 3 mm to 10 mm: These are detail tools, for sculpture, for example.
From 10 mm to 30 mm: these chisel widths are intended for cabinet-making and carpentry.
More than 30 mm: known as the "heavy hitters", these are intended for carpenters. There are also chisels referred to as "roughing" - they are composed of one piece and are very resistant.
For a bevel chisel, you will need to consider the same factors. The bench chisel, however, presents an additional characteristic: indeed, it is a cutting tool with a rounded shape - referred to a half-circular. So other than its width, you must choose its desired angle.
Special chisels are also available; angled, flat, cross-cut ... but if you are still a novice, stick to the basic models!
Hand Planes

Three things will be crucial: its size, the type of iron and the available settings.
Concerning it's size, it really depends on the intended use: the bigger the hand plane and the easier it will be to sculpt a surface. If you're putting on the fishing touches, a smallerhandplane is much more suitable. Its iron is often reversible, which is very useful for save money in the long run. Just need to make sure they are of good quality and sharp.
The body of the plane may be made of wood, plastic, metal or cast iron. There are some slight differences between the different models:
The bench plane is intended for everyday work;

The scrub plane, which thanks to its elongated shape allows for a quicker removal of material and facilitates the exertion of user's force. Perfect for "roughing"!
The jack plane is further used for roughing: its iron is adjusted to penetrate the wood more efficiently.
The grooving plane has an iron of the same width as the body of the tool. It is used for precision work, creating grooves or indents.
In terms of quality, and it is recommended to start with this type of plane, it is possible to adjust the iron and the counter-iron according to the wood's toughness. Precision and durability are two key factors to look out for when purchasing a basic model.
Spokeshaves and scrapers

The plane is used to roughen or chamfer. It's key factors are its size and the positioning of the handles - straight, curved, offset. Be careful with your knees, as this tool is operated by pulling it towards you!Spokeshaves The spokeshave is similar to a smaller hand plane and is mainly used by cabinetmakers. It's unique due to the fact that the blade's depth is adjustable!

Scrapers
The wood scraper, if well handled, will give you a much better result than conventional sanding! The only issue is that the blade will become dull very quickly, and the only way to fix it is to become a master sharpener!
How do I efficiently drill wood?
---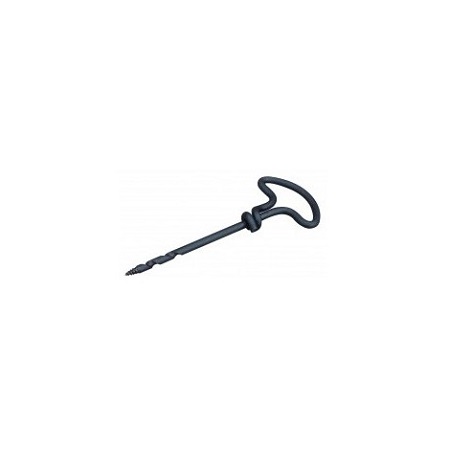 There are two different ways of drilling wood: drill bits and gimlets.
Drill bits
High helix drill bits
Perfect for everyday work. Readily available up to and upwards of 20 mm in diameter, it is easily mounted on your drill.
Low helix drill bitsMainly used in carpentry, because of its long lengths and large diameters- it can go up to650 mm. Its spiral shape provides perfect evacuation of the projected wood chips! Pay attention to the diameter, which is not necessarily compatible with your chuck.
Brad point drill bits:
Used to make holes (blind holes in carpenter lingo!) or pilot holes. Be careful not to overheat your machine when using large diameters because this type of drill bit requires a lot of power!
Gimlets, awls, augers
All the other wood drilling methods are manual and will make you arms tired!
Gimlet:
The gimlet is a thin tool for drilling manual holes of very little thicknesses. They are found in all diameters and are generally very cheap.
Awl:
Very useful in shoemaking but can also be practical for certain cabinetmaking tasks. For this model, you simply have to choose size and diameter!
Auger:Simply put, it's a big gimlet conceived for heavy duty jobs and users. It can make sizeable holes but requires a second pair of hands!
Explore the ManoMano catalogue
Drill
What are the different marking tools?
Before cutting your wood, you have to outline them! Being equipped with marking tools such as the scriber and the punch is crucial.
Scriber
A scriber traces on wood using its metal tip, dragged the length of the needed reference. Its important to verify its dimensions, in relation to the intended work. Its adjustement mechanism, either with screws or nuts must be solid, especially working with wood. Some of these tools could be considered real works of art but they are billed as such!
Punch

The punch marks the locations of any holes. It may be straight, angled or offset. Its ergonomics should be selected on the basis of the intended work.
Let us not forget the essential carpenter's pencil - capable of marking wet wood or even chalk - a quick sanding is all it takes to make them all disappear! In cabinetmaking, ultra-thin tracing is used; HB grade pencils are preferred because they are very effective on all woods.

There are many other tools that could be useful, however this article summarizes the tools needed in you carpentry survival kit!
Explore the ManoMano catalogue
Scriber
More Information
For passionate or novice carpenters and cabinetmakers follow the links below for carpentry-related accessories, advice from our editors and more helpful guides:
Guide written by:
Lucas, Antique wood-worker, Gloucester, 27 guides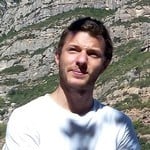 After some time busting my hump at construction, specifically at renovation, painting, carpentry, laying kitchen and bathroom tile, I decided to get my degree as a Carpenter. And I did well because nothing is more pleasant than working on a timber frame or designing a wooden house. Everything about woodworking fascinates me, and building my own home in this material is one of my goals. I'm also a follower of construction tools: I love to learn about innovations, the way they're used, the tips and tricks, or the performances of each new tool on the market, whether it's for woodworking or not. I would be happy to advise you and help you with your choices. Happy Tinkering.
The products related to this guide