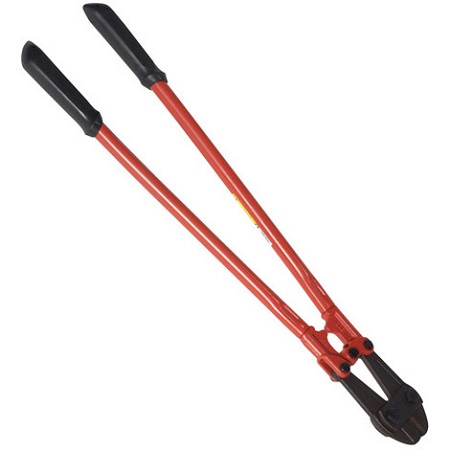 Bolt cutters buying guide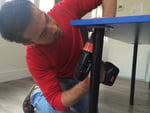 Guide written by:
Sebastian, self-taught DIY-er, Exeter
192 guides
Bolt cutters are the ideal tool for cutting through padlocks, chain links, mesh, cables or bolts. Equipped with powerful yet hardwearing jaws, these tools all vary in strength and feature handles of different lengths, depending on the kind of cutting force you require. Read on to find the best bolt cutters for you!
Uses of bolt cutters
---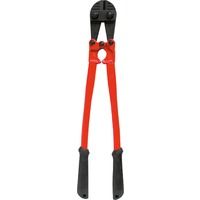 Used for much more than just cutting bolts, bolt cutters come in handy for a range of applications from the work site to the workshop. These cutting tools look a bit like a big pair of pliers and feature long handle that are used to apply leverage. This leverage is what allows you to cut through solidmetal objects by hand. Generally able to cut through up to 16 mm of metal, bolt cutters are commonly used in the following contexts:
Construction - for cutting through mesh and rebar;
Metalworking - for cutting through metal bars;
Electrical work - for cutting through large electrical cables;
Other applications - cutting through padlocks, chain links, etc.
Bolt cutters are generally not suited to cuttingthroughpiping as you risk crushing the material. Futhermore, you should not attempt to cut through alloys like stainless steel or HSS tool accessories (e.g drill bits) without the use of protective eyewear as these metals can burst under high pressure.
Explore the ManoMano catalogue
Bolt cutters
Picking the right size of bolt cutters
---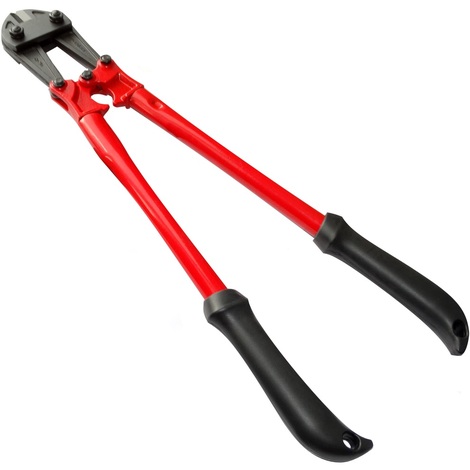 The amount of leverage bolt cutters can generate depends on the length of the handles: the longer the handles, the more cutting force the jaws can produce (of course, the thicker the metal, the more cutting force is required). Bolt cutters generally come in one of three sizes:
compact: designed to cut 5 mm, handle length of approx. 300mm; 
medium: designed to cut 10 mm, handle length of approx. 450 to 800 mm;
large: designed to cut 10 mm+, minimum handle length of 900 mm.
Determining the quality of your bolt cutters
---

The price of the bolt cutters varies depending on the quality of the steel used to make up the jaws.
It's worth investing in a good pair of bolt cutters as the jaws of particularly cheap models can twist or buckle under high pressure. Higher quality jaws will be made of ahardened andtempered alloy; many bolt cutters feature jaws made made of Chrome Moly. Depending on the model, you might be able to switch out the jaws of your bolt cutters if they become too damaged to use. These models also offer quick and precise adjustments. 
Forged handles will not bend while cutting and offer greater user comfort. Models with ergonomically designed handles are also more comfortable to use. 
The hardness of the jaws will determine the quality of the tool and its ability to withstand high pressure. A pair of bolt cutters will be classified according to the maximum hardness the tool can cut through, which is generally indicated as numbers on the Brinell and Rockwell scales.
Tips for purchasing bolt cutters 
If you are looking at budget bolt cutters, why not go for a 115 mm angle grinder instead? That way you'll be sure to be able to remove any resistant bolts or rods.
Go for a recognised brand if you are aiming for more professional use. You will be able to replace the jaws when necessary and use your tool as you like without risk of the jaws buckling!
Explore the ManoMano catalogue
Bolt cutters
Guide written by:
Sebastian, self-taught DIY-er, Exeter, 192 guides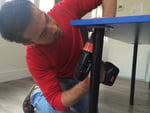 Redo a roof with wooden beams? Check.Advise Mister everybody in the DIY shop? Check.Redo the bathroom plumbing? Check.Fit together, build the walls, paint a partition, throw my hammer in a rage thinking that it will fix the problem? Check. The DIY motto ? Learning is better than delegating… well, it's also a question about your wallet! The satisfaction? The beer at the end of the job! What do the best have in common? The influence of Gyro Gearloose, Mac Gyver and Carol Smiley depending on your generation, a good dose of curiosity, a average hand-eye coordination and a taste for risks… and if it doesn't work, try again! Advise you? I'll do my best!
The products related to this guide