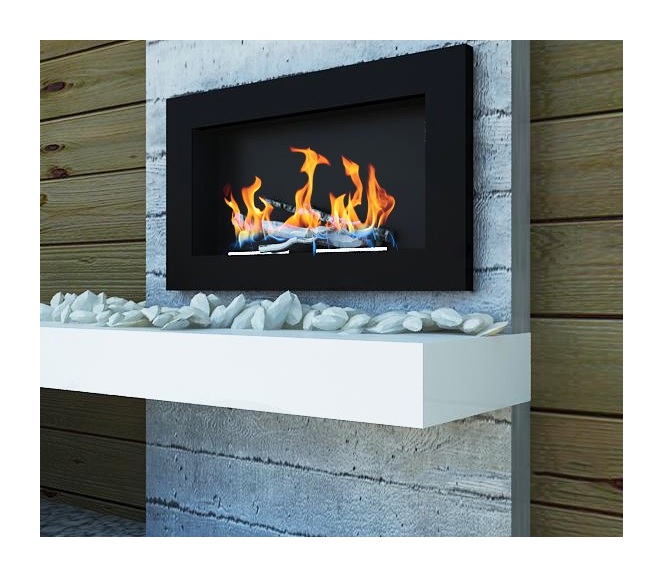 Bioethanol fireplace buying guide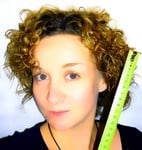 Guide written by:
Anne, Painter, Cambridge
35 guides
Bioethanol fireplaces come in a range of slick designs to suit every home. From wall-mounted models to insert or free-standing versions, these appliances provide a decorative touch and act as an additional heating source. Read on to find the right bioethanol fireplace for your home and discover tips on how to use it!
What is a bioethanol fireplace?
7 things to know before buying a bioethanol fireplace
---
Bioethanol fireplaces are used as additional heating sources to add a touch of charm to homes.
They function using biothenal and are therefore 100% fuel efficient; all the fuel is converted into energy.
In terms of consumption, bioethanol fireplaces consume about 0.4 litres per hour, meaning up to 50 hours of operation for a 20-litre fuel bottle. However, it is not usually recommended to leave your fireplace burning for over 3 hours at a time (please make sure to read manufacturer's instructions carefully).
It's not recommended to install bioethanol fireplaces in rooms measuring less than 10 m². It is essential to air out your home regularly when using a bioethanol fireplace.
A bioethanol fireplace will be easy to install. It's up to you to decide between free-standing, wall-mounted or insert models.
Burning bioethanol only releases water vapour and a small amount of carbon dioxide (CO²), so you don't need to connect the fireplace to a chimney flue.
Unlike electric fireplaces, bioethanol fireplaces produce real flames. They offer all the charm of a cosy wood fire without any of its drawbacks: you can say goodbye to the hassle of cleaning a wood fire! You should, however, be aware that the presence of flames does increase the risk of accidents.
Installation and risk prevention
It is necessary to ventilate the room where the bio-ethanol fireplace is used as they do emit small amounts of CO2.
It is highly recommended to install a carbon monoxide detector for risk prevention.
Free-standing bioethanol fireplaces are not an option for families with young children.
Explore the ManoMano catalogue
Carbon monoxide
What is bioethanol?
---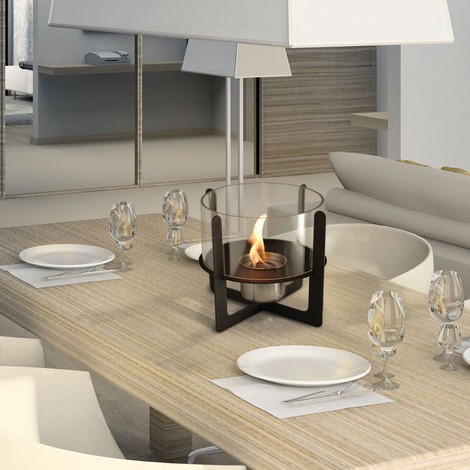 Bioethanol is a vegetable-based fuel known as biofuel. It is produced mainly from cereals (corn, wheat etc.), beet or sugar cane. Bioethanol is one of the most widely used biofuels around the world.
The fuel is obtained by an industrial-scale fermentation process which transforms the sugar or starch in the plants into raw alcohol. This is then distilled and dehydrated to the create bioethanol.
Bioethanol fireplace: safety and decorative burners
Bioethanol fireplaces generally fall into one of two categories.
Safety burner
---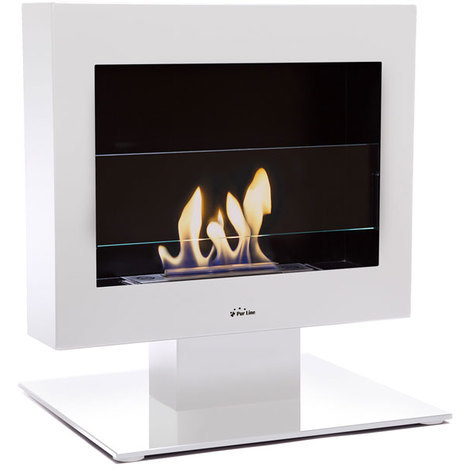 These burners feature a safety tray containing a porous material to suck up excess fuel caused by accidental overfilling. Safety burners offer a high level of operating safety as there is no risk of fuel spillage.
Decorative burners
---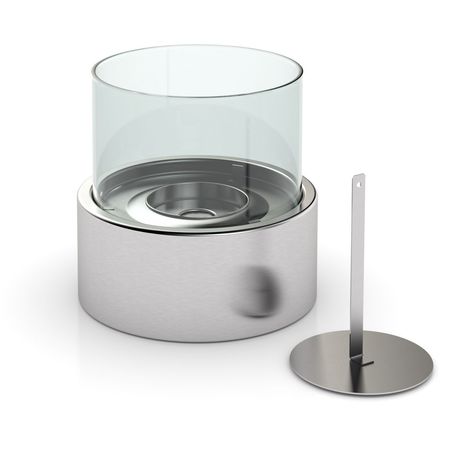 Featuring a relativelysmall fuelcapacity, these burners are less economical and are generally considered low-end models.
Explore the ManoMano catalogue
Bioethanol fireplaces
Different types of bioethanol fireplaces
Tabletop bioethanol fireplace
---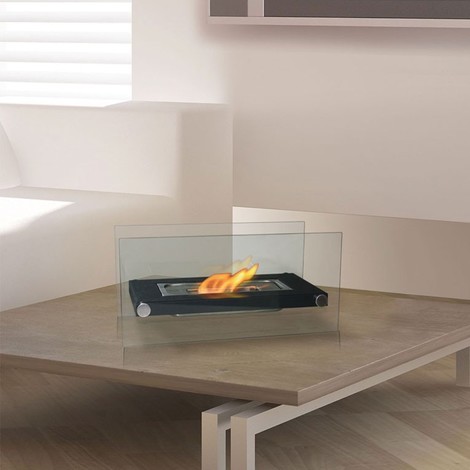 Bioethanol fireplaces are often used as a decorative element rather than a heating appliance. Tabletop models are oftencompact and easy to install on tables, cabinets etc. Bioethanol fireplaces are also availablein different colours and designs to fit in with your interior decor! These models are ideal for small and medium-sized surfaces.
Bioethanol wall-mounted fireplace
---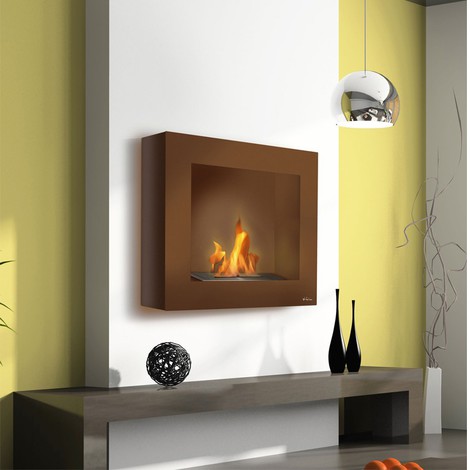 When mounted on a wall, your bioethanol fireplace can become a real decorative element! Designed to match your interior, these models are placed up high to keep them out of reach of children.
Wall-mounted bioethanol fireplaces are, however, limited to use in one room which must stay properly ventilated. These models are ideal for smaller areas as they do not take up any floor space.
Free-standing bioethanol fireplaces
---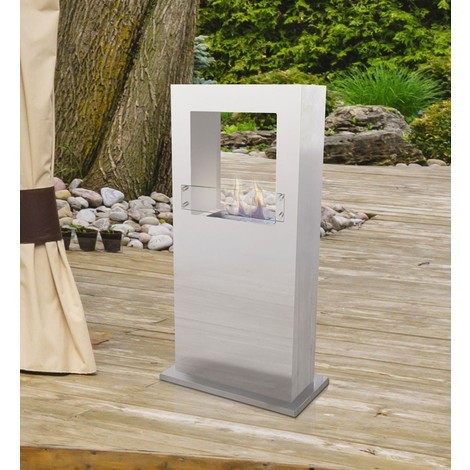 A practical option, a sturdy base provides stability and makes your appliance easy to move between rooms. Be careful, however, as this type of fireplace is likely to be within reach of children. These models are ideal for small to medium-sized surfaces.
Insert bioethanol fireplaces
---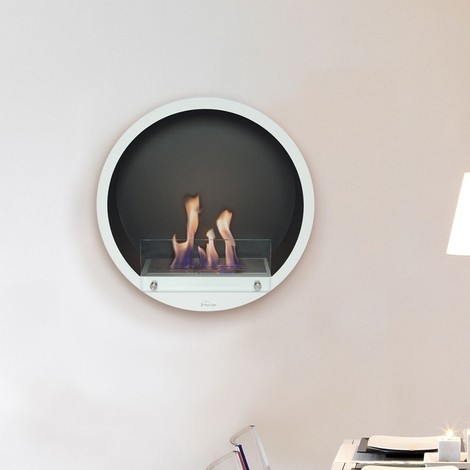 Some bioethanol installations are designed to be kept in the open hearth of your existing fireplace!
Some manufacturers even offer models in metal or stone. These models are generally more powerful and come close to competing with wood-burning fireplaces. They are therefore ideal for large rooms.
Explore the ManoMano catalogue
Wall-mounted bioethanol fireplaces
Choosing a design for your bioethanol fireplace
Increasing in popularity in recent years, bioethanol fireplaces have adapted to the increasing demand. And that's where the main advantage of these appliances comes in: with their striking designs, these appliances are right at the top of the list of decorative fireplaces! There are several criteria to consider when picking the design of your bioethanol fireplace.
Material
---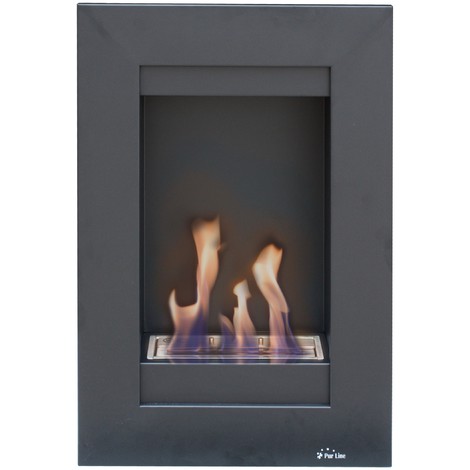 Purists will prefer a "wood" finish for its rustic appeal while design lovers will choose contemporary materials, such as wrought iron, concrete or stainless steel. If you're looking for an up-market finish, go for a marble or stone model.
Shapes
---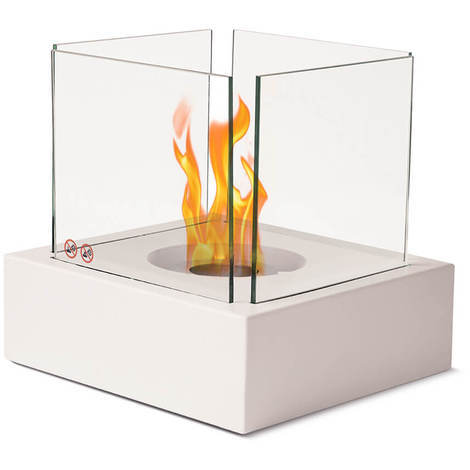 Bioethanol fireplaces come in a multitude of different shapes: from the more common (round, oval or rectangular) for a classic vibe, to the seriously quirky (square, wave-form, "sculpture" effect, etc.).
Colour
---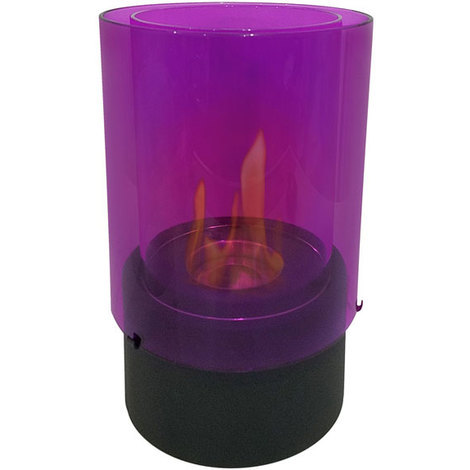 Go for a design that will fit perfectly with your existing decor. Choose black to keep it classic and simple, or opt for an on-trend shade (aluminium, stainless steel, white) for a clean and modern design. Or why not push the boat out with a bright colour (blue, raspberry, yellow etc.) for a more personalised style? You can even get bioethanol fireplaces with interchangeable covers that allow you to change up your style whenever you want!
Explore the ManoMano catalogue
Bioethanol fireplaces
Advantages and disadvantages of a bioethanol fireplaces
Advantages of bioethanol fireplaces 
---
Style: bioethanol fireplaces generally boast sophisticated designs, making them an item of decor in their own right.
Choice: building on its early success, you can now choose from many models in varied colours, designs, shapes and sizes.
Ease of use: pour fuel into the tank and carefully light the burner with care and that's it! To be safe, use a long lighter.
Odourless: Curiously enough, beet alcohol is completely odourless by nature! So you can fully enjoy the flames without any unpleasant odours.
Safe: most bioethanol fireplaces have an automatic shut-off after 3 hours.
Easy installation: this is the main advantage! Bioethanol fireplaces do not require any installation work as they don't need to be connected to a flue. Portable models can also be transported easily between rooms.
Clean to use: this makes them ideal for use in flats.
Disadvantages of bioethanol fireplaces
---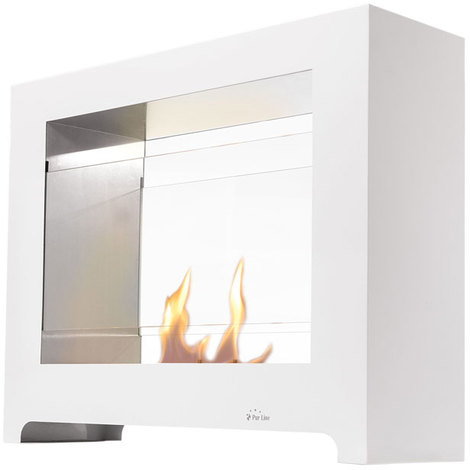 Limited heating power: this type of fireplace is considered to be a supplementary heating appliance.
Price: style comes with a price tag! The more sophisticated the aesthetic, the higher the price. The initial purchase price of these appliance remains higher than that of electric fireplaces and can vary enormously from one model to another!
Consumption: while they don't consume electricity or gas, bioethanol fireplaces are greedy! Bioethanol is generally sold in 1-litre bottles and these burners can easily use up that much in a single cycle.
Flammability: Ensure that your bioethanol appliance complies with the relevant BS standards to protect you against the risk of burns or fire.
Ventilation: bioethanol fireplaces emit a small amount of CO2, so it is essential to air out your room every 2 hours or so. You should also avoid using them in bedrooms or rooms where people may be resting.Storage: Ethanol bottles are highly flammable and hazardous. As such, they must be stored in a safe place, out of the reach of children and away from sources of heat.
Explore the ManoMano catalogue
Bioethanol fireplaces
Choosing the right power rating for your bioethanol fireplace
---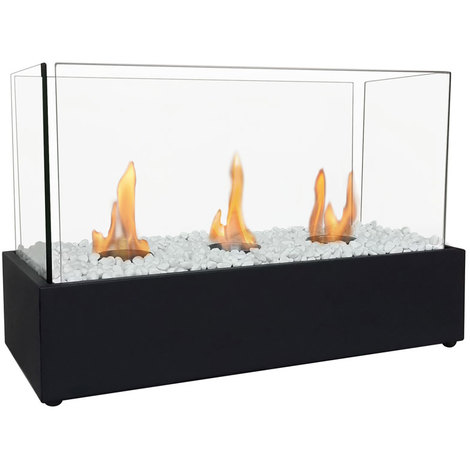 The amount of power you require will depend on where you want to install your bioethanol fireplace.
If your electric fireplace is free-standing and you plan on using it in a number of rooms, you'll have to find a good compromise to make sure it has enough power for each space. Remember that 10 m² requires 1 kW of power, so if the average area of your rooms is 15 m², choose an electric fireplace rated at 1500 W. Of course, if it's insert or fixed model, there's only one room size to consider.
Be careful not to overestimate the heating capacity of these appliances – electric fireplaces are more decorative than anything else. As already mentioned, electric fireplaces are designed to be used as supplementary heating devices.
Explore the ManoMano catalogue
Bioethanol fireplace
Final tips for choosing your bioethanol fireplace
---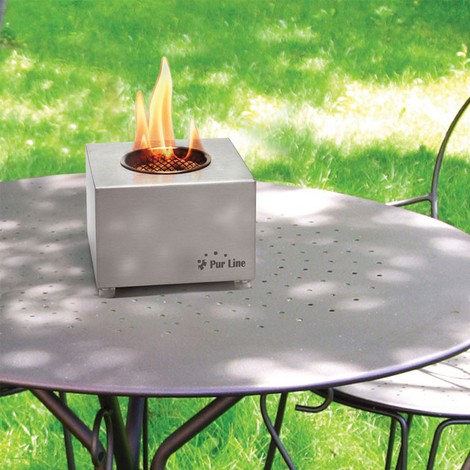 If you're a fireplace fanatic, a bioethanol fireplace is a great alternative to electric versions with false LED flames.
For your safety, make sure you follow the all manufacturer's instructions carefully. The use of these appliances requires care and vigilance as the dangers are real.
Make sure to read all instructions and don't try to save money on a cheaper model at the risk of buying a faulty or substandard bioethanol fireplace.
If you're looking to make savings, it's important to remember that, like any alcohol, bioethanol is best consumed in moderation!
Explore the ManoMano catalogue
Bioethanol fireplace
More information
To make sure you're getting the best out of your heating system, follow our editors' advice and check out their other guides:
How to heat your homeElectric radiator and heater buying guidePetroleum heater buying guideHow to choose your heat pump
Guide written by:
Anne, Painter, Cambridge, 35 guides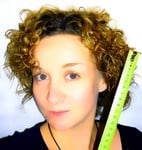 After 8 years of trade, I turned professional: I trained myself to be a painter and carpet layer either solo or with 16 years old comrades. 9 months later, following vocational school, my registration in Trades Directory, and the label 'Artisan' in hand, I created my company. And since then, I don't even touch my brushes. I'm a self-taught DIYer and decoration enthusiast, I love to find and restore furniture and to create unique decoration elements. I completed the restoration of my sister's house, this was last summer, with my niece: electrical, tiling, finishing, plasterboard...we did it all. And today, if I can share my experience I'm happy to do it. A total DIY enthusiast joke: 'What's the difference between a clown and a DIY enthusiast? A sense of humor.' Good Luck.  
The products related to this guide