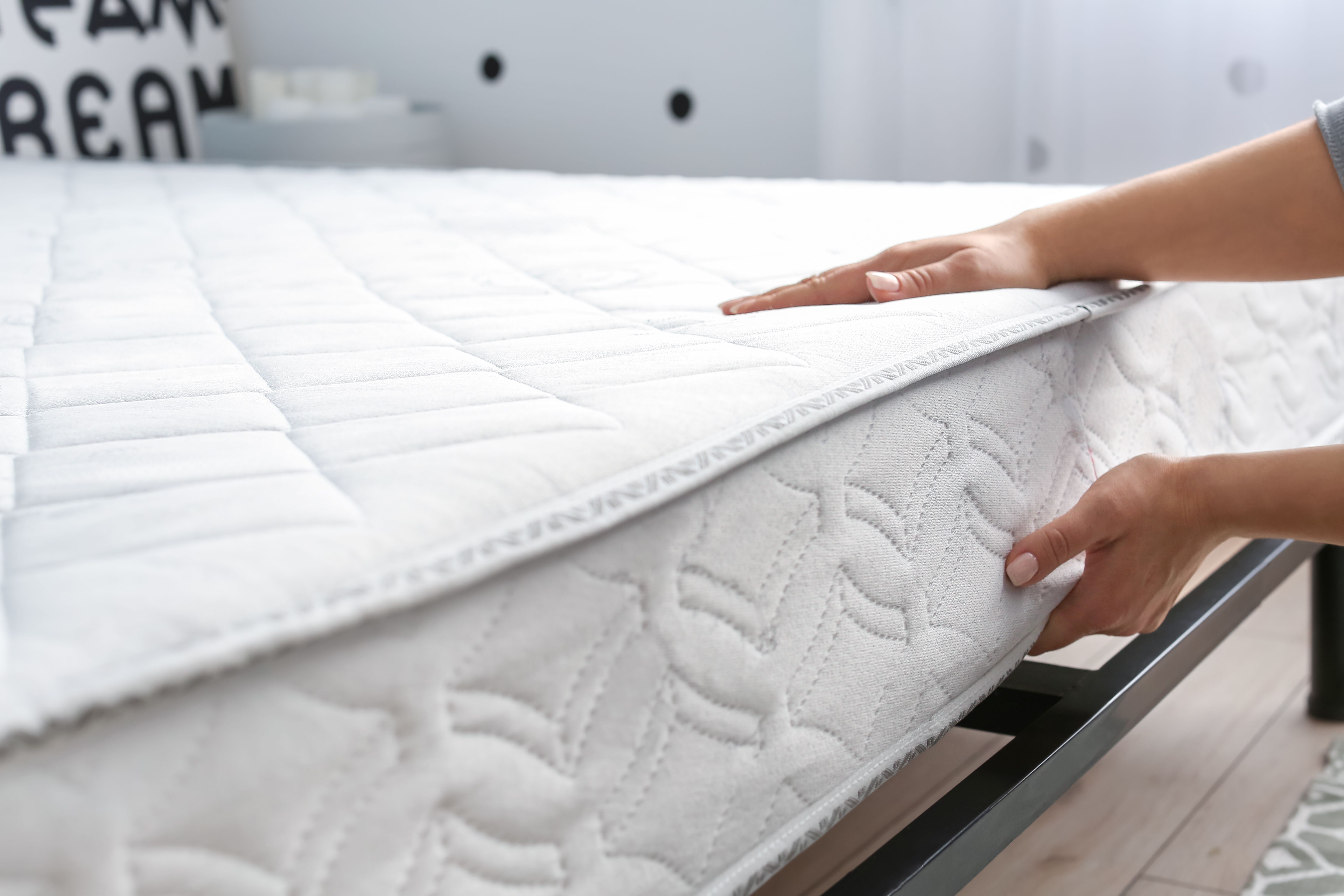 Bed base, mattress and headboard buying guide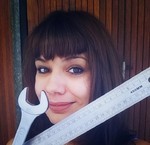 Guide written by:
Jennifer, Self-taught DIY enthusiast, Manchester
16 guides
Given that we spend around a third of our lives sleeping, it's essential to have a comfortable bed. From finding the best mattress and bed base to picking a headboard, your choices will depend on your body type, preferences, room size and style. Read on to find the ideal right bed and mattress for you!
Important features
Mattress size
Support and comfort
Bed base types
Mattress/bed base combinations
Headboard size
Bed leg height and fixings
Bed leg materials, shapes and diameter
Bed bases, mattresses and headboards: the essentials
---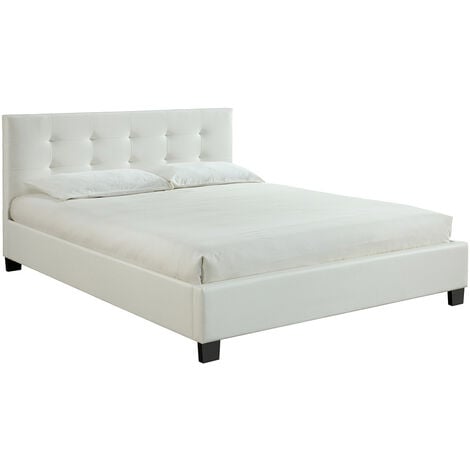 When it comes to finding the right bed set-up, there are a number of elements to consider:
slatted;
spring.
adjustable with either slats or disc springs.
a bed base, which is designed to absorb movements during the night; it can be:
foam: polyether, polyurethane (recommended) or memory foam;
latex;
spring.
a mattress, which also absorbs movement, should be chosen based on firmness (density), thickness, comfort zones (from 1 to 7) and material type, such as:
a headboard, which is primarily for decoration but can provide extra storage space;
a bed frame, which supports the bed base;
bed legs, which add height and ensure the mattress is properly ventilated;
pillows and bed linen.
We recommend choosing elements that work well together. For example, if you opt for a spring bed base, you should also choose a spring mattress, whereas a slatted bed base is perfect for a foam or latex mattress. Your mattress and bed base must be identical in terms of width and length. They should also be suited to the number of sleepers and long enough to accommodate the tallest person. As for comfort (firmness, number of comfort zones, etc.), it's all down to individual tastes and requirements (e.g. for people who suffer from back pain).
Your headboard and bed legs should match the overall style of your bedroom. It's also important to find bed legs that are the right height for you (a very high bed won't suit anyone on the shorter side) and the room itself (e.g. loft or attic bedrooms).
Explore the ManoMano catalog
Mattresses
Key criteria for choosing a mattress
Mattresses are designed to support you as you sleep and absorb your movements. They should be chosen according to body type (height and weight), any potential health issues and the amount of available space in the bedroom. Here are the three main factors to consider when choosing a mattress:
mattress size
mattress support
mattress comfort
These three criteria are essential as the type of mattress you choose will determine the bed base that you need. These two items are complementary and must match to ensure everyone sleeps comfortably.
Explore the ManoMano catalog
Bed bases
Mattress sizes
---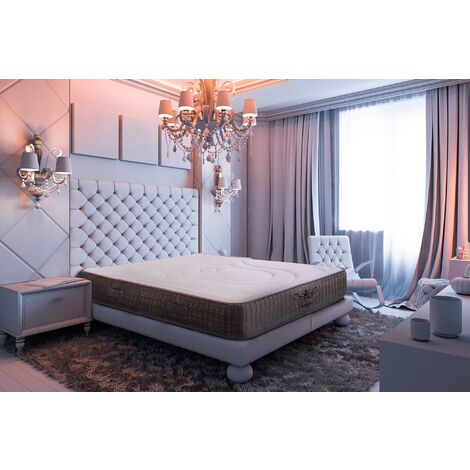 Although standard mattresses range from 190 to 200 cm, we recommend choosing a mattress that is at least 20 cm longer than the tallest sleeper.
When it comes to width, dimensions vary from 70 to 90 cm for a single mattress and from 120 to 200 cm for a double or super kingsize mattress.
Mattress support
There are 3 main types of mattress to choose from.
Foam mattresses
---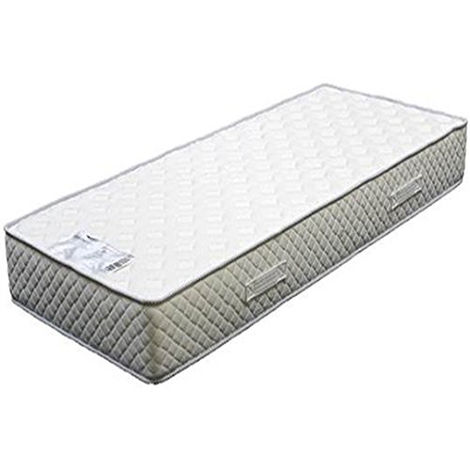 Foam mattresses can be made from polyether or polyurethane. Polyether foam mattresses are best suited to spare beds, whereas polyurethane mattresses are more flexible and durable, but are moisture-sensitive. Another option is memory foam: these firm mattresses provide enhanced comfort and cushioned support.
Latex mattresses
---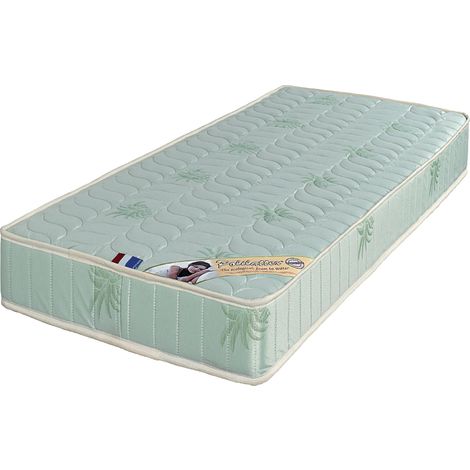 Latex mattresses can be natural, synthetic or a blend of both materials. Highly flexible and breathable, this type of mattress offers excellent support and can provide various comfort zones.
Spring mattresses
---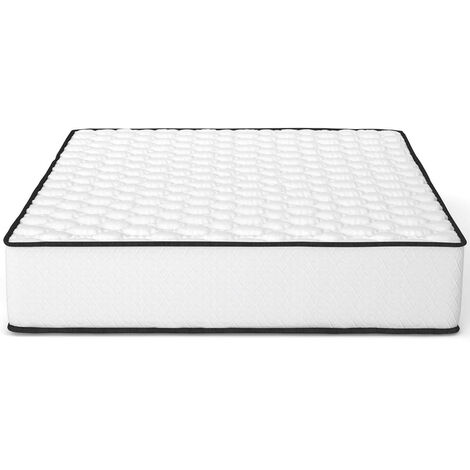 Although not as popular as they once were, spring mattresses traditionally comprise bonnell springs. Nowadays, you can choose from various types of spring, such as:
continuous springs: made from a single length of wire that is woven into a series of springs;
pocket springs: the most common option but can be expensive; these springs are all enclosed in their own fabric pocket. This technology offers optimal support, is great for two sleepers and provides excellent ventilation.
Different levels of mattress comfort
---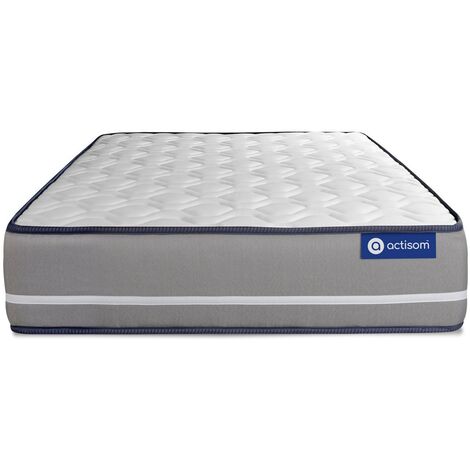 A variety of features will affect how comfortable a mattress is:
the mattress thickness depends on the type of support chosen: 15 cm minimum for a foam or latex mattress or 20 cm for a spring mattress;
the mattress firmness depends on the density of the material: the higher the density, the firmer the mattress;
comfort zones: mattresses can offer up to seven zones with different levels of support for each area of the body;
dual-sided summer/winter mattresses provide one warmer side and one side with greater ventilation.
Bed base types and mattress combinations
Bed bases are essential to getting a good night's sleep: they not only support your mattress but also absorb your movements while you sleep. Additionally, they ensure that the mattress is properly ventilated. There are a variety of technologies to choose from.
Different types of bed base
The most common bed base types are slatted or sprung, but you can also opt for adjustable bases with disc spring technology.
Slatted bed bases
---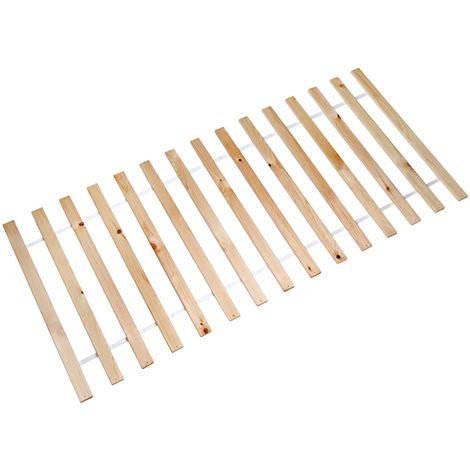 This is the most popular type of bed base. It offers enhanced support and mattress ventilation. Slats come in a range of different widths and spacing configurations. While they can be covered with ticking (a densely woven fabric), slats with no covering are more common and provide better ventilation for the mattress. Slats can also be equipped with suspension systems or slider bars to provide varying support for different parts of the body.
Sprung bed bases
---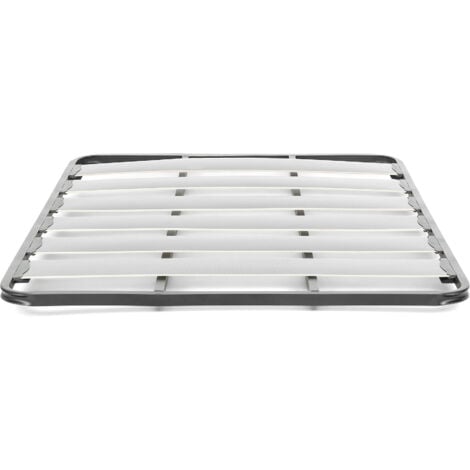 Whether equipped with bonnell or pocket springs, sprung bed bases are more efficient because they provide independent comfort for two sleepers in double beds. However, they offer less in terms of firmness and durability.
Adjustable bed bases for relaxation
---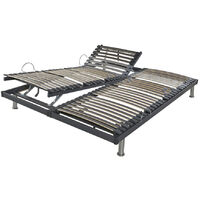 Adjustable bed bases are composed of either slats or rubber discs that can move in all directions to allow you to choose precise support for different areas of the body.
Finding the perfect bed base / mattress combination
---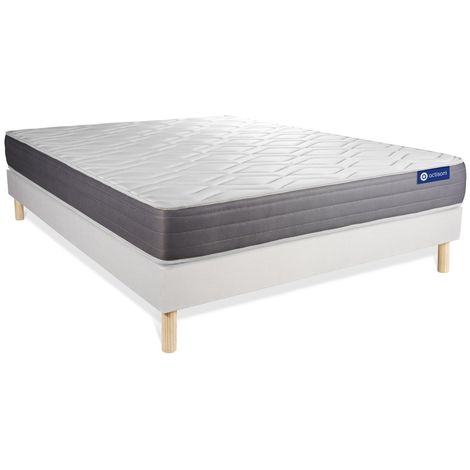 It's important to remember that not all bed bases can be combined with all mattresses. For example, sprung bed bases and divan bases normally go with spring mattresses, whereas a slatted bed base can be used with a wider range of mattresses, including foam, latex or memory foam.
In terms of length and width, the mattress and bedstead must, of course, be identical and chosen according to the number of sleepers and the height of the tallest user.
Explore the ManoMano catalog
Beds
Choosing the right headboard
Headboards not only add a personal touch to your bed, but provide a barrier between you and the wall. You can choose your headboard based on the style of your bedroom and any storage requirements you may have (since certain models come with built-in drawers, shelves or bedside tables).
Headboard sizes
---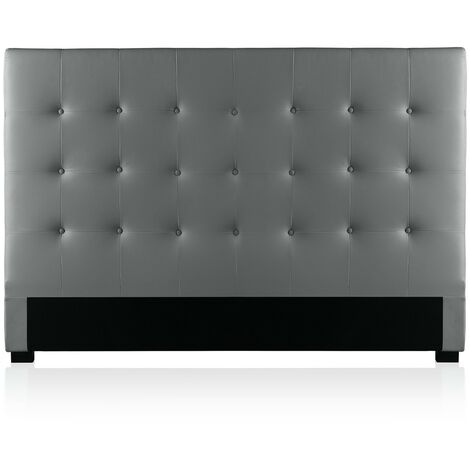 We recommend choosing a size of headboard that is suitable for both your bed and the bedroom overall:
When it comes to width, the headboard should be at least 10 cm wider than the bed and much wider if you want a headboard to enhance the length of the wall between bedside tables.
The headboard should also stretch at least 30 cm above the bed so that you can lean against it when sitting up in bed. Alternatively, you can choose a headboard that reaches the ceiling for added visual effect.
Headboard coverings
---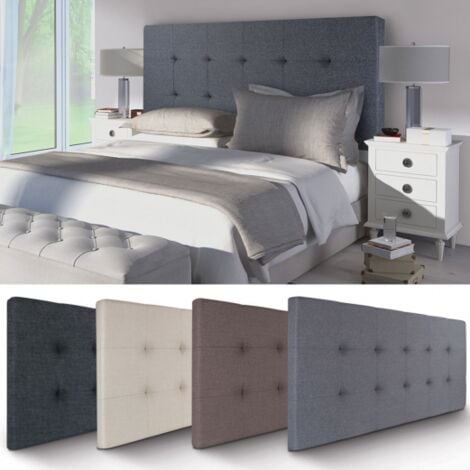 The material covering your headboard is essential both in terms of personal taste and desired comfort:
Wood comes in many varieties and finishes. While wooden headboards go with almost every style and are easy to maintain, they aren't very comfortable.
Upholstered fabric or PVC is available in a wide range of styles and colours and offers enhanced comfort at a wide range of prices.
Natural rattan or poly rattan (a synthetic rattan also known also as woven resin) can add a natural touch to the headboard and come in many shapes.
Leather or imitation leather (the less expensive option) headboards are elegant, cosy and offer a touch of luxury. Keep in mind, however, that genuine leather headboards must be cared for on a regular basis.
Choosing your bed legs: the essentials
Bed legs can be used to give your bed the height you desire. What's more, elevation is critical to ensuring proper ventilation for both your bed base and mattress. An elevated bed is also much easier to get in and out of. It also provides extra storage underneath, which is practical if your bedroom is short on space.
Bed leg height
---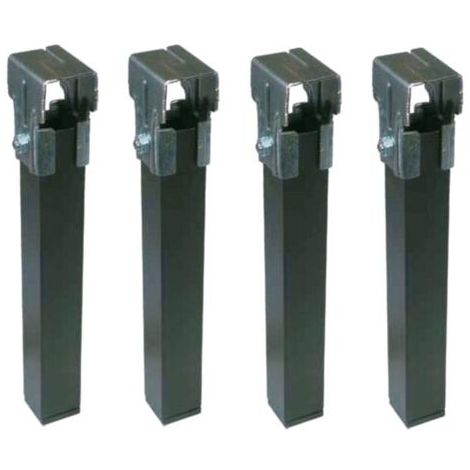 When it comes to bed legs, it's important to determine how high you want your bed to be. Your choice should be based on your personal tastes and requirements.
Bed legs measuring between 7 to 15 cm in height will make your bed feel relatively discreet. If you are on the smaller side or have an attic bedroom, we recommend opting for shorter bed legs.
When fitted with legs measuring around 15 cm to over 20 cm, your bed will become the key focus of the room. The standard bed leg height is generally 15 cm, while 20 cm is recommended for taller sleepers or those looking to slide storage under the bed.
Bed leg shapes and diameters
---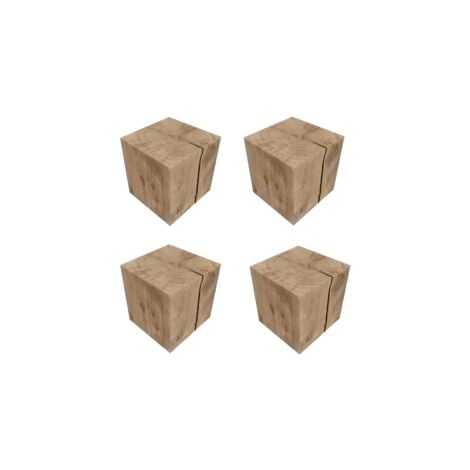 Square bed legs are more traditional and work well with any style of bedroom while round bed legs are best for rooms with more curved shapes.
Bed legs should be wide enough to support the bed properly and avoid marking the floor surface without being too bulky.
Bed leg materials
---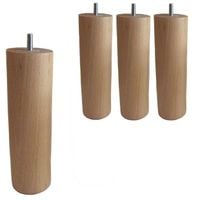 Bed legs tend to be made of either wood or metal. Both materials are equally resistant and long-lasting so your choice will depend, once again, on the overall style of your bedroom. Wood is a classic choice for traditional décor, while metal is perfect for contemporary settings.
Bed leg fixings
These days, bed leg fixings usually come with a standard 8 mm thread size. However, it should be noted that some brands still use a 10 mm thread. We recommend you check this before making your choice.
Guide written by:
Jennifer, Self-taught DIY enthusiast, Manchester, 16 guides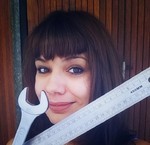 I didn't receive any special training, I learned everything on the job as it came up. And what a joy it is to be able to do little jobs around the house that we love so much. That is, until the moment we decided to move and had to do everything; from the floor to the ceiling, from the kitchen to the bathroom...In short, you become as good as a pros. So today, my friends don't hesitate to call me when they need help. And when you dip your toe in, there's no turning back. It's a true passion that drives us to take on the challenges, to have an idea in mind and see it come alive with just a few tools. And a passion is even better when you can share it. So, whenever I can give you a little advice, it's with great pleasure that I do it.
The products related to this guide