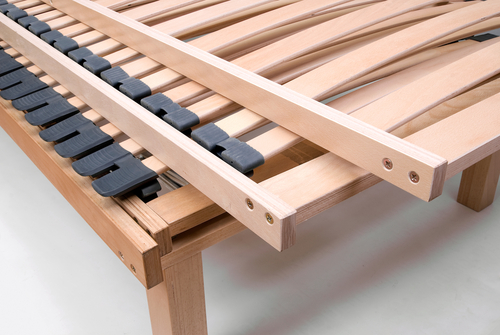 Bed base buying guide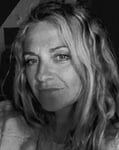 Guide written by:
Sylvie, Ecrivain & journaliste brico/déco, Essonne
197 guides
When it comes to getting a good night's sleep, finding the right bed base is as important as finding the right mattress. But what size of bed base should you choose? How do you decide between slats or springs? And how do you match your bed base to your mattress? Here are some essential points for choosing a bed base.
Key criteria for choosing a bed base
---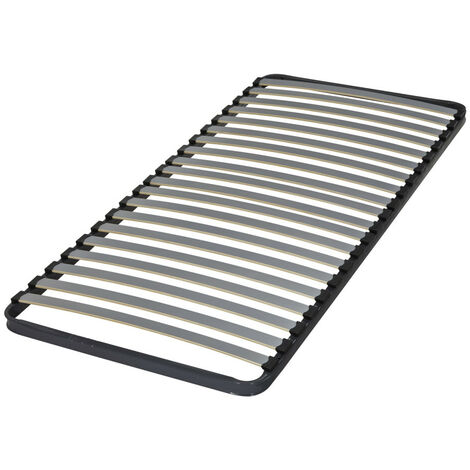 Both mattresses and bed bases are designed to cushion your movements while you sleep. That's why a decent bed base is just as essential to a good night's sleep as a mattress. What's more, the right bed base will help to extend the life of your mattress and enhance its quality by providing support and ventilation.
Some of the main criteria for choosing a bed base are the number of people using it (i.e. a single or double bed base) and the size of the user(s). In addition, if you are an independent sleeper, go for a split double bed base that offers a different level of firmness for each user.
You must also choose between the different types of bed base:
slatted;
sprung.
disc spring.
Slatted bases are very popular. The slats can come with or without a suspension system or sliders, allowing you to choose your own level of comfort. Sprung bed bases offer more flexible support while a model with disc springs (made from synthetic rubber) ensures maximum comfort, making this option ideal for people with back problems.
Last but not least, it's important to find the right bed base / mattress combination. Some combinations are not recommended, such as a sprung bed base and foam mattress, while others make the perfect team, such as a disc spring base and memory foam mattress.
Explore the ManoMano catalogue
Bed bases
Choosing the right bed base size
The size of your bed base should naturally match the size of your mattress.
Bed base width and height
Similar to mattresses, bed bases should ideally be at least 20 cm longer than the tallest sleeper, with standard dimensions measuring around 190 or 200 cm in length.
Bed bases for children begin at around 70 or 80 cm in width. Single beds for adults start at around 90 cm in width compared to 140 cm for a double bed. If there is enough room in the bedroom, the width of a king-sized bed base can stretch up to 200 cm.
Bed base height
---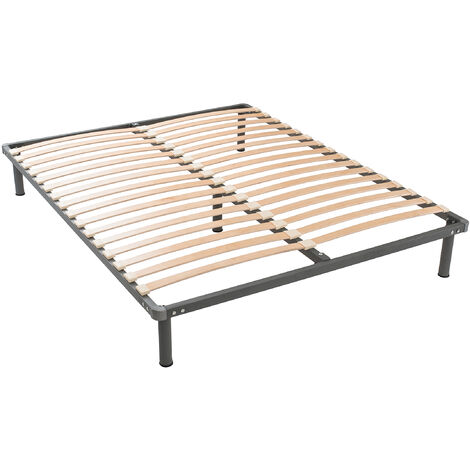 The height of a bed base is measured in terms of the leg height and the height of the frame itself. This can vary from 7 to 30 cm and should be chosen depending on your tastes – but keep in mind that the higher the bed, the better ventilation will be for the mattress and the easier it will be for you to get in and out of bed.
Double bed bases
---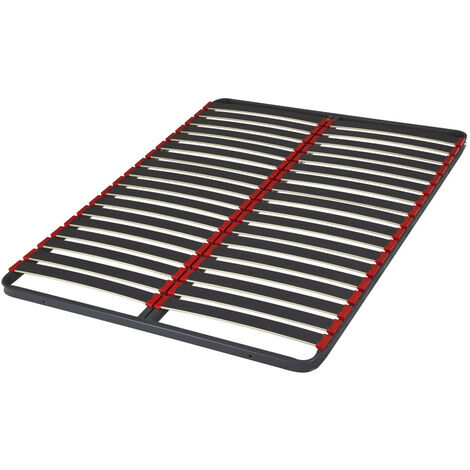 Since many people claim to have their sleep disturbed by their sleeping partner, some double bed bases are designed to provide completely independent sleeping. Whether you opt for one frame with two slatted bases or two separate slatted bases joint together, each partner can choose a different level of support according to body type and personal preferences.
Explore the ManoMano catalogue
Mattress
Choosing your bed base
Your choice of bed base should depend on your mattress and your comfort needs.
Slatted bed bases
---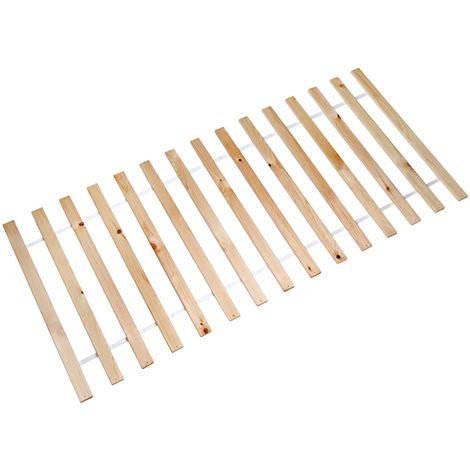 This type of bed base consists of a frame onto which wooden slats are attached. Slatted bases are particularly popular because they provide excellent support and mattress ventilation thanks to the spaces between the slats. The spacing of the slats can also vary.
Available in different widths, the slats may be visible or hidden:
Bed base with fabric-covered slats: The slats are covered with a densely woven fabric, or ticking, which renders them more discreet but somewhat hinders mattress ventilation. Consequently, this type of bed base is not recommended as the best choice for allergy sufferers.
Bed bases with exposed slats are the most popular and provide better mattress ventilation.
Slats can also be fitted with a suspension system. Slats with springs are more flexible and more effective at absorbing sleeper movements. You can also fit slats with sliders so you can vary the support across different areas of the body. Please note, however, that only visible slats can be fitted with a suspension system or a sliders.
Sprung bed bases
---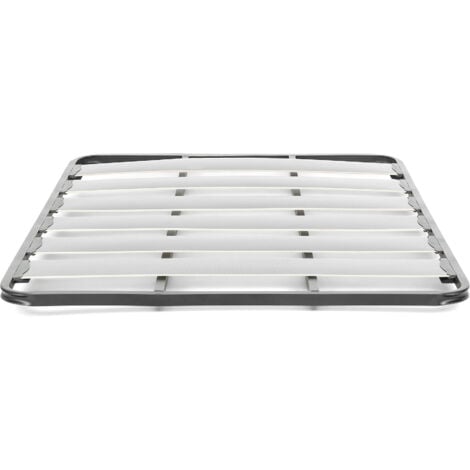 Best combined with a sprung mattress, a sprung bed base is made of double cone or pocket springs. The former are springs linked by steel wires, whereas the latter are each encased in individual fabric covers. Pocket springs are known to be a better choice for two sleepers and they offer effective support.
The more springs the bed base has, the more comfortable it will be. On the other hand, this type of bed base has some disadvantages that must be considered. In essence, they are typically less firm than and not as durable as slatted bed bases.
Adjustable bed bases for relaxation
---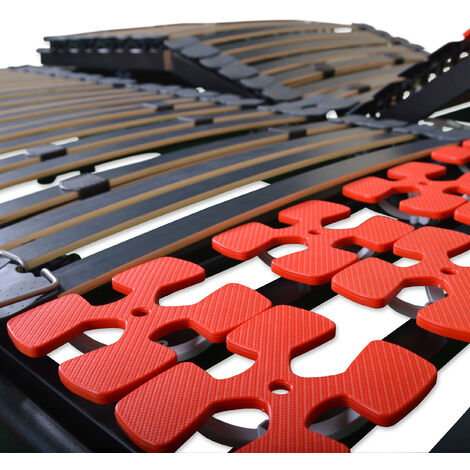 This type of bed base is hinged so that the bed can be raised under the legs or the head. These beds can be operated manually or electrically.
They are not only ideal for people who read or watch television in bed, but also for those with health issues such as respiratory or blood circulation problems. At the same time, a double adjustable split bed base offers unbeatable comfort for two sleepers with different needs and preferences. These models are made of two separate bases that can be adjusted independently.
Adjustable bed bases can also combine two different base types:
Slatsprovidefirm support, but no flexibility or precision. As with conventional slatted bed bases, they ensure excellent mattress ventilation.

Disc springsprovidefirm and zone-specific support. They are made of synthetic rubber square plates attached to ball joints. Designed to move individually, these plates are flexible and multidirectional.
Explore the ManoMano catalogue
Adjustable split bed
Choosing the right bed base and mattress combination
To guarantee a good night's sleep and ensure your bed lasts, your bed base and mattress must be perfectly compatible.
Guide written by:
Sylvie, Ecrivain & journaliste brico/déco, Essonne, 197 guides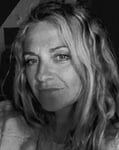 Après avoir travaillé au service de presse de France 2 et de la Cinq, j'ai choisi de laisser parler ma plume en m'orientant vers le journalisme et l'édition. Aussi éclectique dans mes goûts que dans mes écrits, passionnée de décoration et de bricolage comme d'histoire et de sciences, j'écris depuis plus de vingt ans sur ces thématiques. À mon actif : des ouvrages didactiques, romans et nouvelles, et de très nombreux articles brico déco regorgeant de conseils et d'astuces, expérimentés dans la vieille maison que je rénove peu à peu.
The products related to this guide