Bathroom sink buying guide
Guide written by: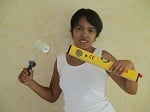 Holly, self-taught DIYer, Cardiff
21 guides
Wall-mounted, corner, pedestal, inset, countertop… there is a sink out there to suit every bathroom. Whether you're looking at glass or ceramic, double or single basins, classic or modern designs – or if you simply want a low-maintenance option – this guide will help you make the right choice!
Important features
Wash basin width
Pedestal height
Installing tap fittings
Wash basin material
Single / double basin
Choosing a wash basin based on function and installation
Pedestal wash basins, whether

modern

or classic in style, cannot be installed onto a base unit.

Wall-mounted basins

create more floor space

and offer easy access for those with reduced mobility.

Countertop and inset wash basins require a

sink unit

for installation.

Integrated sinks are made using the same kind of material as the countertop

and can feature a double or single basin depending on your needs and the size of your

bathroom

.
The care requirements of your basin are determined by your choice of material. Most commonly used are:
ceramic:

easy to clean;

resin:

easy to clean;

glass:

easy to maintain;

stone:

sensitive;

stainless steel:

easy to clean and hygienic.
Furthermore, your installation method will depend on the type of wash basin being fitted:
Wall-mounted wash basins require the use of a

drill

and

wall anchors

.

Inset basins are

cut into the top of the sink unit

using a

jigsaw

.

Countertop basins will require

minimal drilling

with a

hole saw

for drainage features.

Pedestal sinks must be fixed to the wall like wall-mounted basins.
Integrated sinks may be
fitted onto a unit or fixed to the wall
, depending on the model.
Wall-mounted wash basins are installed against a bathroom wall at the height of your choice. These sinks are designed to be attractive and easy to clean. They also take up less room than other models and can be easily accessed by anyone with reduced mobility. As these basins are hung from the wall, it is essential to choose the correct wall anchors.
Pedestal wash basins

---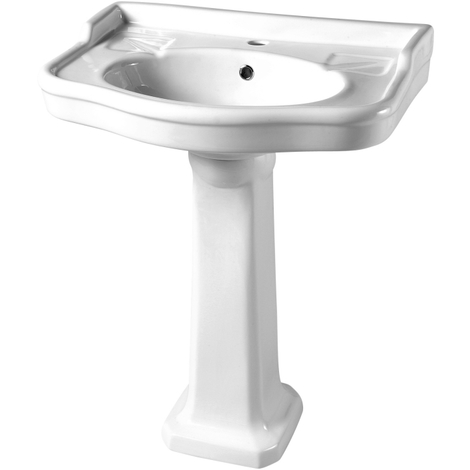 Pedestal wash basins look like wall-mounted sinks with the addition of a column that is fitted beneath to hide the waste and pipework. Pedestal basins have a more vintage feel but also take up more space in the bathroom. As the column does not actually support the sink, you will have to ensure that it is properly fixed to the wall.
Contemporary wash basin units
Contemporary wash basins or bowls usually require a base unit for installation and are generally regarded as the more on-trend choice, as they come in a large variety of shapes and colours. They also offer a wider range of innovative materials (for example, granite, wood, marble, stone, etc.) than their classic counterparts. These wash basins are split into three categories: inset, countertop and integrated.
Inset wash basins
---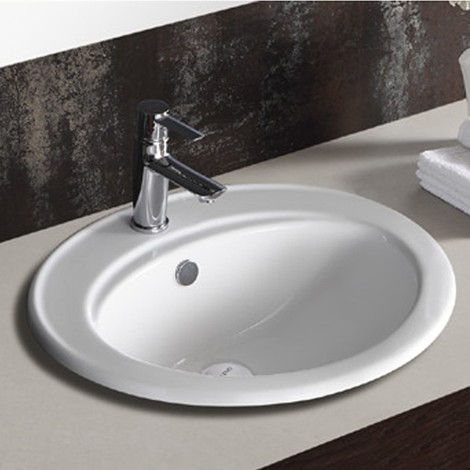 Inset wash basins are integrated into the unit itself meaning you will have to cut into your chosen surface. More complex to install than a countertop basin, inset wash basins may or may not incorporate the tap fittings.Countertop wash basins

---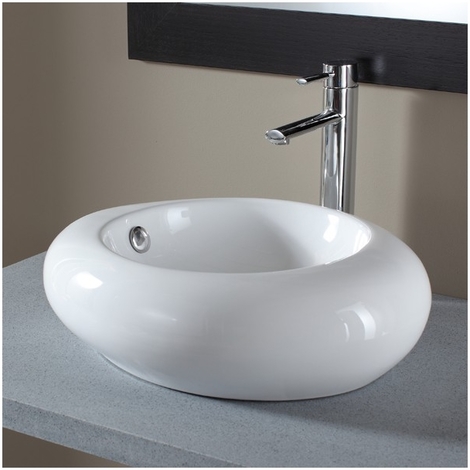 Countertop basins are easy to install as they are simply fixed to a bathroom unit or counter top – although you will still have to make cut-outs for drainage features.Integrated sinks
---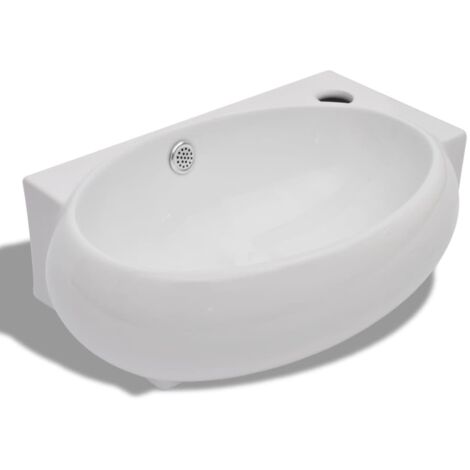 Featuring a counter and basin crafted from the same material, integrated sinks can either be wall-mounted or fitted onto a surface. As the basin and countertop form a single unit, there is a minimal risk of water leakage.
One-piece pedestal wash basins

---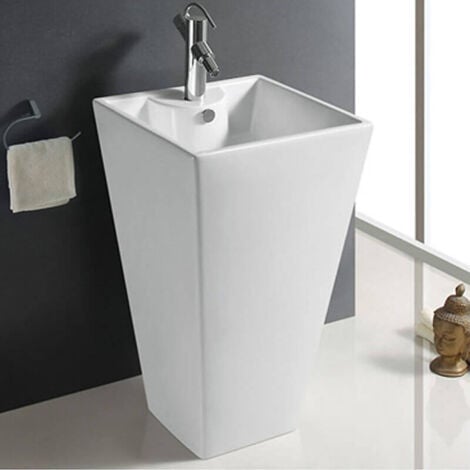 One-piece pedestal basins offer an unusual twist on the classic pedestal. Decidedly modern in style, their large size makes them ideal for bathrooms with room to spare.Made up of a single unit, one-piece pedestals are stylish and come in various shapes and colours.
Tiled countertops

---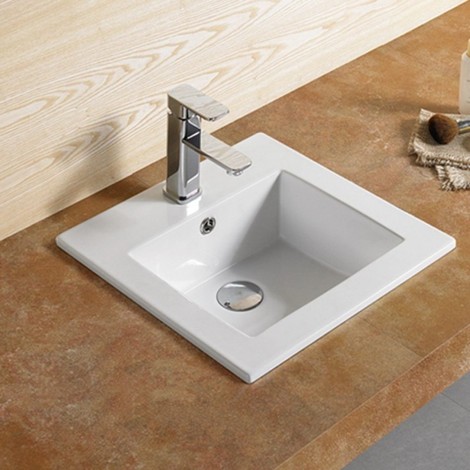 The countertop surrounding wash basins can be tiled or feature a mosaic design. These surfaces can be cut to shape and made into any size.
Contemporary wash basins come in a large range of styles and are easy to tailor to your tastes, offering a variety shapes (oval, round, square, rectangular, etc.) and colour options.
When opting for a modern basin, you can really let your inner designer loose and be creative with your choices!These wash basins also differ from traditional models in terms of how their tap fittings are installed. Contemporary basins will generally feature a single or dual mixer tap on the countertop behind the basin, while classic sinks typically incorporate the taps into the basin itself.
Traditional wash basins
---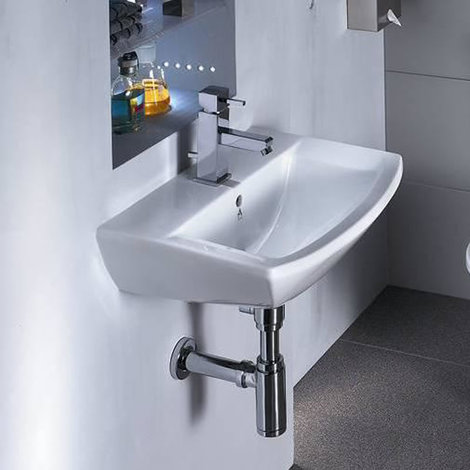 Although inherently retro in style, classic wash basin designs now come in a wide assortment of shapes and colours. Hard-wearing and pleasant to look at, these classic basins work well in any type of bathroom. While modern versions tend to require a bathroom unit to stand on, classic designs – such as pedestal sinks – only require a wall when it comes to installation.
Corner wash basins offer another great solution for optimising space in smaller bathrooms. Asymmetric in shape, corner basins tend to come in the more traditional wash basin shapes. Double basins, on the other hand, are suitable for any type of sink style (classic or modern) and are perfect for couples who start their day at the same time. The symmetrical look of these basins will also fit in perfectly with a contemporary-style décor.
While your decision will ultimately come down to taste, it is still important to consider the size of your wash basin. The width, depth and height of your sink must be appropriate for the layout of your bathroom. In general, traditional wash basins feature a width of 60 to 120 cm and pedestal sinks have an average height of around 85 cm.

Wall-mounted and inset basins are ideal for optimising space in a smaller bathroom as they can provide some storage space for towels and cosmetics. What's more, as wall-mounted sinks can be installed at the height of your choice, they present a more user-friendly option for those with limited mobility. They also offer direct access to the drainage/waste system. Built-in models have the greatest advantage in terms of storage as their vanity unit has been designed with space efficiency in mind. If your bathroom is too small for any of these options, go for a corner sink!
Contemporary wash basin types and features
---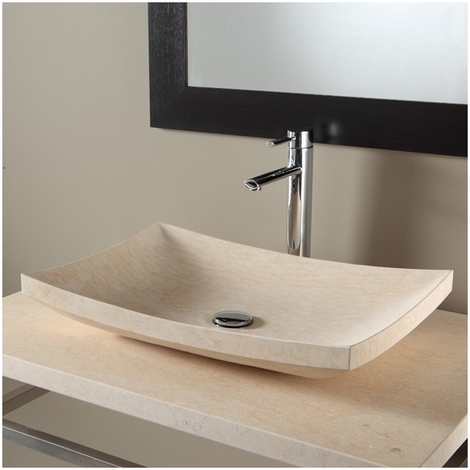 Taking up less room wherever space is limited, contemporary-style wash basins are generally more attractive than classic models and work well with any bathroom layout. Most basins feature a width of around 60 to 90 cm. However, this can range up to 70 to 120 cm for integrated sinks or double basins.
Counter top basins require the use of a vanity unit or an existing countertop. It is up to you to decide how much storage space or floor space you require. Composed of a single unit, integrated sinks are easy to install and lend a modern and minimalistic look to your bathroom. The added bonus of these basins is that they do not feature any joints to seal, making them fully watertight and easier to clean.
Explore the ManoMano catalogue
Basins
Wash basin materials
The durability and care requirements of your wash basin will depend on the material you choose.
Traditional wash basin materials
Classic wash basins can come in a range of materials including ceramic, stainless steel, stone, resin and composite materials.
Ceramic

---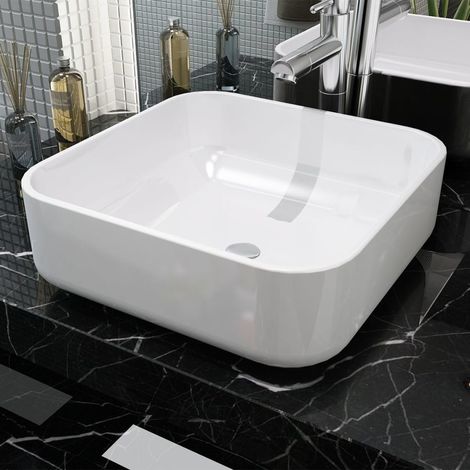 Ceramic is made using natural raw materials. Hard-wearing and scratchproof, this material is easy to clean and is resistant to limescale and chemical corrosion.
Stainless steel

---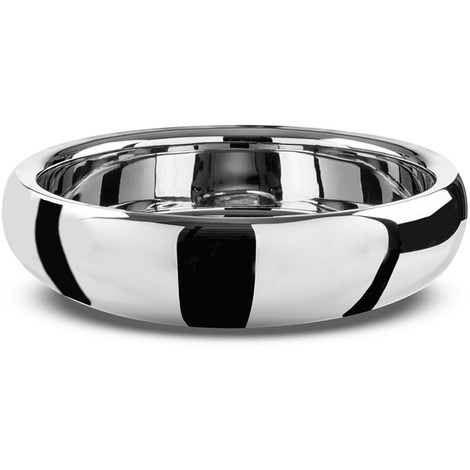 Stainless steel can only be cleaned using a mild detergent. It is shock-resistant, though susceptible to scratching. It boasts a modern and industrial-style look. Stone

---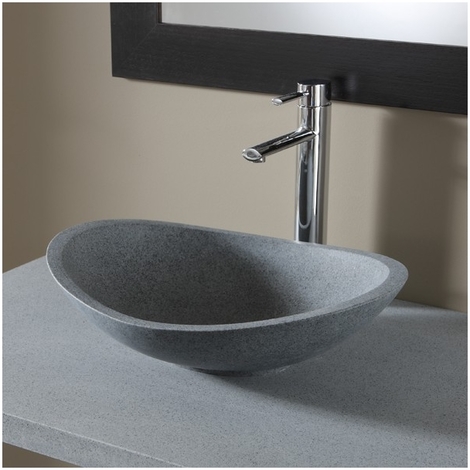 Stone is a popular option thanks to its thermal shock resistance. It is, however, sensitive to harsh chemicals; a little soapy water is all that is required for cleaning. This is generally the material of choice for zen-inspired bathrooms.
Resin and composite materials

---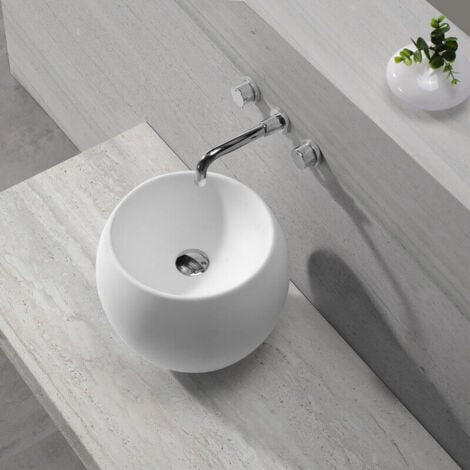 Composite materials, based on polyester resin, are starting to make an appearance in wash basin design. In addition to being easy to clean (using soapy water), these materials offer the highest possible hygiene standards and come in a wide range of colours and shapes.
Materials used exclusively in contemporary basins
Some materials can only be used for contemporary-style basins supplied with base units. Polished concrete

---
Polished concrete is a long-lasting material that offers an undeniably modern and contemporary look.Granite

---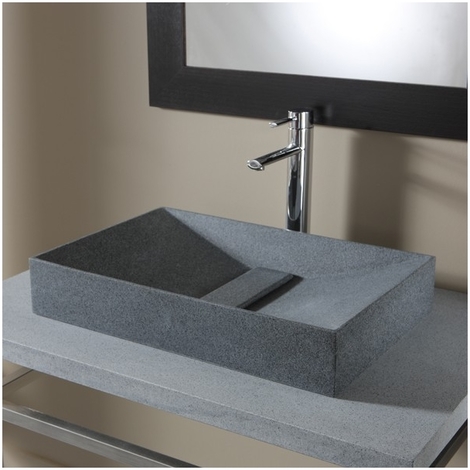 Granite is an equally resilient material and offers good resistance to thermal shock.Marble

---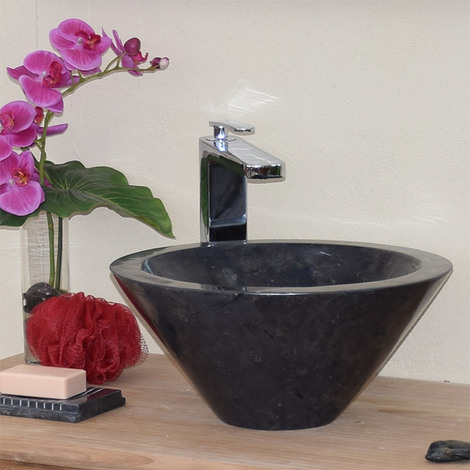 Marble is more sensitive than the other materials on offer and is generally only used high-end bathroom design. Its delicate care requirements require the use of specialist products.Glass


---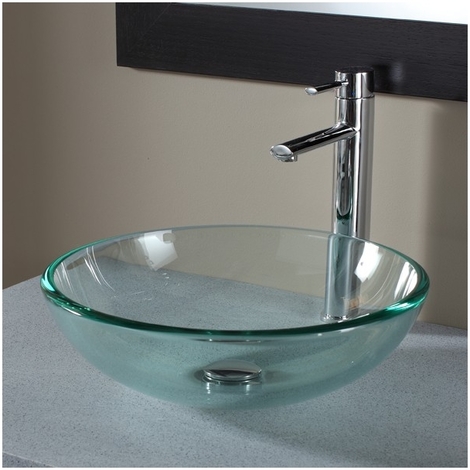 Glass is also fragile but will tolerate any type of cleaning product. It is hygienic, modern-looking and available in a wide variety of colours.
General points to consider
Design considerations aside, the material you choose will also affect

the price and care requirements of your sink.
Ceramic is the least expensive

and most commonly used material of all the available options.

Prices generally do not include the

fittings

or

base units,

both of which are

sold separately

.
Explore the ManoMano catalogue
Base units
Tips for choosing the right wash basin for your bathroom
Given that you use your bathroom sink every day, it's important to make the right choice.
In addition to the shape and size of the basin, it is important to consider its finishing features. Most importantly, you must decide

whether or not you require an overflow

. This is used for water drainage in order to avoid flooding.

An equally important aspect to bear in mind is the counter space behind your wash basin. This area allows you to keep products behind the basin itself, provides

easy access for cleaning and keeps your tap fittings within reach

.

Your bathroom is where every morning begins so you have to think carefully about appearance as well as practicality. You can't put a price on kickstarting your day in a beautiful bathroom!

If you have the space, by all means go for a

double wash basin. Be sure to

allow for a surface width of at least 140 cm for installation.

Built-in, or integrated, basins are usually equipped with an overflow to avoid flooding, unlike countertop basins which typically offer this as an additional option.

Countertops

can be made of various materials:

exotic

or laminate wood, stainless steel,

stone

,

marble

, and so on. Make your decision based on your own preferences – but don't forget to keep maintenance requirements in mind!

Selecting your

tap fittings

is another important task which boils down to two options: choose a

single-tap mixer

for greater convenience, avoiding waste, as well as a more modern look; otherwise, choose a

double-tap mixer

for a retro-style bathroom.

If you want something even bigger than the largest wash basins on offer, go for a tub sink

!
Bathroom furniture buying guide
Bathroom accessories buying guideSpa bath buying guide
Bathtub buying guide
Guide written by:
Holly, self-taught DIYer, Cardiff 21 guides écrits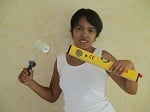 First of all, my studies have nothing to do with decoration or DIY as I was specialised in management.

My passion in DIY started 5 years ago (very recently!) Everything started when we bought a house to renovate from floor to ceiling. As I'm a self-taught person, I started working on different house project both inside and outside. My husband helped me but the student soon overtook the teacher!

And as there are a lot of green spaces in Creuse, gardening tools have no secrets for me. My friends and family often come to me for advice when it comes to DIY. Today, I want to share this with you!
The products related to this guide