Bathroom furniture buying guide
Guide written by: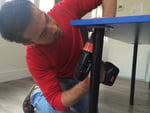 Sebastian, self-taught DIY-er, Exeter
187 guides
Bathroom cabinets, floor-mounted and vanity units are essential for store towels and toiletries. From the simple cabinet to elegantly designed furniture, here are the best tips for choosing your bathroom furniture, dimensions and fixings included!
Important features
Low furniture
High furniture
Countertop furniture
Wall mounted furniture
Materials
Dimensions
What are the different types of bathroom furniture?
Bathroom furniture
should be chosen according to the space available, your storage needs and your bathroom's configuration. It is worth noting the difference between:
An open unit that is not equipped with any doors and drawers;
Bathroom furniture with drawer(s) in which case it is necessary to provide a clearance for their opening;
Bathroom furniture with door(s) with which it is advisable to check the opening according to the location of the piece of furniture.
---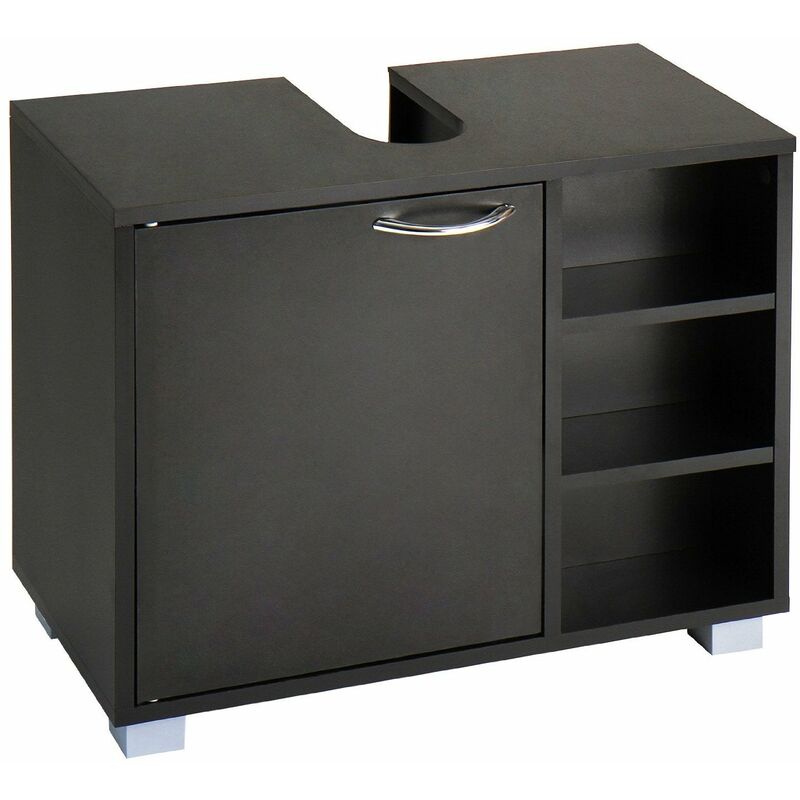 Bathroom furniture can be composed of different materials, including natural wood, medium (MDF), melamine but also rattan, wrought iron and glass. Depending on the desired style and ergonomics, you have the choice between design bathroom furniture, moder, contemporary bathroom furniture or even inexpensive yet classic bathroom furniture, composed of basic materials - in both quality and thickness of material, as well as assembly and accessories.
Bathroom furniture ican be also divided into two groups:
Built-in or free-standing bathroom furniture;
Wall-mounted bathroom furniture.
The dimensions should be estimated in the bathroom using a
tape measure
and the drawing up of a rough draft is strongly recommended before
furnishing the bathroom
and over or undersizing a piece of furniture.
Bathroom furniture
When equipped with
wheels
, a low free-standing cabinet can be moved around the bathroom and if it is robust, can even be used as a stool. Generally designed with one or two drawers, the low
free-standing cabinet
can be placed in a wall angle or underneath a taller piece of furniture.
---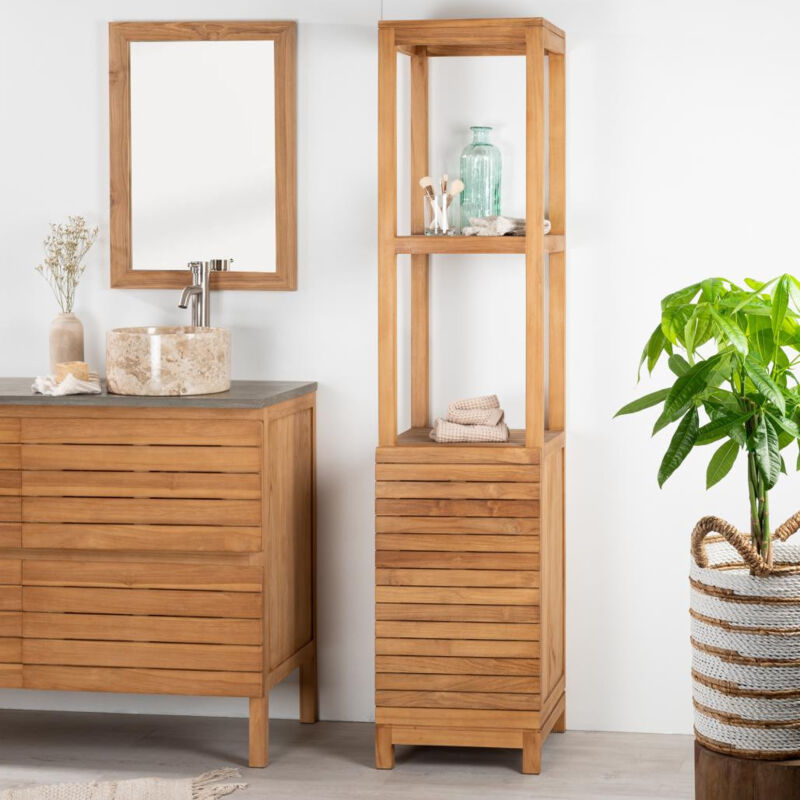 Bathroom floor units
Bathroom floor units are space-saving due to its maximum storage capacity. It can be free-standing or wall-mounted. Containing drawers, doors or open spaces, its configuration is to be chosen according to your bathroom's layout. The bottom compartment is most often used as a linen closet while the top as storage space is reserved toiletries. The bathroom column can be fixed for added stability.
Bathroom shelf
To hang or to place, right or angled, low or high,
bathroom shelves
are generally composed between two and five
shelves
. They are available in varying dimensions and can easily incorporate one or more drawers or a towel rack. A simple shelf is called a
table
.
Bathroom vanity unit
The
vanity unit
can be flush-mounted if the
sink
is on a column. It can also simply be a low cabinet that is integrated under a wall-mounted sink or vanity top. Its dimensions must not exceed the
depth of the sink
or
washbowl
. The vanity unit can include drawers, doors and shelf units. It must leave space for the passage of the evacuation system or the drain. Most Under-sink pieces have a the shape of a sink cut out to fit.
Bathroom cabinet
The cabinet can be of different configurations: one door, two doors, three doors, mirror(s), drawer(s) or lit- with LED, halogen, low-energy tubes or low consumption E14 light bulbs. Available in various sizes, the bathroom cabinet is wall-mounted and shallow. It can easily be installed over the sink.
Bathroom mirror
The bathroom mirror can be a storage unit if it has a shelf. To be fixed on wall, the bathroom mirror should be dimensioned according to the space available. It can incorporate, like the bathroom cabinet, lighting with built-in spotlights, LEDs, halogen etc. They also have a different types switches - simple rocker, touch sensor etc.
---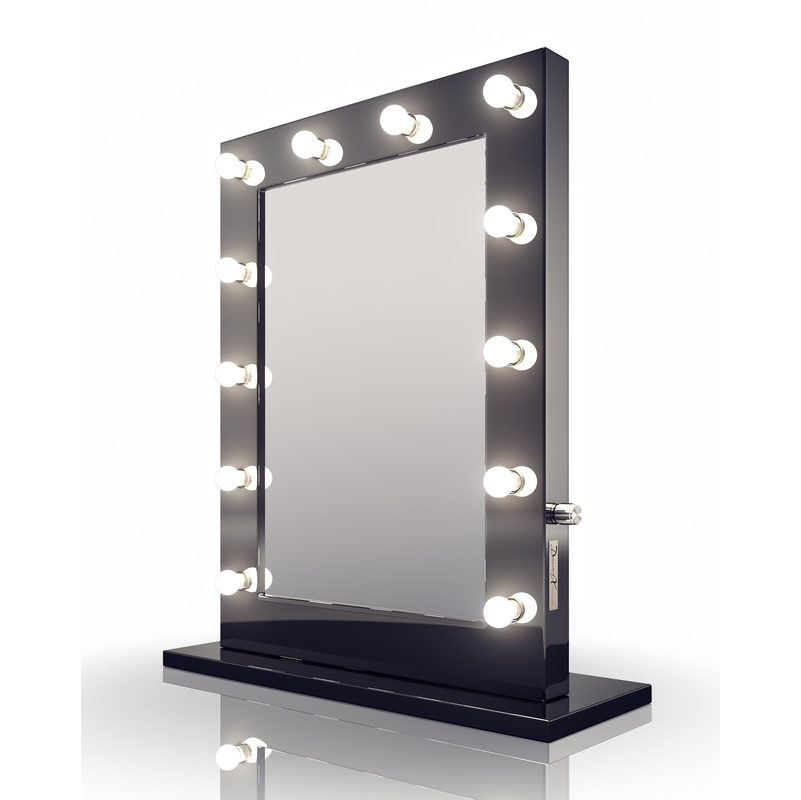 Bathroom towel rail
Bathroom towel rails can be designed as a low-height or medium-sized cabinet in which case they have an open storage space, one or more drawers and a bar to hang a towel. The towel rail holder can also be very simple, consisting only of two vertical round tubes connected by transverse tubes. It is then more regarded as a towel dryer because these are stored unfolded.
Use of bathroom furniture
Generally, the botton units
are storage areas for towels
,
bath mats
an /or toiletry supply. They are therefore not compartmentalized because they require large volume.
On the other hand, drawers are accessible and are most often between 80 and 110 cm high, so that it is possible to add a compartment or separations for more efficient storage. It generlaly contains products that we regularly use.
Shelves and other open furniture can accommodate fabric compartments. Available in different colors, these compartments are practical because they are independent of the piece of furniture in which where they are housed. Daily products such as soap dispenser, toothbrush, cream, etc. are stored in open spaces such as shelves and tables.
Hooks,
screws
or suction cups, offer effective alternatives to hang
light
, bulky
products
for everyday use - cotton, make-up remover, etc.
Explore the ManoMano catalogue
Bath mats
In which material to choose your bathroom cabinet?
Two main materials are distinguished in the manufacture of bathroom furniture, solid wood and composite materials. Each with different styles, composite materials allow for more modern and refined forms. Their price is often also lower, as is their quality and their manufacturing process' impact on the environment.
---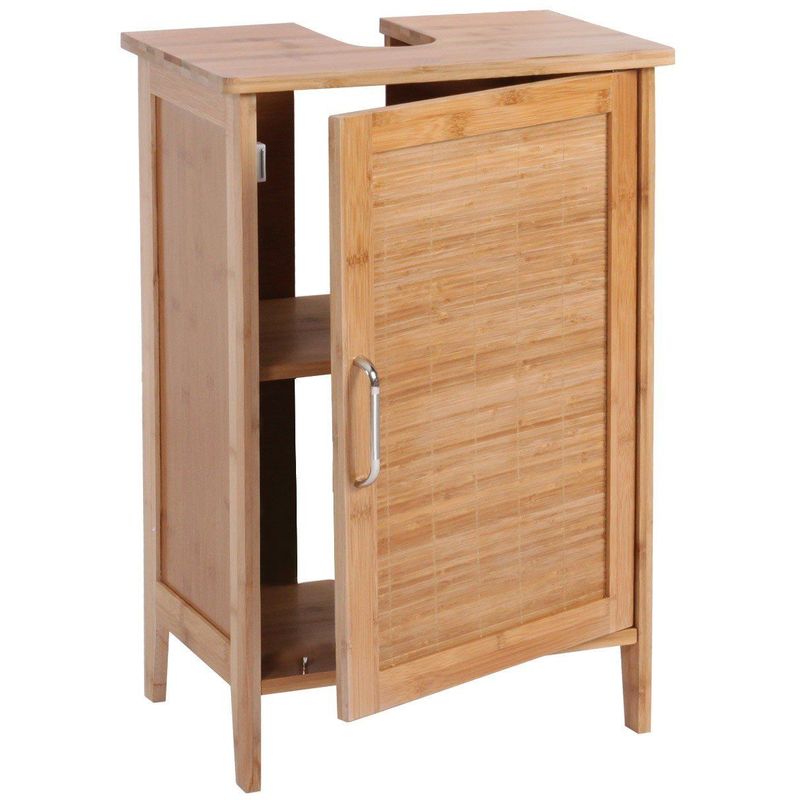 Solid wood bathroom cabinet
Solid wood furniture can be of different species, but there is a dominant position with exotic woods for their intrinsic properties: easy maintenance and highly recommended in moist environments because they are rot-proof. Most solid wood bathroom furniture is composed of teak, eucalyptus, mahogany or bamboo. However, it is advisable to apply the appropriate oil on any exotic wood and if the essence is that of a coniferous tree - fir, pine etc. - and that the wood has not been treated, a varnish to ensure its protection. Choose a timber from a sustainably managed farm - FSC (Forest Stewardship Council) or PEFC (Forest Certification Schemes).
---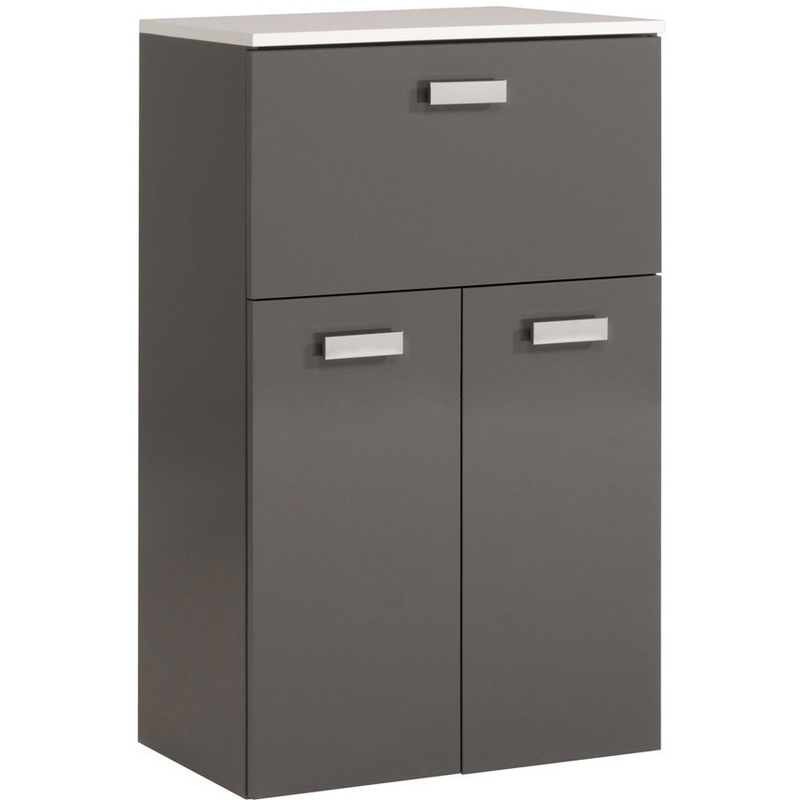 Bathroom furniture made of composite materials
Melamine or particle board
Bathroom furniture made of melamine or particleboard are readily available and inexpensive.
Made with wood particles pressed and laminated with different decors - white, anthracite, walnut, beech, wenge, pine etc., the melamine can be lacquered with a modern painting - red, green, aluminum etc. - and be of finishing brilliant, metallic, satin or matt. The particleboard composes the majority of bathroom furniture that comes in kits and remains very light.
Easy to clean, it is recommended to try and protect the particle board from any water sprays or else you will witness their edges swell under the moisture.
Medium
Medium is technically referred to as MDF, or Medium Density Fiberboard, which is pretty much the same in french. Medium is a heavy and stronger composite material than melamine. Consisting of wood fiber and a binder, MDF is subjected in its manufacture to high pressures and temperatures. Like melamine, the MDF is covered with a decor and mostly lacquered. The medium is more expensive to buy, used for better quality furniture and modern finish - metallic colors, aluminum etc.
How to fix a bathroom cabinet?
The majority of wall-mounted bathroom furniture is supplied with a
fixing kit
including
screws
,
dowels
or fixing plugs.
Fixing plugs
are most often intended for
use in solid materials
which is far from being a common factors for the walls of all bathrooms. For this reason, it is advisable to
choose your fixing plugs
based on the support.
---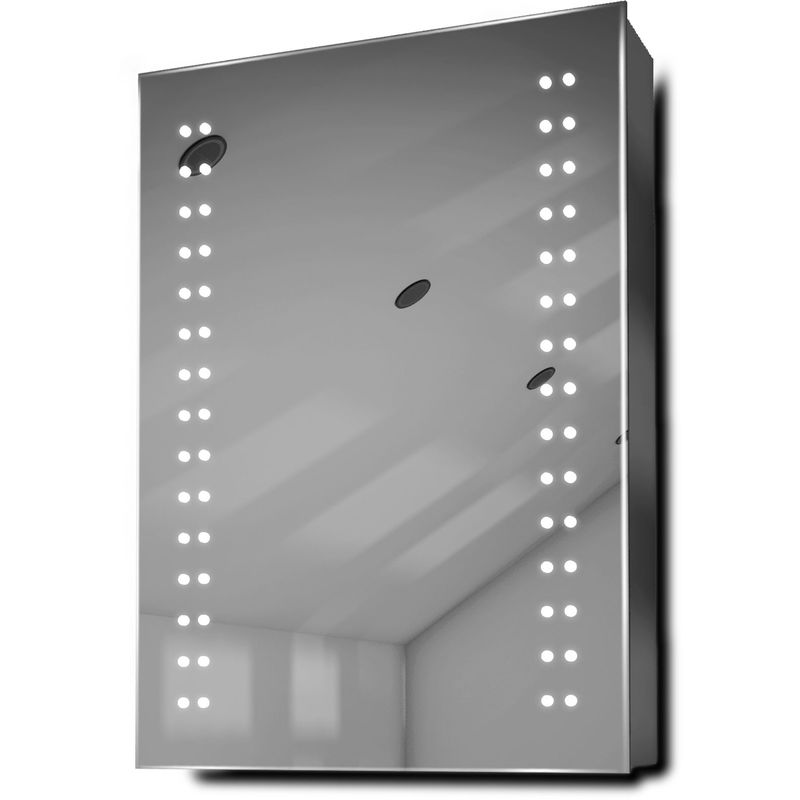 The fixing and the installation of the bathroom
cabinets
and mirrors may require you to
drill tiles
. In this case good
drill
with proper
drill bits
will be required.
Tall free-standing units can also be fixed in order to prevent any tipping over. Two mounting tabs on the top of the cabinet are quick to install and limit any accidents - strongly recommended for homes with small children.
Any installation instructions for electrified furniture must be strictly respected, in particular with regard to the respect of the bathroom's safety volume.
Bathroom safety volume
Volume 0: from the bottom of the bath/shower tray with 60 x 60 cm square base.
Volume 1: from the bottom and perimeter or contour of the bath/shower to a height of 2.25 m.
Volume 2: a radius of 60 cm around the bath/shower and on 2.25 m height.
Volume 3: a radius of 2.40 m around the bath/shower on a height of 3 m above the bath / shower and 2.25 beyond 60 cm.
The volume of installation is most often indicated in the descriptions of the electrified bathroom furniture.
Explore the ManoMano catalogue
Fixing plugs
How to clean a bathroom cabinet?
---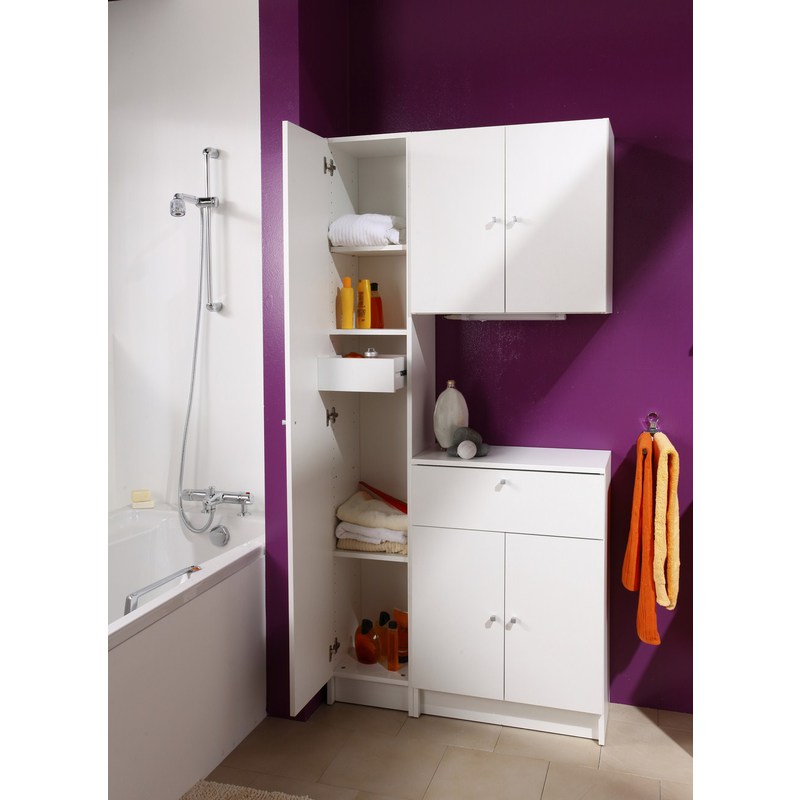 Bathroom furniture made of composite materials, melamine or MDF, are cleaned with a
sponge
or with a damp cloth and
soapy water.
The use of ammoniated liquid or glass product degrease the surfaces of these pieces of furniture.
Exotic wood furniture
such as
teak
can be cleaned with water and brush. If the wood is truly stained, you can lightly
sand it
and then
oil it
again; If greased, apply
wood oil
as well.
Natural wood, similar to composite materials, do not require aggressive cleaning products and should be rinsed of the substrate once it has been cleaned.
Explore the ManoMano catalogue
Wood oil
More Information
For do-it-yourselfers in full bathroom renovation or simply curious as to how to optimize your space, follow the links below for related accessories, advice from our editors and more helpful guides:
How to choose your balneo bathtub?
How to choose your bathtub?
How to choose your shower cubicle?
How to choose your electric towel warmer?
How to choose your drill?
Guide written by:
Sebastian, self-taught DIY-er, Exeter 187 guides écrits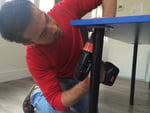 Redo a roof with wooden beams? Check.Advise Mister everybody in the DIY shop? Check.Redo the bathroom plumbing? Check.Fit together, build the walls, paint a partition, throw my hammer in a rage thinking that it will fix the problem? Check.

The DIY motto ? Learning is better than delegating… well, it's also a question about your wallet! The satisfaction? The beer at the end of the job! What do the best have in common? The influence of Gyro Gearloose, Mac Gyver and Carol Smiley depending on your generation, a good dose of curiosity, a average hand-eye coordination and a taste for risks… and if it doesn't work, try again! Advise you? I'll do my best!
The products related to this guide