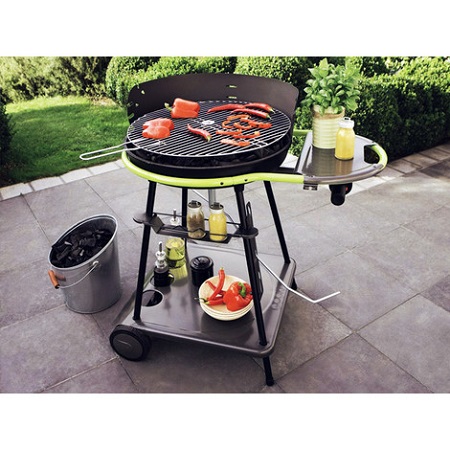 Barbecue buying guide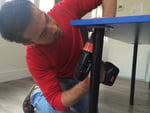 Guide written by:
Sebastian, self-taught DIY-er, Exeter
187 guides
Whether wood-burning, electric or gas-fired, barbecues are essential for summertime dining! From stone and cast iron to enamelled or stainless steel, there are plenty of basic grill types out there, as well as countless add-on options including lava rocks, smoker lids, or plancha and griddle combis. Let's get grilling!
Choosing a barbecue to suit your needs
---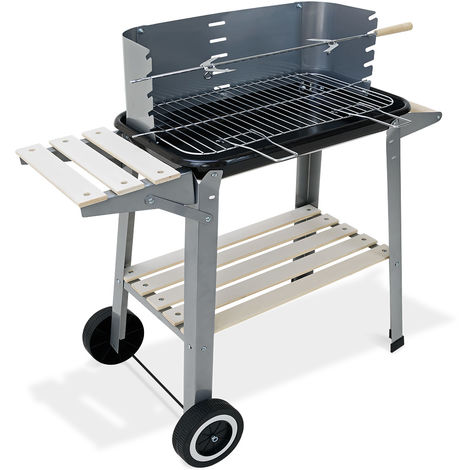 Do you live in a flat and want to grill on the balcony? Stay on good terms with your neighbours and go for an electric barbecue. You can even take it indoors if need be!
Do you have a garden or patio and love wood-smoking meat with fruity flavours like grape vine? Go for a charcoal barbecue and add on a lid to create your own smoker (but bear in mind that cleaning up can be a hassle!).
Consider yourself a top chef? Do you prefer healthier and more precise cooking methods? Choose a gas barbecue but bear in mind that these tend to be pricier and take up more room.
No matter how your barbecue is powered, there are a few points to keep in mind:
The size of the barbecue's cooking surface should correspond to the number of people you generally cook for;
Additional accessories (trolleys, warming racks, lids, etc.) can enhance your comfort and cooking quality;
A high-quality barbecue will come with a higher price tag.
Explore the ManoMano catalogue
Electric barbecue
The different types of barbecue in summary
Any barbecues can be used to cook up a feast to enjoy with friends. But different types do vary in terms of upkeep, prep time and cooking methods.
Barbecues fall into three main categories based on their fuel type or energy source; namely, wood, gas or electric.
Charcoal or wood-burning barbecues
---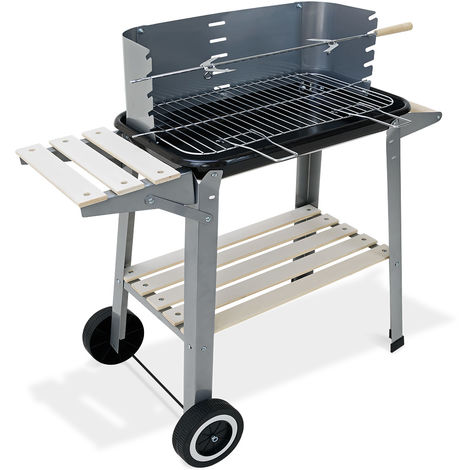 Classic and timeless, these rustic-style barbecues offer authentic flavours and tempting aromas. Charcoal barbecues may come on trolleys, rolling wheels or be fixed in place, and are available in a range of sizes. Before you start grilling, you will need to fire up and wait for embers to appear – which gives you time to get the drinks in!
Gas barbecue
---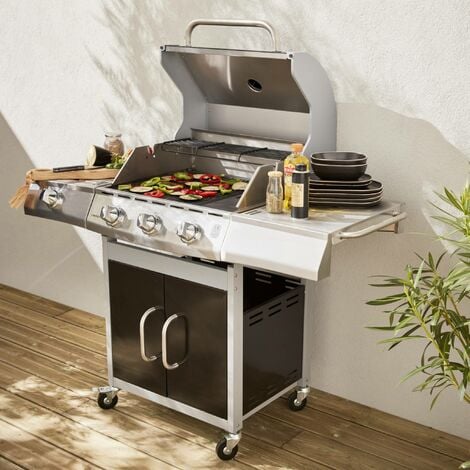 Gas barbecues are perfect for healthier cooking and are more convenient to use. Usually mounted on trolleys, these barbecues feature one or several burners for even and accurate cooking. Gas barbecues also offer a fast heat-up time. They are typically fuelled by propane or butane gas, spare canisters of which can easily be stored on the barbecue trolley. The body of these barbecues can be filled with lavarocks for better heat distribution.
Electric barbecue
---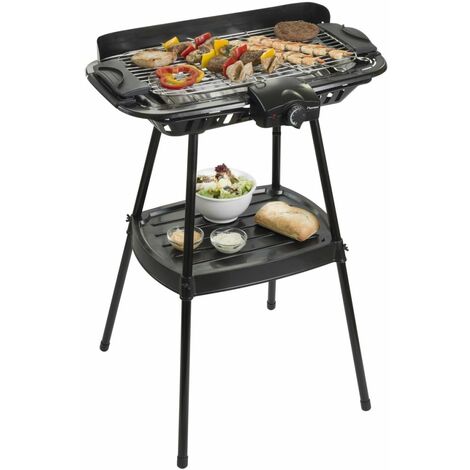 Mounted on legs or placed on a table, electric barbecues are easy to use and better suited to city dwellers or anyone who doesn't have the room for a bulkier gas or charcoal model. Powered by an heating element, these barbecues offer precise temperature adjustments. They are practical, compact, lightweight and provide quick cooking times.
Explore the ManoMano catalogue
Electric barbecues
The main features of gas barbecues
Gas barbecues are more complex machines than other models, but they do have several important advantages:
A fast heat-up time: allowing you to be more in control over your cooking;
Even heat distribution: when the barbecue is topped with a lid, it can function as a convection oven which is ideal for cooking vegetables or bakes;
Precise temperature control;
Healthier cooking: no harmful smoke is produced during cooking (contrary to charcoal barbecues, for example);
Easy cleaning and maintenance: only the burners will require checking from time to time. Other routine care is very straightforward;
Piezo ignition as standard: this is a safe ignition system as no flammable product is required;
Low energy consumption: these barbecues are powered by gas making them as energy efficient as gas hobs. If you have an electric oven at home, you can even create a BBQ oven in place of a traditional oven.
---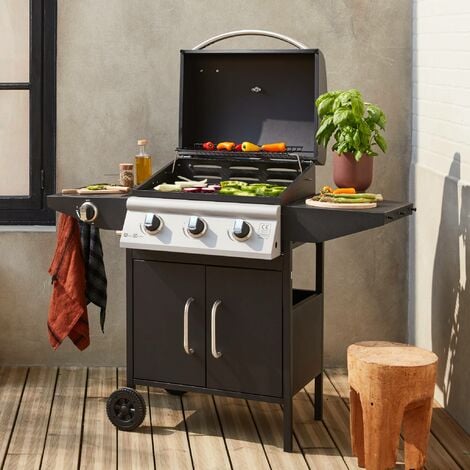 In order to choose the right gas barbecue, you should consider the following factors:
The number of burners: typically 3 or 4. Burners provide even heat distribution and different temperature settings.
The rated power of these barbecues varies and can reach up to 16kW depending on the number of burners.
The cooking surface may be made up of a griddle and one or several grill racks. If your barbecue consists of two cast iron griddles, one could be replaced by a grill with a plancha
Griddles, or hot plates, can be made of enamelled cast iron for better heat distribution and a longer lifespan. Enamelled steel is used for a faster heat-up, though it is less resistant over time. If you want top-of-the-range, go for solid chrome!
An enamel-coated body will improve heat circulation.
A hood can be used for smoking. These are typically provided with a thermometer to monitor the temperature inside the oven.
The frame can be made of painted or stainless steel, though stainless steel offers higher quality.
The trolley can incorporate side shelves, a storage area beneath the barbecue body, a spot for keeping gas canisters, towel or pot racks, two or four wheels for transportation and various other accessories (spice holders, etc). It can be made of stainless steel, painted steel,wood or a combination of materials.
The vast majority of gas barbecues are equipped with a thermocouple which cuts off the gas supply when there's no flame. Many barbecues also have greasetraps (particularly combi models). Each burner is controlled by a gas knob and is ignited using a piezo ignition system.
Gas barbecues are great for outdoor use. Propane is the best gas option as it is much more resistant to lower temperatures (butane tends to freeze below zero).
The main features of electric barbecues
---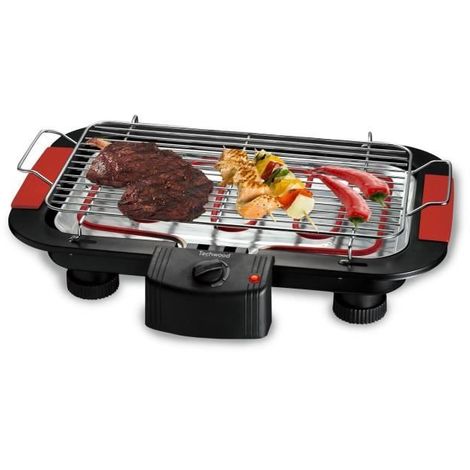 Electric barbecues are much simpler machines. They operate by means of a heating element which produces an even temperature under the cooking grid. As such, the difference in quality between two electric barbecues will come down to the materials and type of finish.
When equipped with a full or half griddle made of enamelled cast iron or steel, electric barbecues are similar to planchas and will feature two burners controlled by separate knobs.
Electric barbecues usually have a power rating of 2000 watts which is perfectly sufficient for the cooking surface.
They offer precise temperature control but take longer to heat up than gas models. Heat is distributed and circulated by a heating element. Some models are equipped with a water tray to avoid smoke caused by dripping grease. This water also helps to keep the meat from drying out.
Electric barbecue frames can be made of thermoplastic or enamelledsteel, and the structure is typically made of epoxy steel.
The cooking grid is typically made of nickel-plated steel, though stainless steel offers higher quality.
Some electric barbecues feature a hood to limit heat loss, but these are not commonly found.
All electric barbecues are equipped with thermostats for improved temperaturecontrol and also usually have a removable aluminium tray for collecting grease. Stability is an important factor with electric barbecues due to their lightweight construction (a broad base is preferable).
The biggest advantage of electric barbecues is that they are suitable for both indoor and outdoor use. According to the model, they may have removable feet which makes them easy to move about and they can even be placed on top of a table.
Explore the ManoMano catalogue
Planchas
The main features of charcoal or wood-burning barbecues
Wood-burning or charcoal barbecues come in many different styles and offer the most authentic barbecue experience. Their level of quality depends on the materials used to build them, their size and how easy they are to use.
The grill body can be made of steel or cast iron (the latter of which is more durable). The thickness of the metal gives you an idea of how long-lasting and stable the barbecue will be;
The grill rack can be made of nickel-plated steel or, even better, stainless steel;
The frame is often made of powder-coated steel and can be fixed in place or mounted on wheels;
Some barbecues feature an ash pan for greater convenience and easier cleaning;
They can also provide grill height adjustment or a warming grid;
You should also think about additional accessories such as a manual or battery-operated spit, a ventilation system to keep the embers going, a trolley containing storage shelves or hooks for utensils.
---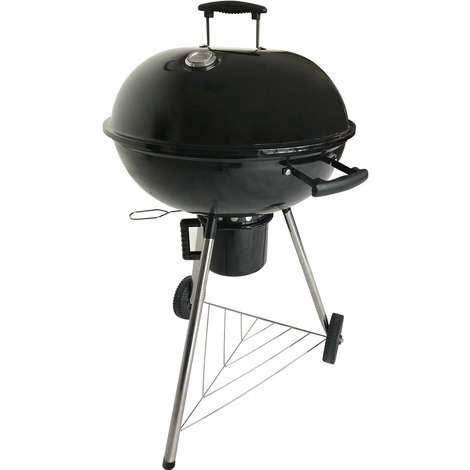 You can also use wood and charcoal barbecues as smokers. In this case, they're equipped with a lid and a vent for smoke extraction (mainly featured on larger models).
Barbecues with smoker settings mainly come in the form of two half-cylinders (measuring about 50 cm each) with the cooking surface placed in the middle. Greasetraps are usually provided and can be found in the centre of the barbecue base. These barbecues offer traditional grilling and allow you to add various smoky flavours to your food, depending on the type of wood you use. A thermometer on the lid of your barbecue will help you keep an eye on the temperature.
Of course, materials and cooking methods are the most important factors to consider. Nonetheless, you should also pay special attention to your barbecue's overall size and cooking capacity. If you want to cook for ten and your barbecue can only get through four sausages at a time, your guests might overdo it on the snacks and end up ruining their appetite!
Explore the ManoMano catalogue
Cooking surface
The main features of stone barbecues
---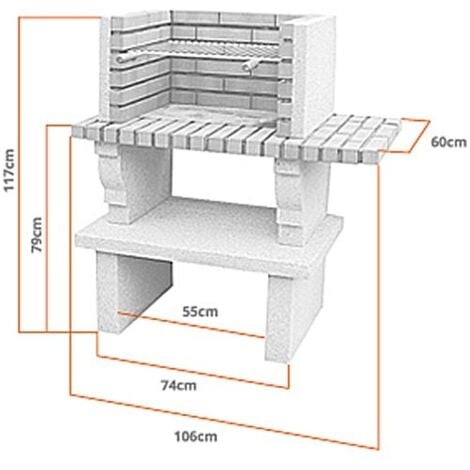 Solid and heavyweight, stone barbecues will require their own dedicated space since they have to be fixed to a sturdy foundation (e.g. a concrete slab).
Traditionally, stone barbecues are used with wood or charcoal; however, the fixed stone frame can accommodate any type of barbecue. These structures can be made of:
Stone: in which case you'll need to add a separate grill body if you want to protect the material;
Brick: this is a less attractive option but it will offer better resistance to extreme heat. Barbecues made from fire bricks offer even heat distribution for higher quality cooking; these can withstand temperatures of up to 1,000°;
Aerated concrete: Once again, it is strongly recommended to add a metal grill body to your blocks to protect the structure from the heat. This material will form a relatively lightweight – though strong – barbecue structure.
Stone barbecues come in various forms and may contain:
A closed or open fireplace;
A separate oven with a combustion chamber below;
A storage space for wood and charcoal;
Worktops for preparing your food;
Gridbrackets.
Stone barbecues often come without grids and can easily weigh over 400 kg!
Explore the ManoMano catalogue
Stone barbecues
Some final tips for choosing your barbecue
Whether you end up selecting a wood, gas or electric barbecue, your choice should be based on the four following criteria:
Cookingsurface size; barbecues on trolleys or those made of stone offer a larger cooking surface;
Heating power;
Constructionmaterials: cast iron, stone, brick and aerated concrete offer more heat resistance while stainless steel offers better resistance to rust.
Availableaccessories: if your barbecue is kept outside, use a waterproof cover to protect it from the elements.
---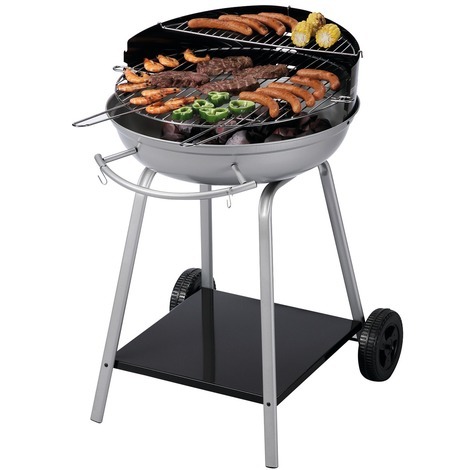 Whether you want a fixed or portable barbecue and aim to feed five people or ten, your choice will ultimately come down to your style preferences and various other personal requirements. But if you're looking for a barbecue that will last, don't skimp on cost: there's no point buying a new one year on year only for the burners to break down at the end of each summer…
A barbecue is a cookingappliance in its own right, so choose it as carefully as you would any other cooker.
And if you prefer planchas to traditional barbecues, you have a range of gas or electric models to choose from!
Explore the ManoMano catalogue
Electric
More information
To find out more about garden design and decoration, follow our editors' advice and check out their other guides:
Guide written by:
Sebastian, self-taught DIY-er, Exeter, 187 guides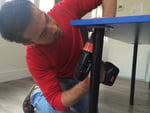 Redo a roof with wooden beams? Check.Advise Mister everybody in the DIY shop? Check.Redo the bathroom plumbing? Check.Fit together, build the walls, paint a partition, throw my hammer in a rage thinking that it will fix the problem? Check. The DIY motto ? Learning is better than delegating… well, it's also a question about your wallet! The satisfaction? The beer at the end of the job! What do the best have in common? The influence of Gyro Gearloose, Mac Gyver and Carol Smiley depending on your generation, a good dose of curiosity, a average hand-eye coordination and a taste for risks… and if it doesn't work, try again! Advise you? I'll do my best!
The products related to this guide