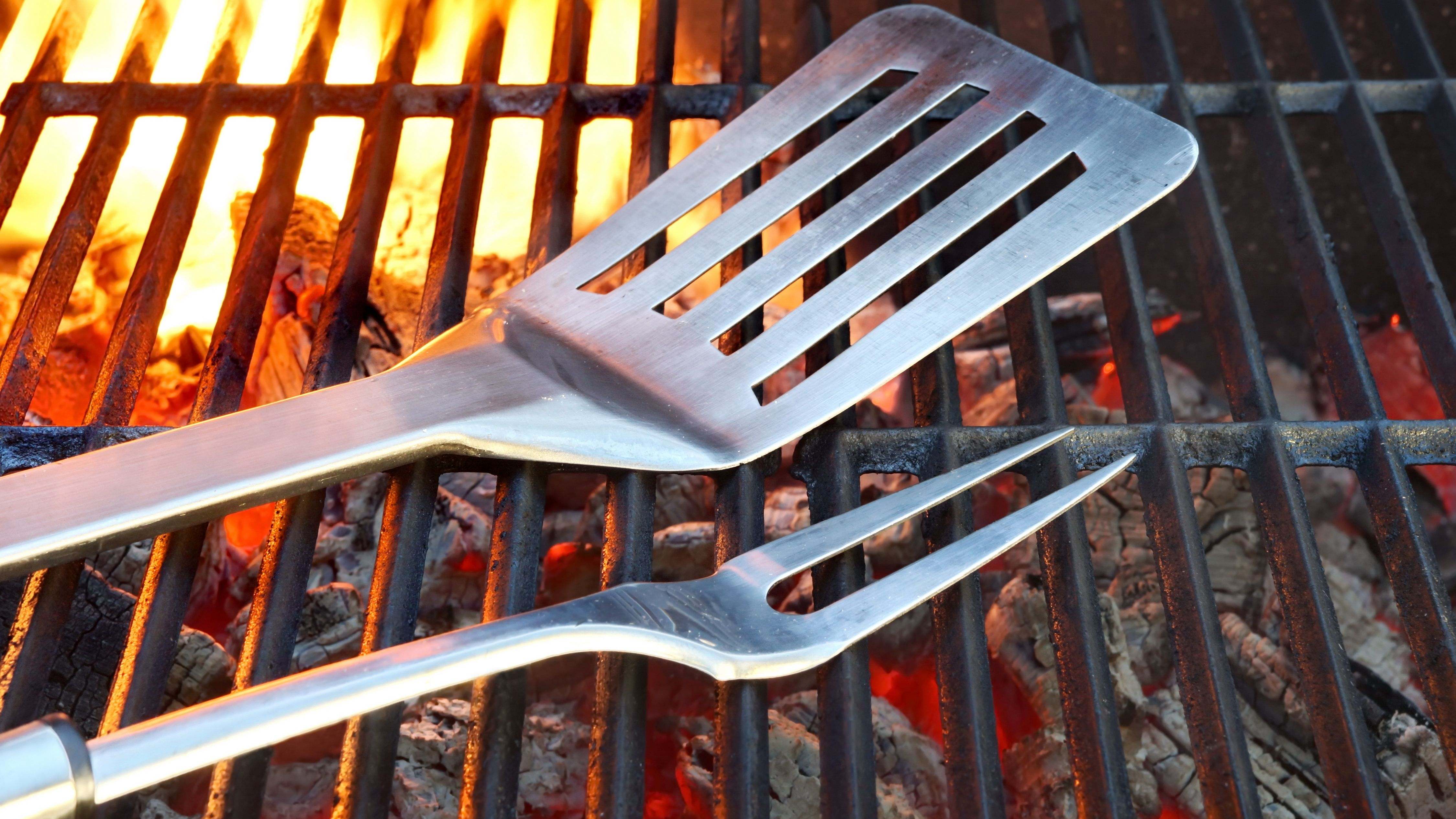 Barbecue accessories buying guide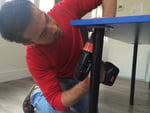 Guide written by:
Sebastian, self-taught DIY-er, Exeter
198 guides
Nothing says summer like a barbecue on a sunny day. But no matter if you're using a smoker or charcoal grill, you'll need to get your hands on a few accessories if you want to BBQ like a pro. From wood chunks and chimney starters to vine shoots and utensils like forks, follow our guide to perfecting your burgers!
Important features
Forks, knives, spatulas and tongs
Care and cleaning products
Firelighters and chimney starters
Wood chips
Mastering the art of barbecue cooking
---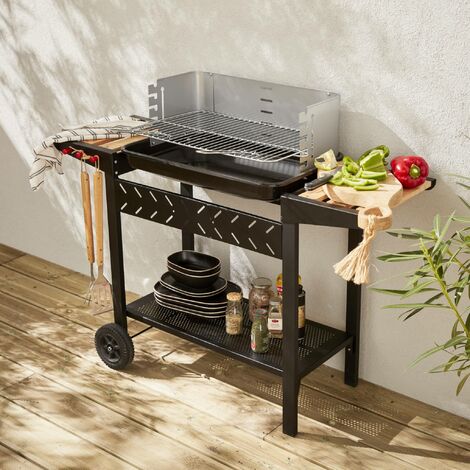 Once you have selected the right barbecue, you just need to work out how to grill to perfection. The art of barbecuing all comes down to your embers, picking the right seasoning and a bit of know-how. But you will also have to use the right cooking tools and equipment. Of course, it's impossible to produce well-cooked meat on a plancha grill that sticks. Similarly, you'll find it hard to cook great dishes if your grill rack is set at the wrong height or if you don't have a long BBQ fork.
Of course, a Webercharcoal barbecue will produce very different results to an electric barbecue. You can also use wood chips or vine shoots to alter the flavours of your grilled food. It goes without saying, therefore, that the type of grilling you do will be determined by the type of barbecue you choose. It's worth noting that the most intricate flavours are usually provided by smoker boxes and other types of chimney barbecues.
Explore the ManoMano catalog
Type of barbecue
The best tools for successful BBQing
---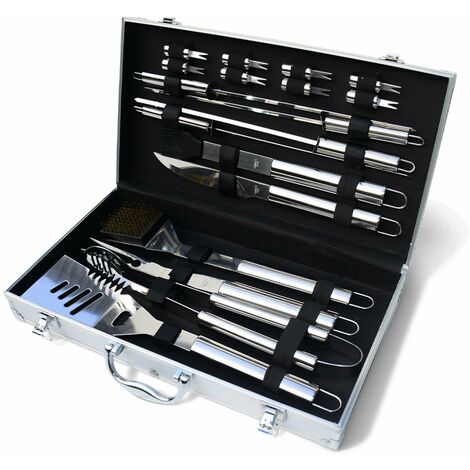 The following accessories can also be added barbecue kit with the right forks and utensils is an essential part of grill prep. Made from flame- and heat-resistant materials, barbecue utensils usually come in sets supplied in an aluminium case.These tools may be made from stainless steeland can vary in size up to a maximum length of 45 cm. They may also feature a thermoplastic or wooden handle for heat protection. Barbecue kits contain a range of tools, including some or all of the following:
a fork for pricking sausages and turning them on the grill;
a spatula for turning steak, bacon or fish;
tongs for lifting food out of the flames;
a basting brush for coating meat with seasoning ;
a knife for cutting steak or turkey fillets;
skewers for sliding on peppers and cubes of meat;
a corn holder for the perfect grilled corn ;
roast tongs to help you grip and cut your roasts evenly.
---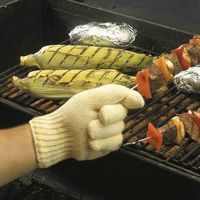 Additionally, no good BBQ setis complete without:
a cooking glove ormitt to protect you from burns ;
an apron to avoid staining your clothes with cooking grease;
a tea towel for wiping your hands.
Barbecue utensil sets are usually contained in a box made of stainless steel, aluminium or even wood. While your kit probably won't make it out of the garden, these boxes are usually equipped with a handle for transportation. Hard-wearing, lightweight and compact, these special BBQ cases are split into compartments for arranging forks, knives, spatulas, and so on. With regards to material, steel is the preferred option as it can be wiped down with a sponge. Wood, on the other hand, tends to stain if it is not taken care of. Your tools may also come in a polyester or nylon case.
---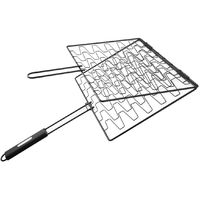 The following accessories can also be added to create the ultimate chef's BBQing kit:
a specially designed grill basket for holding sausages together in one closed container;
a specially designed fish basket for turning your fish as it cooks;
a stainless-steel vegetable basket used to keep veg within easy reach of the tongs;
an aluminium tray with holes in the base for grease-free cooking;
an extra-long meat fork used to lift meat off the grill rack to stop it burning should your flames get too high;
a BBQ pan for cooking vegetables, fish or meat the easy way. Excess grease and juices will escape through holes in base of the pan;
a guide to cooking up the best BBQ recipes!
Explore the ManoMano catalog
Barbecue utensils
Cleaning and caring for your barbecue
---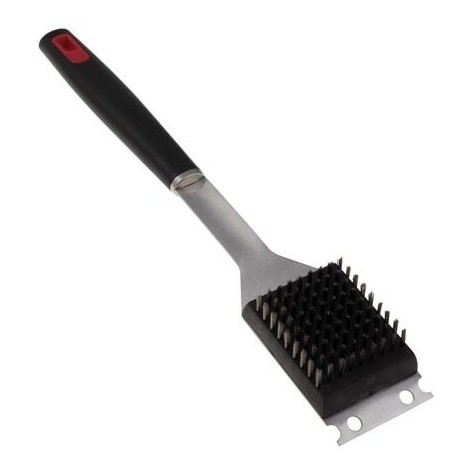 Barbecues that are well cared for will last for a long time. In addition to clearing the charcoal out of the grill – which should also be swept of ash after each use –you should also take note of the following advice:
clean your drip tray on a regular basis ;
use large flames to burn grease off the grill rackthen simply brush off the residue. A specialist cleaning product should be applied regularly;
barbecue parts made of enamelled materials must never bescrubbed; instead, clean use a sponge, cloth or a soft-bristled brush;
your utensils can be cleaned like the rest of your cutlery. They are usually dishwasher-friendly;
clean your grill using a special barbecue brush.
It's worth noting that steel and cast iron can be cleaned using specialist products like Zebraline which are known to be effective. Make sure to follow the manufacturer's recommendations when using products and to wear protective gloves.If you want to restore your barbecue's shine, it's a good idea to use a cleaning product designed to lift off food residue and grease from any parts made of enamelled materials.
You can also add a layer of protective oil to your grill rack or use barbecue cleaning products that have been specially designed for stainless steel.
Ideally, all barbecues should be protected by a cover over the winter or any time they are not in use.. Exposure to the elements can cause metal to rust. Covering up your equipment will ensure it is well protected.
Explore the ManoMano catalog
Cover
Cleaning your hot plate and grill rack
---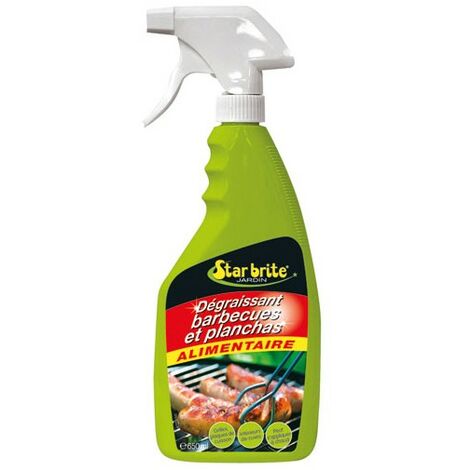 Cleaning a barbecue hot plate is just like cleaning a plancha grill: diligence, in both cases, is key. Don't assume that you just have to give your grill a good clean before storing it in the garage over winter! Hot plates should be cleaned after each use using specialist products that are sprayed on and scrubbed in.
Ice can also work well to help release food residue from cooking surfaces. In addition to being a good deodoriser, white vinegar is effective at lifting off food and grease. This is a good low-cost option that can also be used around the house. Please note that it is highly recommended to to apply oil to your surfaces to prevent meat or other foodstuffs from sticking.
Grill racksvary in quality depending on the material used to make them (chrome-plated or stainless steel). Barbecues may feature a single or double grill rack. The latter option is used to increase your cooking surface and/or to keep your cooked food warm. These can be replaced by purchasing separately from retailers.
Explore the ManoMano catalog
Grill racks
Lighting a charcoal barbecue
Firelighters
---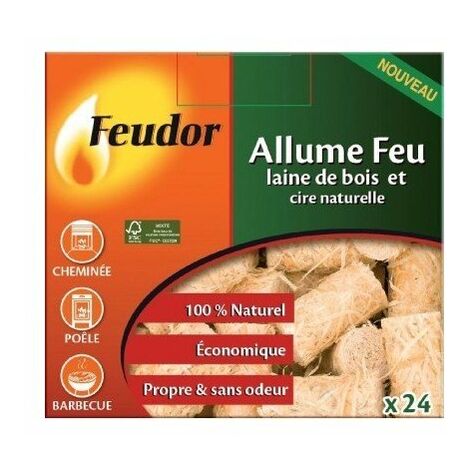 Scouts and grilling fanatics will already know how to light a BBQ the traditional way using just a few balls of newspaper, some thin planks of wood (such as those used to make wooden crates) and/or kindling and charcoal. For the rest of us, firelighters can be purchased in boxes of 100 or in 1kg bags. Most firelighters are made using natural materials and will burn for around 10 to 15 minutes. Furthermore, they will not release any toxic or harmful substances. When lighting a fire, use long matches (also known as safety matches)to avoid burning your fingers. Gas lighters can also be used to light your barbecue. Depending on the model, these lighters may also be refillable.
Wood chips
---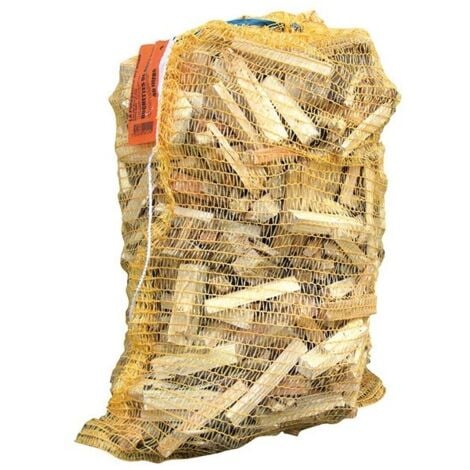 If you can't get your hands on any wooden crates, you can use wood chips. Usually supplied in 3kg bags, these chips are generally made of fir or birch wood. Practical but not terribly cost-effective, wood chips are easy to use and are made of high-quality dry wood.
Chimney starters
---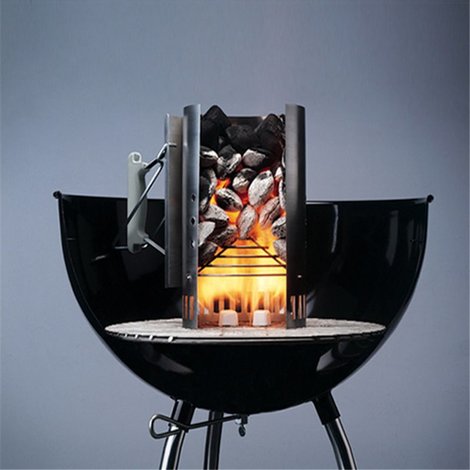 Chimney starters are very straightforward to use, allowing you to light your barbecue in one go. Particularly useful if you're not great at lighting fires, these starters can heat up your embers in just 20 minutes. Chimney starters are essentially steel cylinders with holes around their circumferencefor ventilation and a grate positioned at the base. They can be moved around using a thermoplastic or wooden handle.
These starters should be placed on your barbecue grill rack and filled with charcoal. You simply need to place some newspaper, kindling or firelighters onto the grate and throw in some matches. After burning for around 20 minutes inside the cylinder, your charcoal should be glowing and ready to be poured into the barbecue. Then all that's left to do is prick your sausages!
Explore the ManoMano catalog
Charcoal
Wood smoking: from vine shoots to wood chunks
---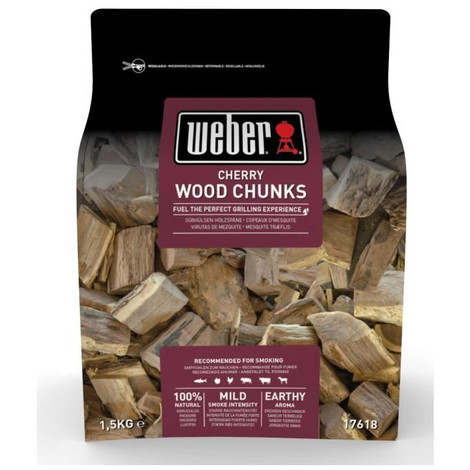 Wood chunks are specially designed for smoking and are made of 100% natural, non-treated wood. They work to flavour the meat as they burn. Ideally used in smoker grills, wood chunks produce different tastes depending on the type of wood. Whether you go for beech, apple or cherry wood – or even a special fish or pork mix – smoking woods are designed to add interesting flavours to your food.
Just like vine shoots – which are also used to add a great smoky flavour – wood chunks are designed for use in smoker boxes. These boxes serve to smoke cuts of meat on wood or charcoal barbecues. Wood chunks are usually supplied in bags of 1 kg or more.
Covers, trolleys and other BBQ accessories
---
Picking the right barbecue cover involves making sure the material and size of the sheet will offer optimal protection when your equipment is not in use. Trolleys are not widely used for barbecues as most models come on stands. On the other hand, trolleys are commonly used with plancha grills.
When choosing a grill rack you should pay special attention to the material (cast iron, stainless steel, chrome-plated steel), the dimensions (to be fitted to your barbecue ) and the design (basic, two handles, etc.).
Explore the ManoMano catalog
When choosing a grill rack
Guide written by:
Sebastian, self-taught DIY-er, Exeter, 198 guides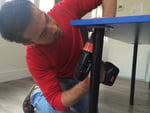 Redo a roof with wooden beams? Check.Advise Mister everybody in the DIY shop? Check.Redo the bathroom plumbing? Check.Fit together, build the walls, paint a partition, throw my hammer in a rage thinking that it will fix the problem? Check. The DIY motto ? Learning is better than delegating… well, it's also a question about your wallet! The satisfaction? The beer at the end of the job! What do the best have in common? The influence of Gyro Gearloose, Mac Gyver and Carol Smiley depending on your generation, a good dose of curiosity, a average hand-eye coordination and a taste for risks… and if it doesn't work, try again! Advise you? I'll do my best!
The products related to this guide