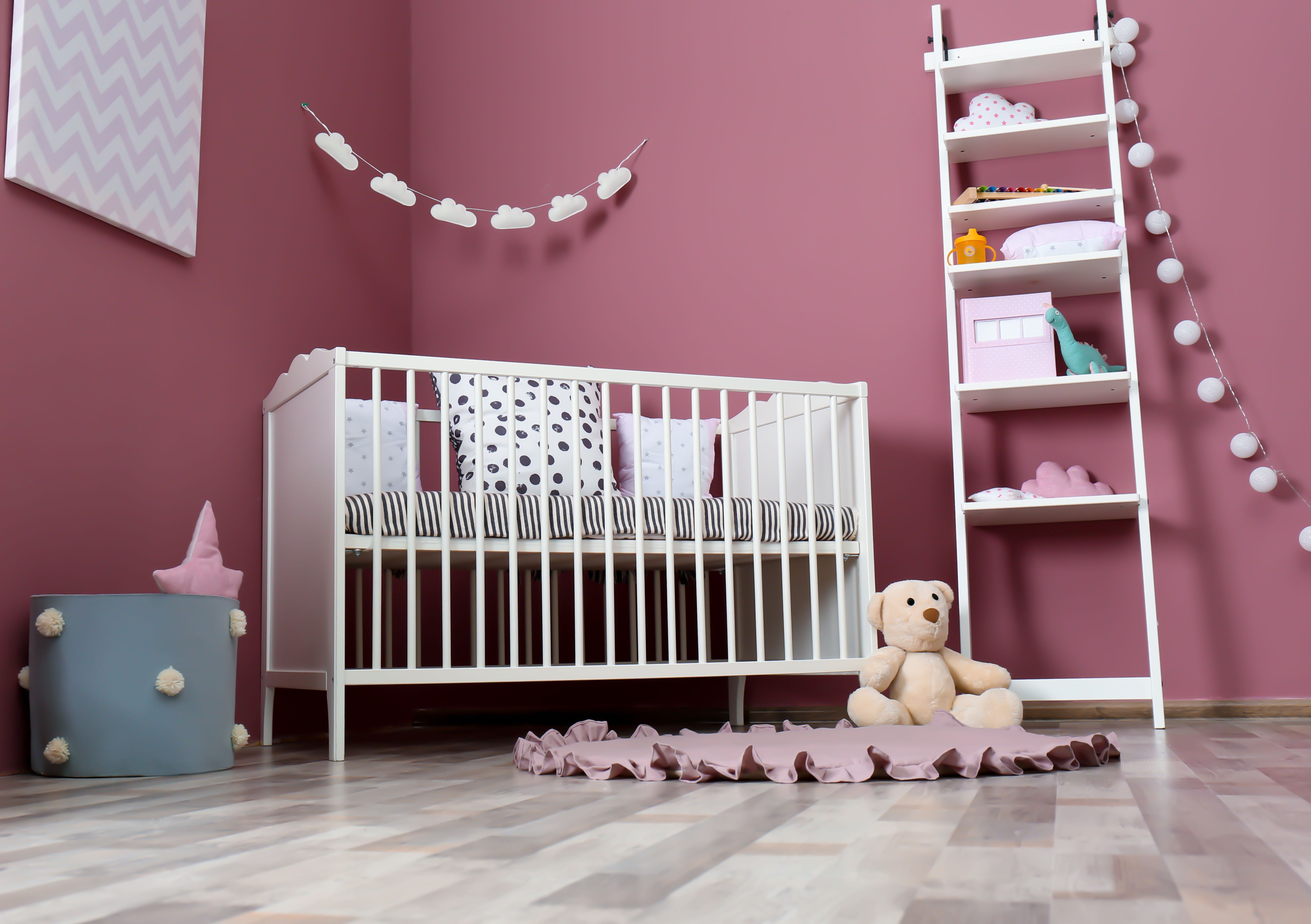 Baby cot buying guide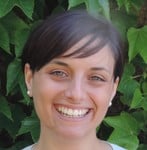 Guide written by:
Julie, Interior Designer, Manchester
30 guides
Whether you're looking for baby's first bed or to replace a moses basket or cradle, choosing a cot is a big decision. You will have to consider style (colour, material, etc.) and practical factors such as safety standards. From bed rails to convertible or modular models, read on to find the perfect cot for your baby!
Important features
Anti-allergy
Fixed, convertible or multi-functional
Firm mattress
Height-adjustable bed base
Safety standards
Different types of cot bed
Cot beds, not to be confused with moses baskets or cradles, are suitable for use from birth. However, there are a number of ways to help newborns through the transition from mother's womb to bed.
The World Health Organisation recommends that babies sleep with their parents in the same room until the age of 6 months to avoid the risk of death by suffocation and to promote emotional development. At the same time, it advises parents not to sleep in the same bed as their babies for the same reasons and recommends the use of a separate, properly designed bed.
One such model is a cotbed with safety rails. These beds can either be completely surrounded by rails or combine side rails with solid end pieces. The spacing of rails is standard to limit the risk of accidents.
Standard cot beds with safety rails
---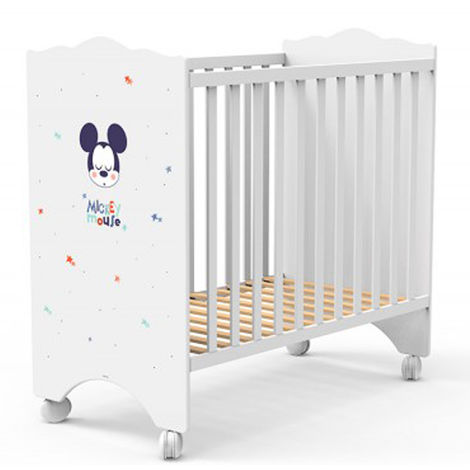 These cotbeds are assembled in such a way as to ensure that no sides can be moved or opened. This is the most traditional type of cot bed. Adjustable models, which can be adapted to two, three or even four different bed base heights, are also available. That said, two bed base positions usually suffice.
Beds with drop rails can be an excellent option for helping parents avoid back pain. Instead of bending down and lifting your little one out of the cot, you can simply drop the rails using a locking system located at the end of the rails.
Do you need a cot with drawers? Some manufacturers make drawers that can be adapted to fit a variety of different beds, which is perfect if you have your heart set on a certain cot.
Convertible cot beds
---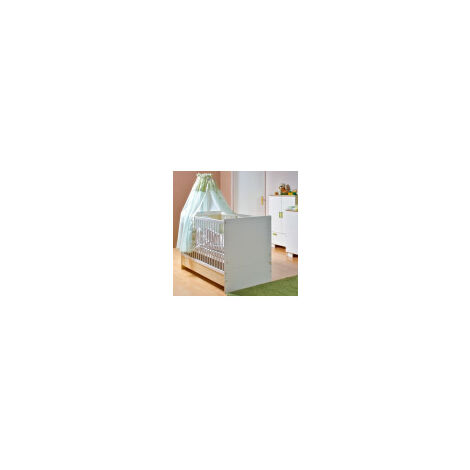 Some cotbeds can be used to follow your newborn up to the age of 3. These models are designed so that the two longer side sections can be removed. When converted, the beds still comprise:
a bed base;
a headboard;
a foot of the bed;
a drawer (optional).
Convertible cot beds are a practical option because they can be used as your little one develops. They also help toddlers to get used to sleeping in a bigger bed before they transition to a single bed.
Convertible beds fitted with adjustable safety rails offer a number of advantages. They prevent the risk of falling while offering young children more independence.
The advantages of a multi-functional cot
---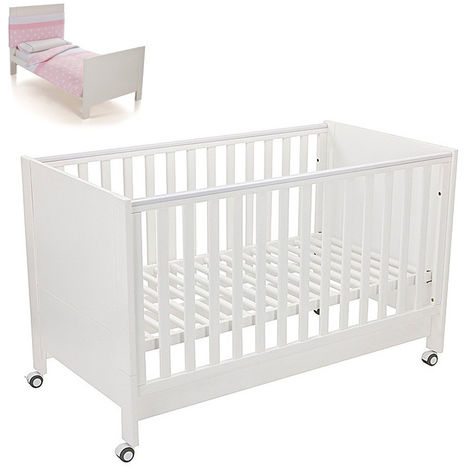 Some multi-functional beds incorporate a sleeping area, changing table and storage cupboards. The different parts of these beds can be arranged to match your needs as your baby grows.
In general, they align with three stages of development:
1st stage: cradle with integrated changing table (0 to 6 months);
2nd stage: bed with safety rails measuring 60 cm x 120 cm (or 140 cm);
3rd stage: bed with no side rails but with a low bed base, starting from 2 years old.
These beds can incorporate the following parts:
adjustable bed;
drawer unit;
cupboard;
changing table.
Adjustable beds provide a range of benefits:
they help to maximise your space;
they serve many functions within a single unit;
they provide an enclosed sleeping space for infants and toddlers.
However, once the parts are removed, many parents find they serve no purpose and can't be reused – with the exception of models that can be transformed into school desks. What's more, the changing table is often narrow which isn't practical when you need to have all your baby care and changing products close at hand.
On the other hand, while these models are often more expensive (around £300 to £900), they are still popular as they do help to save space. Just be sure to double-check the size of the changing area before making your purchase.
Explore the ManoMano catalog
Convertible cot beds
Choosing the right materials for your cot
---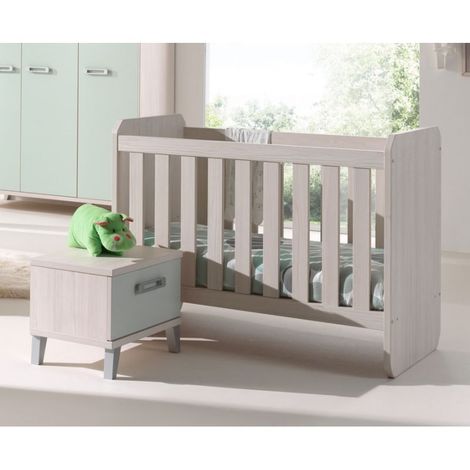 Cots with fixed safety rails are usually made of solid wood or MDF (Medium Density Fibreboard). Last but not least, find out if your chosen model has been coated with a protective varnish. Painted wood or chipboard can chip easily (for example, when fitting a mobile) if the paint is not the best quality.
For environmental reasons – and to prevent health issues in children – an increasing number of manufacturers now prefer to coat baby cot beds with natural, allergen-free waxes.
If the quality of materials used for mattresses and accessories (e.g. mattress protectors, bedding and bed linen) is a deciding factor for you, focus your search on Oeko-Tex Standard 100 class 1 fabrics; these products have been specially designed for babies. However, you should try to opt for organic materials wherever possible.
Travel or pop up cots can be made of canvas or, more commonly, nylon. Some brands choose to use mesh to help prevent the risk of suffocation during the first 6 months of a baby's life.
Please note: every new cotbed must be assembled and left in a well-ventilated room for at least two weeks (or ideally one month) before the baby is born. The purpose of this measure is to get rid of VOCs (volatile organic compounds). This step is necessary even if you plan on painting the baby furniture yourself.
Key questions to help you pick a baby cot
Before buying a cotbed, we recommend asking yourself the right questions.
Choosing a style for your cot
---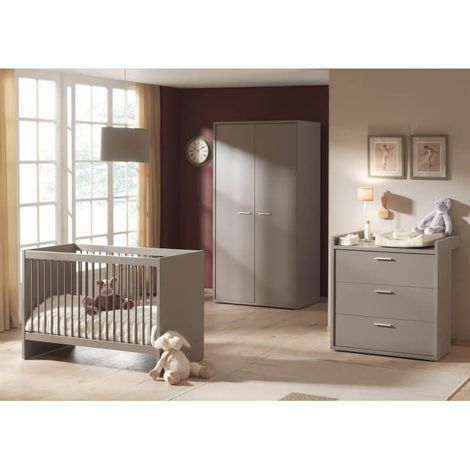 Ultimately, your choice of cot will come down to personal taste. Whether you're setting up a nursery or planning to set up the cot in your own room, you will have to think about style.
Depending on the mood you're hoping to create, you can opt for:
unfinished wood;
coloured paint;
a bed with full safety rails;
a bed with decorated panels.
At the same time, your decision may be guided by other key criteria.
Choosing the right base for your cot bed
---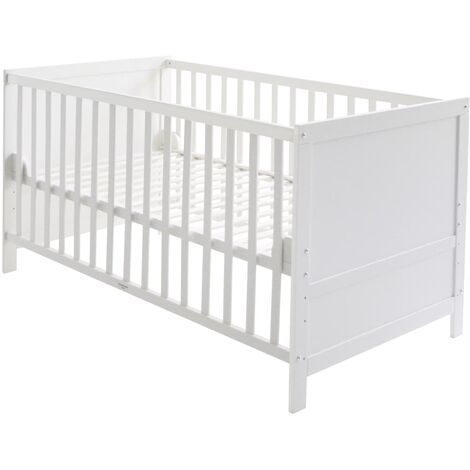 Most cot beds can be adjusted to two or three different heights.  As a general rule of thumb, when babies are able to sit up, it's time to put the bed base in the lowest possible position. Therefore, before making your purchase, make sure you know how easy it is to change the height of your bed base; for example, can you alter the base alone or will the entire bed have to be dismantled?
Baby cot safety standards
---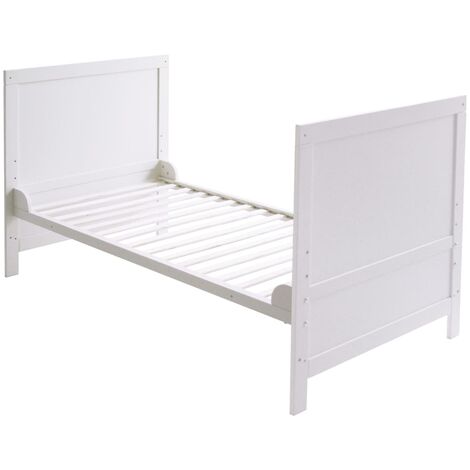 All cots must comply with the latest European and British Safety Standards. These standards are in place to certify the quality and safety of baby furniture and the materials used to manufacture them.
The distance between the top of the mattress and the top of the cot sides should be at least 50 cm, but this can be higher for decorative elements.
Cot bed rails should be vertical and the distance between them no more than 6.5 cm.
Choosing a mattress for your cot
---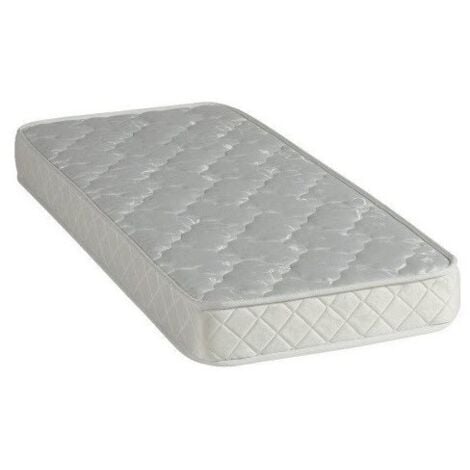 Beds for newborns don't usually come with a mattress. Opt for a firm mattress to avoid the risk of suffocation. The mattress must be exactly the same size as the cot, i.e. 60 cm x 120 cm (or 140 cm). It must also meet fire-retardant standards.
Finally, if your cot mattress does not come with a removable cover, make sure you get two protective covers and opt for organic cotton if possible.
Guide written by:
Julie, Interior Designer, Manchester, 30 guides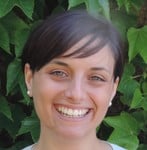 After years of DIY, renovation, designing, I decided to turn my passion into my career. Starting in 2006, in the South-West, I helped people with renovation or contruction projects. My expertise and my curiosity led me to look further into innovative ideas for myself and my clients. Indeed, to live your passion is also to transform the space you live in and the objects you use daily. My family love my creations and ideas that I bring into their lives! My favourite thing to do: use colour to brighten up interior space. But also tips to hide away clutter. Your home is just never big enough, is it? It is thus a great pleasure to share my tips with you, so that you also can take as much pleasure as I do when starting up your next project!  
The products related to this guide