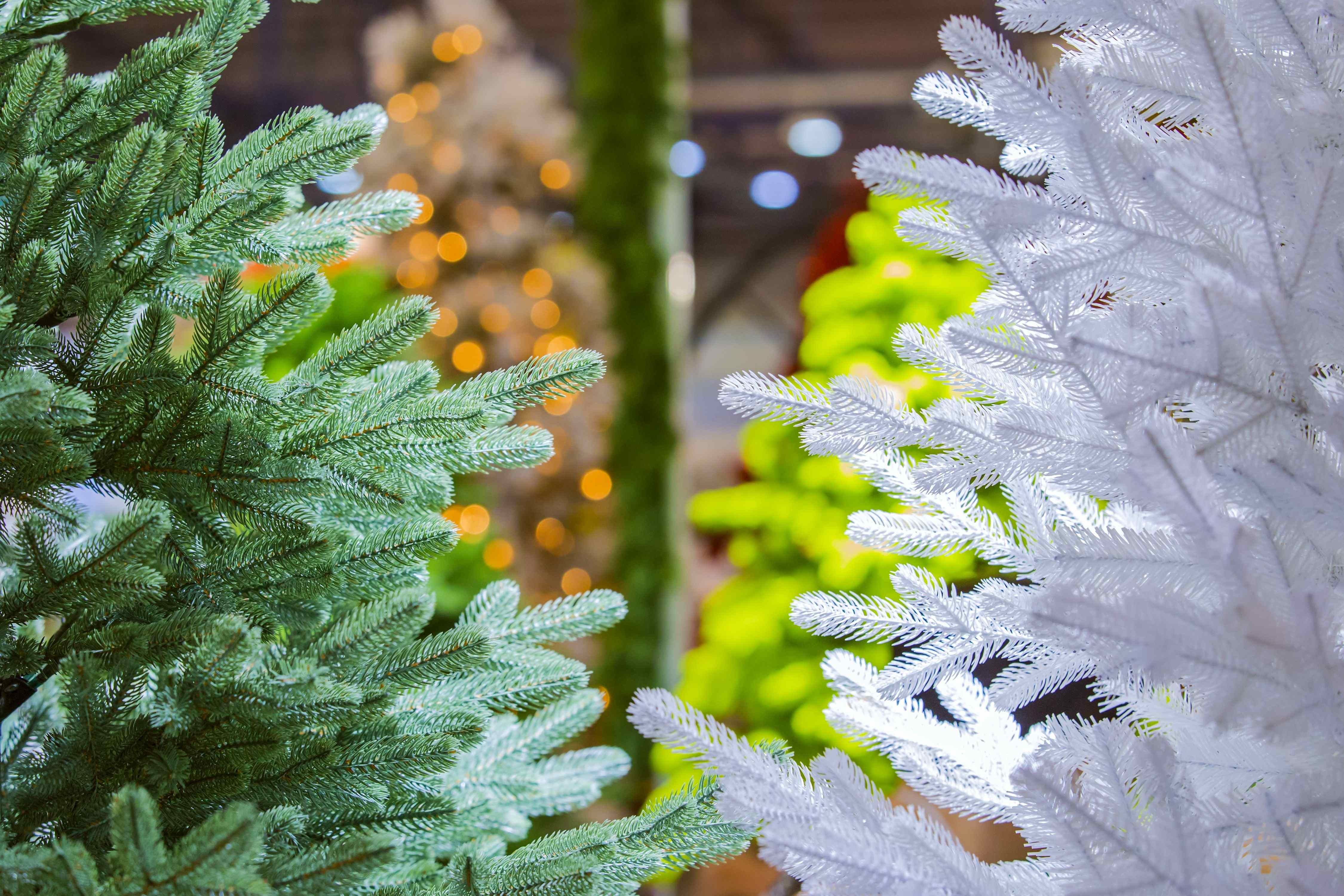 Artificial Christmas tree buying guide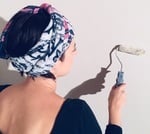 Guide written by:
Tess, painting & decorating consultant, Brighton
54 guides
Artificial Christmas trees come in all shapes and sizes from budget-friendly options to frosted, light-up and ready-decorated trees. Whether you're looking for the most realistic tree or you want to go kitsch with a snow cascading model, read on to find the perfect artificial Christmas tree for you!
Artificial Christmas trees: what types are there?
Made up of a metal frame covered with PVC 'needles', artificial Christmas trees are really handy for anyone looking for a quick and impressive result. That said, it's important to pick the right one according to your own tastes, the space you have to fill and the kind of atmosphere you're hoping to create.
Green artificial trees: the classic faux tree
---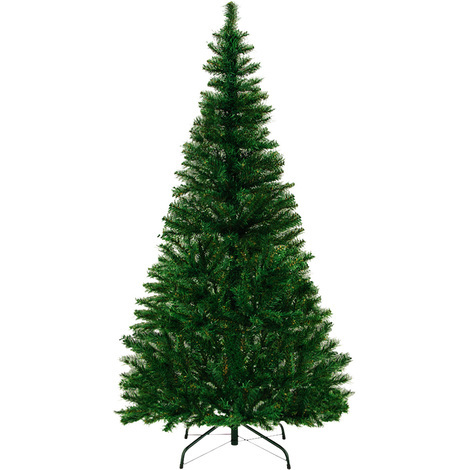 These trees are designed to look like just like any Nordmann fir or spruce you'd find in the forest and are ideal if you're looking to go for traditional festive colours. Decorated with red and green ornaments with just a touch of gold, these trees are perfect for recreating your childhood Christmas.
Snow-covered trees: flocked or frosted
---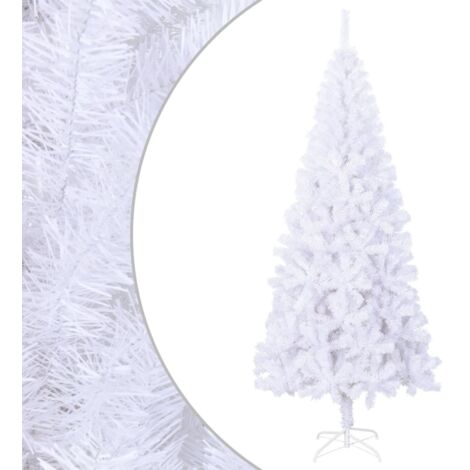 Like green artificial trees, snow-covered models are made for traditional Christmas shades. The difference here is that the ends of the branches are tinged white to make the tree appear as though it's been sprinkled with snow. It's even possible to find trees covered in faux morning dew or frost for an even more realistic effect.
Black or red Christmas trees: a modern statement
---
Artificial Christmas trees can pretty much be any colour your like! Black, red blue or pink, the options are endless. Far from the typical family-friendly tree, these trees can look great styled in contemporary homes with gold or silver ornaments. Want something more unique? These on-trend trees can be decked out with all kinds of coloured decorations. A seriously chic option, a coloured tree screams party time!
Pre-decorated artificial trees
---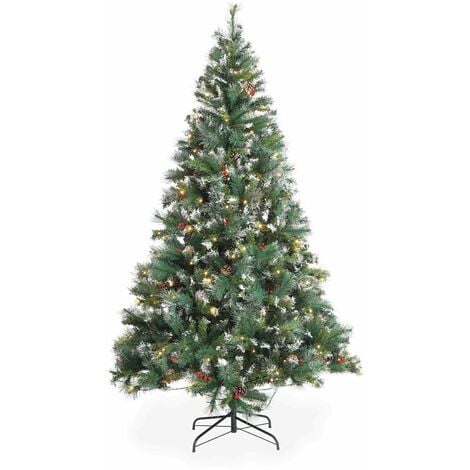 This option is particularly practical for anyone with limited mobility who might have trouble decorating their own tree. As the name suggests, these trees are already decorated meaning you just need to pull them out the box. Available in a range of colours and with different decorations, simply fold out the tree and your work is done! Your fairy lights and Christmas baubles will be up on display before you can blink giving you more time to kick back and enjoy the festivities.
Explore the ManoMano catalog
Christmas baubles and ornaments
Light-up Christmas trees
LED and fibre optic trees
---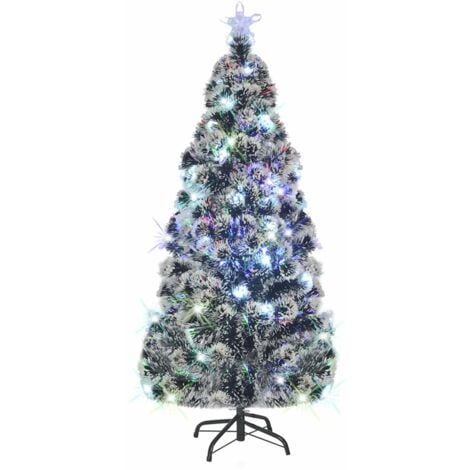 Somewhere between a standard green artificial tree and a ready-decorated model, a light-up LED or fibre optic tree will go down a treat with little ones in particular. Complete the look with classic fairy lights and baubles.
Snow-cascading Christmas trees
---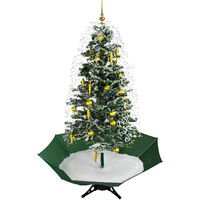 Topped off with fairy lights and flashy baubles, these Christmas trees provide a real spectacle for kids. A little blower is used to send out 'snowflakes' (or polystyrene balls) from the top of the Christmas tree. These balls are then collected in a container at the base which looks, oddly enough, like an upside-down umbrella. But be careful: these polystyrene balls tend to find their way into little mouths and will more than likely end up all over your living room!
Artificial trees with pine cones
---
Basically a standard green tree with pine cones dangling from its branches, these semi-decorated trees and are a great choice for anyone striving for a more classic Christmas look. Whether you go for natural, silver or gold pine cones, they can be surrounded with red Christmas ribbons and set off against a green or white background to bring back something of the magical simplicity of a traditional Christmas.
Designer Christmas trees
---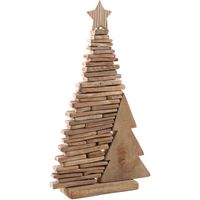 On the other hand, you might want something completely untraditional and that's where a designer Christmas tree comes in. Made of all sorts of unusual materials, these thoroughly modern trees can be crafted from driftwood, metal or wrought iron, rattan, bamboo or even cardboard! 
Explore the ManoMano catalog
Christmas trees
Choosing the right size of Christmas tree
---
From 60 cm to over 3 metres in height, you're sure to find an artificial Christmas tree to match every space.
60 to 100 cm: designed to sit atop a table, furniture item or office desk, these mini trees are perfect for petite spaces and moving around as needed.
100 to 180 cm: ideal for the living room, this is the standard height range for rooms with a ceiling height of 2.5 metres.
180 cm and over: if your rooms stretch over the traditional height, you'll need an extra-large tree! These sky-scraping trees are perfect for hallways, shops or reception areas.
Explore the ManoMano catalog
Christmas decorations
Finding a high-quality artificial Christmas tree
A tree for every price range
---
You'll want to think carefully about which type of artificial Christmas tree to buy to ensure that it lasts and can be brought out year after year.  If possible, don't go straight for the cheapest trees. Instead, you should try to find a Christmas tree that offers good value for money based on the amount of time you expect to keep the tree. Of course, you'll probably want to find the best imitation of the real thing!
6 key points to check before purchasing an artificial tree
Just like real trees, artificial trees should not be losing their needles.
Your artificial tree should have enough branches to look as realistic as possible.
Make sure your tree also has enough fake needles to ensure it doesn't look haggard – not a good look!
The base of the tree must be pretty sturdy to avoid you having to scoop your Christmas tree off the floor every morning! You also don't want it to look like the leaning tower of Pisa...
The branches should also be strong so they don't buckle under the weight of your decorations.
Even a plastic tree should look full, dense and have an even shape.
It's worth noting that for the same price range as a larger poor-quality, you might be able to get a smaller luxury tree!
5 advantages of artificial trees
---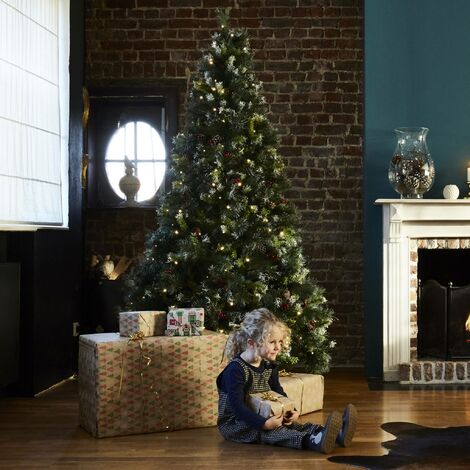 Of course, a plastic Christmas tree won't have quite the same charm as a Nordmann fir, Noble fir or a spruce. But they do offer several advantages:
They don't lose their needles.
They are easy to fold away and store in their box.
They are cost-friendly as, ideally, you should only ever have to buy one.
They come in all shapes and sizes to match the rest of your decorations.
They are easy to put up and take down.
Making your artificial tree feel real
If you really want to give the whole illusion of a real tree, why not get a fir-scented room spray?! And if you are dead set on not giving the game away, you can always place your tree in a pot big enough to cover the base and cover it up with earth.
Outdoor artificial Christmas trees
---
If you want to keep your artificial tree outdoors, you can! Some are pre-treated with a water-repellent solution to help them stand up to moisture; others are fire-resistant so they can be set up closer to a heat source. Your outdoor tree will look the most striking surrounded by beautiful outdoor decorations.
Budget-friendly artificial Christmas trees
---
Let's not beat about the bush: a cheap artificial Christmas tree is almost certainly going to look it. If you are looking for a fake tree that looks like the real thing, you're going to have to put your hand in your pocket and wave goodbye to models at the £15 mark. At this price, the best you'll get is a pale imitation of a real fir or spruce; at worst you'll end up with a pile of dishevelled green plastic. If you're looking to find the best-looking artificial tree , the answer is simple: you'll have to spend a bit of cash. Like anything else, if you're looking for a high-quality artificial tree, it won't come cheap. However, if you're comparing the prices of faux trees with real ones, you'll soon find that the cost of an artificial tree will be pay for itself after a few years.
More information
Guide written by:
Tess, painting & decorating consultant, Brighton, 54 guides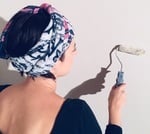 The products related to this guide