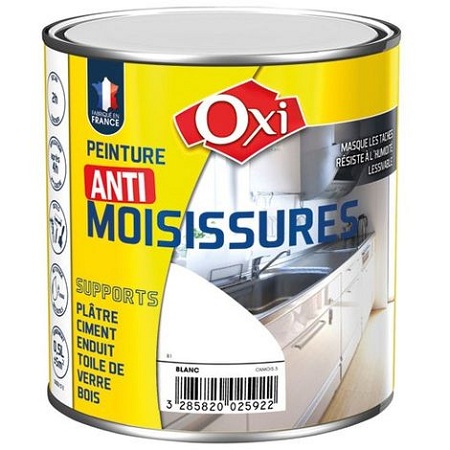 Anti-mould paint buying guide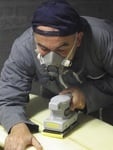 Guide written by:
Patrick, Handyman, Bath
12 guides
Anti-mould paint contains powerful fungicides known to destroy mould. Mould thrives on humidity and it's important to deal with the issue before it damages your health or home. But how do you go about applying these paints and how much do they really help? Read on for all you need to know about anti-mould paints.
How do anti-mould paints work?
---
Anti-mould paint is usually a water-based paint containing a type of strong fungicide designed to eliminate harmful microscopic fungi spores. Most anti-mould paints also contain an acrylic resin which allows for better adhesion to a wide range of surfaces and moisture resistance.
Anti-mould paints may also contain latex to make them more waterproof. These paints are washable and can be applied to a damp surface.
Anti-mould paint: uses and limitations
---
It's important to keep in mind that while anti-mould paints can effectively prevent or treat mould, they do have their limits. It is essential to deal with the problem behind the mould growth in order to prevent the issue from returning. Good ventilation (for example, using a mechanical ventilation system) is a good way to avoid the risks involved with excess humidity. It's also essential to have high-quality insulation and a well-functioning plumbing system. You need to check that your insulation is effective and that there is no potential for leaks.
Where can I apply anti-humidity paint?
---
It's important to prepare your surface properly before applying anti-mould paint. This type of paint can be applied as a preventive measure in a new-build or in an older home. The following rooms are most likely to develop mould:
bathrooms;
toilets;
kitchens;
utility rooms;
laundry rooms;
garages;
basements.
After applying an anti-mould paint, mould should not develop, even if there is some moisture in the room. If salt deposits or mould marks appear, check that your ventilation system is working as it should. Check that your walls are watertight and that there is no water seeping in. If mould is appearing on your ceiling, check your roof and gutters; a broken or cracked tile may be the source of water infiltration. If you have water marks appearing on a wall, you may have a leaking pipe on your hands.
How to apply anti-mould paint
---
While anti-mould paint is usually white, it is possible to add a colourant up to a maximum doseof around 5%. Be sure to follow the manufacturer's instructions. You'll need the following painting tools for application:
edging paint brush;
paint roller (10-12 mm pile);
painting sheets;
personal protective equipment (PPE).
Anti-mould paint should be applied just like any other water-based paint. Simplyuse a roller to apply one or two coats.
Guide written by:
Patrick, Handyman, Bath, 12 guides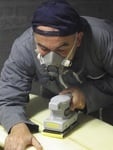 Professional maintenance and electronics training. I don't ask to use my tools on the weekend. The car, the boat, the house with its electric appliances, the garden and its swimming pool, they all remind me that they need my attention. In the absence of an unlimited budget, I try to expand my areas of expertise. There's nothing I like quite as much as being in the weekend workshop with my buddies. Everyone benefits from his experience which ends up being more-or-less successful, it must be said. But that's part of the charm of DIY, helping each other and realizing a project in a pleasant way. So, if I can help you, it would be a pleasure.
The products related to this guide